Travel Through Turkey on a Harley-Davidson
By Peter & Kay Forwood
Turkey on a Harley (4/11/06 - 19/11/06)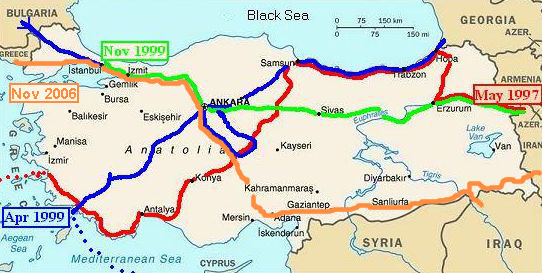 Distance 2082 km (477891 km to 479973 km)
This is part of the twelfth section of our around the world trip.
Complete Trip Overview & Map
Coming from Macedonia (FYROM) and Greece or read our previous visit to Turkey
4/11/06 More and more the Euro is taking over the role of the US dollar in the world. As the Euro has strengthened and the dollar weakened recently it has accelerated the process. Last time we visited Turkey our visa was $US 20.00, now it is 15 Euros. Kosovo and Montenegro both use Euro as their currencies even though they are not EU members. All of the ex French colonies in Africa have a fixed exchange rate to the Euro as do all the French overseas territories. It has become more widely accepted than the $US where we have been travelling recently. The standard three month multiple entry visa for Turkey at 15 Euros extremely reasonable. Customs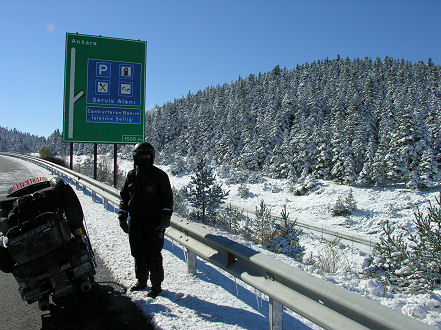 accepted the Carnet and a stamp was placed in my passport, designed to prevent me leaving the country without the motorcycle. We have passed through a dozen countries in the last month and are now looking forward to settling into one for a while.

5/11/06 Fuel in Turkey has always been expensive, vying for the most expensive in the world at almost $US 2.00 a litre. The high price doesn't seem to have curbed development of the country which has been running wildly since we were here last in 1999, but it seems to keep a lot of cars off the roads and certainly slows traffic to economical speeds, most of the time. Perhaps a lesson for the more fuel hungry carbon emitting countries in the west, although a bit of global warming would have been appreciated today. A heavy frost met the morning and snow was still on the ground as we followed the freeway through Istanbul. The 900 metre high pass near Bolu on the way to Ankara had the expressway closed with all traffic being diverted along the old road which was salted and had snow half a metre deep across the countryside. It was after dark when we found a small hotel in Bolu and wondered what the snow situation will be like in Eastern Turkey with roads over 2000 metres high and the season will be a couple of weeks later. The Bosphorus to the east of Istanbul, where the Mediterranean meets the Black Sea is the official divide between Europe and Asia. The human divide is not so distinct but certainly moves more Eastern as we move east.
Traditional clothing is starting to appear, friendly hospitality is increasing and old values continue. Inflation in Turkey has been running wild for years. The Turkish lira recently had six zero's removed from its value, the new lira is one million times the value of its old cousin, and is much more manageable. It was too easy to miss a zero when using the old currency.
6/11/06 A later start to hopefully have the road ice free. We were at the 1600 metre pass at 10 am and the high traffic volume had kept the road open and mostly dry. There had been a lighter snowfall here than at yesterday's lower pass. Stopping every 50 km to warm up at roadside tea places had us in Ankara just after lunch. The capital had also received snow, with trees still dripping with the thaw. The tourist office advised this was unusual weather this early, normally not snowing in Ankara for another month, which was encouraging for us getting out of the country. The area of Hakkari, in the south east, and near to where we will be trying to visit Iraq and cross into Iran had heavy rains and floods with over 30 people killed just a few days ago. Roads have been washed away and a cleanup is underway. It may not be a sensible time to try to pass through the region. Found a cheap, comfortable hotel in the centre of town and got ready for the visa onslaught tomorrow. Iran, Indian and Pakistani, we are aiming for over the next few days.
7/11/06 Ankara is a spread out city with lots of one way streets and heavy traffic. Luckily the embassy area is reasonably contained. The news from the Iranian Embassy was not encouraging. Our visas would take at least ten days, likely two weeks, whether for a transit or tourist visa, needing to be referred to Teheran for approval. This is vastly different from the on the spot Iranian visa I received last year in Almaty, Kazakhstan.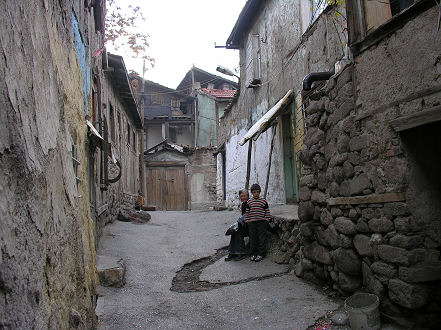 A French couple were also at the embassy, had applied in Istanbul, and were supposed to collect their visas in Ankara two weeks later, today, but their visas were not yet approved. The Pakistan Embassy required a letter of introduction from our Australian Embassy (prepared on the spot for $A 30.00), before they could process their visa, but it would only take a day to approve. The Indian Embassy required bank statements and the officer was not happy to accept our application, trying to refer us to Teheran or Islamabad to get the visa, presumably to save him the effort. He also said our application had to be referred to the Indian Embassy in Australia for security approval, something that seems to be creeping into the visa process for a number of countries recently. The unhelpful officer also at first said it would take two weeks, then seven working days, then perhaps sooner. By the end of the day we had one application accepted, Iran, and two ready for tomorrow as they only accept visa applications in the mornings. It is a shame the first contact with a country is its Embassy staff as they are not always helpful. Also the time taken to get a visa, in this case our Iranian one, limits the available time we will have to spend in their country. Two weeks waiting in Ankara means we have two weeks less time somewhere else.
8/11/06 Back to the Indian Embassy, come back in eight days, our visa should be ready. Pakistan's visa could be collected this afternoon, polite and efficient. We had met two South Koreans applying for visas to Iran yesterday, they get their visa in 24 hours, being from Asia? The snow has melted from most areas and the weather is getting warmer but we decided to buy more clothes to help stay warm on the motorcycle. With winter approaching, street sellers have a great selection of warm socks, long johns and track pants at amazingly cheap prices.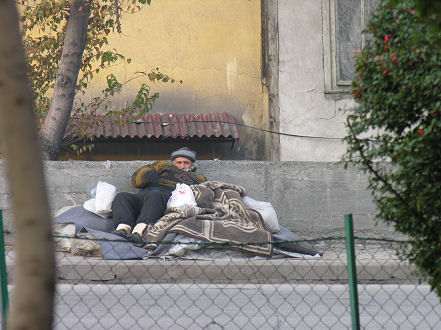 I also purchased a set of handlebar mittens, the poorer equivalent of heated hand grips. The courier drivers here use them instead of gloves. They fit over the hand grips and stop the wind and are almost water proof. Enjoying the rest but ten days waiting will be a bit long.
9/11/06 We are settling into our Ulus suburb. It is the old part of the city and has most of the cheap hotels and small narrow streets full of eateries and markets. Each meal different, each walk into the markets reveals new products. Whilst riding the city we bought oils for an oil change at a local petrol station. Working on the motorcycle in their carpark we were brought tea, had conversation and were invited to join them to share their lunch. A different culture, lunch of soup, bread, meatloaf and potatoes in the back room whilst as guests we ate alone in the boss's office. There are few capital cities in the world where people still have time to relax and welcome travellers.
10/11/06 There have been no approaches by beggars here but a couple of old men sleep in the streets. One has been sitting on his sidewalk, unmoving over the last few days. Raised above the cold ground on a stack of bags and with layers of warm clothes his surroundings were covered in snow when we first arrived. Whether a chosen lifestyle or placed here by circumstance he seems content to continue this lifestyle. Another old street dweller moves amongst the street sellers who set up with their temporary stalls selling second hand items of little value.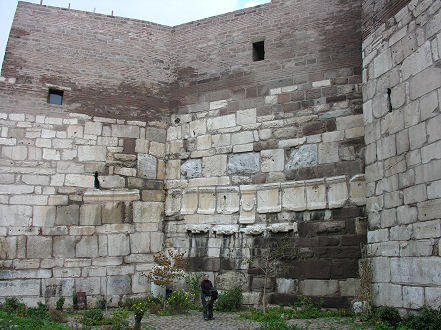 He is the knowledge of the area, surveying all the products, then resides at night in a corner, a chosen lifestyle or circumstance? We have not seen anyone give money or food to either old man, yet they seem comfortably looked after.
11/11/06 A day of remembrance. Both the anniversary of Ataturk's death, the father of modern Turkey and the day the west remembers its war fallen. We wandered uphill to the Citadel, ruined and restored, and where people still live in the ramshackle array of dilapidated buildings interspersed with renovated tourist cafe's and restaurants. The walls of the citadel show the vast array of civilisations that have passed through the region. Limestone blocks with Greek inscriptions, Roman statues and seed crushing wheels have all been incorporated into the defensive walls. Leftovers of past civilisations and having little meaning they became just cut pieces of rock in the new structure.
12/11/06 The weather, with its grey skies, reminds us of Europe, quite unlike what we are used to in Australia and even after such a short time we find it a little depressing, wondering how people make it through an entire winter of these conditions. Ankara is situated in a bowl surrounded by mountains and with coal and wood fire heating and little wind the smog grows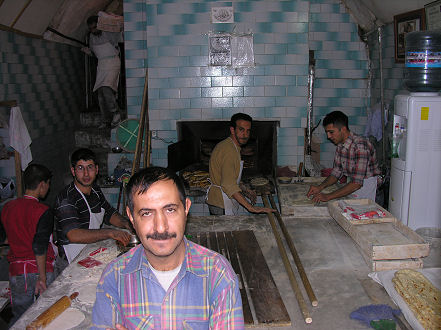 worse daily. Evenings and mornings are the thickest and we try not to venture outside the hotel room at these times.
13/11/06 Thinking ahead to moving on we are uncertain whether to hope for sunny days which mean heavy morning frosts and possible ice on the road but sun warmth, or cloudy days with warmer mornings, no ice but no chance to lizard in the sun for external warmth. What we do know is we don't want sleet, worse than snow, as it is wet and freezing. Drizzle in these conditions is not much better. There are over 2500 km from Ankara to warmth in southern Iran. We need to move before winter proper sets in but don't want to have to ride when the conditions are bad, hoping to wait for better weather. It will be an interesting couple of weeks ahead, if we get the visas.
14/11/06 Reading our guide books and planning, internet and waiting for visas. Our only outing to buy more spark plugs as the worn engine is clogging them up quickly, particularly in the slow city driving. I have been cleaning them but new ones last longer.
15/11/06 We thought we would give the Iran and Indian Embassies a little reminder that we are waiting for our visas. India has not received a reply to their no objection Fax to the Indian Embassy in Australia but said they will have our visa ready by tomorrow, we hope. Iran Embassy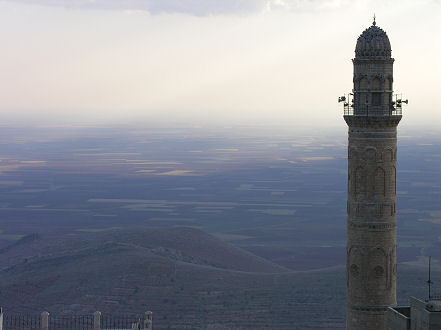 has received an approval from Teheran and despite it being only eight days since we applied they will process our visa and we can collect it also tomorrow. So it was worth the effort to make the visits. The last couple of days have been great autumn weather. Great riding weather, hopefully not the last of the season.
16/11/06 The Iranian embassy had us waiting for an hour after their scheduled time. The visas were issued as requested, 30 day tourist visas. India, with its 5pm, well after dark pick up time did not open its doors till 5.30. The ten prospective visitors to India were getting a little impatient, not a good impression for a country seeking tourists. Again our visas were correct and we were pleased to be planning to leave Ankara tomorrow. Riding about town the engine has rapidly become an issue. Whilst we have been pleasantly surprised how long it has lasted since first becoming noisy, it cannot be ignored any more. The occasional rattle is now consistently loud in the front cylinder and the rear one clogs up spark plugs in city riding. It has travelled 250,000 km since being rebuilt in New York in 2001. The problem has brought about the decision to dismantle the top end of the motor, rockers, heads and cylinders in Delhi, India, assuming it lasts another 7,000 km to get there, take them back to Australia for reconditioning during January 2007, and be back in Delhi to attempt to reassemble the engine in time for the 17th of February Bhutan tour. If the engine fails to make it to India and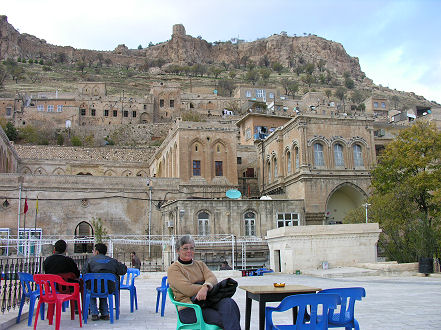 collapses in Iran or Pakistan, Craig at HD in the UAE has offered to assist in getting the engine rebuilt there. It will be an interesting next six weeks getting to Delhi.
17/11/06 The freezing cold weather that greeted us into Ankara had warmed, however there was still a heavy frost outside the city when we left at 8 am. Turkey's roads are generally excellent and the road south towards Adana was a four lane most of the way. We also opted to take the toll roads as the low toll charges are probably less than the cost of petrol saved. Turkey's vastness of good agriculture land passed by endlessly before we left the plateau towards its southern coast and warmer weather. By evening, sunset is now at 4pm, we were still on the toll road and looking for somewhere to stay. Rather than searching a large city for a hotel we opted to camp. A petrol station with a patch of grass had us in the tent after a long 630 km day.
18/11/06 Another early start and 400 km to Mardin, a small city perched on the side of a mountain overlooking the plains that flow across to Syria and Iraq. The Mesopotamian plains situated between the Tigris and the Euphrates Rivers was the cradle of civilisation. The birthplace of agriculture and writing. Turkey is the true East-West of civilisation, having been ruled by both many times, and been invaded, and governed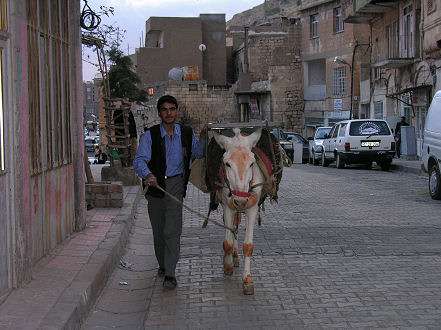 itself many more. Mardin has a great mix of architecture from the past. Here there are many madrassa, some dating from the 14th century and a church from the 15th century. The town thronged with weekend Turkish tourists, who thankfully left the place to us for the evening as the narrow streets became deserted and the locals retook their town. We watched the sun set across the patchwork of ploughed fields, ancient minarets dotting its skyline.
19/11/06 While in Ankara we had asked the lady at the tourist information centre if it was safe to travel to the Kurdish region of Turkey. She replied "there is no Kurdish region, I have not heard of a Kurdish region." Since yesterday we have been noticing an increase in police and military presence. Armoured personnel carriers in towns and a few casual roadside check posts. The people we talked to have introduced themselves as Kurdish Turks, and they speak Kurdish. We headed eastwards along the plateau road winding through stony ground where horses and donkeys plough narrow furrows between rocks. Down on the flats, cloaked and scarved women are picking cotton by hand. It is here, in rural areas, the feeling of remoteness starts but the cities are modern. The town of Cizre, on the banks of the Tigris River, at the junction of Syria, Turkey and Iraq is modern with new hotels and restaurants. The trucks we have been following almost all the way from Ankara are starting to bunch up here in readiness to cross the Iraq border. It is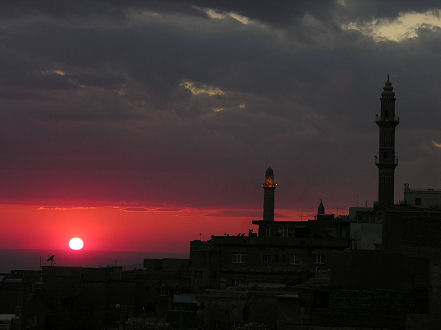 a four lane road, hurriedly built to cater for the increased trade following the fall of Sadam Hussein. A storm to the side of us is dumping snow on the nearby peaks and the outlook is black ahead as over lunch we decide to try for the Iraqi border today. Silopi, the last town of any size, has small hotels in case we need to return from the border tonight, and we stop roadside for half an hour to let the storm move further away but it is still raining lightly as we approach the border. There are a hundred or more trucks lined up waiting, with more at the TIR station or parked inside the enormous new border facilities, doing formalities. The car lane is open and we are directed through. The initial reaction is negative at the first gate. We are allowed to pass but will need to return for paperwork if we are given permission to proceed. Police at the second gate are at lunch and we move onto Customs. It is a half hour wait for them to decide. They have no choice. Our papers are correct, we have a multi entry visa to return to Turkey, and a carnet for the motorcycle, we are checked out of Turkey. Two bridges across a small river divide the two countries. The outbound bridge from Turkey is empty but the inbound one is full of trucks and cars. A last check by the military as we are about to cross and the same question of why are we going to Iraq. Our passports are collected and we are told to wait. Would we get this far and be turned back? If we just crossed the bridge and were rejected entry at least we would have had two wheels on Iraqi soil. We were allowed to proceed.

Move with us to Iraq or go to our next visit to Turkey