Travel Through Turkey on a Harley-Davidson
By Peter & Kay Forwood
Turkey on a Harley (24/8/99 - 30/8/99)
Distance 321 km (160001 km to 160322 km)
This is part of the fifth section of our around the world trip.
Complete Trip Overview & Map
Coming from Bulgaria or read our previous visit to Turkey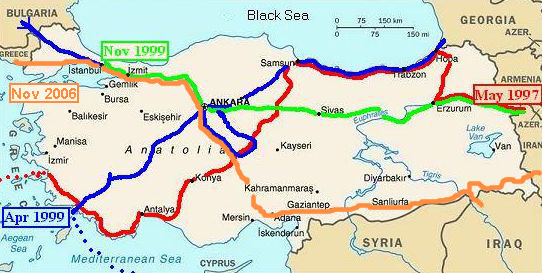 24/8/99 Whilst I love visiting Turkey I hate it's border crossings. The right hand doesn't know what the left is doing and again we were hassled around from office to office. Last entry at Marmaris we needed a $US 20.00 visa and no paperwork for the motorcycle, this time, three months later we only need $US 10.00 for a visa and now need vehicle duty of 8.00 DM and processing fee of 500,000 TL ($US 1.00) signposted in those currencies. No one points you in the next direction and we had to pass through eight different officers to get through the border. Istanbul and really thinking of home but still enjoying the immediate change in culture, predominantly the change from no selling technique from ex-Soviet to the full on hard sell of the Arab world.
25/8/99 With the earthquake right next door to Istanbul the tourists are not coming and the usually packed hostels are slowly emptying out. The initial search
and rescue teams are being replaced by aid agencies as no one alive is still in the rubble. Those who were sleeping in the streets returned to their homes as the rain started. We arrived at the end of this to a quieter than usual Istanbul. Organized our flight home, Gulf Air the cheapest, and a visit to the H-D dealer who will look after the motorcycle in our absence for free. This took us along the Bosporus Straits where Europe (Istanbul) meets Asia (Istanbul), where the Russian Black Sea fleet has to pass to get out to the Mediterranean and the only way commercial shipping can get to the Black Sea. Narrow, busy and fast flowing water.
26/8/99 A total repack of the motorcycle, what to stay, what to go and a list of what to bring for the next section, Africa. Work first sightseeing later. We met another motorcycle traveller, Mika, riding a Yamaha 600 Tenere with clutch problems. He has been stuck here for three weeks, waiting on parts for the clutch after riding to Nordkapp, crossing Europe to Russia, Ukraine and a boat across the Black Sea to Istanbul on his round the world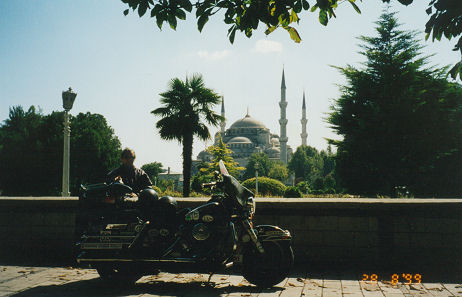 tour, with an open time frame.
27/8/99 The sound and light show outside was no match for the interior of the Blue Mosque. This enormous structure, almost four hundred years old, with a light airy interior, because of its five layers of stained glass windows, draws your eyes to the centre dome (and to heaven as designed), with its tiles of all different hues of blue, is the most magnificent mosque I have seen. Dunlop again produced new tyres, this time back and front, delivered to our door and have arranged to fit them at the H-D dealer in Istanbul for free. Again the service we receive is excellent as well as the tyres.
28/8/99 160,322 km the motorcycle has completed (135,822 on the trip) and 74 countries in 866 days of travel. This trip we have visited 26 countries (plus Palestine's Gaza Strip), plus five countries previously visited, 17 embassy arranged visas, others at the borders, 38 border crossings,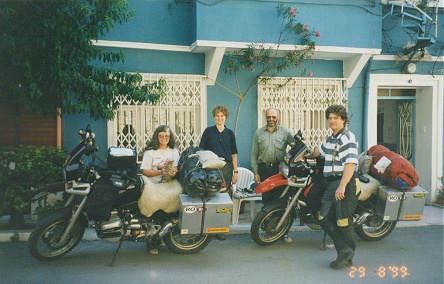 travelled 37,323 km, seven ferry crossings in the Mediterranean, in 221 days. Much more hectic than we like to travel but to keep to the best weather it is necessary to move quickly sometimes. The saddest part of the trip, leaving the motorcycle behind, you feel you are leaving your child for someone else to look after for two months. The Istanbul Egyptian markets (for locals) and the Grand Bazaar (more for tourists) cram packed on a Saturday afternoon where we jostled and hustled as much as everyone else to get those last minute necessary gifts for "Bill, George, Fred and Aunty Edna", (to forget someone would mean instant loss of friendship or expulsion from the will).
29/8/99 After two and a half weeks of great travel with Jan and Anke they said good bye this morning heading off to Gallipoli, on their own having settled into travelling and keen to be on the road again. It was sad seeing them head off, the beginning of their two and a half year trip, while we are just ending this section of our trip. This is the last report as we fly home
tomorrow at 3.00 pm.
30/8/99 We found out two days ago from Mika that you are not allowed to leave Turkey without taking the motorcycle with you. Mika is heading to Finland for a few days and is trying to arrange for his motorcycle to be stored at customs. Having already arranged our storage at H-D and fearing the cost of customs storage plus the short time frame we decided to risk being stopped at the airport. A stamp detailing the motorcycle was placed in my passport on arrival in Turkey but on our departure it was not noticed by passport control and we were not approached by customs at the airport. Hopefully there will be no problems on our return to Turkey in November.

You can either move onto planning the sixth six month trip or return to Turkey for the beginning of the next trip