Travel Through Turkey on a Harley-Davidson
By Peter & Kay Forwood
Turkey on a Harley (25/4/99 - 6/5/99)
Distance 2395 km (138116 km to 140511 km)
This is part of the fifth section of our around the world trip.
Complete Trip Overview & Map
Coming from The republic of Cyprus (via Rhodes in Greece) or read our previous visit to Turkey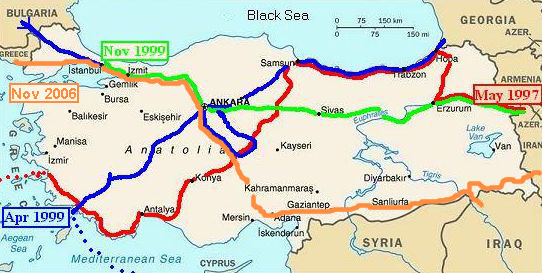 25/4/99 Arrived in Rhodes early in the morning after a smooth crossing again sleeping on the deck in the fresh air with many other travellers cruising the Greek Islands. There were 6 cruise ships in port and the throngs of tourists filled the shops inside the old walls of this beautiful city. Wandered here before our 2 pm departure on a small vehicle boat to Marmaris and a 200 km ride to Pamukkale for the night. The cost for this 2 hour crossing the same as the 18 hours the night before and the rip off of charging port tax in the ticket and then trying to extract it again on the boat shows of heavy tourist traffic. The ride through some lovely pine covered mountains with high altitude open valleys of crops and grazing, good roads with sweeping curves lifted our tired spirits to end a couple of frustrating days.
26/4/99 It's great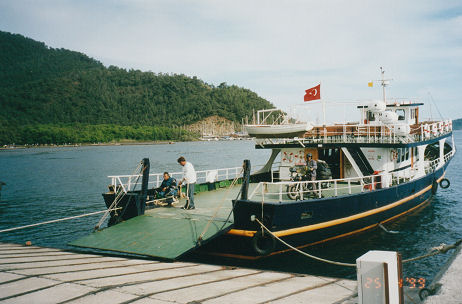 to be back in Turkey, one of my favourite countries with a comfortable mix of east and west but if you don't like big numbers don't come. A $US 1.00 is worth 400,000 lira and climbing, so everyone here is a multi millionaire at least until you buy a tank of petrol. The sintered terraces of Pamukkale have lost some of their appeal for tourists since you can't swim in the pools and they are
drying out as the village below grows needing the water, however they are a magnificent three km wide terrace appreciated from the Romans till today for their beauty and bathing. The spring water with high concentrations of limestone bubbles from the ground flowing slowly through pools and evaporating leaving the white chalky deposits which form the natural D shaped cascades. A quick tour of the Roman ruins and scalloped pools before the 500 km ride to Ankara for the night.
27/4/99 Our first successful internet link up of people. Charlie Miller riding a BMW GS100, who we had met in Delhi and by chance again in London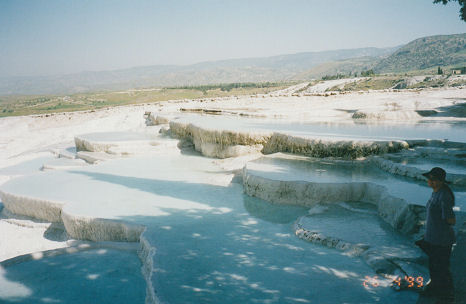 had arranged to travel with us from Ankara through to the end of Russia. He was on schedule and was here on our arrival, arriving last night, having ridden from London and Frank and Jacolien, a Dutch couple, finishing a four year round the world tour riding two Aprilias who we had met in Australia were also on time arriving via India, Iran and Turkey, all arranged over the Internet. The questions and stories flying thickly all night.
28/4/99 The piper has to be paid and Dunlop, providing us with tyres, requested an afternoon media blitz. Starting with a magazine journalist for a one hour interview and finishing with two hours of revolving TV and print media interviews and photos. Our first full on media blitz with an interpreter, ride by photos etc. was very interesting although tiring and with a bike wash and excellent mountain top dinner, overlooking the city from an historic restaurant thrown in we quite enjoyed paying the piper.
29/4/99 When teaming up to ride with someone for a long time, particularly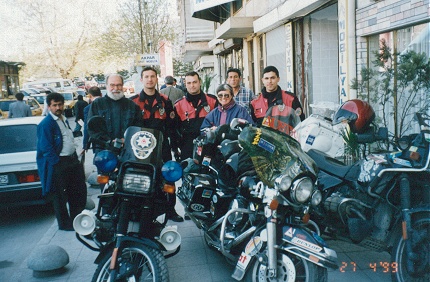 previous long term independent travellers it takes a while to mesh with each others riding requirements. We started today with Charlie's battery being flat and his bike needing a push and almost an hour later our bikes gear change lever's ball and socket connection parted and needed a cable tie to hold it reconnected. Odd, both normally reliable motorcycles needing assistance day one. We rode the spring growth covered tableland plateau to Goreme in Capidoccia and stayed at the same pensione I had stayed in two years previously, Panoramic Pensione.
30/4/99 Nothing much has changed here in two years except the lack of tourists believed to be about 60% fewer due to the PKK threat of targeting tourists as part of its terrorists campaign. This has effectively left the town empty. Despite my thorough exploration of the area before it's great to explore again with Kay who wasn't here on my first visit. The "Fairy Chimneys" some still inhabited and many turned into pensions like our room at the top of a stone cone requiring a ladder entry and the low ceiling preventing
me standing erect.
1/5/99 Explored more small villages carved into the hills and cliffs including the magnificent Cevsina where with some scrambling we entered the church carved into the rock and had passage ways heading higher and higher to more rooms before reaching the pigeon loft at the top of the rock cliff. There were a couple of vertical shafts with foot and hand holds to scramble up or down.
2/5/99 Returned to Ankara for visas. We had applied for Azerbaijan, $US 40.00, and a three day processing plus a letter of introduction from the Australian Embassy, Georgia, multi entry transit visa ( 3 + 3 days) $US 20.00, and issued on the spot and Russia, with invitation faxed to the consulate care of IRO Travel (visa@iro.ru) and $US 63.00, visas were issued the same day. The problem was the Russian visas dates were issued incorrectly so tomorrow we correct these (we hope) and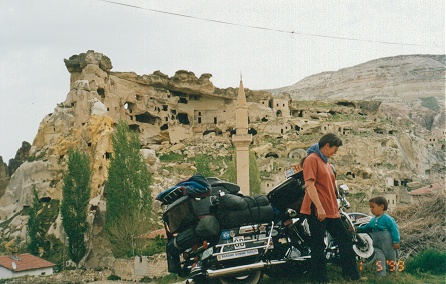 collect our Azerbaijan visas. We also hope to visit Armenia but couldn't find a consulate in Ankara and will investigate further in Georgia. The problem is that a visit to either Armenia or Azerbaijan precludes you from visiting the other country as they do not like each other at all. More politics to get around.
3/5/99 It sounds like half the trip is getting through border crossings and obtaining visas, and a large portion of time is also spent researching and reading about where we are going, getting there and day to day living. Where at home these events are chores, out travelling they are experiences like arriving at the Russian Consulate this morning to find it is closed for the whole week. After firm politeness and instance we managed to get the embassy to raise the Consul from bed (his holiday) and luckily the mistake being theirs they corrected it on the spot. Two new tyres from Dunlop and normally while fitting them we greased the wheel bearings. This time the front ones were rusty and totally unserviceable, we carry spares, particularly as these are the originals (140,000 km) but not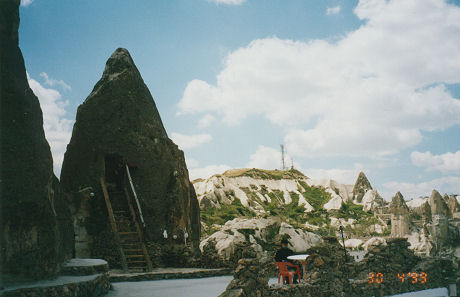 having time nor the right tool to remove the bearing race we had to put new bearings in the old races and hope they last. Water had apparently entered the hub, probably when in Iceland's rivers, and we hadn't looked since the last tyre chance over 30,000 km ago.
4/5/99 Ankara to Samsun then along the Black Sea coast to camp near Unye in a closed for the winter camp ground, 500 km.
5/5/99 Still transiting Turkey and camped again 10 km short of the Georgian border at the back of a restaurant overlooking the Black Sea after 450 km of bumpy traffic laden town infested coastal road. The people incredibly friendly and generous, at every stop we are offered free chai (tea), or raki (oozoish) alcohol or use of facilities for changing the oil.

Move with us to Georgia or go to our next visit to Turkey