Travel Through Thailand on a Harley-Davidson
By Peter Forwood
Thailand on a Harley (10/2/05 - 14/2/05)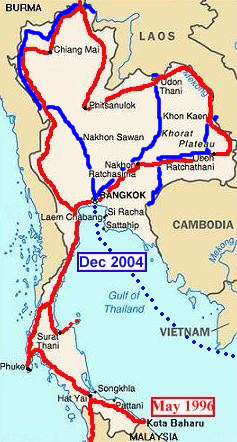 Distance 584 km (411354 km to 411958 km)
This is part of the eleventh section of my around the world trip.
Complete Trip Overview & Map
Coming from the Cambodia or read our previous visit to Thailand
10/2/05 The usual easy and free paperwork entering Thailand for me and the bike. Stayed at the Thai border town of Aranya.
11/2/05 I had slowly become acoustomed to the disarray of Cambodia, with its rubbish strewn streets, random moving trafic and farm animals migrating along roads. Thailand now seems tamed, clean, polite, an old man in comparison. I rather liked the unkemptness of Cambodia. Thailand is just an easy way north to Laos and 600 km today, good roads and petrol at two thirds the price of Cambodia, (US$ 0.50c a litre in Thailand). I ended up in Mukdahan in the evening. It's also a place to restock my money. There were no ATM's in Cambodia and only one in Laos, so for the last few weeks I have been living, and buying a camera, on my US$ reserves.
12/2/05 The vehicle ferry to Laos leaves a few times daily, however its sporadic on weekends. Customs cleared the motorcycle yesterday afternoon, despite it not leaving the country, they are not keen to work after hours. They were also encuraged to stamp my carnet, clearing the last entry to Laos stamp that I was unable to cancell when I Left Laos and crossed into Cambodia, with a Thai exit stamp. It is probably of no benefit except it raises less questions with the entry and exit stamps equal. I wish Vietnamese customs were so relaxed. Trucks cross this border from Thailand, through Laos and onto Vietnam.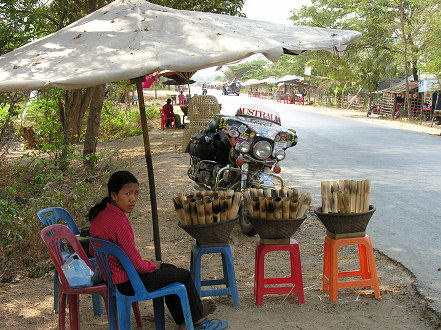 This morning they were lined up at the border and will remain there till Monday morning, not prepared to pay the customs overtime to clear them weekends. They are container trucks, sealed, mostly carrying cigarettes. No chance to put a motorcycle inside for the journey to Vietnam. Mormans, dressed in long black pants, white shirt and tie, travelling in pairs on bicycles are seen all over the world, wherever governments will allow them to preach their faith. A two year service for the Brothers and Sisters of Salt Lake City, they are always enthusiastic to make my acquaintence if spotted. Usually in outlying areas they don't see too many westerners. Talking to a couple yesterday they informed me that Thailand only issues about 170 visas to their religion, not enough to do the work they want to do in the country. Unpaid, funded by themselves or family it is a hard two years. I am usually happy to enter discussions, as long as the "no attempting conversion rules" are established.
13/2/05 Packed up and ready to leave, started the bike and the accelerator cable broke. First time, 410,000 km, not a bad life. Luckily I carry a spare. Many people think I carry too many spares but it's at times like this I am grateful. In fact H-D's have two cables, a push pull system so I changed both.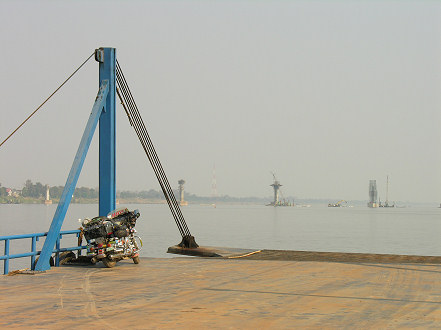 The unbroken one can be a spare if in another 400,000 km the new one brakes. It's a couple of hours job by which time I had missed the limited Sunday ferry schedule to laos, so another day here. It's not a bad town to hang around for a couple of days. A smattering of tourists go through, mostly older westerners just renewing their Thai visas, a three monthly routine. The people very friendly and the food excelent Thai. I could be in a worse place for an extra night.
14/2/05 There are five barges this side of the river and over 100 trucks lined up to cross. Having cleared customs on Friday I was first loaded and surprised when the ferry left with just me on board. Apparently it was the early morning boat to bring back the first lot of Laos trucks. Thai customs hadn't yet cleared any on this side.
Move with me to Laos or go to my next visit to Thailand