Travel Through Thailand on a Harley-Davidson
By Peter Forwood
This is part of the first section of our around the world trip.
Complete Trip Overview & Map
Coming from Myanmar or read our previous visit to Thailand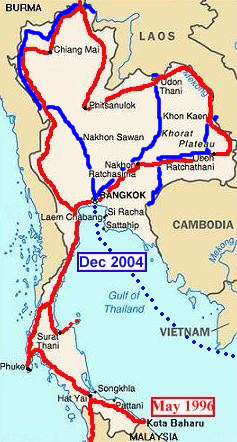 The following morning after returning to Thailand from Myanmar the motorcycle wouldn't start. I had previously developed battery problems at Chiang Mai and needed to recharge the battery there. At the time I also enquired about purchasing a new battery and couldn't buy one the right size anywhere but in Bangkok some 1000 km away. I had decided to press on hoping not to need one or to come up with another solution. After some thought I realised I could purchase a small car battery and extend the leads to mount it on the rear foot boards. After hunting around I ended up purchasing a battery and leads for $A 41.00. Quite a bargain and it lasted to finish this trip.
The area here has more beggars than elsewhere in Thailand, and I was approached by a 35ish yr. old woman who appeared quite frail and weak, shaking, she asked me for money. I asked her why and she replied I have HIV and can no longer work. This was my first direct contact with a person whose life is cut short by AIDS, but even more disconcerting is that there is little or no social help in Thailand for her. It is a difficult enough disease to cope with in the west but here, where you know you are just waiting to die and still have to look after yourself, and will just slowly waste away without anyone caring, must be horrendously difficult.
There are many caves in this part of Thailand so I visited a couple. Armed only with a home made carbide lamp hired from a groundsman near the cave entrance two of us proceeded for two hours underground. The lamp was made from two old tin cans (one for the carbide and one for the water) a car headlight reflector and a small gas tube. The lamp burned brilliantly for the two hours while we ventured into the bowels of the earth. The cave follows a river bed which would be very dangerous during heavy rains and eventually disappears into a small hole at the end of the cave. As with almost every cave in Thailand there is a Buddhist shrine and a monk tending the area. Some of these caves are high up amongst limestone hills and are difficult to reach.
Whilst there is an official border here and the crossing officially closes at 6 pm it does not stop cross river traffic. The locals seem to make a mockery of the border neither considering themselves Thai nor Burmese. They just happen to live where two governments have drawn a line on the map. Further downriver from the official crossing a barge plies the river all night taking people and motorcycles from one side to the other. No doubt contraband is traded across the river also.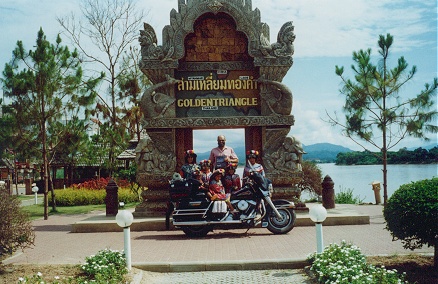 Leaving Mae Sai I will be following the border with Laos eastward. I soon arrived at the Golden Triangle at the confluence of the Mekong and Ruak Rivers. Whilst there is not much here other than tourist oriented shops it is what the area conjures up in your mind that makes it an interesting place. This is the centre of where all the world's opium and of course heroin was produced in the seventies. The Mekong River, where the west went to war with the communist forces in Vietnam. The place has, of course, changed and there is little to show of its past. But its recent past still lingers in your mind.
Moving quite quickly now, trying to get to Bangkok by the 19th June, in just ten days, and wanting to follow the border as much as possible. Overnighted in Chiang Khong, next night at Nan and then Sukhotai. It was a shame to leave the Mekong River, so vast and peaceful, slowly filling with the beginning of the wet season.
Well after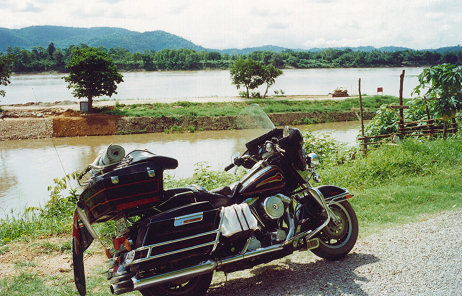 seeing thousands of Budda statues in temples and for sale in shops I finally found a place where they are made. Most are made from cast bronze using the century old method of wax replacement. A mould is made of wax, covered with cement and wire on the outside and then the wax is removed by heating and the bronze poured into the void. The concrete is smashed to reveal the rough bronze which is hand polished and later covered in dipped gold or gold leaf. A very expensive and time consuming process and of course no large Budda is the same as each mould is smashed removing the casting.
Back towards the Laos border travelling through Phitsanulok and Loei to stay the night at Chiang Khan in a homestay right on the Mekong looking across the river into Laos. This back road passes through mountains where the last communist stronghold in Thailand held out until 1982. Supplied across the border from Laos and China over 4000 communists held off the Thai Government forces for over 20 years. The roads again curved and sweeping with the tires now wearing out on the edges and not the middle due to all the cornering. The countryside has opened up to woodlands, rather than forest, with more dryland agriculture.
It now being a Sunday afternoon I was riding through the Thai population control. Despite the legal age for motorcycle riding being lifted from 17 to 18 yrs,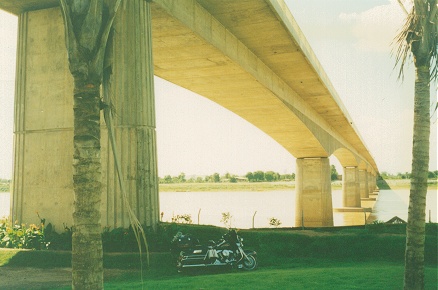 while I was in Thailand, there are children as young as 12 riding motorcycles. The number of locals I met who had lost children in a motorcycle accident was staggering. I guess if you miss keeping the population under control with birth control then give them a motorcycle and they will do it for you. It may sound cynical but that is what seems to be happening.
Nong Khai tonight after spending the whole day riding alongside the river. A short visit to the Friendship bridge built by the Australian Government over the Mekong River into Laos and again following the river east to Nakhon Phanom where they hold weekly markets. Boats from Laos bring animals, food and craft goods to sell or exchange for different agricultural or manufactured goods from Thailand. The cross border markets have all forms of animals and animal parts for sale from Laos. Bits of deer, live and dead squirrels, dead civets, live baby monkeys, live goannas, gliding possums and cuscus from the forests of Laos were all for sale to the Thai's. These Laos people living in villages with not much access to the outside world and haven't seen many westerners. (Certainly not many bald ones with a long beard. Firstly they can't grow a beard and secondly they rarely go bald. To have hair growing on the wrong end of your head certainly was an interest to them.)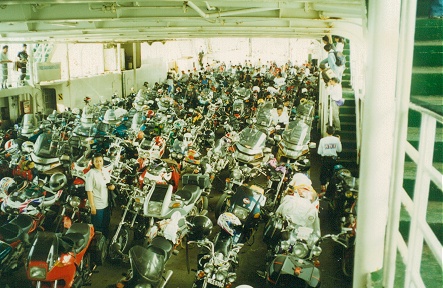 While we can appreciate what will happen, long term, if this removal of animals from the jungles continues, for them it is how they have lived for hundreds of years.
Still moving quickly now to Ubon Ratchathani and onto Phimai via Phanom Rung. This road took me to within 30 km of Cambodia which was close enough for me at this time. I hope to visit Laos, Vietnam and Cambodia in a few years, hopefully when official problems ease. Phanom Rung has an old Khmere temple from the 12-13 century, along the lines of Ankor Wat in Cambodia, but much smaller. Still the most impressive structure of its type that I have seen. On now to Phimai with more ancient ruins. Again all the roads in the east are adequate, the people friendly and the prices cheap by western standards.
Khao Yai National Park is reported as the best in Thailand, and in the top five in the world, for seeing animals. With a road through the middle the animals get used to seeing vehicles and people and usually only flight when approached by people on foot. Probably due to poachers. In the two days I was here, sleeping in a dormitory for 10b a night, I managed to see two types of monkeys, Gibbons and Macaques, red deer, gour, sambar deer, lots of birds including hornbills and fresh tiger tracks.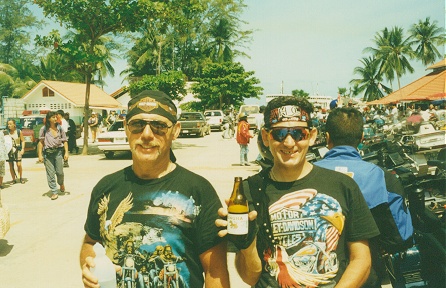 How do I know they were fresh. Well it rained heavily the first night at about midnight and these prints were in the mud from after that storm. It is quite eerie walking along a track alone at dusk and seeing tiger prints and tiger droppings that are less than 24 hours old. It makes you wonder if it is still around and what is on the menu tonight.
Into Bangkok on time. Well I arrived at the outskirts on time and getting lost I was now late for the appointed time at the Harley dealer for a service. After a lot of frustration with the traffic and being lost I finally hailed a motorcycle taxi and followed him, on the Harley, to the dealership. These motorcycle taxi's cost about the same as a normal taxi, however they are three times as fast by weaving through the traffic. Another great Harley shop with a friendly Australian mechanic, whom I'd met earlier at Phurgis, he is training the locals to work on Harleys. They arranged for the bike service and for me to leave the motorcycle at the shop while I was in Bangkok. The last thing I wanted was to ride it in this traffic getting lost. They also arranged to store the motorcycle at one of the shop owners places whilst I returned to Australia for six months before coming back to Bangkok to continue my trip. This completed I could now relax in Bangkok. Wrong.
Next morning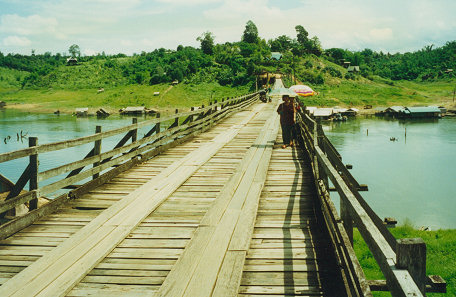 I awoke with a sore throat from the smog. The number of people wearing medi masks, in this heat, to help prevent the ingestion of smog into their lungs is horrifying. You would think it would be easier to medi mask industry at the first barrier preventing the pollution entering the atmosphere rather than having the public be the last barrier. I found out details of shipping the motorcycle to Chittagong in Bangladesh for the next trip, booked my return flight to Australia and got out of Bangkok as soon as possible.
All organised for the next section of the trip I headed south to Cha-am to relax for a couple of days. This is more a locals weekend drop out than for international tourists and is incredibly busy on weekends with visitors from Bangkok. Heading further south with one night stops at Chai Yo and Songkhla before arriving in Hat Yai. It is here that the International Charity Ride for 1996 starts this year. This is a Superbiker event organised by clubs from all over Asia to aid charity. The largest contingent came from Singapore. A total of 400 motorcycles in all with over 50 Gold Wings and a similar number of Harleys. There were many Japanese models and even a few European bikes. Some of these heavily accessorised motorcycles are enormous, particularly when ridden by relatively small Asians. Apparently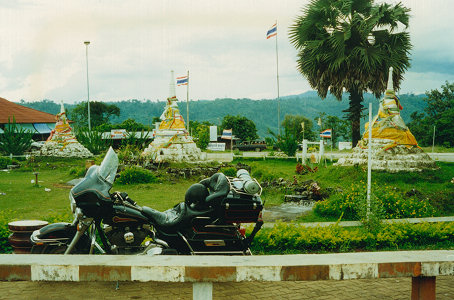 there were a number of accidents on the way to Hat Yai, and I noticed two people drop their motorcycles when manoeuvring because of the motorcycles weight. There was also a four motorcycle accident (two Goldwings and two sportbikes) while we were riding to Ko Samui. None of these incidents were openly discussed as they would have been in Australia. Over a few beers we would have dissected them, had opinions and to some extent laid blame or come up with theories as to how it could have been avoided. Because of the importance of not losing face here I believe these incidents go undiscussed which can lead to the same kind of incident recurring.
On the ride (some 400 km) we stopped at two prearranged schools where the students put on some entertainment and auctioned paintings etc. that the students had made. All the proceeds to the schools. A total of over $A 10,000 was raised. A boat trip across to the Island Samui where accommodation was booked. This number of large motorcycles, with police escort on a small island particularly in a country like Thailand makes an obvious impression with the locals, most of whom were out to see the spectacle. The next day another school, and relaxed, the riders were more generous in a club donation war which ended very well for the school. The children also benefited immediately with the bike owners giving the children a short ride on their motorcycles.
While the majority of riders departed the next morning I stayed on to relax and enjoy the tropical island paradise. But two days of lying around the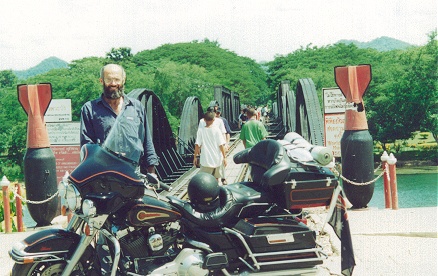 beach doing nothing becomes boring when you know that there is so much out there to see. So it was off north to Kanchanaburi for a few days before Bangkok and home.
It was on this section that I was confronted most by the road carnage in Asia. While following a truck, on a small back road from a national park, the truck veered onto the shoulder of the road then across the road right in front of me and flipped onto its roof smashing the cabin. The driver was dazed and bleeding profusely from a severe gash to his forearm. Having a first aid kit, I bound his arm, by which time another vehicle had arrived and took the semiconscious driver away, presumably to hospital. What happened to him I don't know because a few minutes after he left, so did I, there was no one else around and no reason to stay.
Kanchanaburi seems to be the place where travellers rest up while waiting for visas or flights out of Thailand. It is far better than Bangkok. With the travellers come the facilities. Nice comfortable accommodation, just the place for a weary traveller at the end of a six month trip, with plenty to see and do. I managed a two day trip to Three Pagoda Pass on the border with Burma, a visit to Hellfire Pass on the Thai/Burma railway, train ride to Nam Tok and a visit to Erawin Falls before heading off to Bangkok and putting the bike to bed for six months and flying home.
You can either move onto planning the second trip , or Leaving Thailand on the second trip.