Travel Through Tanzania on a Harley-Davidson
By Peter & Kay Forwood
Tanzania on a Harley (22/6/06 - 6/7/06)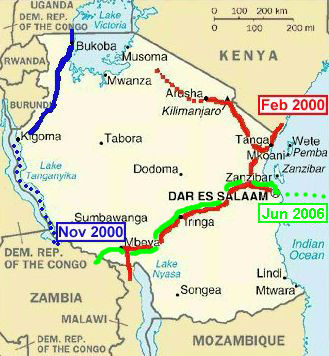 Distance 1176 km (458531 km to 459707 km)
This is part of the Twelfth section of our around the world trip.
Complete Trip Overview & Map
Coming from The Comoros or read our previous visit to Tanzania

22/6/06 The empty boat bobbed cork like on a small swell and we braced ourselves to the rolling in the tent. Cruising at eight knots with a current and tail wind helping we made steady progress till the engines stopped late afternoon, a broken engine pipe, repaired in an hour and we were underway again.
23/6/06 Diesel being expensive in the Comoros, the plan was to head straight for the Tanzanian coast and buy some at a small port but the captain calculated there would be sufficient fuel slowed down for efficiency we reached Dar es Salaam late afternoon, motoring into the harbour on dusk. After almost three months on the Indian Ocean islands the city seemed enormous with modern buildings on the evening horizon. By 8 pm the bike was on the wharf and immigration procedures were completed. Never keen to enter a city to look for accommodation after dark we again slept in the tent on the boat.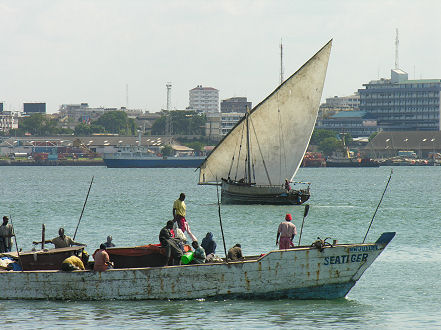 24/6/06 Dar es Salaam is incredibly different from The Comoros. The first thing we noticed is the people are problem solvers not problem makers. Some societies function on creating problems, obstacles put in everyone's path, built in inefficiencies so any job takes longer, workers are then employed longer thus paid more, corruption occurs primarily to solve the problems itself creates and usually the whole society suffers through overcharging, becomes non productive and almost all creative enterprise disappears, such was The Comoros. Tanzania is a more problem solving society, there is more enterprise here. We were approached by sellers of produce, people wanting to help for a fee, active business. We left the wharf area this morning without any paperwork needed for the motorcycle, found a hotel, bought needed supplies not available in The Comoros, and felt like we had returned to civilisation. English is spoken and understood by most people and we revelled in its use being able to mix and joke with the locals. Unfortunately Tanzania has a two price structure, one for locals and one for foreigners. It starts with the government charging more for national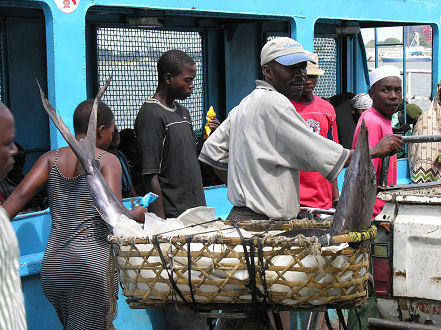 parks and museum entry fees and slowly filters down to private enterprise hotels, ferry fares and street sellers. The logic, if it is OK for the government is is OK for us. This thinking led to us being overcharged in a restaurant by the waiter. Not an uncommon event in many places we visit, however the waiter continued to give us a reducing but still overpriced bill. I finally called for the manager, after three attempts to get a correct bill. It was deemed the waiter was pocketing any surplus he was collecting and was then sacked on the spot. Not my intended outcome, but if these are the rules of this society the waiter should have been aware of the consequences of his actions.
25/6/06 We went back to the wharf to see if it would be possible to put the motorcycle onto a boat to Zanzibar in case we needed to wait for our Angolan visa. Unfortunately there is no vehicle ferry, same story as when we were here six years ago. We received a shock when a crew member of Capricorne, the boat we came on from The Comoros two days ago, informed us the captain had died yesterday. On our arrival in port I had given him $20.00 US for a couple of beers each for himself and the crew. They all went out that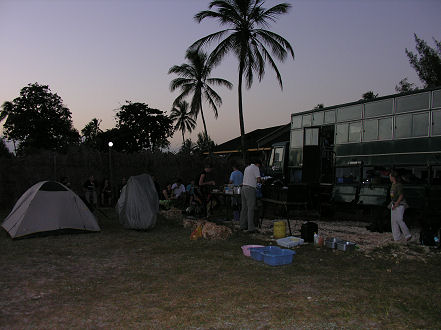 evening for a drink whilst Kay and I slept aboard in the tent. The next morning, after we had departed, the Captain was found dead in his cabin at 10 am, presumed a heart attack. A bit of a shock to the end of our association with the boat over the last month. We had an otherwise quiet Sunday looking over the city. Despite its seeming modernness Dar es Salaam has had intermittent electricity for the last two days, running only about half the time.
26/6/06 The embassy rounds. Angola accepted our applications, primarily because we had obtained an invitation from a company for our visit. This had been pre-arranged by Dunlop tyre contacts. Normally the embassy only issues visas for Tanzanians and residents of neighbouring countries. Still it is not a certainty and we need to phone tomorrow. The Zambian embassy more usual, visas available in one day. Took the vehicle ferry across the harbour mouth to the southern beaches for a relaxed afternoon. The white beaches seem to have been forgotten, only a couple of kilometres from such a big city. It is becoming the tourist season as European holidays get going and the weather here is now perfect. A group watched Australia get defeated in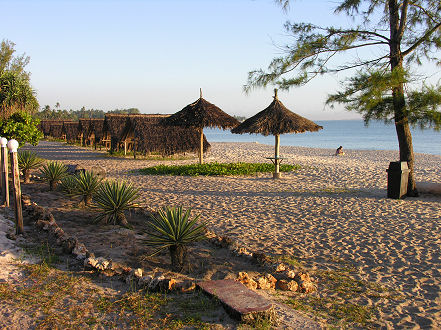 the world cup at our hotel, the most english we have spoken in a long time.
27/6/06 Electricity again off all day. The Angolan visa, we phoned at 10 am, went at 2 pm, come back tomorrow. The rear tyre puncture we have been plugging and continues to leak we hope has been fixed, removed the wheel and a local tyre wallah plugged it from the inside. Always a great way to mix with the locals, a facilitator found me the jack, where a tyre place was, translated as many low paid workers are unschooled and only speak Swahili, and he was a wealth of conversation while the job was being done, all for a reasonable request for money. The world cup was on every TV in the city at 6 pm to watch the last African team Ghana play Brazil. Most people wanted to support an African team but like elsewhere also wanted to back the likely winner. Lively atmosphere at the restaurant, at least till the generator also lost power.
28/6/06 The Angolan visa application was rejected. We were informed Australians had to apply in Vienna, Austria, the embassy allocated for our region. A little far away for us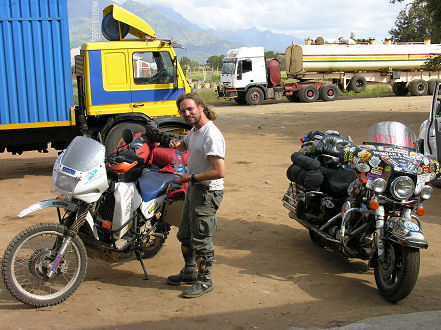 to go there!! After a bit of explaining about our travels and the invitation, from a tyre company, Dunlop, and that we were doing a promotion in their country, a small white lie, the door slightly opened. Write a letter of explanation, get copies of relevant correspondence, which we managed, phone tomorrow at 1 pm, to see if there is any result. This trip seems more a waiting game than an event. We seem to be into the tomorrow visa, not getting time to go away for a few days. Still Dar es Salaam, once you get involved is a nice place, nice weather at the moment, to hang about, and other travellers passing through to meet. The motorcycle however, apart from short trips is feeling a bit dejected not having been on a long ride for over a month.
29/6/06 The visas were issued, one month and $US 50.00. We were ecstatic as there seemed to be no other easy way for us to get through West Africa. We've had a parcel express posted to Zambia a couple of days ago, it would still be at least a week before its arrival so we had a few days spare. The package was two tyres. It might seem a bit crazy to air freight them half way around the world but we have been trying to find a couple in Africa without success. The wholesale price we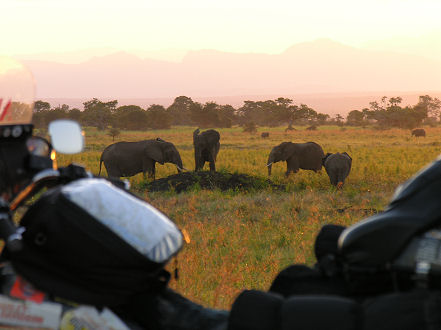 buy them for in Australia negates a lot of the air freight. We also included some spare parts replacement and a new carnet for the motorcycle.
30/6/06 It was decided to spend a few days at the southern beaches just out of Dar es Salaam as it would be the last ocean till we had crossed Africa to the west. Set up down the East Africa coast countries are "Western Enclaves" where expat's and overland trucks can get their fix of no Africa whilst in Africa. Usually owned and run by westerners, often ex overland truck drivers, they have all the trimmings of comfort, good means, and plenty of local cheap staff to keep the place at a five star level. This is where we felt like staying after the Comoros and visas in Dar.
1/7/06 Our camping peace and quiet was shattered by one of the overland trucks parking right next to our tent and at 5 am this morning its 30 occupants, oblivious to the other camper's desire to relax, talked and called loudly banging dishes, eventually raising our anger to saying something. These groups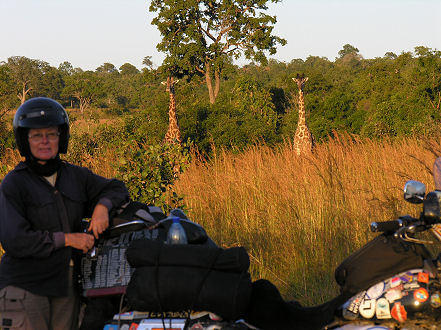 move through Africa in their bubble not too concerned by either the locals or other travellers they are impacting on. The rest of the day was relaxed.
2/7/06 Also an expat hangout, this Sunday, they thronged to the bar and beach. Peace Corp were the Americans, South Africans the expats. We had decided to stay another day, not needing to get to Lusaka for a week. The bustle of the day returned to a few campers in the evening for our solitude.
3/7/06 We teamed up with a German motorcyclist, Dietmar, riding a Honda Transalp, carrying as much equipment as us, travelling alone for a couple of years. We had timed the day to arrive at Mikumi National Park, 250 km south west, late enough in the day to hopefully see some wildlife. The main road passes through the middle of this park and on our last visit we had seen many animals. It is one of the few places in Africa where animals can be viewed from a motorcycle, normally banned in parks. Leaving Dar after an early lunch, it was great to let the motorcycle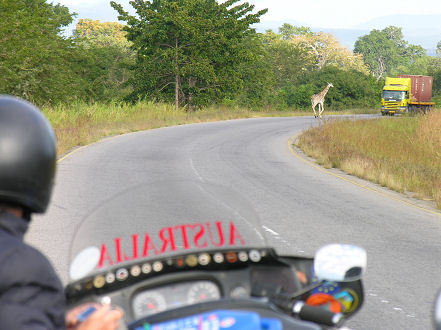 stretch out as we have ridden very little lately. We were not disappointed on arriving at the park. Elephants, unfortunately one had a broken leg, perhaps hit by a vehicle, were dotted throughout the savannah forest and open grasslands as well as giraffe, zebra and some antelope. After dark we arrived in Mikumi village and camped in the hotels grounds.
4/7/06 Some of our African animal photos from six years ago had not turned out as there was dirt in the camera so we decided to stay another day and return to the park for some more photos. As long as we remain on the main road we don't need to pay an entry fee. From just after dawn we returned, warthog and cape buffalo plus more elephants and many giraffe were again grazing close to the road. The grass is still long and the water holes plentiful so animals are spread out in small groups. After a late breakfast Dietmar left for Malawi and we siesta'd. Back to the park in the early evening seeing similar animals and baboons.
5/7/06 A cool morning start into the mountains and mid winter but warming to sunshine. We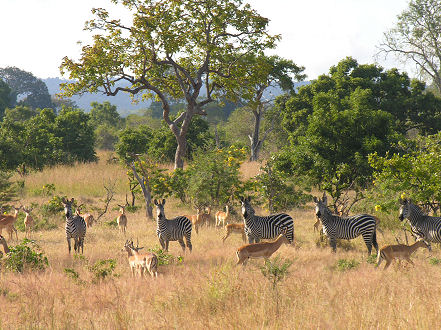 covered 600 km to the Zambian border without hurrying. The roads generally good through fertile land and scrubby bush. A lovely ride through a baobab forest for over 40 km. The border town fairly typical. Lively, with many touts and rougher than the rest of the country. Petrol is cheaper here than in Zambia and a roaring cross border trade in 20 litre containers is happening. The loud disco music kept us awake till the early morning hours and started again just after dawn from the music selling stalls making it a disturbed night's sleep.
6/7/06 Money changers were everywhere hoping for a dumb white to accept the first exchange rate offered but after a few enquiries we managed to change $100 US to get us to Lusaka before using our last Tanzanian shillings to fill the tank with petrol, and a five litre drum we are now carrying. The border opened at 8 am, well a little bit rubbery time, and an easy immigration in Tanzania and we didn't see a customs officer, nor wanted to, nor needed to.
Move with us to Zambia