Travel Through Tanzania on a Harley-Davidson
By Peter & Kay Forwood
Tanzania on a Harley (24/2/00 - 10/3/00)
Distance 2722 km (179909 km to 182631 km)
This is part of the Sixth section of our around the world trip.
Complete Trip Overview & Map
Coming from Kenya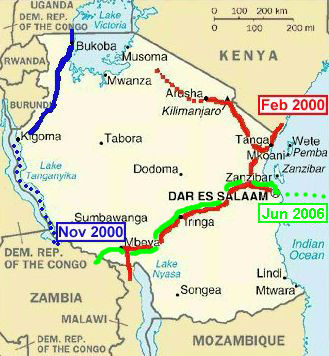 24/2/00 There seems little ethnic difference from one country to the other in Africa. The carve up by the Europeans didn't seem to take ethnic variations into consideration. However Tanga, where we are staying tonight, is reminiscent of some ex-soviet towns we have visited, a spread out grid pattern of concrete under-utilized buildings. Tanzania also went through a communist era in the 70's and 80's.
25/2/00 A long ride on a great road, 450 km to Arusha the tout capital of Tanzania. It is here that almost everyone comes to book a tour of the Ngorongoro Crater and the Serengeti or a trek up Mt Kilimanjaro and bogus as well as reputable tour operators vie for business. We were pounced upon by two main rival bands, about five in each, badgering us to stay here, or there, where they could then more relaxedly sell their product. By forming groups they can more readily surround the quarry, fending off intruders and substantiate what one is saying by referring to another, supposedly from another company thus bamboozling the target. Not interested in anything they were selling, as we decided to hang around the parks and see what happens, it was great to watch the polished performance.
26/2/00 Out towards the parks, 80 km of sealed and facing 100 km of bad dirt with unknown prospects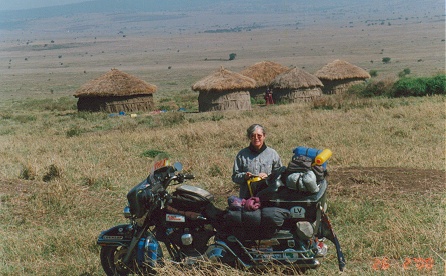 of arranging entry to the park watching the dozens of dust billowing minibuses and 4x4's carrying punters, one every minute, we decided to return to Arusha. Stopped off at a group of Maasai camps. Mud huts with grass roofs surrounding a thorn bush enclosure for night time protection of the cattle, goats and sheep. The men were out tending the stock and taking them to the only permanent water left at the base of the escarpment, perhaps 30 herds making their way to or from the watering hole. Women and children slowly emerged from distant huts to look at the motorcycle and ask for money for photograph, pen or our spare water or petrol containers. Again after friendly joking within ten minutes they had returned to being more themselves and played, laughed and even danced to the motorcycle cassette music.
27/2/00 The call of the wild got to us. We will join the mass human herd migration to the parks. The fear of being the only visitor to Africa and not seeing "the big five"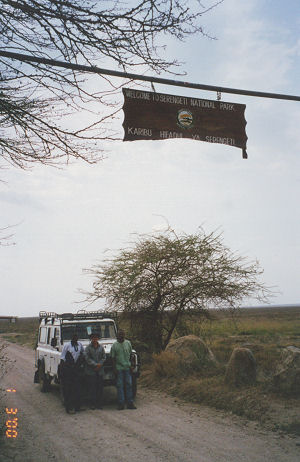 too daunting a stigma. To fulfil this now a relief that we can then see Africa in peace untroubled by taunts of other travellers. We booked four days, two nights in Serengeti and one in Ngorongoro. Our concession to ourselves, a private tour, using birthdays as an excuse to completely blow the budget.
28/2/00 Driver, cook and Defender Land Rover, left on time and drove slowly the 80 km of asphalt and slower the 250 km of dirt to our Serengeti campsite, one of many and shared with fifty tents and a dozen vehicles. Neither the park entry fee of $US 25.00 nor the $US 20.00 camping fees each person goes to maintain the corrugated road or campsite with just two toilets. But it is the wilderness experience. Nothing can detract from the first viewing of Ngorongoro from the rim. 20 km across and the air clear enough to see animals almost to the other side. A large lake at one end and smaller lakes and streams feeding it. The air cold at 2200m before descending to the enormous hot plains of the Serengeti. The dry season has ended here with thunderstorms rolling through. Gazelle, wildebeest, zebra scattered everywhere. The occasional giraffe, jackal, wart hog and hyena. Ostrich, secretary birds and bustards even the occasional vulture.
29/2/00 Night descended early with the sounds of lion, zebra and hyena surrounding the campground and snoring and bodily functions from within the campground. 5.30 am and the cooks were up. Ours had tea and toast waiting at 6.00 am and the whole area vacated by daylight 6.30 am. Three game drives interspersed with three top meals. Early morning highlights were a pack of about a dozen hyena settling in with there cubs for the morning rest and a pride of 12 lions with an old fully maned lion eating a zebra from last nights kill. A surprise was the midday drive where we could relax more with the animals watching the more common
herbivores survive a drink fronted by another pride of lions and crocodiles. The evening drive a little slower, however large herds of buffalo and a couple of elephants were seen along with a lone hunting lioness.
1/3/00 Another morning game drive, highlighted by a pack of hyena devouring a wildebeest carcass, left overs from a lioness kill during the night. They were in turn hassled by vultures not prepared to wait. Towards the end of the drive (five vehicles stopped ensures something interesting), a leopard was asleep atop a large canopied acacia tree with a Thomson's gazelle, partially eaten, wedged in a lower fork. The second drive was a departure one on our way back to Ngorongoro. We returned to the leopard tree to find he had moved out of the sun onto a lower branch and was more visible, two legs dangling either side of the branch and still asleep. Onto the open plains and a cheetah crossed our path hunting at midday. Despite the obvious caution it viewed us with, it remained in sight for over ten minutes. A herd of 30 female elephants and calves grazed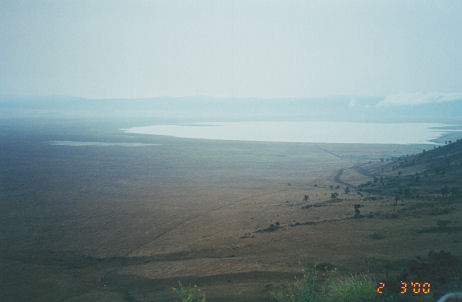 on an almost dry creek bed. The bulls only joining the herd to mate. We camped at the crater rim overlooking its lake.
2/3/00 Again an early start and we were only the second vehicle into the crater that morning (later to be followed by dozens). Two large old male lions followed by elephants tearing off the bark of a fallen tree. A black rhino grazed nervously not more than 10m away and then a pride of lion with three cubs crossed right next to the vehicle. Another pride with five cubs were devouring a wildebeest calf (thousands being born this time of year) in reeds next to the road. Hippo's wallowed and flamingos skimmed the shallow waters edge. Zebra, wildebeest and many other herbivores grazed and hundreds of birds, migratory and resident, were seen. All this action is played out every day in this 20 km diameter crater under the watchful eyes of hundreds of humans. The animals seeming almost oblivious to our presence. Left the crater about 1.00 pm for Arusha.
3/3/00 We had travelled over 1000 km's in our four day safari, over rough roads,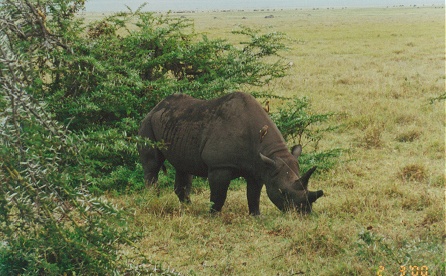 some slowly to see animals. The fold back roof allowed us to stand the entire time comfortably. We had rested only to eat and were exhausted by the end. There is no question of it being worthwhile and when comparing the costs with seeing the gorillas in Uganda the safari was many times better value. In the Serengeti we could escape other tourists and watch the animals in total quiet and solitude. It isn't the place but your driver/guide and to a lesser extent the cook who can make or break the experience. Expecting a tip commensurate with their performance they are ready to respond to your needs. Washed clothes, internet and recovered today.
4/3/00 Kilimanjaro's snow covered top peeked out at us through the clouds as we rode towards Moshi. The rain we had been having in the Serengeti was snow on the mountain and had prevented hikers from reaching the top. At 5895m, of the 50-100 climbers who set out each day only two thirds of them reach the top. The remainder are wasted by fatigue, the weather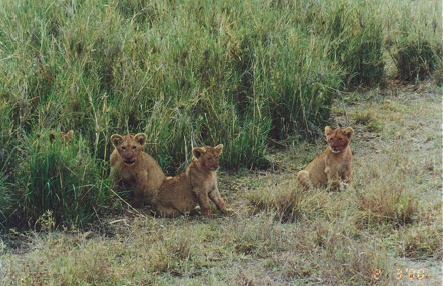 or altitude sickness. We used the snow on the top as a final excuse not to climb, not that we would have anyway, the $US 500.00 minimum price also being a deterrent, apart from the sheer effort needed. We hung around the visitors centre watching the guides, porters and climbers prepare to depart in pouring rain for the five day event then left to overnight half way to Dar es Salaam.
5/3/00 300 km through slash and burn farmland. It has rained here recently and the areas that have been cut first for charcoal to sell (bigger trees) and cooking firewood (smaller branches) then burnt off the rank grasses are now being sewn to maize. With pointed stick in one hand and a small tin of seed in the other a hole is made, seed dropped, trodden on to cover it and a lot of hope for more rain. Villages of stick and mud houses with grass thatched roofs and dirt floors are every few km's. You can easily see last years cropped areas and perhaps next years now with quite large trees. There are no animals almost the entire way presumably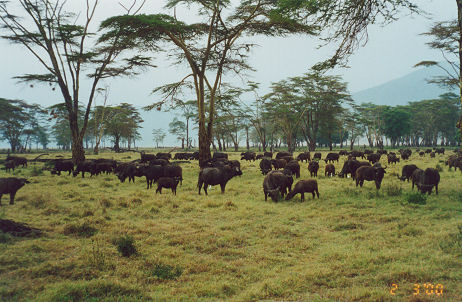 because of tsetse fly. Dar es Salaam for the night, a quiet town on a Sunday.
6/3/00 When your eyebrows can't cope when you are just walking the street you know the humidity is unbearable. It is almost raining every day but not. The air is so thick it sticks to your clothes and they are glued to your crutch. Another city with the pleasant mix of Indian, African and Arab along with each's variety of religion and foods. Not yet high rise and small enough to be friendly. Generally only seeing tourists on their way to or from Zanzibar forced to overnight here. The wealthier, get out of Europe for the winter variety, laze on the beaches crowd. The embassy advised that the roads in Mozambique should be open in a few weeks, after the floods, and it is cheaper to get a visa in Malawi. We hope to be moving slowly enough to miss the floods without having to wait around.
7/3/00 Cheap or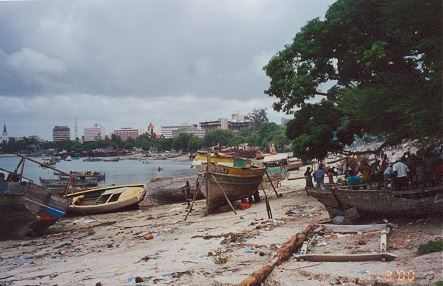 expensive restaurants you still get the same stony rice and bone chip meat to test the best western dentists fillings. This area of East Africa was the centre for the slave trade in the 18th century having marched them from one side of Tanzania to the coast they were shipped out of Zanzibar. The national museum here also, showing the local tribes and their cultures. While we feel that westernisation of the world is happening right now it has been going on for hundreds of years through trade. Even before that, trade was changing cultures with the introduction of copper and bronze and before that pottery and agriculture. Cultures seem very fast to develop in isolation, (like the Africaans of South Africa) fast to change outwardly like western dress and goods, but slow to change rituals and religions.
8/3/00 Good roads in Tanzania mean speeding vehicles and the first radars we have seen in Africa. We were pulled over and politely let go once but the second time the police were out for money. The fine $US 30.00. We disputed the speed and were informed to pay the fine and settle with the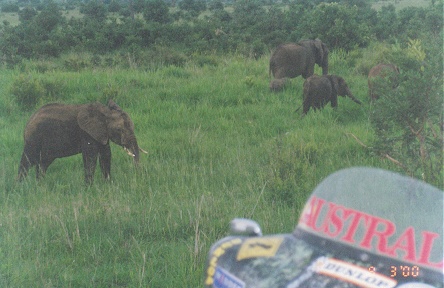 courts later. We explained we had insufficient money and were asked how much we did have (intro to a bribe). We explained not enough and perhaps we should go to the court now to settle the matter and the police could accompany us. This was agreed but as we were getting ready they changed their mind and let us off with a warning. Too much time and effort for them and away from their business of personal money collection. The road to Malawi passes through Mikumi National Park for 50 km. A freebie, with the same animals easily seen from the road. We rode through slowly, took a cheap room in a town just south of the park and returned to watch a herd of 50 elephants with young calves graze into evening near the road. We also saw giraffe, buffalo, warthog, antelope, zebra and baboons.
9/3/00 Another quick look into the park before heading into the beautiful mountains, green with recent rains and not grazed nor cropped for charcoal production presumably again because of tsetse fly. Large tall trees with patches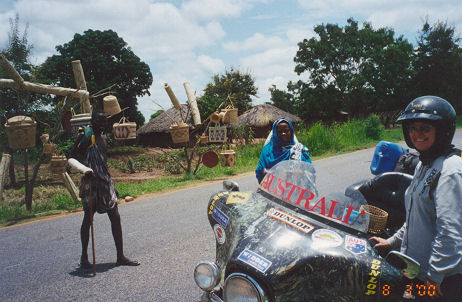 of rain forest and vines in the gullies and ancient boabs everywhere. The countryside then opened out to Tanzania's bread basket with maize, the staple diet, about ready to harvest in some areas and barely started growing in others. Mud and grass huts gradually giving way to local brick and metal roofs as we neared Mbeya for the night. 580 km and some of the best roads and scenery in Africa.

Move with us to Malawi , or go to our next visit to Tanzania.