Travel Through Switzerland on a Harley-Davidson
By Peter & Kay Forwood
Switzerland on a Harley (21/9/09 - 25/9/09)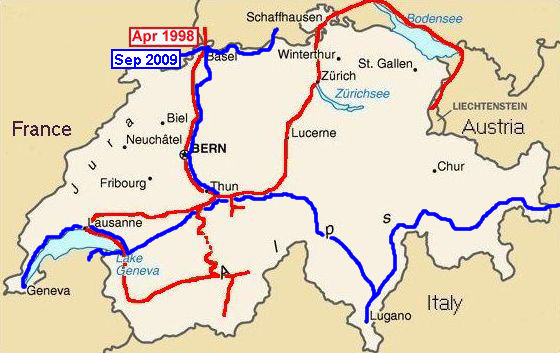 Distance 523 km (548105 km to 548628 km)
This is part of the fifteenth section of our around the world trip.
Complete Trip Overview & Map
Coming from Germany or read our previous visit to Switzerland

21/9/09 It was a lovely ride alongside the Rhine River, the border, then the motorway to Bern, Switzerland's capital, and where Mika currently lives. We had met Mika, firstly in Turkey in 1998 as he was just starting his trip, and again in Peru in 2002. Mika ended up travelling the world for over six years on his single cylinder Yamaha Tenere, more than a quarter of a million km's. His partner, Damaris joined him a couple of times, eight months in South America and again for a year in Africa,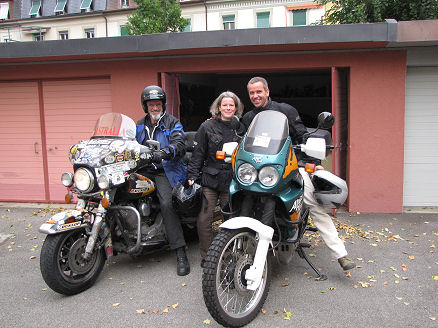 but we hadn't met Damaris till arriving at their unit almost in the centre of Bern. Mika still has his Tenere but has acquired a couple of other motorcycles, a 1991 Honda CBR 1000, more suited to the motorways than the Tenere, and an Africa Twin, the one he will start his next travels on in a couple of months. Despite being homebound in Switzerland for the last four years he has never really settled. A brief look at being a motorcycle tour guide, a couple of summer jobs as a courier, but not wishing to return to his profession as an engineer, he will be off travelling indefinitely at the end of the year. It was a lovely social evening at their unit, a few beers and wine over a fondu dinner, a meal we haven't had for years, something popular in our late teens that has passed us by recently.

22/9//09 With Mika currently not working and Damaris able to work flexible hours in her banking job it was a late rising. An oil change on our motorcycle in their garage after Damaris had her first ride on a Harley to warm up the engine for the oil change. The comfortable back seat the biggest talked about difference from other motorcycles. In the afternoon we all caught a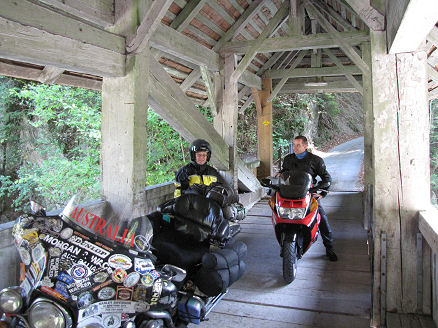 bus to the other side of Bern and walked back through the old city as memories of our 11 year ago visit kept popping into our minds. The bear pits, now under reconstruction, the bridge over the lovely river that bends about the city, the old clock, the below ground shops in cellars, a coffee in a park and a stroll back to their apartment followed by dinner and more great conversation ended the day.

23/9/09 Damaris was back at work early but the rest of us had a relaxed start. Mika had decided to ride along with us to Spiez then over the mountains to Aigle via Saanen. We parted company in Aigle and while Mika took the motorway home we settled into the local campground, quite exhausted from the last week or two of travelling and visiting. The ride had been great. Switzerland's roads are quite exceptional, even in Europe, with well engineered corners and most of the time there was little traffic. Of course the scenery is always stunning here. With the equinox having just passed and darkness coming at 8pm it wasn't long after before we were in bed, no waking till after light, 7am, the next morning.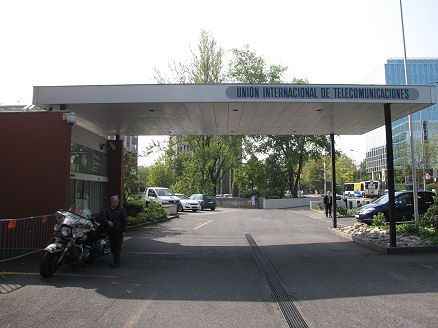 24/9/09 The campground was comfortable so we decided to rest a bit for the day, taking a loop of Lake Geneva for a bit of a ride. The Most Travelled Persons list of places includes the ITU Building in Geneva. It is the international telecommunications organisation, that has existed for over 140 years, co-ordinating the radio spectrum, assigning satellite orbits, establishes worldwide standards for connectivity etc. and is a part of the UN that we had mostly come to visit. Why is it a MTP's place? Well that is a good question. It appears that part of the original list of MTP places came from the DXCC, an amateur radio operator club, and as they used a different code for the ITU it ended up on the list, and is a bit of an anomaly. Geneva is a city of flags, where over 40% of its residents are from abroad, where almost everyone is in a suit, or high heels, strutting in their own importance, where security is paramount, where we felt we didn't belong, nor wanted to belong. It was a short visit, a photo outside the ITU building, once the security had approved it, and we departed
back along the freeway flanked by grapevines running up the mountainside, to rest at our quiet campground. As darkness fell with the shortening days we settled into the tent to watch a movie on the laptop, previously downloaded from the internet, powered by the motorcycle's battery and an inverter. Ain't modern communications technology great.

25/9/09 It was a short ride to the French border, spending our last Swiss Francs at the petrol station as we left. The engine noise that had been so dominant still hadn't returned?


Move with us to France