Travel Through Switzerland on a Harley-Davidson
By Peter & Kay Forwood
Switzerland on a Harley (6/9/09 - 9/9/09)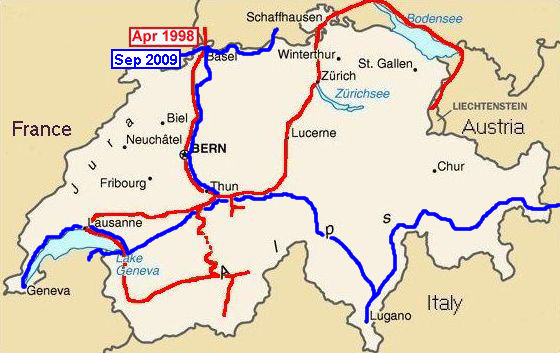 Distance 668 km (545066 km to 545734 km)
This is part of the fifteenth section of our around the world trip.
Complete Trip Overview & Map
Coming from Luxembourg or read our previous visit to Switzerland

6/9/09 Switzerland doesn't seem to be part of the new Europe and whilst it has at times adopted similar rules some things are different like needing to purchase a calendar year token to use the tollroads, even if our visit is only for one day, or for the full year, it is 30 Euros. They also still have their own currency, the Swiss Franc, so it was a little more organising to cross the border than we have recently had in the Euro zone. Dietmar was riding his Honda Tenere in Tanzania when we
first met in 2006. A year later our paths crossed again, this time in India, both still on the same motorcycles we rode together for a while in the Indian Himalayan mountains. Dietmar now lives back home in Germany but has a partner in Grindelwald, Switzerland, Midori, a Japanese woman who works in the Japanese tourism industry in the town. We arrived at her flat in early evening. It was in an old, traditional house, with magnificent views overlooking Eiger Mountain. She had prepared a semi traditional Japanese meal of grilled fish, salad and vegetables which we ate with chopsticks, bringing back memories of Asia. Dietmar had finished his trip almost two years previously and had now settled into a more normal life, working, doing slide shows and has recently had published a variety of photo calendars and is in the process of having a pictorial book published, photos taken from his time on the road. Future trips are perhaps planned but are not an immediate priority. In fact Dietmar and Midori had only just arrived home from a short motorcycle holiday, their first on the motorcycle since Dietmar's return.

7/9/09 Midori had to go to work after a two week break while the remaining three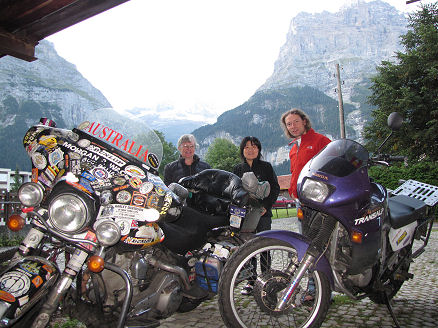 of us strolled around town in the morning and while Kay rested Dietmar and I went for a short hike across the valley towards the glacier, which like many other glaciers in the region is shrinking with global warming. We then strolled along the river and back to town. Another quiet evening talking of travels over dinner, a beer, and a wine, in Midori's unit, with us later sleeping on the roll out bed in the living room. We are often asked if we could live in another country other than Australia. New Zealand often comes to mind, and now this area of Switzerland could also be a possibility, at least in summer, but we really think that Australia will hold us if we ever settle down. Switzerland is quite magnificent in its scenery and peaceful way of life. People were out all day today, walking the hills or mountain biking. Farmers, on their small farms, were cutting, raking, tossing and baling the last of the summer's hay on the steep slopes with specially adapted machinery, low to the ground and with wide tyres. As Dietmar said you can't live in such an area and not be part of nature and want to keep fit walking and hiking. He is currently thinking of moving here permanently from his home and job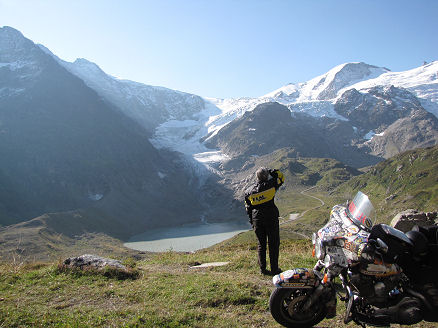 near Freiburg, Germany.

8/9/09 Another perfect, weatherwise, start to the day with sunshine just clearing the mountain peaks as we were leaving, out third sunny day in a row and almost a record for us this summer. As part of our future plans and to keep up a bit of interest in travelling to new places we have decided to, but without being ridiculous in our efforts, visit as many places on the Most Traveled Person's web page as cross our path or are nearby. They currently have over 700 places that are represented in their list of significant entities to visit. There are all the countries, most of the states within those countries, literally dozens of tiny island atolls (which we won't be taking the motorcycle to), plus other interesting enclaves. On looking through their list recently we found two places nearby, one is the tiny Italian enclave of Campione d'Italia, a 1.6sq km piece of land surrounded by Switzerland with special status. It was founded around 77BC and hosted the US military during WW2, but now is a thriving place due to its casino. We rode there through magnificent Swiss mountains, over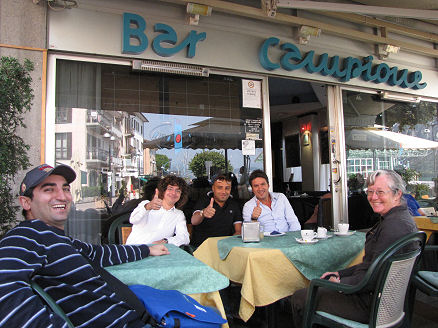 the Susten and Gotthard Passes, sharing the road with road hugging motorcycles outnumbering cars, but continued our comfortable pace content that we were unlikely to again be along this road and what scenery we now missed we would have missed forever. After a couple of roadside stops, the top of the passes, overlooking a turquoise mountain lake, we arrived at Campione d'Italia. The enclave oozed money. Stunning hotels, lakeside restaurants and bars, and cars we have never seen before dotted the narrow streets giving the feel of a mini Monaco. The local police asked for a photo, and our motorcycle was recognised (from a recent Italian magazine article) by an Italian who worked at the casino, who invited us for a coffee with his friends, and a promise to meet again at the rally in Austria, where he would be riding on his H-D V-Rod. With our celebrity status over it was back to the highway before finding a campground alongside a river in a small ski town near Lenz. The perfect day only marred by the shaft of a rivet having entered the edge of the rear tyre which had then rubbed a second hole through the sidewall. Our initial efforts to repair both holes with a single rope style
plug was unsuccessful, with both the plugs being spat out just a few kilometres down the road. The second attempt with two rope plugs in each hole was more successful, and using less tyre pressure we got to a campground.

9/9/09 The plugs had held overnight but within a few kilometres the sidewall one (in a slight tear) spat out on a tight corner. We have no trouble riding with the rear tyre almost flat on the Dunlop tyres as the sidewalls alone are almost strong enough to hold the motorcycle up. With only a few more rope type plugs, two more were inserted, and when we reached the top of the Albula Pass, a generous BMW rider offered us his BMW tubeless tyre repair kit (apparently illegal to use in Austria and Germany) which was lucky for as we entered the town of Zernez, with every shop closed for lunch, (a common practice in this region where a two or three hour lunch break is virtually mandatory), the sidewall plug spat again. Inserting the BMW, loop style plug it stopped the leak and we continued all day without further problems.

Move with us to Italy or go to our next visit to Switzerland