Travel Through Sweden on a Harley-Davidson
By Peter & Kay Forwood
Sweden on a Harley (3/7/10 - 8/7/10)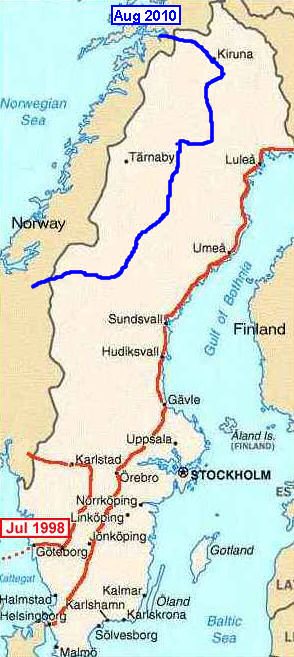 Distance 1164 km (577940 km to 579104 km)
This is part of the sixteenth section of our around the world trip.
Complete Trip Overview & Map
Coming from Norway or read our previous visit to Sweden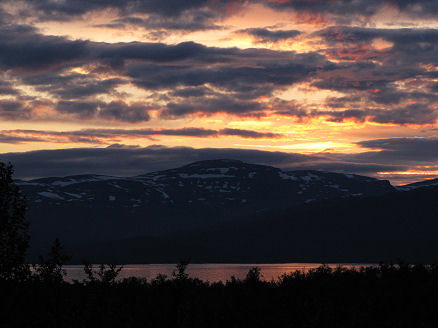 3/8/10 This is a remote area of Sweden, although at the moment, in peak tourist season, there are thousands of visitors like at the Abisko National Park headquarters, where the accommodation block was bustling with hikers and roadside fishermen park cars and trek or boat to their favourite spots. Immediately we noticed things here that were missing in Norway. Signs were in both Swedish and English, perhaps a part of the more multicultural approach Sweden has to the world. And the other major difference, prices were again reasonable and openly on display. It is at the Abisko area that the famed Gateway to Sami land, a cradle between two mountains, is easily visible and we wild camped with full view, near a mountain river, fending off mosquitoes and midges, although they were not overly intrusive.

4/8/10 We awoke to a magnificent, warm, sunny morning, something we haven't seen for a while, and it was a slow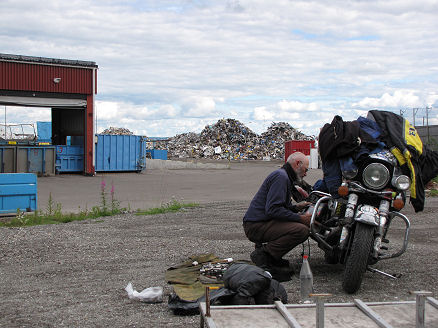 departure taking advantage of dehumidifying our belongings in the sunshine. Kiruna for lunch, just 100 km's. It is an iron ore town that has been removing the rock for over 100 years, (so much so that part of the town is in danger of collapse and houses are being relocated) and sending it by rail to Narvik on the Norwegian coast. A real town, full of young people with mining money, their cars, hotrods, restored 50's models, lapping town. We did an oil change on the motorcycle, at the local rubbish dump, a great place to recycle the old oils, then visited the famed "Ice Hotel" which wasn't there, it has melted, but they assure us it would reappear next winter. Ice is collected from the nearby river each winter, stored through the summer in a massive cold shed, then used to build next winters hotel, with beds at a price to match the effort. Wild camping in Sweden, as described to us by a local, is the easiest in Scandinavia. You can camp anywhere for one night, anywhere except in someone's garden. That is public land, private land, anywhere, and you can even collect berries, as long as they are eaten on the spot. I wish Australia had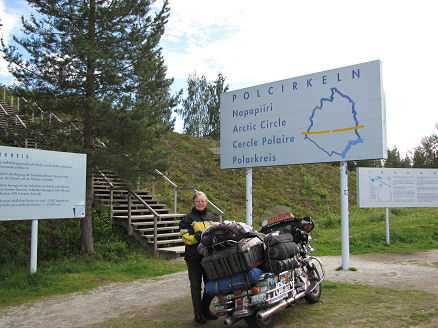 similar rules. Although there are few fences up here there are appearing more locked booms across private side roads, preventing vehicle access to summer fishing villages, almost gated communities, still there are plenty of places like tonights at a rest area at the edge of the Kiruna region, where at a bridge, near the river we camped. There were about 15 other, mostly campervans, also camped up, all having access to picnic tables, toilets, drinking water, and even hot water in the disabled toilets, where we managed a dip shower from the basin, all at no cost.

5/8/10 Sweden, for us, has a positive feel to the place. People are friendly, helpful, easy going. We are typing this diary at the hotel restaurant next to where we camped last night. It has been raining since midnight, so over a coffee we are catching up on computer jobs away from the tent, which can become a bit claustrophobic after a while. By midday the rain had cleared and we were travelling again. The trees started to increase in size, timber production intensified. Heading down the centre of Sweden (E45) and just south of Jokkmokk we again crossed the Arctic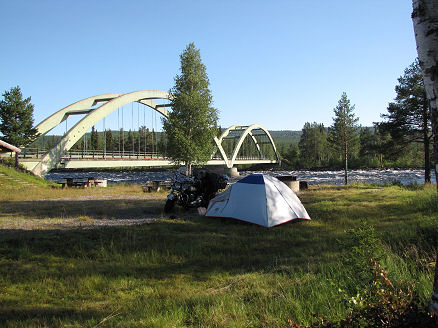 Circle. An extremely low key event here, no claims to Santa Claus, just a sign and a restaurant, and another excellent rest area. Another riverside campsite alongside the Pite River, again shared with a dozen motorhomes but no tents. Other motorcyclists, and we are still seeing many loaded with gear, seem to take campground cabins or hotels.

6/8/10 Despite thousands of kilometres of travelling in Scandinavia we have seen little, really no wildlife. The reindeer, although free to roam great distances, are almost all owned and domesticated. Hunting is allowed. Elk (moose) are hunted for meat and sport, some bear are culled, birdlife is thin. When we compare it to our travels in North America where even outside national parks we encountered moose, a variety of deer and bear fairly regularly, wildlife viewing here is more than a little disappointing. Perhaps it is the length of time the region has been inhabited, or perhaps its the culture of wildlife as a food source. Another magnificent day, weather wise, and we passed through Storuman, where
we shouted ourselves lunch out, courtesy of having too much Swedish money, a result of not spending anything on accommodation since arriving. Again rest area camped, south of Vilhelmina, tables, toilets and drinking water provided, better facilities than many pay campgrounds where we have stayed.

7/8/10 Magnificent weather yet again and even the locals are talking about it being a veritable heatwave at mid 20's, yet people are out squirreling in firewood for the long winters. Still the main form of heating in country areas each house has a large shed full, ready for the almost endless winters below freezing. A walk around Ostersund, the largest town in the area, with free internet at the tourist office, catching up on worldly events, banking and friends. Our last major town in Sweden was Åre, a ski town, where we stocked up on food, much better priced here than in Norway, and spent our last Swedish Krona. Near the top of the pass, heading for Trondheim but still in Sweden, we spotted a waterfall and a lovely area for the night, away from everyone, and while strolling the boggy hillside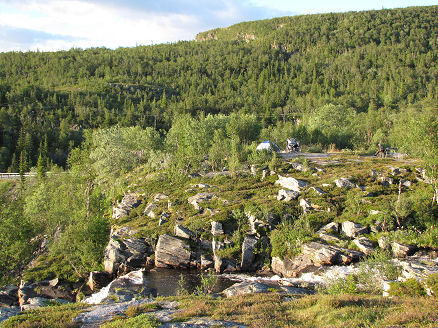 stumbled on some ready to pick cloudberries. We had tried frozen ones on our visit to Tromso in January, but these were doubly good, fresh and wild picked.

8/8/10 It was hard to leave Sweden this morning, its encouraging policy of providing great facilities for roadside camping, plus allowing free camping elsewhere, really made our stay here.





Move with us to Norway