Travel Through Sri Lanka on a Harley-Davidson
By Peter & Kay Forwood
Sri Lanka on a Harley (12/8/07 - 15/8/07)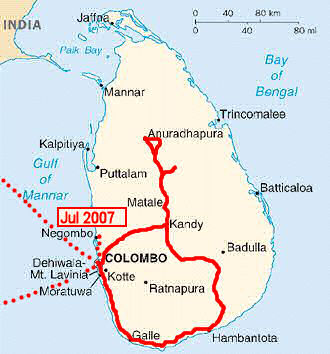 Distance 0 km (500064 km to 500064 km)
This is part of the thirteenth section of our around the world trip.
Complete Trip Overview & Map
Coming from Maldives or read our previous visit to Sri Lanka

12/8/07 Flew in this morning and went straight to Negombo, the beachside town just north of the airport. We mainly returned to Sri Lanka to finalise paperwork with the agent here and ensure the motorcycle lands and gets transhipped to Fiji. A totally different society from the Maldives. People are more open, chatty, industrious and competitive.

13/8/07 It is interesting coming to a country from a different angle. First coming here from India and now from Maldives. Comparisons are made from where we have just been as much as to the world in general. The crystal clear waters surrounding Male are now replaced by brown waters along the Colombo coast. The hotel is a little more run down than it appeared before. Rubbish is scattered along the beach, the vehicles older. But compared to India it was a great step up to arrive here. Stayed near our hotel all day, the beach and a nice restaurant.

14/8/07 We joined the commuters on the bus for the 35 km, one and a half hour trip to Colombo city. GGL Line advised a boat to Singapore leaves on the 18th and they should be able to get the motorcycle into a container and on that ship. But it has not yet arrived in Colombo, tomorrow hopefully. Again the handling fees seem enormous here, $US 350.00 for freight all the way to Fiji seems reasonable, but another $150.00 to unload from Maldives, transport and pack to leave Colombo port seems excessive. Part of the reason we were given was corruption. Customs will try to create problems to the trans shipment. Knowing we are in a hurry they will hold all the cards for a good bribe. The money was paid and the motorcycle should be seen next in Fiji, the earliest 11 Sept, the latest, the end of September, depending on shipping schedules out of Singapore. We await the reality.

15/8/07 This is the last entry for this trip. We fly out this evening for Bangkok, Thailand, where we will stay for nine days for dental and optical check ups, much more economical than in Australia. Then to Brisbane, Australia, where our three children reside, and await news on the likely arrival date for the motorcycle in Fiji.


You can either move onto planning the fourteenth trip or go to the first country of that trip Fiji