Travel Through Spain on a Harley-Davidson
By Peter & Kay Forwood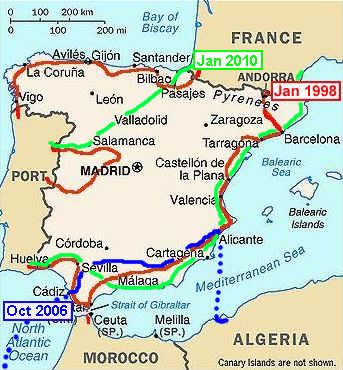 Spain on a Harley (27/2/10 - 13/3/10)
Distance 1794 km (555877 km to 557671 km)
This is part of the sixteenth section of our around the world trip.
Complete Trip Overview & Map
Coming from Portugal or read our previous visit to Spain
27/2/10 An easy highway ride in strong winds but dry. We had booked by internet, our accommodation, just out of Seville, in the historic town of Alcala del Rio, at the navigable headwater of the Guadalquivir River. Romans had been here before the Spaniards, building a bridge across the river, Vandals, Visigoths and Moors, came after the Romans. The Moors stayed for 500 years, so there has been a bit of history in the area. It has been raining heavily upstream the last weeks and the river was still in flood as we looked out of our hotel window across its swollen banks to the more modern weir, a 1930's model.

28/2/10 Despite the battery holding charge yesterday it was flat again this morning, Sunday. It is a heavy motorcycle to push uphill for a roll start before we could ride to Seville for the popular local tourist outing of strolling the old city's cobbled pedestrian streets,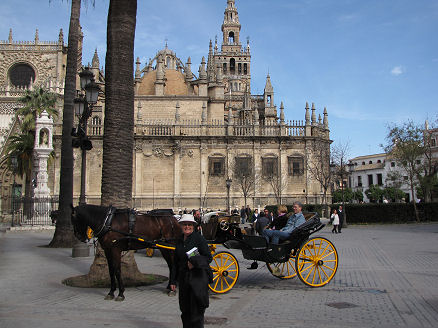 looking at ancient buildings, riding in horse drawn carriages, or sitting at a street cafe for a tapa and coffee. Another rolling start was required, down into an underground car park, to get home, as the battery seems not to be holding the slightest charge. Late afternoon it was a stroll around Alcala del Rio, watching locals out looking at the swollen river, and us hoping spring has arrived, as more than one swallow flitted about to nest under the eaves of our hotel. We joined in the Sunday afternoon family drink at a local coffee/bar, jamon, olives, provided with our wines.

1/3/10 We like Spain, its relaxed carefree atmosphere, friendly people, its lunchtime comidas (set lunch menu), and small bars for an evening drink. Our Spanish is still poor, but we are encouraged to try and not mocked for mistakes. The battery was so flat this morning that even a push start failed. The manager of our hotel called a friend and jump started the bike. It was almost a non stop ride, just a hill start half way, to Torremolinas, back to the coast, even buying petrol with the engine running. The holiday long weekend ensuring all possibility of purchasing a battery, gone. Again having booked the cheapest accommodation from www.booking.com, within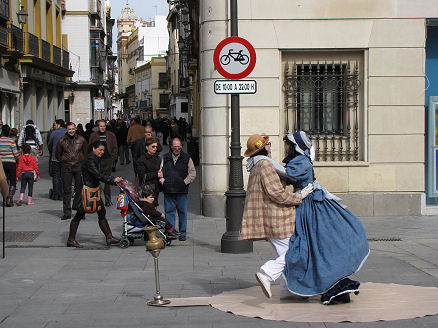 a 50 km radius of where we might wish to be for the night, we had selected a hostal, 22 Euro a double, in the middle of town. This method of accommodation selection gets us away from the Lonely Planet crowd, usually into the local accommodation places, and gives us a fixed price destination. Torremolinas is the original area of Costa del Sol, popular with British tourists since the fishing village became a tourist mecca in the 1950's, it has grown to highrise, and now suffers from the weak pound and general tourism downturn.

2/3/10 Our main aim today was to get a new battery, and after a few enquiries a motorcyclist offered us to follow him to a local automotive shop, where we bought a small car battery to fit into the pannier, the place we now keep the battery, as H-D ones are often expensive and difficult to obtain. While there we also bought oil for an oil change, did our grocery shopping, and just before it started to rain were back at our hotel. The brilliant weather site www.wunderground.com gives detailed weather for the day in 3 hourly increments, meaning we can plan our days riding or activities around morning or afternoon rain or sunshine, showers or drenchings.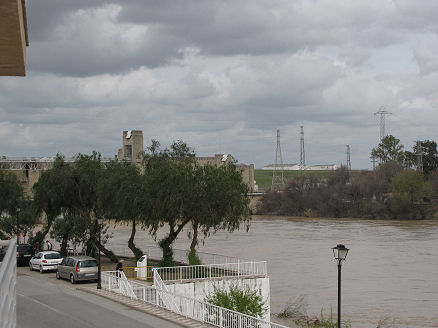 Highly recommended for motorcyclists who think riding in the rain is not much fun, like us. It rained all afternoon so it was a quiet time at the hostal.

3/3/10 Finally made it to the beach. A stroll down off the escarpment, through the pedestrian streets and onto the, fairly typical of this region, wide grey sand, covered in umbrellas and banana lounges, stretching left and right. The pedestrian walkway, paralleling the waves, was pounded by geriatric holiday makers, mostly from the UK, and moving inland further were the line of coffee shops, restaurants and take home proof shops of a holiday to the south of Spain. Rain showers had kept us here for another day, and between them we strolled the beach taking refuge for a coffee during downpours.

4/3/10 A lovely sunny day. Spring could be accused of having arrived. 320km to Vera, past Almeria, past dozens of square kilometres of land under plastic. Ever wonder where the supermarket tomatoes and capsicum come from, well the south of Spain supplies the whole of Europe in winter, and today we rode for kilometres after kilometres past these modern day "glass houses".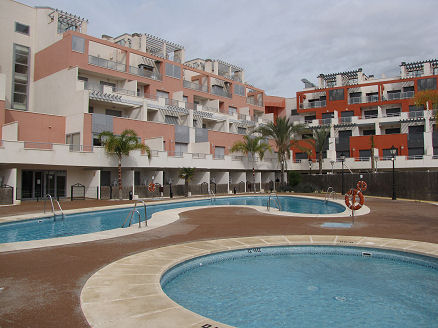 So valuable has been this crop that hillsides are terraced or flattened to make more usable land to be plastic covered. But not all of the coast is so spoilt as the road mostly ran near the ocean, with ocean views from our high vantage point as we passed making it a lovely ride.

5/3/10 Vera, or really Garrucha, is just another seaside development that is suffering from a withdrawal of funds, either holiday makers or unit investors, so our accommodation today is in an apartment, almost new, underground parking, with modern facilities including washing machine and dishwasher along with the usual lounge furniture, kitchen and bathroom, overlooking a complex of pools and spas, all for only 35 Euro a night. The couple of hundred apartment complex has less than ten residents even at this price. The owner investors would be having difficulty just covering the apartment costs. This whole region is suffering from too fast growth, shoddy workmanship, and now a lack of maintenance. We walked the grey sand beach, sighting just a couple of permanent residents, retired Dutch, German, settling here either permanently or for the winter.

6/3/10 A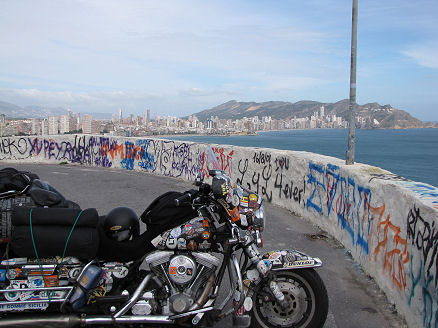 pleasant enough ride, past Murcia, inland, barren countryside despite recent rains, onto Alicante, and a Saturday visit to the local H-D dealer, whom we had previously visited over three years ago, on our way to Algeria. Saturday morning here is coffee and croissant morning and there was a small gathering of riders and customers indulging. The economic downturn is severely affecting H-D dealers in this region also. Our next cheap accommodation is at a different seaside location, Benidorm, just north of Alicante, longer established, more highrise, more atmosphere. Again we took the cheapest option, a bedsit apartment, overlooking the beach, 25 Euro a night, in an older block of 20 apartments, comfortable on this colder day.

7/3/10 A drizzly day, not raining, not dry, just misting enough to get wet, just cold enough to think of staying indoors, but a morning stroll enticed us out. More northern Europeans, more retired Brits, but being a Sunday there were also dozens of busloads of elderly Spanish, umbrellas raised, strolling the beachfront, following songsheets to sing hymns in groups, and shopping in the tight narrow streets in back of the headland. While sitting, overlooking our magnificent view of Benidorm, we couldn't help feel mankind had become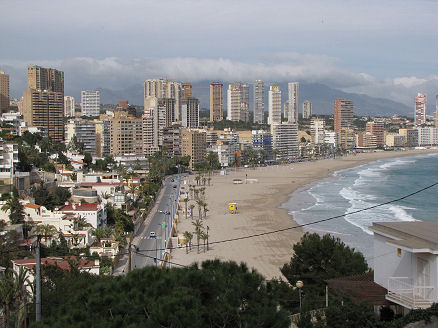 part of an enormous beehive, each with his own specialist job, a drone, queen, worker, pollen collector, nurserymaid, and how if the structure of our society removed just a part, our society would collapse, like a beehive removed of one of its components. Fewer and fewer in todays world can claim independent survival skills, providing the basic essentials, the food, clothing and housing for themselves. Our beehive continues to grow, becomes more and more complicated, each individual understands less and less of the total, becomes more and more specialised, and less adaptable to any massive change in its structure, a feature that has made many other species extinct.

8/3/10 The locals are telling us this is the worst, weather wise, winter in living memory, and today, like most days recently, it started with rain and overcast. Tourists are still coming though as it is also colder in the northern countries. The cloud cleared as we rode past Valencia, but the day didn't get any warmer, less than ten degrees, but better than just a couple of hundred kilometres to the north where in Barcelona it snowed heavily bringing the city almost to a halt. Todays ride was to Alcossebre, along the coast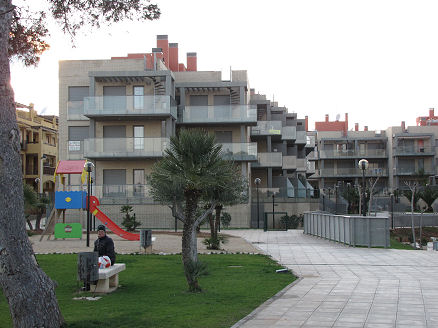 for a while, more fertile country, oranges and locquats, inland past stone fruit orchards, and almost always with a mountain backdrop dropping strong cold winds.

9/3/10 Our booked one bedroom apartment was upgraded to a two bedroom fully contained suite at Alcossebre Suites Hotel, 29 Euro a night. A brand new apartment building fronting onto the ocean and managed by the same company. Our cheaper option, even though advertised as open, wasn't, so the upgrade for free. It seems this region is just starting its summer season and whilst management has just opened there are no bookings, we are the only occupants. Went for a ride into town. A quiet place in this season, mainly thronging with motorhome residents from the nearby caravan park. A new waterfront boardwalk and beachside activity park was being bashed by a violent ocean, part of the storm to the north.

10/3/10 With snow still on the ground in Barcelona, to our north, we checked in for another day. Just a coastal walk to town for coffee, else a cold but sunny day. Probably the biggest change we have seen in Europe since our visit eleven years ago is the unification of things. Whilst people fear or rebel against Americanisation of our world, Europe is quite quickly becoming a unity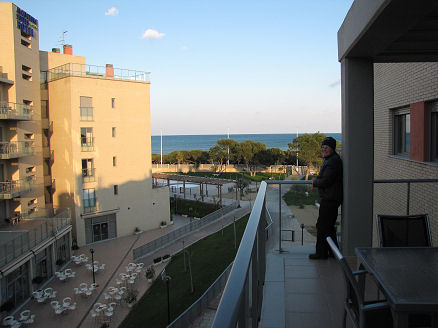 region. More English is spoken than ever before. Often we see signs written in the local language and English. Supermarket chains have filtered across many borders, banking has become universal. People, particularly older generations, are moving, buying houses and settling in warmer climates, bringing with them their home lifestyle traditions, creating international microcosms of foods, bars and restaurants. The increasingly regular out of country tourists are also demanding home town luxuries, breads, meats, accommodations.

11/3/10 300km's avoiding motorways, mostly along the coast, beaches, through Barcelona, some lovely cliff to ocean riding, and ending up in Calella, another coastal tourist town. The weather was cold but sunny, making the ride one of the best this season. H-Top Olympic is a mass tourist hotel, one of many in the town. A box, seven stories of identical rooms, soulless, characterless, functioning as a bus group overnight stop. Tour group busloads from the UK, Italy, Germany and Greece were here, and at an accommodation and half board price of 15 Euro per person, a bargain, even with the congestion. The evening feeding trough opened at 7pm and continued till everyone was gorged. A buffet cafeteria selection serving a few hundred hungry patrons. Most then went out on the town for the evening, where rumours started that Prince Harry had been sighted, unescorted, spoken to and even photographed?

12/3/10 About ten busloads left this morning, all ages, university students to the retired, dragging wheeled luggage through the foyer to assigned vehicles. On mass, trolley pushing maids attacked the empty rooms, readying them for the next influx. Calella has a lovely wide expanse of beach, backdropped by ancient lime trees, and narrow pedestrian streets making the old towns shopping centre a pleasant walking area.

13/3/10 We hadn't seen any of the reported dumping of snow to this region until leaving and heading for Girona, where with temperatures in early morning at zero, there were still fields of snow across the countryside, which continued, although more patchy, to beyond the French border.

Move with us to France