Travel Through Spain on a Harley-Davidson
By Peter & Kay Forwood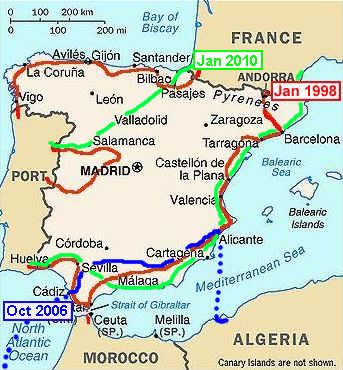 Spain on a Harley (11/10/06 - 16/10/06)
Distance 746 km (473098 km to 473844 km)
This is part of the twelfth section of our around the world trip.
Complete Trip Overview & Map
Coming from the Canary Islands or read our previous visit to Spain
11/10/06 The ferry arrived on time at 8am and we rode off into Cadiz. Choosing the inland route to Alicante, heading initially for Seville and then onto Grenada it was great to be on good roads of length. Four lanes almost all the way and the two day plan quickly turned into one of 700 km as we rode into Alicante late evening. It was one of those almost perfect riding days that come along occasionally. The cool morning was complemented by midday riding in the Grenada mountains returning to the coast on evening. Rolling hills of olive groves gave way to fruit trees and intensive small farm agriculture. Straight to the port area to see what the ferry schedule to Oran in Algeria was. Transmediterranea had cancelled its service from early October to almost the end of the month but Algerie Ferries was still running about twice a week and had Ramadan specials of about 360 Euros for the motorcycle and us.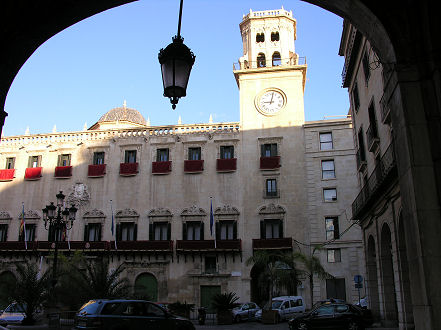 A cheap, by European standards, pensione accommodation right in the middle of this magnificent historic city with its citadel overlooking the, now private boat packed, marina port. A promenade along the wide ocean front, internet and collapsed into bed after a great day.
12/10/06 The Spaniards have a reputation for all night parties but this Wednesday night we were a little surprised to have our accommodation's street rock on till after 4 am. It wasn't till the Algerie Ferries office, the tourist office, and finally the Algerian Consulate were still closed late morning that we realised it was a public holiday and we could not get started getting our visa till tomorrow. A boat leaves today, and another one in four days time, the one we are aiming for. A tentative boat booking, necessary for the visa, an explanation letter to the consul explaining the need for an urgent visa, and we are ready for tomorrow. In Africa the population is young, few truly old people are seen. In the middle of European cities the population is old, children do not wander the streets off to school nor play in the streets. Old people with their portable wooden folding chairs sit in the parks in the early evenings chatting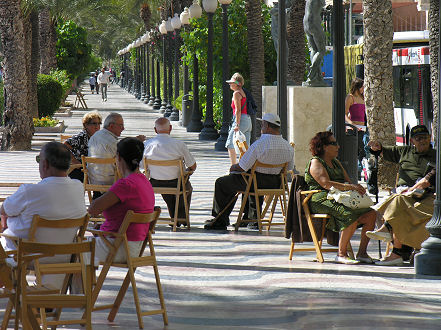 with friends or playing cards and dominoes or just watching time pass. Another party of younger revellers lasted to the early morning hours as we slept with earplugs against the boom boom music.
13/10/06 Today we received an email from a couple, travelling with their small child, that I first met in Turkmenistan last year, that have been taking a similar route to ourselves through the islands off the East African coast. They had planned to leave Madagascar from Mahajanga for the Comoros but arrived just after the boat, "Al Moubarak", had left port. Later they learnt that it sank with 30 people missing. Apparently it was only partially loaded, expecting more cargo at the next port, and rolled over whilst sailing there in a storm. This boat was also in port in Mahajanga when we were looking for transport but was leaving a couple of days later than the boat we took. It was considered by locals to be the safest boat as the owner was also the captain and the vessel was well maintained. Whilst we had heard of other small vessels sinking in the region this is the first one that we had seen and had contact with. Our friends decided to fly to Tanzania. We were at the Algerian embassy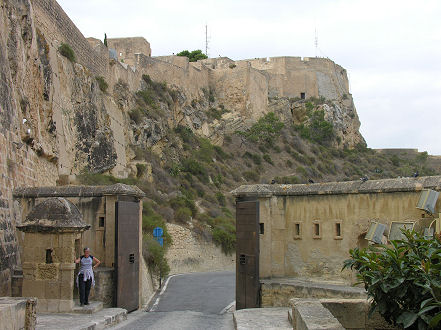 early but there were many Algerians renewing their papers and a long line out into the street had formed. Our application for a transit visa with its covering letter was readily received and despite it normally taking one week to issue a visa we were invited back in the afternoon and received a seven day double entry visa valid for a month for 33 Euros each, despite only requesting a five day single entry visa. We are not sure why we received such preferential treatment but it is a great welcoming to a country.
14/10/06 It's been 25,000 km and eight months since we have had an opportunity to visit a Harley-Davidson shop, the last one being in Saudi Arabia. Ray has recently opened his premises in Alicante, an area where motorcycling is a year round event and growing in popularity. With this trip having been extended by six months we needed to have more guide books, and used Ray's address to have them posted to, unfortunately they haven't arrived yet, hopefully by Monday before we leave for Algeria. We have travelled almost exclusively using Lonely Planet guides. They might not be the best for some areas of the world and are not perfect but we find the accommodation and map sections particularly beneficial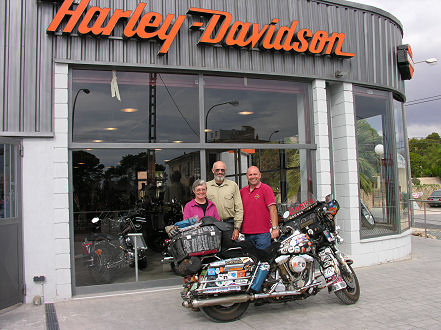 when arriving in an unknown city and looking for cheap accommodation. They are also good for background history, sites of interest and are our starting point when looking for visa requirements. We haven't had a guide book since leaving Cape Verde and find we are missing it's information. Ray was incredibly welcoming and it felt like going over to a friend's place for a coffee. He also gave us Harley T-shirts displaying the Costa Blanca region and is following up on the posted package for us. One Spanish custom we really enjoy is the Menu de Dia, (Menu of the day). Usually a basic, economical three course meal with a half bottle of wine and coffee, served at lunch time and eaten in a relaxed manner as lunch extends from 2 pm till at least 4 pm and it's often 5 before anyone is back at work. I am not sure if the wine at lunch time is good for the country's productivity, it certainly isn't for ours as we relax in the hotel room wearing off its effects. This late lunch means a late finish to work, late dinner and the all night parties continue in the bar beneath our hotel.
15/10/06 Castillo de Santa Barbara overlooks Alicante and port from its prominent hillside location. A few paths twist back and forth upwards and we walked up one,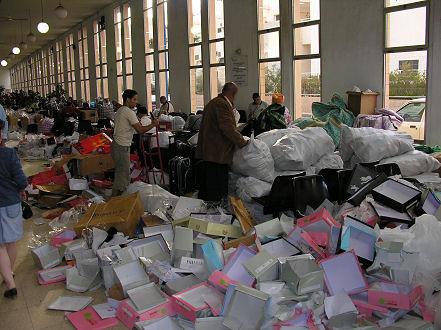 more for the exercise, missing in our schedule lately, to get the magnificent views of the city in the morning. It is a popular haunt for tourists escaping the beaches and bathing in a bit of history.
16/10/06 Collected our ferry tickets this morning, ended up being 355 Euros. Posted home a package of mostly paperwork and finished with guide books, plus some souvenir gifts we had received. Back to Ray's HD shop but the Lonely Planet guide books hadn't arrived. After they phoned the UK office for us we found our books had been mistakenly sent to New York but were now heading for their correct destination and would arrive in two days, a little useless for us. Lonely Planet agreed to redirect them to Treviso, Italy, where we should be in about ten days time. We felt we had already moved to Algeria when entering the ferry terminal at about 6pm. Everyone, except us, was of Arabic appearance. Most of the people were heading home for the end of Ramadan festivities, starting in a few day's time, taking with them presents and gifts showing how profitable their time in Europe had been and they were cramming new goods to be resold back home into already overloaded cars.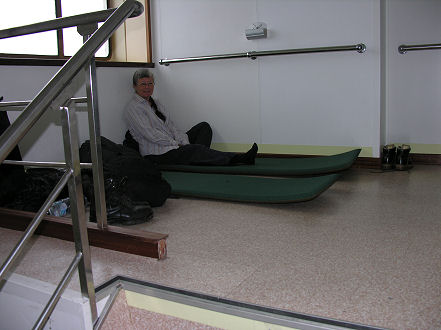 The departure hall was filled with empty shoe boxes, a preferred resale item, or clothes wrappings. All goods had to be removed from anything indicating they were new, or might be for resale, or customs duty would be payable on arrival in Algeria. We moved to the head of the vehicle line and were loaded first, meaning we should also be unloaded first in the battle of a few hundred cars to pass through Algerian customs tomorrow. We had purchased seats but armed with our bedrolls we found some deck space at the top of a stairway where the doors were locked and set up a bed. The repackaging continued on the boat, now cigarettes, bought duty free, were emptied from cartons to individual packets and placed into a variety of different bags to spread and hide their quantity. The ship finally left three hours late at 1 am, by which time the corridors were strewn with rubbish and the toilets were already flooded as the drainage was blocked. We caught snatches of sleep on the smooth crossing.
Move with us to Algeria or go to our next visit to Spain