Travel Through Spain on a Harley-Davidson
By Peter & Kay Forwood
Spain on a Harley (1/3/98 - 8/3/98)
Distance 1449 km (89911 km to 91366 km)
This is part of the third section of our around the world trip.
Background information and previous trips
Coming from Portugal or read our previous visit to Spain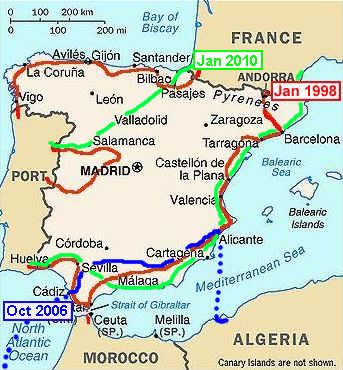 1/3/98 Headed straight out the top of Portugal and into Rias Bajas area of Galicia Spain. The Rias Bajas are a series of large inlets along Spain's West Coast. The granite stone in the surrounding area is of such good quality and plentiful that most of the old and new buildings are made from cut granite slabs. Even the fence posts and grape trellis posts are cut from granite. We even saw a few old fences built entirely from granite slabs, about 2m long and a half meter wide and 10 cm thick, placed vertically in the ground.
2/3/98 There is a lot to be said for travelling out of season. Our ensuite room with enclosed veranda is spitting distance to the beach, (I tried it) best room in the place and the only one occupied for about half price of the high season. Lightened the load on the motorcycle by shipping back to Australia 9 kg of accumulated baggage we weren't using. We had estimated about 5 kg, but on sifting through things, no do not need this or that, and the little things we had bought, "its only small" it ended up 9 kg, and only $US 25 to sea post.
3/3/98 Around the coast north, in and out of a couple of peninsulas before Santiago and onto Betanzas. Strong winds throwing us around on the motorcycle and hazy skies but no rain. A great mix here of traditional old and new. Manz's old intersections still have Cruceiros or a tall stone pillar with a crucifix carved at the top to guide travellers before street signs were invented. Also there are plenty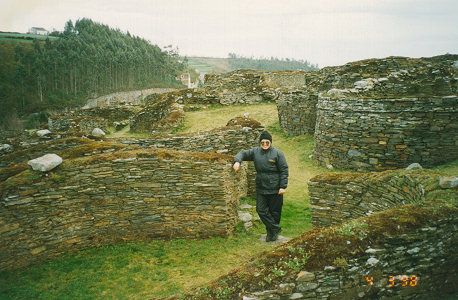 of rectangular grain cellars, almost one at each old house and some at new ones carved again from granite on pillars to keep out rodents. The coastline is beautiful with beaches and headlands but new development is spoiling it rapidly.
4/3/98 Its a dark drizzly morning, first rain in three weeks but its always hard to start in the rain. Also its our daughters 18th birthday and she is half way around the world, sometimes you wonder why you are travelling. We have arranged to meet a fellow H-D world traveller, "Freddie" in Bilbao tomorrow afternoon at the H-D dealership. I have not met him before, only having internet contact. We (H-D world travellers) are a thin breed, there only being three to my knowledge out there at the moment, and we narrowly missed the other one "Pluto" in Gibraltar. The need to do 450 km started us early. We still managed to fit in a trip to the well preserved Celtic Settlement of Coana, built somewhere between 1000 and 500 BC and a visit to the two Pre Romanesque churches near Ovideo before exploring, on motorcycle at least, the Picos National Park. It is Europe's largest national park and contains two beautiful glacial lakes and many deep gorges
cut into the limestone. We finally settled in Arenas after travelling from dawn to dusk.
5/3/98 Off early again hoping to get to see the prehistoric cave paintings of Altimara. Closed in 1977 to all but 25 tourists a day, because of the damage being caused to the paintings from tourists breath drying the cave, we were optimistically hoping someone had cancelled. The current waiting list is over 12 months long. These paintings, 12-15,000 years old, when discovered were the oldest known art, taking it back some 7,000 years and caused great controversy over their authenticity. On the day we were lucky, being first in line and with three cancellations we were "in". The most amazing area the "polychrome bison hall" has a couple of dozen 1-2 meter etchings and paintings depicting animals, mainly bison, of the day, painted when the ceiling was only about 1.5 meters off the ground. When taking into account the age, location and peoples they are truly an amazing site. They are currently building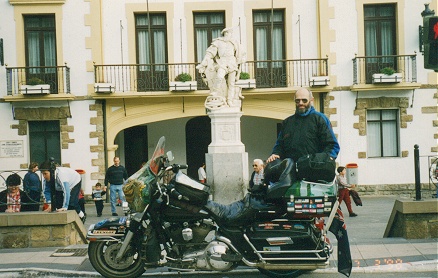 a complete replica of the cave and paintings at the same site to help return the 30,000 tourists a day who visited pre 1977. Finished the day in Bilbao.
6/3/98 Well Freddie (the other world travelling H-D rider) missed our connection yesterday and hasn't arrived today, guess we will catch up later. After 18,000 km the rear tire was just about gone, so on the 2nd March we faxed Dunlop in Germany (who are sponsoring us with tires) and awaiting us today was a brand new tire specially brought up from Madrid. After greasing the bearings and fitting the tire we are ready for another 18,000 km hopefully. One of the great luxuries in Spain is the 2-3 hour lunch, not for productivity but for tourists. Sitting in a Tappas bar for an hour sipping coffee or a beer and eating a broad range of cheese and salami filled rolls, chopped bacon and egg on french toast, potato omelette pie, sardines and innumerable indescribable delicacies, different in every bar. The best in Spain that we have found are in Bilbao.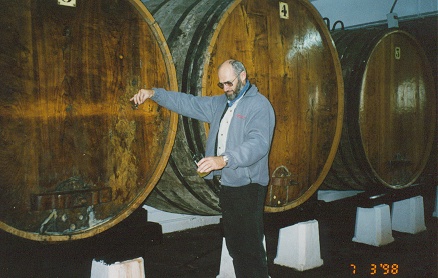 7/3/98 Heading off each day with just a light plan and no fixed destination for the evening is half the fun. Arrived at Getaria, just a small fishing town North West of Bilbao, to find that the first ever trip right around the world started here in 1519 and finished over 3 years later in 1522. A Juan Elcano set off with Magellan's fleet but only the one vessel and 18 crew survived the trip. It was great to stumble across the first round the world trip and perhaps appreciate some of the immense difficulties they must have encountered paling our round the world trip into insignificance. Along this winding coastal road, and over much of Spain, on weekends come the men on Bikes in tights. Ask any "real man" to dress up in a pair of brightly coloured leotards displaying his meat and two vegs with a cushioned bum pad and he would think you queer. But that is what they do in Spain in the thousands on weekends riding bicycles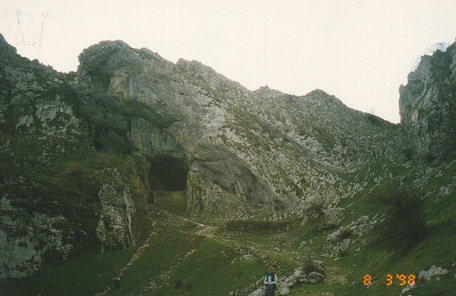 around great coast roads. Not only does Spain produce great wine they also produce alcoholic cider. These can be tasted free at the "Sideria", small cideries outside San Sebastian. Normally tasted fresh from the fermenting barrels any leftover cider at the end of the season is then bottled and sold in shops. We imbibed a few varieties but not quite to our palate we decided not to settle in for the afternoon and moved on the Adrian's Refuge and tunnel. This natural tunnel was part of the pilgrimage path from France to Santiago in Spain. A very popular pilgrimage in medieval times, and still followed today by the devout. High in the mountains the remains of a medieval road leads into and out of the tunnel. After the steep walk up into it, and through the tunnel we finished the day in Pamplona.
8/3/98 Drizzling rain most of the day, but when in Pamplona if the bulls aren't running (July) the next best thing is to follow their path down the narrow streets on slippery cobble stones picturing the frantic frightened animals (human and bovine) striving to maintain dignity and courage of the way to the bullring. The best place, and safest, to view the event would have to be from a balcony overlooking the road.
Move with us to France or go to our next visit to Spain