Travel Through Spain on a Harley-Davidson
By Peter & Kay Forwood
Spain on a Harley (10/2/98 - 16/2/98)
Distance 517 km (87091 km to 87608 km)
This is part of the third section of our around the world trip.
Complete Trip Overview & Map
Coming from Morocco or read our previous visit to Spain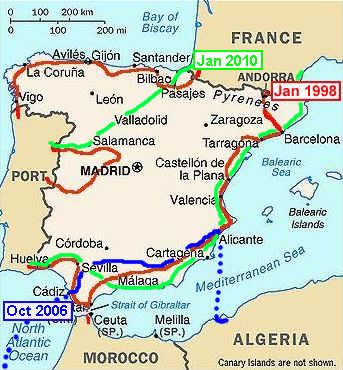 10/2/98 We finally left Africa at 2.30 pm but the one and a half hour crossing turned into five hours as the ferry pounded into the waves being squeezed between Africa and Europe trying to get out into the Atlantic. Naturally we never made it to Seville but stayed the night in Tarifa, the southernmost point in Western Europe, and tonight about the windiest place on earth.
11/2/98 Seville today, and decided to rest up for a couple of days in a more expensive but more comfortable country. On arrival you could feel the underlying excitement of the city and it wasn't long before we were invited to a bar where flamenco dancing and music were to be played. The western student crowd coming to Seville to learn Spanish, flamenco guitar or dancing were there as their teachers were out to enjoy their art. Like most of Spain's night life it doesn't start till 11 pm and we didn't get to bed till 4 am after a great night of spontaneous dance and jam sessions of music.
12/2/98 Our greatest bug bear in travelling is washing clothes. Some travellers never wash, others wash every day when washing themselves. Washing every day means packing wet clothes which go musty and never washing ends up with no one talking to you, so we are somewhere in between. After delaying the inevitable, turning clothes inside out for an extra days wear, or wearing them till they fail the sniff test we plan a rest day and wash. Some towns have Laundromats, but they are expensive or a long distance from the accommodation so it is easier to do it yourself. Often there are no facilities, no plugs, no bucket or basin, so it's a large garbage bag filled with clothes, water and a detergent, preferably from a poor country (less stringent biodegradability rules means stronger detergent) and a one hour soaking before rinsing in the same bag. If there is a basin, a small plastic bag works well as a plug. Few places have clotheslines, so often the clothes end up in the room on a nylon cord strung from whatever fixture will hold the weight. Sometimes you get lucky with a bath, plug and clothesline, sunny windy day and it's heaven. Such was today.
13/2/98 - 15/2/98 Still in Seville and taking in five straight days of sunshine and above 20C each day. Apart from lizarding out in the parks we have visited the Alcazar and had a horse drawn carriage ride around the town, stayed out till 3 am listening to classical flamenco guitar and singers at a local bar and been kept awake by the one hour room rentals between 3 am and 5 am as Valentine's day travellers turned love into passion.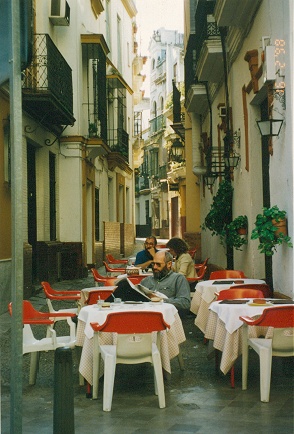 Probably the most spectacular place was the Cathedral, the largest Gothic Cathedral in the world, and incredibly elaborately decorated and furnished, particularly the immense pipe organs. The $US 5.00 entry fee a little surprising, but more and more churches and mosques are charging an entrance fee. This goes against the grain for me as I have always accepted the "Houses of God" as open to everyone at any time. But with declining patronage I guess there is justification in maintaining the historical buildings. However as stated in the pamphlet explaining the building and entrance fee, for the most part the ticket price goes to maintaining this Cathedral, but is in part for the building of new churches "for the Diocese." Thus a non Catholic would be indirectly supporting the construction of a church, against their religious beliefs, just by viewing the architecture of this historic building.
16/2/98 Despite the magnificence of a place there always comes a time to move. We headed towards Donana National Park, famous for its wetland birds, but the fog was down and didn't look like lifting. A shame really but conditions aren't always in your favour when travelling.

Move with us to Portugal , or go to our next visit to Spain .