Travel Through South Korea on a Harley-Davidson
By Peter and Kay Forwood
South Korea on a Harley (6/5/08 - 30/5/08)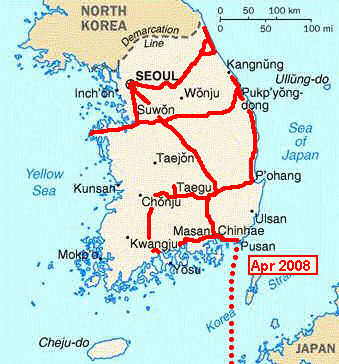 Distance 1832 km (504755 km to 506587 km)
This is part of the fourteenth section of our around the world trip.
Complete Trip Overview & Map
Coming from North Korea

7/5/08 It was a cold early morning ride back to Seoul requiring our heated jackets. A quick visit to the H-D dealer to say thank you and good bye and a rest at our hotel in the afternoon. It has been a hectic time since Busan and we feel a bit wrung out.

8/5/08 The US Army's social organisation, the USO, runs public tours to the Demilitarised Zone, DMZ, between North and South Korea. We joined a busload of mostly Americans, on today's tour, South Koreans are generally not permitted into the area. At the cessation of fighting on the peninsula in 1953 a demarcation line was drawn and a no go zone, 4 km's wide, was fenced, 2 km's on either side. At the time it was estimated a million land mines were laid along the 420 km stretch, coast to coast, within that area. Most of those mines are now considered inactive and new, more modern defences, outside the DMZ, have been constructed, to protect against an invasion.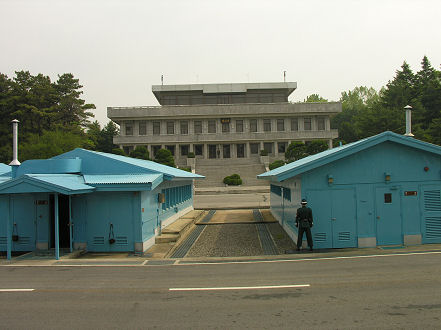 The restricted entry area has become a wildlife refuge. Recently, tigers, black bear and deer have been sighted and it has become a major migratory area for birds. It has been decided, should the two Koreas ever reunify, it will remain a wildlife reserve. Our tour visited Panmunjom, the area where the armistice was signed and where ongoing talks between the two countries continue. A large family reunion centre, to allow relatives, separated before 1953, to meet again has been built here but has never been used, due to possible defection of North Koreans. Family reunions currently take place at Kumgang, on North Korean soil, where defection is not possible. It was at Panmunjom that released prisoners of war, from both sides, were given the chance to choose. Placed on the bridge of no return they could walk in whichever direction they chose. It was also here that a couple of incidents occurred, that brought both sides to the brink of war, when minor fighting has broken out and soldiers from both sides have been killed. The tour permitted entry to the meeting room building, T2, straddling the border, the negotiating table evenly divided on the North and South side. We could walk, within the building, across into North Korea, or stand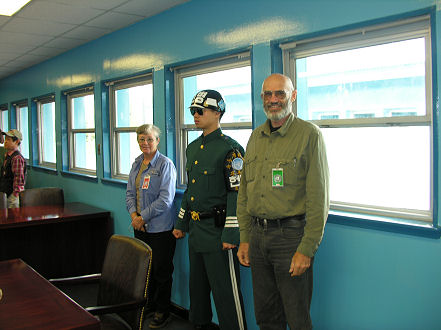 with one foot in each country. North Korea also run tours, less frequent, Russians and Chinese the main participants, North Koreans are not allowed. A large tower on the North side, obscured today due to pollution, scrambles all communications, mobile phone or TV, that might wave into North Korea. We were surprised to be offered North Korean made goods at the USO souvenir shop at the end of the tour. Economics seems to transcend all barriers. The second part of the tour was down a discovery shaft to a tunnel dug by North Koreans, and reported to be capable of moving up to 30,000 troops an hour, across the border. Two metres by two metres, and 75 metres below the surface it was only discovered with information from a North Korean defector, one of four tunnels located, the latest in 1990. But things have changed, or are changing, slowly. The new cross border train station and border facility on the Southern side, designed to link Seoul with Pyongyang, and ultimately Beijing, stands unused, a few years already, waiting. Construction at Kaesong, the joint industrial complex in North Korea, has recently stalled, North Korea expelled all South Korean officials recently in retaliation to the new South Korean Government's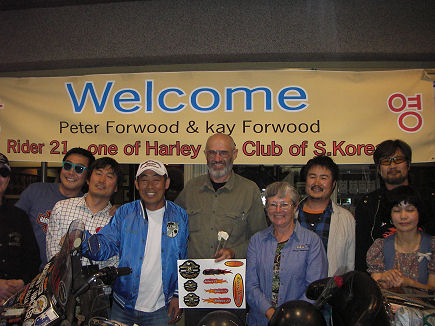 comments. The cool war of words continues. We had been invited by the Riders 21 Motorcycle Club to a dinner this evening and ten Harley-Davidson motorcycles escorted us through heavy Seoul traffic to the restaurant where others were waiting and a welcome banner had been prepared in our honour. A magnificent feast of bulgogi and assorted side dishes, beer and soju. An interpreter was provided to translate proceedings and the many questions members asked. Today is Parent's Day, carnations were given to Kay and I in recognition of the day, club stickers for the motorcycle and we were quite moved when vouchers, sufficient to cover the costs of shipping our motorcycle to Papua New Guinea, it's next county, were generously given. After photos and farewells, four motorcycles escorted us back to our hotel, an amazing evening.

9/5/08 The motorcycle again overheated in prolonged traffic on our way to dinner last night, indicating the problem has not been completely solved. We are now using H-D oils and good quality petrol. The other Harleys we were riding with weren't having the same problem so we know it is only our problem. A quiet morning trying to catch up, processing our photos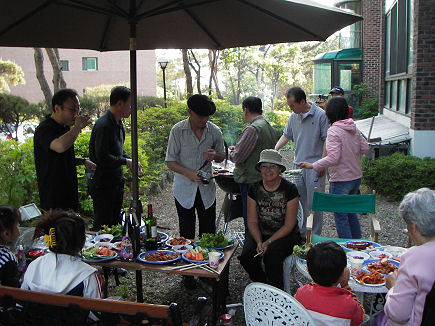 and getting the web page up to date. John, a non riding Korean, had emailed us offering assistance on our visit to South Korea. He was the only person who ran with our request for assistance of getting information for visiting North Korea. Whilst his direct efforts didn't result in permission we have no doubt his initial request to Hyundai Asan laid the ground work for a successful approach from H-D. Today we went to lunch to say thank you for his assistance.

10/5/08 Joe, an American living in Korea with his Korean wife, is planning a round the world trip, starting next year, and invited us to stay at their apartment, just over an hour west of Seoul. Collecting us from our hotel early morning we rode to the Korean War Memorial for an interesting look at past conflicts on the peninsula, before more heavy traffic to their apartment. There was an afternoon barbecue, old tenants welcoming new ones to the complex, and we again enjoyed Korean hospitality. Joe and his wife are planning to use their 650cc Suzuki Bergman scooter for the trip and we had discussions on his plans plus a few philosophical discussions. We slept on the floor, traditional style, on quilts, a yo with a ilbo covering, or blanket. Most heating in Korea is under floor, ondol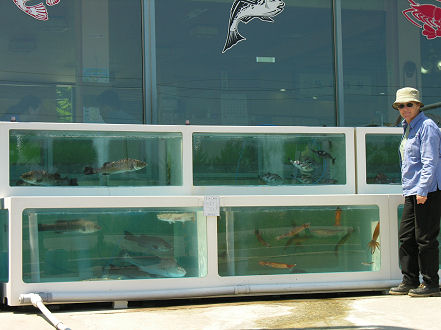 style, a carry over from when fires would be lit at one end of a building under a suspended floor, the hot air passed to the chimney at the other end of the building, heating the floor. Today hot water piping is used, a penetrating warmth, making sleeping on the floor comfortable.

11/5/08 Joe and his wife Kwang-Hee rode us out of town and along our way this morning. It has been ten days since we had one to ourselves, past our liking to have a total rest day at least once a week, and it has been a full on time, socialising, which is enjoyable but mentally strenuous. We rode west to the small beach town of Mallipo, where seafood restaurants line the coast and economical hotels are plentiful. Another long weekend, Koreans were out strolling across the wide beach flying kites, letting off fireworks, also relaxing.

12/5/08 The day spent almost entirely in our hotel. It rained in the afternoon giving us an easy excuse to do nothing but watch TV.

13/5/08 A popular annual ride is east to west across the peninsula, watch the sun rise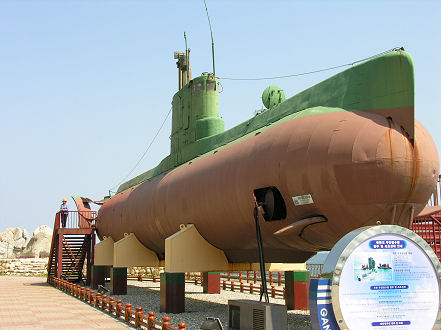 on one side and watch it set on the other. We left the beachside hotel in the west and in light rain headed east. Once away from the more densely populated areas the mountains appeared, tree covered, newly planted rice crops in every valley, plastic covered vegetables and shade covered ginseng. The day improved slightly but in the eastern ski fields it started to rain, cold rain, down to six degrees. We have not found food in Korea overly satisfying. Based on noodles, soups, and vegetables, some a little too spicy for our tastes, and the pickled vegetables not that enticing, it is a light diet, with little meat, and not a lot of starch to keep the inner fires warm on a cold riding day. We arrived on the eastern seaside late afternoon, in a storm, the seas hammering the coast. A warm dry hotel in Jeongdongjin was a welcome sight.

14/5/08 The book of our travels has taken a back seat to motorcycle repairs and logistics since Kiribati but if it is to be written at all it must resurface. Spent most of today re-acquainting ourselves with it. During breaks we strolled along the beach, cool sunshine, a quiet town out of season midweek except for the busloads of people, mostly students, that arrive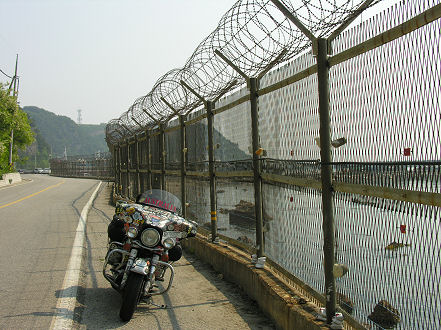 mid afternoon to stroll the beach, part of a school excursion.

15/5/08 Took a ride up along the coast on a magnificent spring day stopping at the Unification Park, where a North Korea mini submarine is on display. Apparently in 1996 it ran aground in South Korean waters. The captain shot his own crew and went ashore with the military agents trying to get back to North Korea. All were shot or captured but not before they had wreaked havoc in the area, killing a number of South Korean civilians. We strolled through the 35 metre long submarine which looked more like WW11 technology rather than being used just 12 years ago, and pondered how the 26 crew and soldiers would have felt trying to survive in such a confined space, and worse the crew's reaction to being told they were to be shot to avoid capture. The burnt out interior was the result of an attempt to destroy important documents. The position between the two Koreas is still tense enough to require heavily barricaded beaches for over 100km's south of the border.

16/5/08 Traffic is different in Korea. Speed cameras slow navigation equipped vehicles,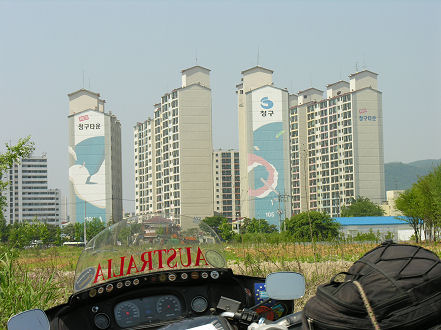 all knowing of the camera's whereabouts, to have vehicles speed up again on passing. Motorcycles with no front licence plates can't be identified by the cameras, so move along at any speed, slowed only by camera frightened cars. Red lights are optional on arterial roads, guidelines in cities. Amber is a signal to speed up, newly red the equivalent to amber in most other countries, making a fresh green light a traffic hazard. There are so many of these tri coloured lights across the country, many at small intersections, without the under road sensors, that vehicles are often instructed to wait at empty intersections, and in a busy society people don't wait, choosing logic rather than rules, they proceed cautiously or incautiously. Knowing when to stop and when to continue is a dilemma. To stop at a red light incorrectly can mean the vehicle behind continuing, overruling your decision, causing a rear end collision. Despite this the driving is quite good, just the rules are inadequate.

17/5/08 Left our comfortable seaside location heading further south, along highway 7, then inland nearly to Gyeongju, taking a rural hotel at Oksanri, situated next to low, tree covered mountains and surrounded by small farmlets,
now planting out the season's rice. All of our neighbours are old, the younger generation, like in many industrialised nations, choosing a more urban lifestyle once more educated. The older generation is left on the farm without anyone to replace them. The farms are small, not offering much chance of mechanisation, not offering much profit to a younger, better educated generation, so the rural areas slowly grow old. It is in this region that the Shilla dynasty ruled for nearly a thousand years, leaving behind massive amounts of tombs, temples and Buddhist relics.

18/5/08 Yangdong Folk Village is an unusual concept. A couple of hundred traditionally built houses, thatched roofed with mud and stone walls, dating back to the 16th century, most still lived in today, form the village. Tourists can wander the streets, visit many of the unoccupied buildings, eat in some of the homes, and although cars are the transport, satellite dishes and electricity can be seen, there are small plots of cropping dotting the area. On the way back to our hotel, and spotting a butcher shop, and with a need for "real beef", we purchased 1.2kg of rump, $US 20.00, and cooking it as steaks on our camp stove, on the hotel verandah,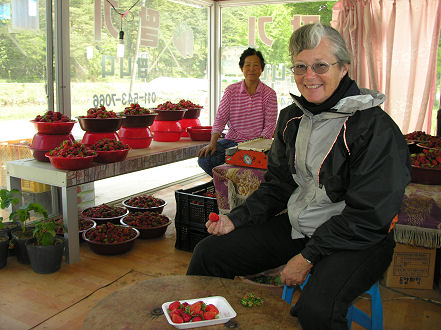 devoured half today, aiming to repeat the taste tomorrow.

19/5/08 A rainy morning, book writing in our comfortable hotel. South Korea's economy is not as healthy as it has been and the hundreds of motel style accommodation all over the country offer great value, too good for us to seriously consider camping. Since our arrival in the country it's currency has fallen almost 10% against the Australian dollar. Our book, a short story for each country visited, passed the half way written mark today. Still it is a long way from writing to publishing.

20/5/08 A couple of hours to the west, we arrived at Haeinsa, after enjoying spring strawberries along the way, purchased directly from the farm, full of flavour, not like the tasteless supermarket ones we get in Australia. Greenhouse tomatoes, also full of flavour, and yellow sweet melons are in season. Supermarkets haven't made an impact in Korea yet, small family run stores and local produce markets more the norm. Haeinsa, a Buddhist temple, now situated in a beautiful national park, started in the 9th century and still functions as a monastic training temple, it houses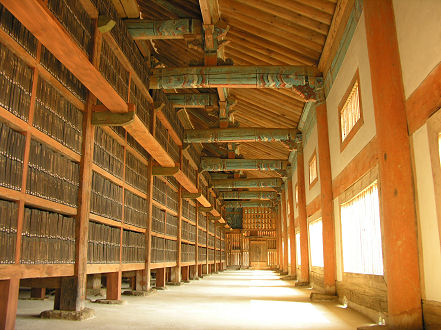 80,000 wood tablets, each over 800 years old. The tablets are printing blocks, a compilation of the entire Buddhist canons, and housed in open air buildings they have lasted through invasion and time. As with all interesting places in Korea, with its dense population, crowd avoidance is a necessary consideration. Arriving late afternoon, just as the masses of tour buses were leaving, we ended up having the place almost to ourselves.

21/5/08 As often happens when we are nearing a trip home our minds are more focused in that direction than on where we are. Thoughts of family, friends, even familiar foods permeate the mind. The road westward, the 26, became our favourite small road in Korea today when it weaved through mountains with valleys of small plot agriculture with little traffic. Bird flu has again arrived here, necessitating traffic control and spraying of vehicles moving through infected areas. This has been us the last couple of days, and although we were allowed to avoid a full chemical dousing we still needed a drive over for the tyres. Chicken is now not popular on the menu, giving the fishermen an easier profit. Our peaceful mountain ride was shattered at Maisan Provincial Park, when dozens, no exaggeration,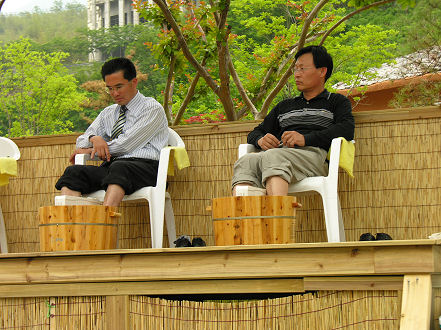 of busloads of school children with incessant loud calling, drowned out only by the teachers megaphone sirens moving them along, disturbed this magnificent place. A couple of conglomerate treeless peaks rise above the surrounding landscape and were once the backdrop of a quiet Buddhist temple. After the enduring noise we strolled, getting lost, taking the long way round back through the forest to the carpark, lucking on a restaurant offering black pig pork roast for lunch. A later afternoon ride had us at Ssanggyesa for the night.

22/5/08 We learnt today that the ship we had hoped to take the motorcycle on to Papua New Guinea had been delayed for a week making it a little late arriving, so in a quick change of plans arranged to book it on the earlier ship leaving on the 27th, arriving in PNG a bit early but preferable. Mr Seo at KMTC Air-Sea Service's again helped, quickly arranging for customs clearance and early paperwork, so we only need to have the motorcycle at the port the day before sailing, and can meanwhile continue touring.

23/5/08 Ssanggyesa is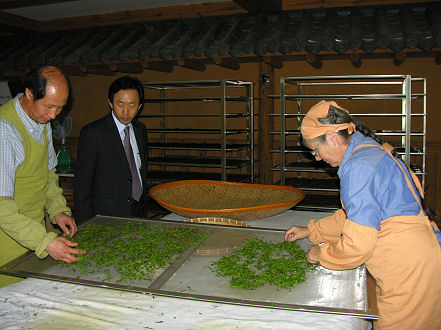 famous for its temple but also famous as being the region that tea was first introduced into Korea 1200 years ago. Boutique tea plantations dot the hillside, all supposedly siblings of the original plant. This week is the 13th SSanggyesa tea festival and a great time to try many of the local brews, and all for free. We were shown around by a volunteer English speaking guide. Kay processed, drying, tossing, rolling, separating, tea leaves, and then received a sample for her efforts. We tasted tea at a formal tea ceremony, with a traditionally dressed lady serving. Locals were soaking their feet in heated tea water, supposedly relaxing, eating tea ice creams or lollies, or voting at a tea tasting. Most tea plantations are small, just one or two hectares, each owner adding their own growing and processing methods to the same species, to make individual brews. In the evening we visited Ssanggyesa Temple, watched the monks pounding their drums, calling dinner, before attending a sunset outdoor performance of more drumming, traditional dancing and speeches, all nestled in the forest below the temple. A surprising day's events, stumbled upon, as we were unaware of its happenings before we arrived.

24/5/08 Cooked bacon,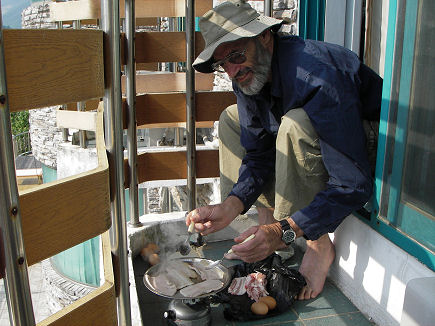 well really it was thin slices of pork, and eggs on the verandah for breakfast. The plan was to ride half way to Busan today and arrive tomorrow, but with the travel initially quite fast we decided to continue, just as a light drizzle started to increase to rain, and traffic increased, and traffic lights, almost halted our progress, so it wasn't till 3pm, soaked we arrived.

25/5/08 Rain cleared, and most of our clothes dried. Boots getting a little help from the hair dryer. Most of the day was spent working on the book, now a common event when we have time.

26/5/08 An easy day for us as Mr Seo, KMTC Air-Sea Service, had already arranged customs clearance and shipping paperwork. The crate, that had been stored at the customs depot at the ferry port, was still there. A reorganising of gear, to stay or go, packing the motorcycle into its now familiar metal cage, and our part of the shipping was completed by 11.30am.

27/5/08 The difficult part, we paid the shipping bill, a reasonably expensive leg, going as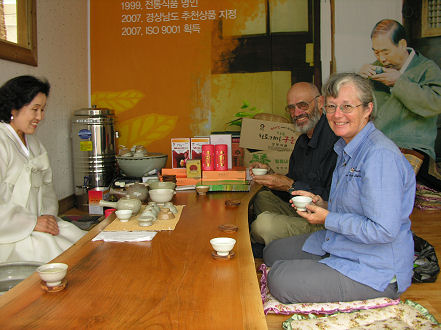 break bulk, plus port charges, less a nice discount for KMTC's assistance, and all came to about $US 500.00. Our hotel overlooks the busiest port we've seen. There is always a ship coming or leaving the U shaped harbour. We could see the Kyowa ship, "Pacific Falcon", and hoped the motorcycle had been loaded as it left late afternoon and should be in Lae, Papua New Guinea on the 9th of June, just two weeks, time we will spend in Brisbane with our children and parents, before flying to Lae on the 16th, arriving a week after the motorcycle.

28/5/08 We booked flights from Brisbane to PNG over the internet, taking advantage of Airlines PNG's policy of single leg sectors, meaning we could book a one way flight for half the price of a return, not available if booking with Qantas or Air New Guinea where the one way flights were about the same as a return ticket. The introduction of discount airlines to the Pacific region a few years ago has saved us enormous amounts of money, allowing single leg bookings, so we can country hop, rather than paying for out and back flights. With wireless internet in our hotel room, we also started planning onward shipping legs, checked possible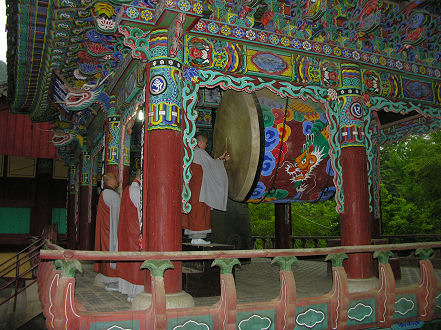 shipping from Lae to Honiara, and Vanuatu, and if all goes to plan we should be spending about three weeks in PNG and the same in the Solomons. If the plan fails, the next scheduled shipping would be up to five weeks later. The bill of lading arrived by email this afternoon so the motorcycle has left.

29-30/5/08 Train back to Seoul and a flight to Australia.
Move with us to Papua New Guinea