Travel Through South Africa on a Harley-Davidson
By Peter & Kay Forwood
South Africa on a Harley (6/9/00 - 22/9/00)
Distance 972 km (198683 km to 199655 km)
This is the beginning of the seventh section of our around the world trip.
Complete Trip Overview & Map
Coming from the Sixth Section, South Africa.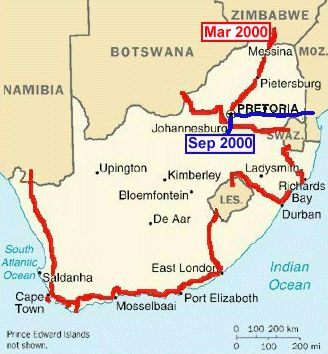 6/9/00 The worst part of the trip usually, the air flight, over. 32 hours door to door, 8 hours time difference, and we don't sleep well on an aeroplane. The motorcycle, with battery charged, ready to ride from the Johannesburg H-D dealer's workshop. We opted for the easy path and used an agent to get two Mozambique visas ($US 22.00 each) ready in 40 hours. The two parcels of parts we transported to the H-D dealer who will allow us to use his equipment, calling on his mechanic where necessary (probably a lot with our lack of mechanical knowledge) and we just have to pay for the mechanics time used. To bed before dark and not a bad days start for two jet lagged zombies.
7/9/00 "According to plan" worked well for a change, new swing arm bearings, clutch, front and rear sprockets plus many small tidy up jobs on the bike. Great help from Dave the mechanic and his offsider, the Professor. Still reeling with jet lag we had a workside braai. Barbecued lamb chops and boerwoers washed down with beer and much whisky in the evening. They party hard and still manage to get to work the next day in S.A.
8/9/00 Back to the workshop for new engine mount, stabilizer bars and a new rear tyre flown in by Dunlop. Still getting great service from them, doesn't matter where in the world we are. Life is almost too easy for middle class South African males. Few are married and if they are it seems only a temporary arrangement (or perhaps it is just the Harley-Davidson crowd we are mixing with). We are staying in a house with three thirties aged single males. Each cooks for themselves, but there the domestic chores stop. Washing, ironing, bed making, cleaning and dishes are done by the full time maid for $US 30.00 per week (10 each). It's no wonder they only miss the physical side of a wifely relationship.
9/9/00 Saturday, and after last night's partying at the H-D bar (early for us jet lagged workers) a late start. Repacking our gear and reorganizing the motorcycle plus replacing a few tired parts in the carburettor. Household security became such a problem in Johannesburg that large chunks of suburbs voted to close off all access to their areas except through one security manned gate. A high steel spiked fence is erected around the area and roads blocked. This reduces the home invasion rate to about one break-in per house every couple of years, often (reportedly) by the security firm themselves or people they allow in for payment. It becomes a difficult society to live in when the wealthy or middle class cannot rely on the police or private security firms for the protection of their belongings.
10/9/00 Jo'burg H-D has a breakfast ride every Sunday, today to a restaurant in Pretoria and as with the last time we went on a breakfast ride here it extended into a pub crawl, onto lunch, and then we bailed out before dinner. The breathalyser doesn't seem to have reached South Africa as we would have all been arrested in Australia for driving with that much alcohol in the system.
11/9/00 We bush mechanics were at it again dismembering the motorcycle further into the front end than ever before. Fitted a new ignition switch after the old one was broken in Gibraltar, after a car hit the front wheel. New steering head bearings. Front brake rebuild and new discs. Working on our own but with the back up of a couple of mechanics where necessary.
12/9/00 New fork seals today, but we discovered the fork sliders had worn through the chrome and the copper on the forks and down to the aluminium. Two large circles on the leading edge of the forks. With no new ones to be found in South Africa we had to have the old ones honed and turned them around with the less worn side to the front and hope they will not cut the new seals. With the front end back together all the new bits are now on the motorcycle and the bike feels almost like new. Time to pay the account and Noddy, the owner of the H-D workshop, waves us off, wishing us a good trip. Four days in his workshop, use of the tools and mechanics, running around for us after the tyre, honing front forks, all for free, a tremendously generous gesture.
13/9/00 As usual we have too much to carry. People in 4x4's travelling Africa never have enough room, even with a trailer. The rule of "if there is space then we need the items that fill this space" applies. We are down to sorting out spare nuts and bolts, washers and o'rings to reduce weight and bulk. As usual though it all fits somehow in the end. A farewell dinner from Greg, with whom we are staying (never have a farewell the night you are leaving as the next morning's hangover will surely delay departure). Again we must say South Africans are the most friendly, hospitable and helpful people we have met anywhere.
14/9/00 Slow day, procrastinating about leaving. Goodbyes and whisky to those who helped us get ready.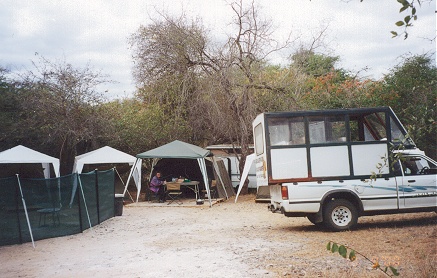 15/9/00 Finally off into cold drizzle and a head wind, not much of a welcome back to travelling. 450 km to Hazyview, which lived up to its name, on the edge of Kruger National Park. Tourism here has been slow since the floods earlier in the year and with the increasing crime rate in South Africa fewer backpackers were coming anyway. The elderly lady who runs our backpacker's was quietly depressed about what was happening to her country. After three tourists had been awoken at gunpoint and robbed they finally put up an electric alarmed fence around the property. This was the last straw in a string of thefts from the place. She also mentioned that the fastest growing business in S.A. was the funeral service. The government paid for burials where families could not afford the expense. There are now five companies in Hazyview where a few years ago there was only one. AIDS is the reason. Companies here even take a management position on the problem and expect to lose over 5% of their workforce each year to AIDS. Overtime is suspended on weekends as workers attend funerals of friends and relatives.
16/9/00 The per head price tours of Kruger are still running and with only us staying here we got a personalized tour in a purpose modified "bakkie" with nine high viewing seats for the next three days. The park is not like others we have visited further north in Africa but is totally controlled by human intervention.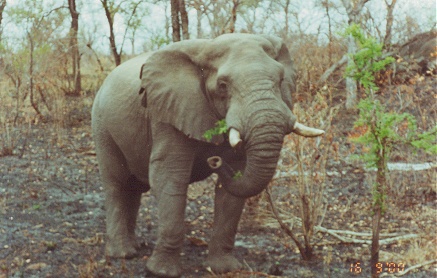 The 350 km by 60 km park is fully fenced. Watering holes dug and windmills guarantee an assured water supply. The roads are sealed or well maintained dirt and large "towns" for tourist facilities are dotted within the park boundaries. The grasses are burned regularly to control wildfires and produce fresh green grasses for the animals. An enormous managed game park. This does produce an environment where the desired animals can be seen despite the majority of the park's southern area being woody scrubland.
17/9/00 Kruger run evening game drives with spotlights. The tourists get to use the "spots" and on our drive we spotted leopard, lion, hyena, honey badger, spotted genet, bush baby and a chameleon. Over the last two days we had also seen more lions, another leopard, a hyena den with the mother feeding a cub, hippopotamus, dozens of elephants plus lesser mammals like dwarf mongoose, birds etc. The high concentration of vehicles passing through the park daily means that almost all animals have become habituated to vehicles and people's voices and almost ignore their presence.
18/9/00 Driving dawn to dusk with eyes trying to pierce the undergrowth for shapes or movement is surprisingly tiring.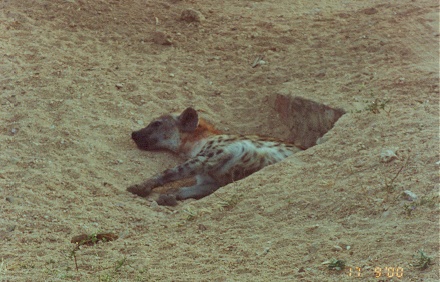 The third day and while combing a large burnt area with new green grasses emerging we spotted four white rhinos relaxedly grazing. Soon after, another three white rhino. A large herd of buffalo plus many antelope and zebra were also enjoying the new green feed. Kay then spotted three female lions actively watching a giraffe. And finally two large male lions were lying next to their buffalo kill. Three full days where luck played a large part of what we saw as many animals would disappear into the foliage within minutes of our passing leaving the next vehicle to see nothing, which obviously happened to us also.
19/9/00 It rained all day, which we didn't mind. Caught up on some repair jobs like maintenance on the petrol stove and stopping the rattle on the helmet visors.
20/9/00 It rained all day which we did mind. Watched the Olympics on the TV and got bored. We don't mind riding in the rain but in this area of S.A. it is the scenery we want to see and that vanishes in the misty rain.
21/9/00 Fed up with the rain and just sitting around we headed out into the light mist to try and see "Gods Window" and Blyde River Canyon. But the views diminished and the rain increased as we gained altitude making the trip futile so we returned after a 100 km loop. Decided to head to Mozambique tomorrow irrespective of the weather having given up on seeing this area of S.A.
22/9/00 Sunshine at last and off to the Mozambique border. The trip marred only by the toll road. Again charging motorcycles the same as a car and caravan and no alternative route. South Africa has to be one of the easiest countries to travel and we will miss it. So much so that the backpackers hostel in Maputo, Mozambique refer to backpackers from South Africa as "slackpackers" because they get used to the easy life.

Move with us to Mozambique