Travel Through South Africa on a Harley-Davidson
By Peter & Kay Forwood
South Africa on a Harley (2/5/00 - 4/5/00)
Distance 702 km (191705 km to 192407 km)
This is part of the Sixth section of our around the world trip.
Complete Trip Overview & Map
Coming from Namibia or read our previous visit to South Africa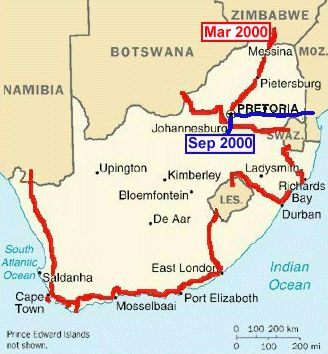 2/5/00 Just waiting for the bike to arrive and booked it in for repairs.
3/5/00 The H-D dealer had arranged for the head mechanic to concentrate on our motorcycle for the day and on its arrival at 9.30 he started. The location of the noise was not easy to find. After a check of the primary drive and a compression test revealed nothing unusual it was into the rocker covers, a lead into the cam. The cam roller bearing was identified as the cause of the noise, with one roller missing (presumably ground up in the cam gears), it was on the verge of collapsing. A new bearing, cam and replaced the worn lifters plus some electrical repairs to rubbed wires, gaskets, oils and spark plugs and the motorcycle was ready to roll by 6.00 pm. The total cost, well apparently the manager had been on the phone to H-D Europe yesterday and between them they decided to do a good will repair. We were advised it was a "walk away job" nothing to pay and the best wishes not to return. In the evening we joined the local H-D club of Cape Town for their monthly meeting and drinks, a souvenir T-shirt each and again a warm farewell with promises to meet again at the 2003 rally in Milwaukee.

Move with us to Namibia , or go to our next visit to South Africa .