Travel Through South Africa on a Harley-Davidson
By Peter & Kay Forwood
South Africa on a Harley (7/4/00 - 12/4/00)
Distance 1215 km (187130 km to 188345 km)
This is part of the Sixth section of our around the world trip.
Complete Trip Overview & Map
Coming from Swaziland or read our previous visit to South Africa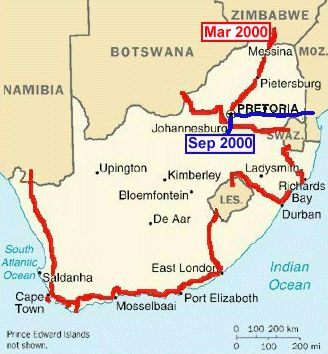 7/4/00 Five minutes out of Swaziland and into South Africa. Didn't use the carnet as we are running out of pages and need them for later countries. We haven't found the black African peoples at all generous in their hospitality. Friendly yes. Interested in the motorcycle and us, yes. Helpful to a point but if we needed anything it was always at a price, white price, and they have always been asking for something for nothing. Begging, payment for directions etc. Today it changed. A black South African Zulu, educator at the Zulu museum near Ulundi invited us to his home to stay the night. He lives in township D, a modest by western standards, house of three bedrooms, small living area and kitchen, but grand by local houses in the area. We could get the local view of how little things have changed in rural areas since the end of apartheid. The problems of education and great history of the area where the last Zulu, British war/massacre occurred. The museum is on the site of the last Zulu kings enclosure, one of thirteen, housing 1500 bee hive huts of stick and grass burnt to the ground after their defeat in 1879.
8/4/00 We were not that surprised this morning when our hosts financial problems were broadcast over a cup of tea. His daughters education (at a private school) was expensive and since his wife died things had been tough. Petrol prices had risen and weren't we lucky to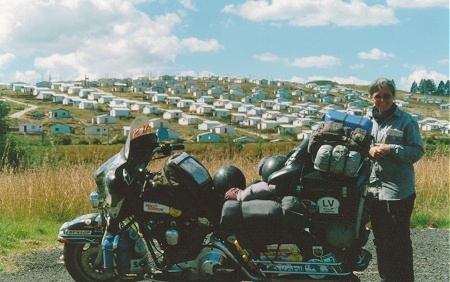 be able to afford to travel as he couldn't. Could we help him, perhaps just some money for petrol. Yesterdays values sold out this morning. A proud man turned beggar for a few litres of petrol. A different culture where hitch hikers are expected to contribute towards petrol, where no one is helpful without the expectation of reward. More rolling hills of lush sugarcane and planted forests to the coast where although race apartheid has been abolished financial apartheid strongly exists. We saw only whites in flash cars, blacks to wash them, tend the coastal gardens of the mansions and do the housework. Into Durban for the night where a genuine free offer to garage our motorcycle in a security enclosure opposite our hotel was accepted. The offer by a white South African (the owner), the guard (black).
9/4/00 Earning money is easier than holding on to it. Those with it live in security patrolled, window barred, security fenced razor wire topped, with remote controlled gates and garage door compounds. There is no need to get out of the car until it is in your own protected enclosure. They also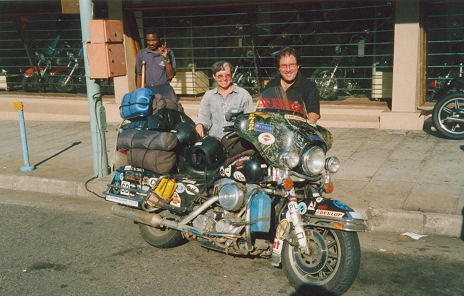 have village forts, fencing in entire communities, with guarded gates, where the people can visit neighbours by walking. These compounds are surprisingly similar to the Zulu enclosures of hundreds of years past, the situation is not new to Africa. Those without money are generally free to roam the streets, day or night, poor but free. There are dozens more security firms watching property than police. The wealthy don't realize the restrictions placed on their lives by the problem as it has always been here or slowly caught up with them. You can only walk the streets with a big dog. Motorcycle riding after dark is considered dangerous as is driving a car in most parts of Johannesburg. Eating in a restaurant means passing through the security grill monitored by cameras. Every supermarket has security guards and any shop with money operates behind security bars. We haven't seen any crime, only ways to protect people from it, although the newspapers are full of horrific murders and carjackings. A Sunday market stroll along Durban's famous beach front with its wide beach, and wider parkland containing swimming pools, cycle paths, restaurants and stalls. While people-watching from a coffee shop we were invited to dinner by a friendly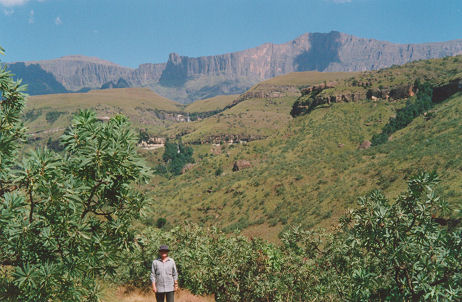 Durban couple. Like many they had moved to the suburbs to avoid the inner city crime and squatters. But it has moved out to meet them with a pool umbrella stolen from their yard and a friends car stolen recently. Like many South Africans they have relatives in Australia now. Unhappy with the changes here they sell up or simply walk away from businesses and emigrate. This is affecting the local economy with increasing unemployment, said to be 50%, thus increasing the crime. Again we have had no first hand experience of it or even the feeling of unease anywhere.
10/4/00 Another H-D dealer visit, rewarded by the generous gift of two local Harley T-shirts. Again a friendly reception and more local knowledge on the biking community. Interview and photo session with Dunlop in the arvo and a restive evening.
11/4/00 Midlands meander to the Howick waterfall then into the Drakensberg ranges north of Durban to Giants Castle Reserve. These grassy rolling hills ending abruptly at the escarpment below Lesotho hide many caves with San rock art paintings. This high tourist area in-between Durban and Johannesburg has many small B & B's, large lodges and campgrounds.
We can only afford the camp grounds as there seems to be little other lower end accommodation. The jump being four times the price for a low end hotel compared with camping.
12/4/00 Another great (but short) ride and walk in the Drakensbergs at the Cathedral Peak Reserve. These areas are not pristine with many introduced tree species. The usual eucalyptus and pine but also many deciduous trees with their leaves showing the first signs of autumn. The local Zulu people used to build houses (called beehive huts) in a half sphere. The inside frame of small saplings and the outside of the tall rank grasses made into a thatch. A small doorway meant that people have to bow to enter the huts. We had the opportunity to stay in one tonight, not totally authentic, ours has a concrete floor not the polished cow dung usually used. We also had a bed and electricity. Some of these huts are still lived in by locals but the numbers are diminishing due to a lack of the saplings and introduction of concrete block and corrugated iron.
13/4/00 The past two days of crisp clear air have been replaced by cloudy haze and the mountains don't seem as spectacular at a distance. However the close up scenery of sandstone bluffs and overhanging ledges and caves of the Golden Gate National Park remained beautiful.

Move with us to Lesotho , or go to our next visit to South Africa .