Travel Through Slovenia on a Harley-Davidson
By Peter & Kay Forwood
Slovenia on a Harley (12/6/10 - 15/6/10)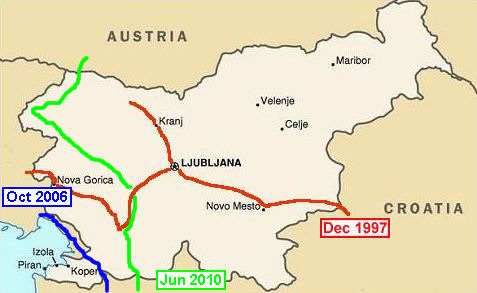 Distance 232 km (568334 km to 568566 km)
This is part of the sixteenth section of our around the world trip.
Complete Trip Overview & Map
Coming from Croatia or read our previous visit to Slovenia
12/6/10 Slovenia is part of the EU, and a Schengen border, so there was a closer scrutiny and scanning of our passports, but no request for the motorcycles paperwork or insurance. Slovenia is a small country, just over 2 million people, but its scenery is great, with more than 50% of the country still timbered. We decided to take the western road, Idrija, Tolmin, Bovec and to Krajnska Gora's summer accommodation in the skifields, going via the steep but lovely Vrsic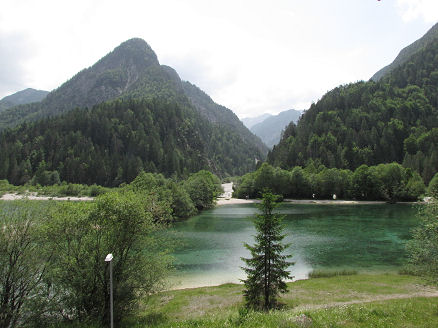 Pass with its almost 50, numbered, hairpin bends. The vivid turquoise Soca River winds next to the road for much of the lower climb and is replaced by an almost as alluringly coloured river once over the pass. The cool mountain air was a lovely respite from the hazy coastal heat but it looks like rain is imminent again.

13/6/10 Slovenia has undergone great change in the last twelve years, EU membership, Euro currency, tourism from Italy and Germany, boosting its wealth and we saw many Slovenian cars and motorcycles on the roads, holidaying in Croatia. Motorcycles also seem to have become popular with the nationals, and why not, the roads are good and the mountain areas easily accessible from Ljubljana, the capital, as was evident on yesterdays ride and todays relax in town as groups of Sunday riders passed through or stopped for a social coffee.

14/6/10 Another day in our apartment in Krajnska Gora, a couple of walks around town but the motorcycle stayed covered.

15/6/10 The motorcycles volt meter gauge has been showing unusual readings the last few days, and as we left this morning it indicated there was no charge coming from the charging system. We disconnected the headlight to reduce load and headed for the Austrian border passing the old border buildings that are now unoccupied as the borderless EU has grown beyond its old Austrian border.

Move with us to Germany via Austria