Travel Through Slovakia on a Harley-Davidson
By Peter & Kay Forwood
Slovakia on a Harley (14/7/11 - 20/7/11)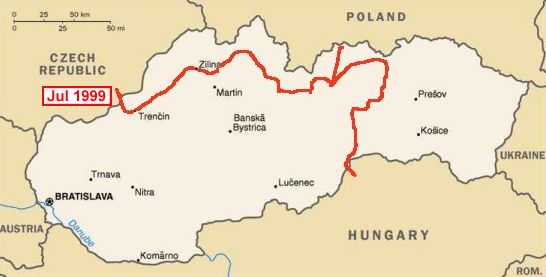 Distance 963 km (592427 km to 593390 km)
This is part of the seventeenth section of our around the world trip.
Complete Trip Overview & Map
Coming from Hungary or read about our previous visit to Slovakia

14/7/11 Back into Europe proper, well at least it had Euro currency again making transaction calculations easier. Even though the Euro is currently undergoing a rethink with a number of Euro countries falling into financial difficulties, from a travellers point of view it is a great advancement in travelling in Europe. Apart from that its weakness, because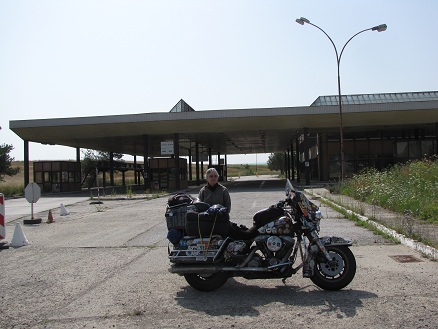 of its problems, is making it more economical to travel in this region. A plus plus for Australian travellers.

15/7/11 Kralova, at 800 metres, situated just behind Zvolen, is a great rest spot, away from the current overhot plains, surrounded by trees and fields it is a ski resort in winter and a wellness centre in summer but at the moment, midweek it is empty. Us being about the only overnight residents with just a few arriving for the pool, spa, massage or restaurant during the day. An afternoon walk in the surrounding wooded hills provided late season wild strawberries and raspberries for a snack.

16/7/11 Ivan and Martina, a young couple living in Bratislava, Slovakia's capital city, have been following our web page for a while and last year invited us to come and stay with them. They live in the inner city and being motorcyclists decided to ride out to meet us along the road and escort us to their unit. They are currently thinking, and planing a two year ride, South America, North America, Australia and riding back to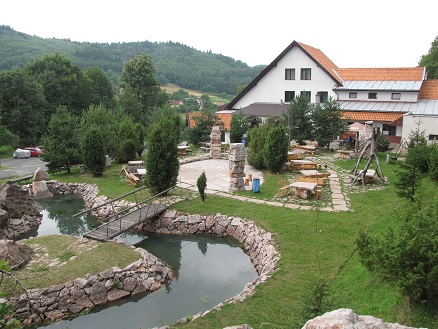 Europe through Asia and the Middle East giving us a common interest. After unpacking they took us for a walk around the old town, a traditional meal in a converted cinema, sitting alongside the new modern development riverside, and a wine back at their unit to finish off the evening. Bratislava was changed enormously by its USSR years. Development across the river was of the concrete tower blocks. The UFO Bridge removed much of the Jewish quarter and significant parts of the old town were pulled down and modernised. Today it clearly shows its very old, its old and its immediately new history, all within walking distance from Ivan and Martina's unit.

17/7/11 We have been waiting, patiently and quietly for the last couple of months for our daughter's and her boyfriend engagement announcement. Shane, our soon to be son-in-law, had asked me for approval to marry our daughter just before we left Australia in early May this year. It was a secret to be kept between Kay and I until he had asked our daughter, as she was unaware of the impending proposal. Today we learnt that he had graciously proposed so we Skyped a call to our daughter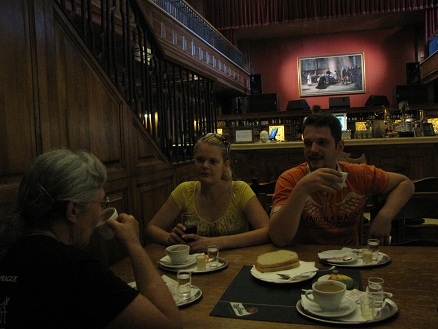 Jenny this morning for details and congratulations. Ivan proposed a toast of cognac and for the rest of the day we were in better than good spirits as we rode to a popular motorcycle hilltop, escorting Martina, a novice rider, on a 125cc motorcycle. A lovely home cooked meal by Martina, coffee and cake at a fashionable location, afternoon sipping a drink at the beach, a fully constructed arrangement including sand, boardwalks and restaurants next to the river, which is removed each winter, finished off the enjoyable afternoon. The evening was spent at Martina's cousins place where we sat on the terrace overlooking the inner city courtyard sipping local wine.

18/7/11 The weekend over it was back to work for Ivan and Martina to save up for their planned world tour and we headed towards the cooler hills near Stary Smokovec, 340 km's. It was a freeway ride the first half but later the road passed through some lovely scenic sections until we arrived at Salas Krajinka, a favourite and more traditional restaurant along the way, recommended by Ivan and Martina, where the famous local sheep's cheese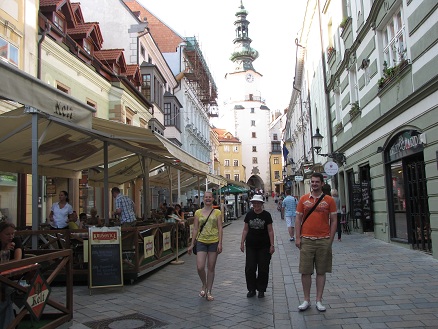 featured heavily on the menu. Situated in a rural setting of cows and sheep grazing it was a great place to spend a couple of hours.

19/7/11 Just decided on how we are flying our motorcycle to the US. We looked at prices from Europe and the UK, the UK more economical by far, perhaps the weakening pound. We will be using James Cargo, a British company who regularly flies motorcycles. Their experience, that they will arrange a crate, will allow me to reduce the motorcycle's size by removing the wheel and mudguard all compensate for the extra price charged over regular freight companies. In threatening thunderstorms we headed out to Dunajec Gorge where "traditional" rafting takes place. A dozen tourists sit in five interlocked wooden canoe like boats steered by semi traditionally dressed boatmen navigation through the gorge. We walked amid bicyclists along the banks of the river for a couple of km's into the gorge, a fairly tame experience but a lovely walk. Late afternoon an hour or two was spent in Stary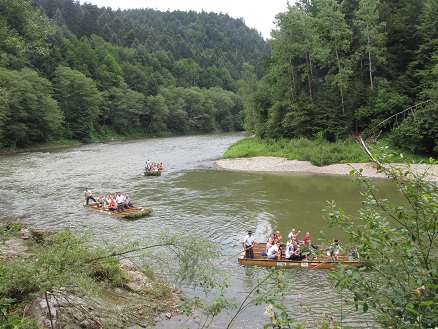 Smokovec, a ski town in winter, hiking town in summer, before returning to our accommodation nearby.

20/7/11 A short ride to the Polish border, another borderless border.

Move with us to Poland