Travel Through Serbia on a Harley-Davidson
By Peter & Kay Forwood
Serbia on a Harley (19/5/10 - 21/5/10)
Distance 451 km (565232 km to 565683 km)
This is part of the sixteenth section of our around the world trip.
Complete Trip Overview & Map
Coming from Bosnia Herzegovina or read about our previous to Serbia (Kosovo)
19/5/10 Another NO, no greencard insurance, no entry, at the second border. The officials here contacted the local bank, which issued a 30 day, (minimum period) Serbian only motorcycle policy for 61 Euro. It is called Frontier Insurance, official receipt, and we entered. Pretty expensive, but looking back through our diary we noticed 12 years ago, the then Yugoslavia, also had expensive border insurance, $58.00 US, so not much has changed. Our first impressions was Serbia was not as wealthy as Bosnia, not as well maintained,
not as many new buildings, older cars. Likely they didn't receive the massive injection of aid money offered to Bosnia for reconstruction, one out of favour country as opposed to another one opening wounds of Western guilt. After changing money, some US dollars we have been carrying for a couple of years, emergency cash, now good value in Europe with the Euro suffering, and grabbing lunch we headed north towards Uzice, taking a nice roadside hotel room overlooking the Zlatarsko Dam, 22 Euro, as the weather again closed in.

20/5/10 The mountains are still cold, 5 degree morning as we started out, warming riding down towards Nis across a flatter, more agricultural landscape. Our first opinion of a poorer country evaporated the further we rode and Nis, with its fashion dressed young crowd gave a different view. On reading our 12 year old diary of Yugoslavia, something we like to do with each revisited country, we noticed the now reduced and renamed Serbia has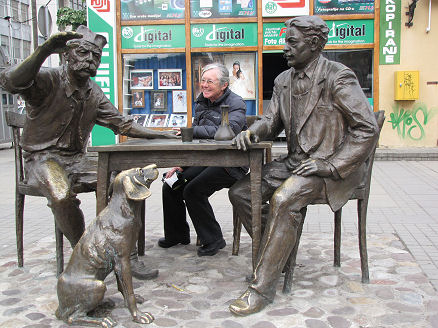 changed significantly, having thrown off much of its Russian style society, it has produced a more market economy, particularly noticeable in the area of small roadside hotels, sobe, rooms, and zimmers which we have been seeing everywhere. Spent the afternoon wandering around Nis, its citadel, pedestrian ways, and underground shopping.

21/5/10 Having left ourselves short of Euro we wanted to cross into Bulgaria on a weekday in case there was a requirement for motorcycle insurance. A couple of hours riding had us at the border, an easy out of the country. Serbia was a little surprising for us. Whilst we moved through quickly we were pleased with the level, availability and price of accommodation and the range of food available. A little more planning would have meant a longer and more enjoyable stay.

Move with us to Bulgaria