Travel Through Senegal on a Harley-Davidson
By Peter & Kay Forwood
Senegal on a Harley (15/9/06 - 24/9/06)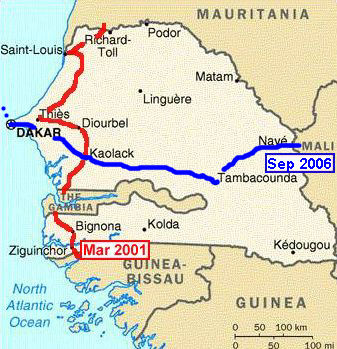 Distance 688 km (471719 km to 472407 km)
This is part of the twelfth section of our around the world trip.
Complete Trip Overview & Map
Coming from Mali or read our previous visit to Senegal
15/9/06 An easy entry into Senegal. We had to locate the police post in the town of Kidira for our immigration stamp as they aren't at the border. Stayed in town for the night.
16/9/06 Another early morning start along an excellent road to Tambacounda through hills and more baobabs. The road then deteriorated like so many in Africa. The psyche of maintenance absent from the societies. Like the grass huts in villages, they wait till they fall down and rebuild rather than repair. This 210 km stretch, carrying hundreds of trucks a day and the main supply road to Mali was well built but only received a thin layer of asphalt that has now disintegrated to potholes. Trucks move at 15 km/hr, cars a little faster and with the need for only one track we could usually find a path between the holes. On entering Kaffrine mid afternoon Kay noticed a squeak in the belt drive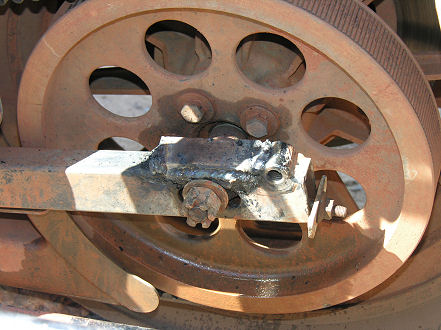 which had been stretched incredibly tightly. On investigating we found the end of the swing arm had broken above the rear axle on the belt side and was only partially still connected. The shock absorber pounding had finally fatigued the metal. We located a workshop in town and by jacking up the swingarm managed to hammer it back into position and welded a piece of supporting plate along the top, hopefully strong enough. The whole process took just two hours from discovery to finish, luckily it occurred in a town. We had been working in the heat of the day and were both drenched in perspiration and a little dehydrated so took a room in town for the night. A small farming support town not much different from the ones we just ride quickly through. A couple of truck repair places fixing parts from the many breakdowns along the road. Shops selling cheap Chinese trinkets, now making inroads into West Africa, like most of the world. Local produce of maize and peanuts but little else. Donkey carts the main transport, a couple of small motorcycles but petrol is too expensive for any farm machinery.
17/9/06 It has been just three weeks since we left Libreville and 6000 km of riding plus a train journey
to reach Dakar. Seven countries have been traversed with only 170 km of unpaved roads but much poor quality asphalt. West Africa is certainly improving it's infrastructure but mostly through foreign aid assistance. We had very few problems with officials and no serious bribery requests. The costs of visas and petrol for our dash across West Africa was high, $US 800.00 for visas and with petrol averaging $US 1.20 a litre also a big cost. The road improved this morning and had us in Dakar by lunch time. I didn't check the rooms of our chosen hotel too thoroughly before checking in but soon discovered we were in a full on brothel. Girls were sitting waiting in the courtyard or wandering through with their hourly partners. The basin in our room had a used condom in it with it's package bearing an expiry date of March 03 in the bidet. There were no pillows on the bed and the single sheet we chose to cover with our own. It was interesting watching the clientele wander through in the evening with many ebony and ivory couples. The professional women were not young and were certainly solidly built with outstanding busts and buttocks. We took an hour off from the afternoon's entertainment to check on boats to Cape Verde. Our bad luck in this area continuing with the wharf security
guard informing us one left yesterday. There were two boats but the other one had sunk recently so it would be at least ten days before a boat would be leaving again. We will visit the agent's office tomorrow, Monday, for more details.
18/9/06 We changed hotels this morning, not that the new one is any better but the clientele is different. The quality of hotels in Africa has generally been poor value for money. We had a frustrating morning trying to chase down the agent for the small boat to Cape Verde and ended up wondering if it really existed. Dakar is a major port and we were constantly directed to large container companies who ship via Europe to Cape Verde as part of the shipping loop. At a ship's chandlers we were taken on as a project and the owner called his contacts at Maersk, who recently started direct shipping to Cape Verde and after a radio message to the Captain we have an appointment tomorrow morning with the idea the motorcycle can go as deck cargo not container, we will have to fly. An airline booking and visa application filled the afternoon.
19/9/06 The shipping chandler had some spares for the vessel and we accompanied them, getting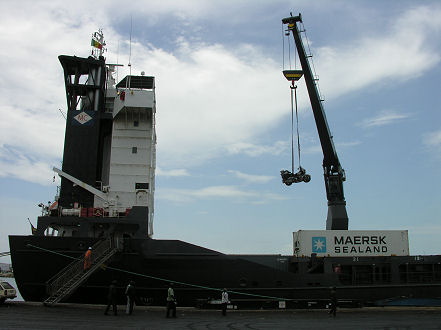 special clearance to enter the port security area on the motorcycle and an introduction to Miroslaw Felix Kostrzewa, the Polish captain of the MV "Smaragd", part of the MC-Schiffahrt's fleet of managed ships. By coincidence the captain has promised to buy himself a Harley-Davidson motorcycle before his 50th birthday, his next birthday. The company owner, Mr Matthias Dabelstein is also a Harley fanatic and has a custom built motorcycle. We were welcomed aboard with great conversation and humour and over lunch and a bottle of wine were informed it would be no problem for them to take our motorcycle to Praia, the capital of Cape Verde. They were scheduled to leave mid afternoon today and after all the containers were loaded the motorcycle was positioned aft and between two containers to minimise any salt spray. The ship is going via another Cape Verde island and should be in Praia in five days time. After all the inefficiencies and delays in boat schedules we have recently experienced it is great to be able to arrange things so easily and efficiently without the normal problems of dealing in Africa. The ship left soon after we disembarked. Paid for and collected our airline tickets to fly out in four day's time. After being in a state of disappointment early yesterday morning to within 48 hours of arriving in Dakar having the motorcycle on a boat to Cape Verde is part of the extremes experienced while
we travel, rapid changes from problems to solutions and often back to the next problem make a lot of the trips excitement.
20/9/06 Visited the Tunisian Embassy who can issue a visa for $US 10.00 if we need it for the Algerian transit visa, but it can also be collected at the borders. The Mauritanian Embassy a bit of a shock. Australians, Canadians, Brits, Japanese and US citizens pay $US 155.00 each for a visa. Not willing to risk not being back from Cape Verde before the 30 days validity expires we will have to get it on our return. Spent some time in Independence Place, the city centre. Dakar is a city that has grown too rapidly in population for it's current infrastructure. Vehicles cram the streets gridlocked whilst opportunistic sellers walk from vehicle to vehicle selling almost anything. There are many poor in the city sleeping in the streets. We sat on a stone wall drinking street coffee and were approached by over 100 people in the hour we were there. Most just strolling past displaying a T-shirt or sunglasses hoping we showed interest. A couple more persistent and two in particular coming too close for my liking with their eyes on my camera, I raised my voice asking them to leave, making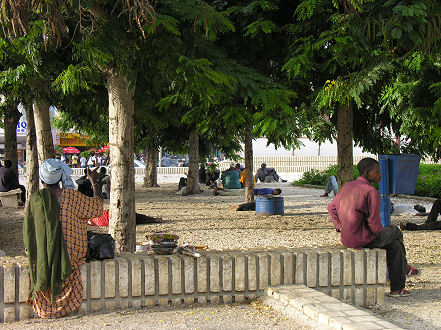 them identifiable to others looking on.
21/9/06 Received an email from Felix, the ship's captain, and our motorcycle is doing fine. He has had a couple of days delay waiting for a transfer of cargo in Mindelo from another vessel. After Praia the vessel heads for the Canary Islands for two weeks in dry-dock. We put a proposal to the captain and owner that perhaps we could accompany them to Las Palmas in the Canary Islands and then we would catch a vehicle ferry to mainland Spain. As the vessel has been delayed we would still have five days in Cape Verde, the motorcycle just one. This would save us having to purchase the expensive Mauritanian visa, let us visit new places as we have already been the Morocco route, and save a couple of weeks as it is heading into Europe's winter. It may be too much to ask but we await their reply hopefully.
22/9/06 Just a day of rest and planning the next six months. There is debate on whether we visit Algeria and finish the trip in Germany where we can get the engine rebuilt, but it would delay the trip to Bhutan for almost a year due to the onset of Europe's winter and us missing this year's Bhutan tour dates, or hope the engine will last and ride down through Montenegro, Greece, Turkey etc to India and Bhutan where we have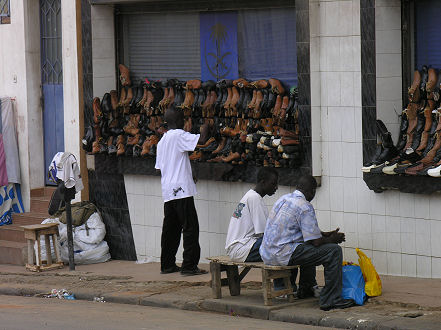 booked on Mike Ferris', "Ferriswheels" tour in February. With the luck of getting the motorcycle onto MV "Smaragd" to Cape Verde and the possibility of an easy route to Spain, a month earlier than what we recently expected, the option to try and ride to Bhutan is gaining popularity, the main deterrent has been the onset of winter across Turkey. A final decision will not likely be made till Tunisia, after our visit to Algeria. Felix, MV "Smaragd's" captain, emailed his enthusiastic willingness to take the motorcycle to the Canary Islands, however he does not have the authority to approve passengers, that will be referred to the vessel's owners, insurance is often the sticking problem in these cases.
23/9/06 Ramadan started today, the fasting month for Muslims, but despite Senegal being 85% Muslim population there seemed to be little change in Dakar. We and others openly ate in restaurants and the coffee and banana sellers were out in the streets. The strictness of adherance to the faith varies as much within the Muslim religion as it does within other major religions. We were at the airport early after checking out of our hotel. The 7.30 pm flight was delayed, first to 9.30, then to 4am tomorrow. Our two hour flight to Cape Verde had now increased to being an overnight eleven hours, nine of which were spent sitting in the old run down Dakar Airport. We could not help thinking we could have ridden the motorcycle there faster, had there been no ocean. No announcements of the delay were broadcast or displayed on the monitors and there was no-one at the Cape Verde Airlines office until two hours after the flight was scheduled to have left. We had booked on Air Senegal who code share with the TACV, Cape Verde Airlines. Air Senegal however ignored our requests for a meal voucher saying it was Cape Verde Airlines responsibility, despite our ticket being Air Senegal. A pass the buck situation. After two hours of back and forth and heated discussions with the Air Senegal manager they finally arranged a meal ticket for our nine hour wait. Neither airline had any customer relations manners. We have been in similar flight delayed situations in the past and the airlines have always offered meal tickets if the flight is delayed for just a few hours.
24/9/06 The small comfortable twin prop aeroplane finally left at 4.30am.

Move with us to Cape Verde