Travel Through Russia on a Harley-Davidson
By Peter Forwood
Russia on a Harley (17/6/05 - 9/7/05)
Distance 5315 km (425310 km to 430625 km)
This is part of the eleventh section of my around the world trip.
Complete Trip Overview & Map
Coming from Mongolia or read our previous visit to Russia

17/6/05 Russian processing was the hold up. About two cars an hour are cleared to enter. I waited an hour in the hot sun for the two vehicles ahead of me. Each vehicle is completely finished before the next is begun. The immigration officer had to walk to the main building to process my passport, as did the customs officer where I required insurance for the vehicle, $US 34.00 for one month. Two customs declarations and a permit to drive in Russia had me holding up the next vehicle for an hour. The border only being open eight hours a day would mean it could be two days before the average Mongolian vehicle could cross. The speed certainly slows cross border trade and smuggling, which is perhaps the intention. Back to the same hotel in Ulan Ude, the same restaurant, a bit of familiarity occasionally a break to constant change.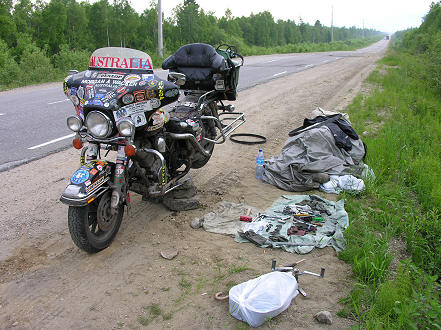 18/6/05 I was asked by a Russian if I thought Russia was a first or third world country. My reply was that Russia was unique and fitted into neither category. Obviously any country that can have the first man in space, build massive nuclear arsenals and submarines and a space station can not be considered third world. Yet I have not seen a third world country that takes so many staff to produce such little result as at the border yesterday. Sixteen years after perestroika has still left an enormous percentage of the population in the past whilst as many have grasped the future. The restaurant that I have been frequenting here serves a good portion of food for a reasonable price and friendly staff and is consequently busy. Another I ate in first was empty, with poor quality food and slovenly staff, a reminder of the past. There are still too many reminders of the past. I have been unable to upload the web page from an internet place in Russia and when today I tried to burn back up copies of my photos to CD the three hours spent trying resulted in nothing produced.
19/6/05 The motorcycle battery was flat this morning after the alarm had been running constantly for two days.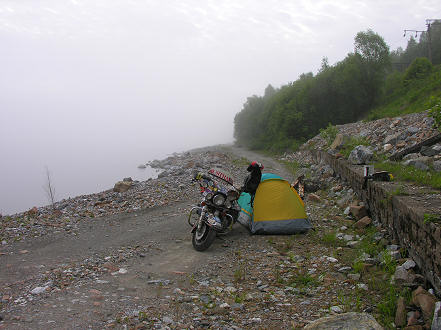 Hotels rarely have parking and if they do it is an extra charge. I had parked in security parking, no one leaves their vehicle overnight in the streets. The bike has been running lean since the new cam was installed. Russian fuel already had it lean, but now it was worse. I changed to bigger main and idle jets, got a push start and was off on a glorious day. The sort of day you feel like singing and have time to hear the birds calling. Mid 20's, sunshine, not a breath of wind and vast scenery. A couple of snack meals at roadside cafe and Lake Baikal comes into view. Holding almost 20% of the worlds fresh water, 600 km long and the worlds deepest lake, 1.6 km deep. The road, off and on, follows its shoreline, crossing many small and large tributaries with mountains off in the distance. The road is bouncy, and about 5 pm, just as I was thinking of looking for a camp site lakeside, a bigger hole in the road, and the drive belt breaks as the bike lands. It seems I am currently having endless trouble with the bike, but things just seem to be occurring together. This belt has lasted the longest, 108,000 km, so no complaints. In the past Kay has been there to assist, and despite many offers of assistance from passing motorists I preferred to work on my own, not having to worry about watching tools and gear from opportunistic pilfering if working alone.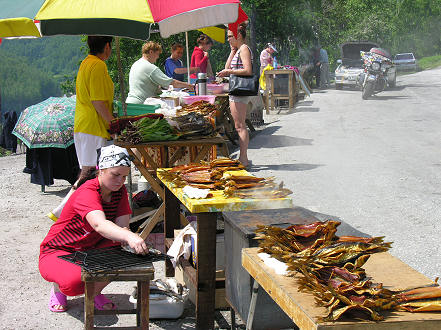 There were rocks roadside to wobble the bike back and forth getting the rear wheel off the ground. Things went smoothly. The front drive pulley was a bit loose, retightened it and replaced a couple of seals to the gearbox and starter motor. By 10.00 pm the sun had set and I was almost finished when a car of four drunks thought I was their evenings entertainment. Everyone else who stopped had been incredibly polite, staying only a couple of minutes. Two Germans riding towards Mongolia also stopped to chat for a while. The drunks however started fiddling with the bike, tools and gear. Did not accept a polite rebuff and quickly became angry. One kicking the tools, another threatened to take me into the bush and rough me up. In their own time they left, throwing a stone in my direction for good measure. They however sat in their vehicle, in full view, just down the road. Twilight is long here and by 10.30 I was underway however within a few km's there was a rubbing noise in the primary area as the starter cog had not disengaged. Another hour roadside to take off the primary cover and disconnect it. Presumably a piece of dirt had been lodged preventing its disengagement. It was now dark and I had been working by torch light and taking the first dirt track towards the lake, down under and alongside the railway line, I found a rocky camp place. An amazing number of trains, one every few minutes, trundled past all night.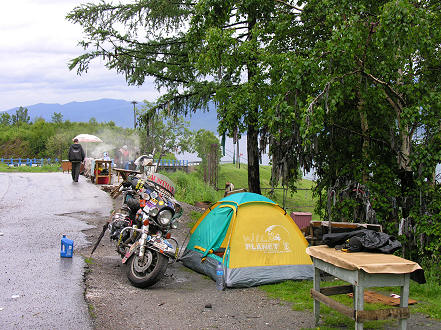 20/6/05 I had bought a couple of smoked lake fish from one of the many roadside sellers yesterday and had a good, but late, breakfast as the fog cleared off the lake to another glorious day. My campsite turned out to be the lower level of a gravel retaining wall designed to stop erosion of the train line in storms. I was glad there were no storms last night. The bike initially ran well but after a stop to buy petrol the starter again refused to disengage. It has been sluggish the last six months or so but had caused no problem. Now it partially disengaged causing the two cogs to grind, and flakes of metal to break free. Again the primary off, cleaned out the metal flakes, could see no problem, it ran smoothly in tests, but after another stop for lunch, the bike hot, the same problem. At least this roadside stop had shade, food, with roadside sellers, a lovely view of Lake Baikal and a table I could use as a workbench. But it was to be apart twice more before I could identify the problem, by which time I had run out of clean rags, plastic bags to drain the oil and keep parts clean, and the single use gasket was on its fifth use. The starter was out and the whole primary disassembled. I had replaced the jackshaft seal when doing the belt yesterday.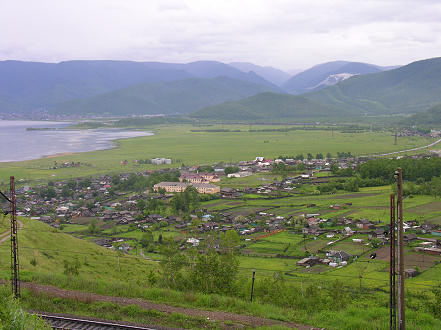 A lip worn in the jackshaft was now catching on the new seal preventing disengagement. Almost an hour of sanding had the lip removed but it was dark before the bike was rebuilt. So two metres off the road and ten from the train track I set up the tent. The ladies slowly closed their stalls, one by one, some offering a free tea, deep fried potato dough balls, a biscuit, until the last one left soon after midnight.
21/6/05 The rain started in the early morning but it didn't stop the arrival of the street stalls. Standing around their fish smokers in the cold rain with them, I enjoyed a couple of fish and a coffee before retiring back to the tent, in no hurry to finish the bike in the rain. By midday the rain had cleared, I said goodbye to the sellers and again the bikes problems had given me an insight into a country I would not of otherwise seen. The day cold but clearing, I rode through Irkutsk to the lakeside town of Listvyanka and managed to find an apartment with kitchen, TV, hot water and a washing machine for $US 12.00 a night and was in heaven. It's only in missing things (or people) that we truly value them. After a damp camp, covered in grease and oil, the noise of traffic and trains all night, a modest Russian apartment seems unbeatable.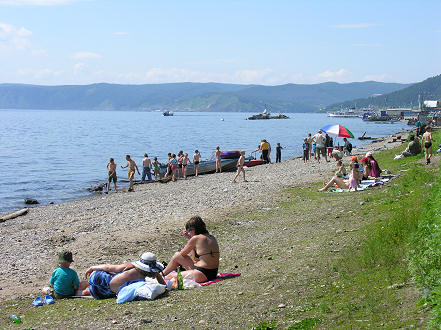 But a few nights here will have the bed lumpy, the neighbours dog barking annoyingly, and the hot shower a little ordinary. We always want more than we have. Few people realize we already live in heaven, that the nicest people have the least, that to appreciate what we have we have to go without, that the greatest thing of value is time, that hardship is only there for its joy of ending.
22/6/05 I didn't stir from my bed till 9.00 am nor the apartment till 11.00, basking in the suns rays through the window. Listvyanka is a small lakeside town, its architecture having seen all the Siberian changes. Painted log houses with tar paper roofs, sawn logs, elegant window shutters, tin and fibrous cement roofs to concrete apartment blocks and government buildings and now the neuvo rich from Irkutsk are building a variety of modern designed mansions. For most it's a day trip by boat from Irkutsk, foreigners stay the night, what few there are here even in summer. In winter the lake freezes over and is used as a road to the north. Endemic fresh water seals live more to the north and being the oldest fresh water lake on earth it has many endemic species of fish.
23/6/05 Comfort and price isn't the main reason for staying in a place longer but it is certainly a contributing factor.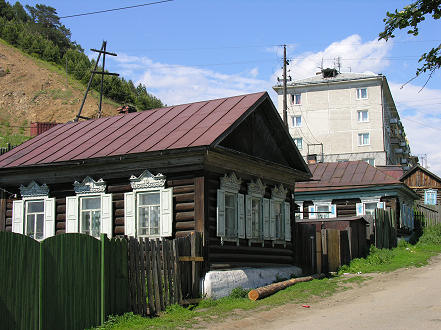 I have already booked in here for three nights and am debating a longer stay. With pleasant walks through the village and wooded hills along the lakes coast. The locals are used to foreigners and tend to ignore us politely. Shops have basic supplies, in all it's a great place to rest up for a few days.
24/6/05 Yesterday the Russian tourists were having a quick dip in the lake, supposed to add five years to your life, if it doesn't kill you at 10 degrees. Today the fog covers it, and blows up around my unit, cold and threatening. I was going to Irkutsk for the day but stayed here reading up on Central Asia.
25/6/05 A day in Irkutsk, changed the rear tyre with the one I have been carrying since Japan. Caught up on internet and had a coffee with the local bikers by chance back at Listvyanka. Just five on this outing, only 100 in the whole city. A mixture of motorcycles including the Russian made Ural cruiser. Using the usual Ural side valve engine just built into a Japanese copy cruiser frame. It looks a bit like a home built job but at $US 3,000 not a bad bike, still locals prefer a 10 yr old Japanese motorcycle for the same money.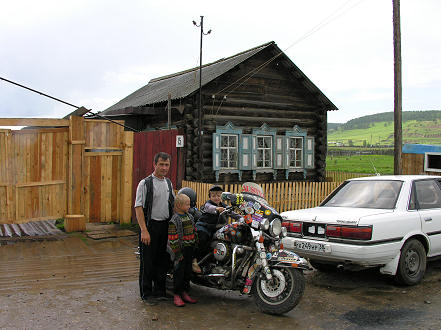 26/6/05 The skies looked threatening but I decided to leave. Bad decision. Within ten minutes it was raining. I got lost trying to find the road out of Irkutsk and it was four hours before the rain started breaking up. I then got two hours of glorious riding, rolling hills, wheat fields on black soil and pine and birch forests. Then I noticed one engine mount bolt had broken. Having used the spare one in Mongolia I pressed on only to have the second one break 50 km later with the engine bouncing around at every bump, knocking against the frame. Just 2 km from a small picturesque town alongside a creek, now river with the rains, I found two men, who after a couple of minutes made me feel like I was in their way they were so efficient finding bolts, cutting and grinding them to fit, and tightening them into the frame. They even made me two spares, nuts and washers to match. Initially they refused money but graciously accepted on my insistence. I was then invited for a coffee which ended up as lunch. The small wooden log house looked as rustic inside as outside. Basic furniture, wood stove, wood heater, bed made up in the living area but the two luxuries of TV and mobile phone were there along with a motorcar. A couple more hundred km, 600 for the day and found a dryish track to a campsite for the night, the mosquitoes now in full force I ate a cold tinned dinner in the tent.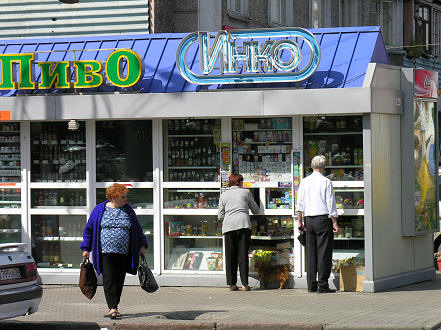 27/6/05 Another 600 km, no actual bike problems although a worrying rattle has returned to the engine. Something I missed or mucked up in my repair or a different problem, who knows. Still finding navigating and coming to grips with Russia difficult. Few signposts and roads through towns meander in all directions, some like back roads. The easiest is still to follow the Japanese imports, still heading west across Siberia. There is something wrong in the pricing system that makes driving a car 5000 km across bad roads, labour and petrol, cheaper than putting it on an empty freight wagon returning from delivering goods to the east. The Japanese imports will stop at Novosibirsk, another 800 km as the right hand drive vehicles are only allowed in Siberia and not western Russia. The road the last two days started and ended well but the middle 300 km was bad even by Russian standards. Dirt or crumpled asphalt, broken by trucks and water seepage and lack of drainage pipes. Krasnoyarsk for the night.
28/6/05 The further west I go the easier things are becoming. A renovated hotel, reasonable price, not a Soviet era leftover.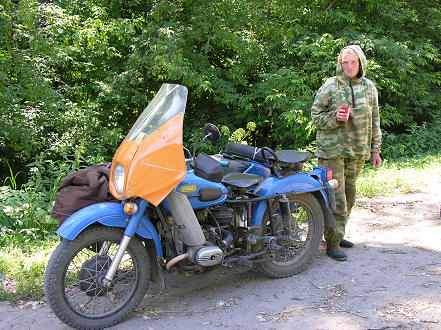 The internet efficient and finally managed to update the web page using a USB connection. The regional museum excellent, with modern layout and exhibits of regional culture, dress, etc. Stayed in town for the day.
29/6/05 600 km westward. Mostly a good quick road. The same scenery, either emerald green crops or grasslands, or birch and pine timber. Usually a pleasant mix of both. There are surprisingly few grazing animals along the way, particularly compared to Mongolia. A few cattle, mostly milking, small herds looked after by a couple of farmers. Some people are out cutting grass with a scythe preparing food for the next winter. I looked down a couple of dirt tracks for a camp but the horse flies and midges by day and mosquitoes in the evenings moved me to one of the few new roadside hotels. Basic but better than camping.
1/7/05 Through Novosibirsk, another large Siberian city of a million people and south to the more picturesque city of Barnaul. It was not difficult to see why the Japanese imports were coming this way, traffic dense, obvious money in the region. Even the lady selling the small wild strawberries roadside had a mouthful of gold teeth and was riding her Ural with side car.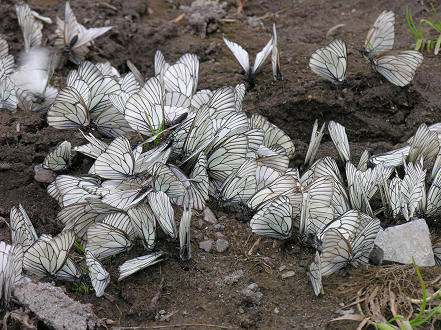 A sunny summers day, the warmer weather had any small lake full of swimmers or fishermen out enjoying the short summer.
2/7/05 Its seven more days before my Kazakstan visa starts so I headed up into the Altay mountains, away from the heat, near the Mongolian, China, Kazakstan border region. The good road busy with weekend drivers. Artybash is situated on Lake Teleskoe. A crystal clear mountain lake surrounded by steep pine and birch mountains. Most houses in the small village rent rooms or cottages. The place was busy with boat rides, white water rafting and horse rides. A small souvenir market and almost everyone was drinking alcohol. The road had followed the lakes out flowing river for some km's, the effects of its cold lake waters keeping the biting and buzzing insect population to a minimum whilst taking away the midday heat. I camped about 5 km south of town, riverside, one of the most beautiful spots I have ever camped in.
3/7/05 One of those days that unwinds perfectly.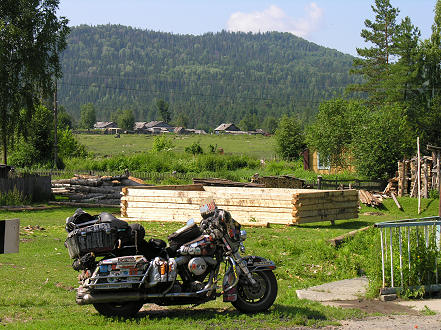 A cool crisp morning, the large bumblebee bees darting from white to blue clover flowers. Thousands of black striped white butterflies desperately mate before their short life expires. Whistling kites fly overhead looking for breakfast as I sit sipping tea and eat my porridge. The problem with the best campsite is that people have discovered it before and left small litter, mostly cigarette buts and lolly wrappers. I spent an hour tidying up, burnt the rubbish, did maintenance on the motorcycle, a bit lacking with the recent repairs taking my time, before an afternoon electrical storm passed through dumping 5 cm of rain (measured in my drinking cup) in an hour and was gone leaving a thick fog hovering on the river and blowing through the trees. I had weathered the storm in my leaking tent sitting on a thermarest mattress island with all the bedding whilst mopping up the surrounding moat.
4/7/05 Another crisp morning, read the same as yesterday's. I headed back along the road to Gorno-Altaysk where, having noticed a broken pannier support yesterday, I had it welded in a small workshop. Met a couple of Ex-Soviet countries tourists holidaying in the region.
A couple from Lithuania unsure of their countries new status as part of the EU. Most of their friends are in Russia, where they now require a visa, yet can move throughout Europe visa free. Headed further into the Altay Mountains to the Seminsky Pass where a tired old Soviet era sanatorium is struggling to survive free enterprise, but has reasonably priced accommodation with excellent views. The large gymnasium and sauna still attract a few sporting groups. A few children of the new rich are here with their personal trainers during school holidays doing martial arts courses.
5/7/05 Further into the mountains. The road follows beautiful rivers, the valleys green, the mountains steep and dry. There are a few of the older dwellings still around, log huts with flat roofs, last winters animal droppings drying on the roof, presumably for insulation and in place of firewood for heating and cooking. The animals are penned in a similar building next to the house. A couple of yurt (round, moveable, felt covered houses of the nomads) can still be seen but most people have succumb to the sedentary life in one of the villages. Glaciers have carved the valleys, their moraines leaving natural dams that long ago silted up forming a series of plateaued flat lands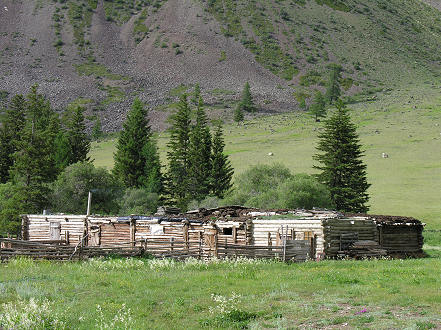 between the mountains, now with good grasses for the goats and sheep. Closer to the Mongolian border treeless mountains give way to dry open mountain plateau's where I finished my eastward ride and returned to camp near a clear stream . Afternoon thunderstorms rolled through having me in the tent early.
6/7/05 Stone age people inhabited this area and left behind petroglyphs, later peoples left stone burial mounds and markers and the Turkish people left inscriptions on stones. I met a group of archaeologists studying and recording inscriptions for the local indigenous population, still in the majority in the region. The stone burial markers can easily be seen dotted in fields along the roadside along with newer burial practices of large dirt mounds, fenced and with a pole, topped with a symbol of the moon. I returned to the sanatorium for the night.
7/7/05 Just as I am leaving Russia I feel perhaps I am coming more to grips with it. It's called Mother Russia because the heavy, large framed, middle aged ladies, "Babushkas" actually lord over everything that happens,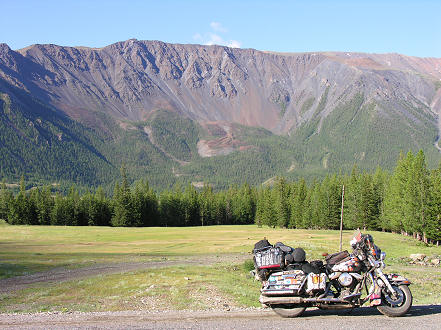 and make life difficult if you don't comply with their wishes. The men drink because caught between the babushkas, the cold Siberian winters and summers biting insects I would do the same. The people rarely smile, there has been little to be happy about the last few years, or even for many before that. It is estimated 50 million Russians died under Stalin and during the second world war. The drab concrete apartments match well the cities offices with large distances between to be walked twice daily by workers. Avoiding cities for country areas brings a more pleasant Russia, more personal service, more adapting to your needs rather than you fitting their systems. It is changing quite quickly. Ground floors of unit blocks are being tastefully and brightly renovated to shops designed to attract customers. It is certainly a more prosperous Russia than the one I visited six years ago. The police now target locals not tourists as perhaps an easier target or perhaps corruption is disappearing. I have had only good encounters with the police this visit.
8/7/05 Still in Barnaul, getting things up to date before a border crossing to Kazakstan tomorrow.
9/7/05 340 km's of flatland along a bouncy concrete road through endless fields of wheat and sunflowers had me at the border by 9.30 am after a 4.30 am start. A more efficient Russian border crossing, just 15 minutes and I was out, no payments, no problems.
Move with me to Kazakstan