Travel Through Russia on a Harley-Davidson
By Peter Forwood
Russia on a Harley (14/5/05 - 31/5/05)
Distance 3804 km (419328 km to 423134 km)
This is part of the eleventh section of my around the world trip.
Complete Trip Overview & Map
Coming from Japan or read our previous visit to Russia

14/5/05 Somehow I am more attuned to the Russian culture. I do not obviously stand out like I did in Japan. People are my height, my complexion and even dress almost as daggy as me. They talk and think fast, act quickly, have much less regard for safety. They are openly aggressive and argumentative, laugh out loud and get dirty. All of which I experienced watching the loading yesterday, none of which I have seen in Japan over the last month. They are closer, touching the bike, asking questions, openly interested and ask to take photos, again rarely experienced in Japan. Whilst I loved Japan, it's culture, foods, history, people, I found it a little "tame", needing some adventure. The seas were smooth, a blessing for someone who doesn't handle rolling boats well. The day slow as boats can be. A sea fog and rain closed in around evening.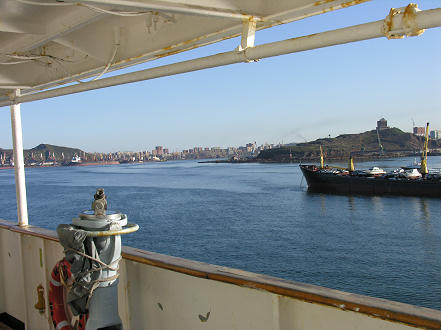 A surprising number of Russians on the boat speak some English and I managed a couple of reasonable conversations. This car trade between Japan and Russia has been going on for some years. As Russian middle classes grow their vehicle demands also grow. Japans high labour costs keep its car fleet young. Most traders complain of only small profits. Often their boat costs, the cars, customs, driving half way across Russian to the markets and often having to pay bandits for the right to pass leaves little money left. Targeting only the imported cars these "bandits", apparently immune by police, demand $US 100.00 to let each car pass. There are a few bandit spots along the road west to pay at or avoid, either by driving back roads or passing when there is a lot of traffic.
14/5/05 The ship arrived at 9.00 am Sunday on schedule. The air had that clear arctic crispness to it. Apparently it had rained the previous three days but was now blue sky's. It was six years ago I was in Western Russia and my first sights of the concrete Soviet era buildings brought back those memories. The slow procession of people and luggage took till 12 noon before I could get through immigration and customs. You can stay on the boat an extra night, quoted $US 10.00, or 20.00, depending on the second mates mood, still a cheap nights accommodation in Vladivostok.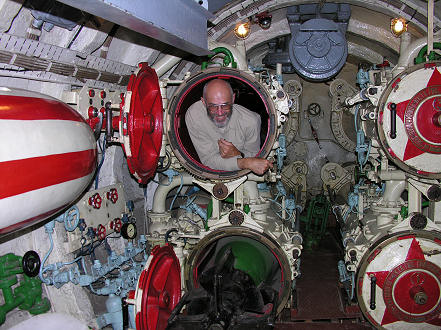 I paid the 10 dollars and another 10 to get my bill of lading for the motorcycle processed today rather than wait till Tuesday afternoon, enabling me to be at customs at opening tomorrow morning. Both transactions, on board and private I presumed. The streets are wide, the buildings large, everyone walks long distances in Soviet towns. I managed to buy a road map, get money from an ATM and internet quite easily. Many local people said they have friends in Australia and offered assistance willingly. One in particular showed me where customs was, advised what bus to catch tomorrow, phoned information for a cheap hotel for my next few nights and gave me a guided tour of his town. He was a small time importer, his goods were carried in from Japan by people as personal luggage, thus avoiding duties. Such is Russia today. They grasped all the points of capitalism in a few years. There is a cautiousness I need here, perhaps just because I am coming from super safe Japan, but people are warning me of the dangers of theft etc, always a concern. It was 9.30 pm before the sun set and people were still out in the streets strolling quietly on a balmy Sunday evening. I returned to the boat, just two passengers staying on board.
16/5/05 A duller day,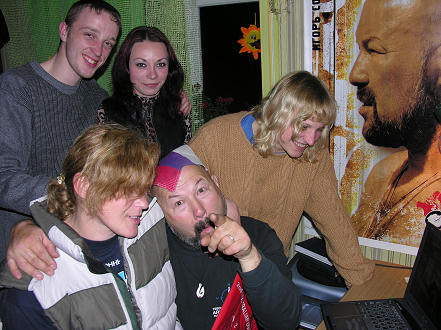 the robot faces on the commuter bus looking no different from anywhere else on their way to work Monday. I was at customs, counter 3, at supposed opening time of 8.30, but no movement. By 8.50 I was prepared for a long tedious day until I was shown to the friendly middle aged lady at window 1. She enlisted her boss who spoke good English and without too much prompting agreed to write the letter I needed in Russian, detailing my journey across Russia, details of the motorcycle, my address at home and my hotel. Luckily I had attempted to book a hotel yesterday, but due to a misunderstanding they realized they had no rooms available, however they had already registered my visa via their computer and stamped my immigration card. Customs accepted this as where I was staying and photocopied, my passport, visa, immigration card (both sides), bill of lading, registration and ownership papers, customs declaration (both sides) and said wait. By 9.50 I had a permit to ride my motorcycle across Russia to Mongolia. There was no charge for the service. The day got no warmer and with icy winds I kept inside in the post office internet and the train station waiting room. I was having a better day than the American who also stayed on the boat last night. Out drinking, mixing with the locals, later in the evening he joined them in their car to go to another bar only to be robbed of $US 500.00, watch and personal belongings and left roadside.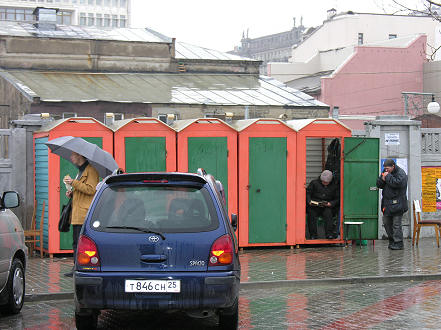 Today he booked the boat back to japan having had enough of Russia. Shustrik from the Horizons Unlimited Community here invited me to stay at his unit. A three roomed unit shared with two others, kitchen and bathroom. One of dozens in the Soviet era block, one block in hundreds that dot the suburbs. On the 12th floor, the lift was broken, we walked. The concrete steps crumbling, not enough cement in the original mix, a slight concern now and a major one in a few years as these buildings age. I was advised to take a shower, the hot water was running. Sometime soon their area will be without hot water for a month for repairs to the central heating unit of this area of the city. A casual apartment we had dinner and beer late into the evening.
17/5/05 The motorcycle was left locked up in the customs compound with the couple of hundred others that arrived from Japan. It's not considered safe to park on the streets overnight. And as parking stations charge $US 2.00, and it was raining, and you get 3 days free parking included in the port fees, it was better left where it was. Port fees of 2100R and a handling charge of 700R, total just over $US 100.00 I paid today.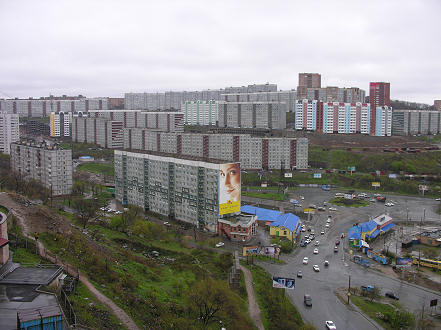 People are making money importing cars and bikes so they can charge more, so they do, this in how Russia now seems to operate. I had lunch and visited a couple of tourist sites with a friend of Shustrik's while he worked and in the evening we had drinks at Sinus's place, another biker having just returned from three months travelling Australia.
18/5/05 Still raining and forecast to continue all day, I reluctantly decided to stay another day, wanting to move on and yet having to take the motorcycle from its port storage, and look elsewhere for parking. This is not showery rain but constant drenching rain. Some jobs, returned my old carnet to Australia, express post, $US 72.00. Having a puzzled look on my face at the enormity of the cost just resulted in a shoulder shrug. The look of, we can charge this price, people were lined up to pay it, so they will. This is the new Russia, little competition. I needed to have this carnet home and a new one prepared before I entered the next carnet country, so I also paid, standard Russian post takes about a month to Australia, if it arrives at all. Vladivostok can be a depressing place in the cold rain, with little shelter. The evening quiet back at Shustrik's apartment.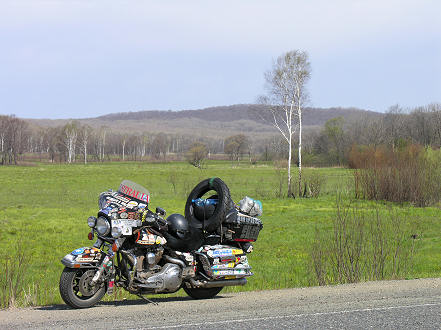 19/5/05 A different blue sky. Collected the bike and was on the road. The Soviet era spread out cities are still able to cope with the capitalist era car volume, virtually no traffic signals. A four lane for the first bit then to two lanes. Light traffic, some roadwork's and some potholes meant I could still spend a bit of time looking across the green, boggy countryside. The trees just bursting into leaf with spring. This monsoon forest drenched by summer rains. I took it slowly, lunch in an old railway carriage, cup of tea picnicking roadside and later in the afternoon about 400 km along, stopped at "Noah's Ark" a rustic Inn, with a large mock up boat out the front. There were plenty of new petrol stations and eateries along the way. Welcomed, and offered a room for free as a tourist, I stayed, particularly as I was catching up with yesterdays rain. They had a banya, like sauna but with an extra room attached for bathing, where I indulged in the evening. Was offered to join a group over vodka and a meal, talked with some locals and felt relaxing into Russia.
20/5/05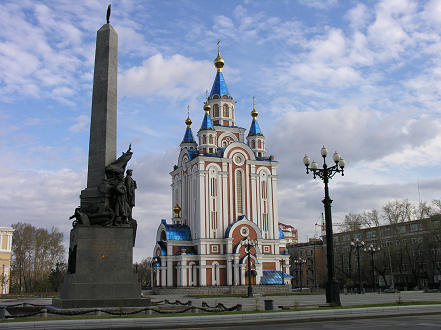 The owner of the roadside stop initially refused any money for either food or bed, but after my insistence accepted some for the food. Two police stops along the road to Khaborovsk, basically just to look at the motorcycle, annoying. On arrival I phoned Eugeniy, a contact given to me by Shustrik and he met me within 15 minutes, spoke little English, but brought an interpreter and we were at his house within the hour. A different Russia from where I had stayed at Shustrik's. Here was an old house, completely remodelled over the last two years, western style everything, under floor heating, a sauna, western furniture.
21/5/05 We toured the city in Eugeniy's 4x4, a large Toyota, Japanese import, right hand drive, the opposite of Russian roads. The city centre has undergone a facelift, and is still being upgraded. Three new Russian Orthodox churches, replacing those destroyed during Soviet times, gold dome roofs, elegant spires, marble stonework. Old buildings have been repaired and new ones built in the old design and style. The spread out Soviet city taking on a picturesque openness of wide grassy tree lined boulevards. These open cities having greater appeal as their buildings are modernized. Today is also the opening of the motorcycle season.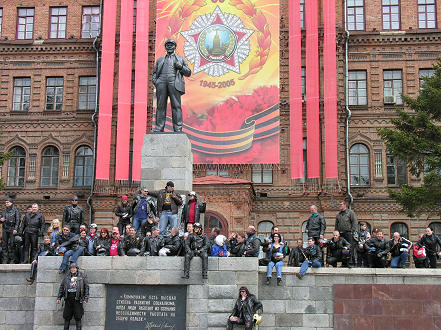 The city has a population of 600,000 but only 100 people enjoy the sport of recreational motorcycles, all Japanese imports. The sport, only about two years old here, bike numbers are doubling each year as disposable income grows. Most look at the sport as an image rather than a doing. Women in stiletto pointed toed shoes, manicured nails and brand name clothes compare outfits as men in leather or gortex discuss bikes. The preferred bike, a V twin, more than 50%, yet almost all had not seen a post war Harley before. Many photo requests and to start the motorcycle to hear the pipes. I spent a couple of hours with the group before breaking away to explore the town for myself and get some basic supplies for the next section. Ahead are isolated communities, joined by 2000 km of dirt roads to the west. It was the first time I had left the motorcycle unattended in the streets in Russia. There are many people drinking alcohol openly, looking intently, that give the place an uneasiness. People here watch people openly, unlike in Asia where they are more discrete, this adds to the unease. Crime is a big problem, often opportunistic, all cars have loud alarms, houses with big dogs, people are watching other people for signs of a problem. Eugeniy had asked a few of his friends over for a barbecue pork dinner which went like an Australian barbecue except little alcohol was drunk as the friends were riding motorcycles home.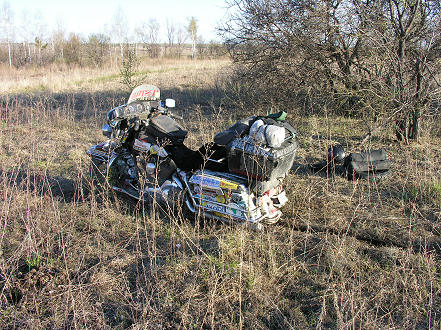 22/5/05 With the newness of motorcycles there is little riding experience. The old Russian made Ural a snail compared to a Japanese sport bike, and the roads are not good. Many accidents occur. A friend of one guest was injured yesterday crossing the road I am to take tomorrow. Eugeniy guided me out of the city at 9 am and the beautiful spring day and good road had me through Birobidzhan in a couple of hours. I could tell the dirt road was soon to begin as the Japanese imports were taping up their wheel arches and bonnets for stone protection. Navigation was easy as was finding food and petrol, just follow these new looking, no number plate, imports. The police were out again, stopping me three times, one justifiably, 91 km/hr in a 60 km/hr zone, all be it in the middle of nowhere. I was however waved on with a smile at the approach of a convoy of imported cars, which were all stopped. The day however deteriorated. After buying petrol a grinding, crunching sound occurred in the lower part of the engine. I immediately turned it off. Unsure what to do next, I started it again to check, the same noise. I was now 500 km along the way, about half had been dirt.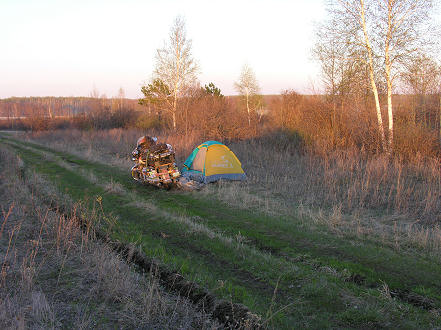 I rode it the 200 metres back to the petrol station, still the worrying noise, but as I arrived it became intermittent, then disappeared completely as if it had never occurred. A couple of times recently the engine on starting has been rattling for about a minute, then normal. I put this down to a worn cam follower not holding oil. I pressed on, another 200 km, patchy dirt and asphalt, the engine decidedly noisier than before, rattling more, like tappet noise. At 8 pm it was still warm and I turned off along a small boggy track to camp. Wanting to get further off the road than cars could go I headed into softer ground and sank to the exhaust pipes. Of course I should have walked the area first, but was tired and lazy. Now I had to unload the bike entirely, push it over, drag it sideways to get the rear wheel out of the wheel rutt, stand it up and luckily I could ride out, carry the luggage and repack. I camped where the bike ended up, cooked dinner, watched sunset at 9 pm, and relaxed as the slow twilight descended. A few early mosquitoes were about but disappeared with me lighting a coil. I've had better days.
23/5/05 There was a bit of dirt to begin the day, then about 100 km of rough asphalt following alongside the train track, through small dying towns, mining, timber, railway, ex-government.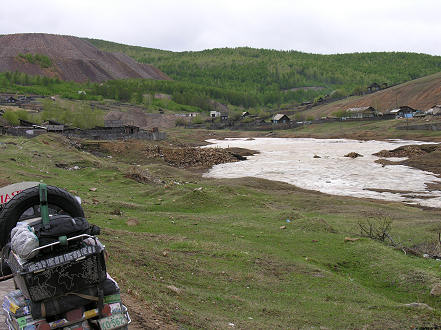 They all look a bit depressing yet appealing in their isolation and history. Another warm sunny day, purple azaleas flowering under pine trees or silver birch just leafing up with spring. Another 500 km day, 400 dirt, mostly 60-80 km/hr. The sections of the new road fast, well formed and straight, graded recently. They bypass all the old towns making it uninteresting. The old road, bumpy, winding and slow passes close to the Trans Siberian railway and its old towns, making it interesting. After 120,000 km of use the speedometer cable broke, I installed the spare one in the evening. The engine still noisy, rattling, not much to do but press on. On checking over the motorcycle I found a crack in the main frame behind the right hand foot board. The opposite side to the one I had recently welded in Laos. I had hit a few large holes today, bouncing the rear wheel well off the ground, coming down hard. The crack is new, no rust, about half way round the 3 cm tubing. It will be a slow ride to the next town tomorrow. I am starting to think the bike is getting to its use by date. I have been lucky in finding these two cracks before the frame completely broke perhaps causing an accident. I also discovered that one of the rebreather tubes going to the air filter had become disconnected. Unfiltered air was going straight into the engine through a 7 mm hole.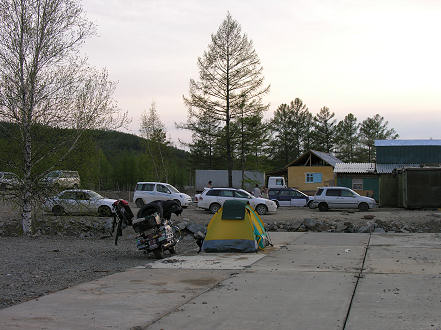 Stones often get thrown into the air filter box, perhaps the cause of yesterdays grindings. Wild camped again, pondering what tomorrow would bring.
24/5/05 The damage done to the engine could be either short term catastrophic or just a shortening of the engines life. I guess the next few days will tell. Another cold morning, the condensation inside the tent frozen as was the pond I washed in, 5 mm of surface ice, but the air was still and crisp, the sun strong, and it was warm quickly. I have been heading north since Japan, all be it in a westerly direction. Arriving in Vladivostok at about 43 degrees north to now be 54 degrees with some patches of snow still about in drifts. This may not be far north compared to Nordkapp in Norway at 70 degrees but relative to the southern hemisphere my latitude is as far north as you can ride south anywhere. 60 km to Never, just one mechanic, welder in town, he was busy elsewhere. I waited three hours, as did five other motorists, problems with their imported cars, suspension mostly. The tyre man at the same place was busy fixing flats and selling replacement tyres, the stony road taking its toll.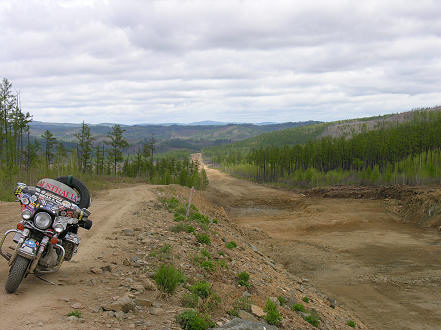 The "man of the moment" the mechanic, taking full advantage of his position, arrogant of his need, ended up doing the worst welding job I have had and wanted top money. It looks strong enough. It's great having a metal not alloy frame. By 2 pm I was on the road. After Skovorodino the next 200 km was the newly built road. No towns, no side branches, varying in condition from still being built to perfect gravel. About every 70 km was an eatery, petrol and or tyre mechanic. It was after filling up at one of these that the bike wouldn't start, flat battery. I got a jump start from one of the import car drivers, and drove 70 km, noticed the volt metre fluctuating, thought it was a regulator problem. Fitted the spare, managed to get another jump start and drove another 20 km, the problem wasn't solved, stopped, presumed it was the battery and camped at one of the eateries, now being 9.30 pm. The engine rattled along through the day, neither better nor worse, which meant it was better for me.
25/5/05 A warmer night, cloudy, another jump start by a Japanese car driver and I was riding, into rain within 20 minutes. I soon met two riders coming the opposite direction. Two BMW's, 1200 GS, all the gear, support vehicle, towing a large motorcycle trailer, even an interpreter, plus military security with his rifle.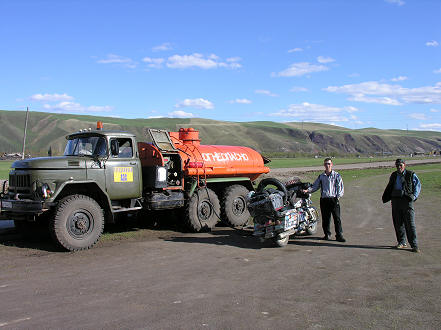 We talked in the rain while my motorcycle sat idling away. Their trip 20 days, from London to here. They had been told of the dangers in this area and hired military security. We can never be truly free unless we have nothing we fear. Into Mogoua, the only reasonable sized town in the area and was generously led to the automotive shop. Towns in Russia don't seem to have any logical city centre of shops. Perhaps communism never foresaw capitalism here. The automotive shop was in the ground floor of an apartment block. Only small motorcycle, for the Urals, or large car batteries. I opted for the car battery. Again escorted to a workshop where I could install it out of the rain, a handshake and my escort was gone. Such is the vast contrast of Russian hospitality. Some won't give you the time, a smile or wave without wanting money, others insist on you not paying for a meal or assistance. The drunks are the worst. A large portion of the population every afternoon, drinking in the streets, their cars, everywhere. Each time I stop, they want to sit on the bike, play with the accelerator, speak louder as if my Russian will improve the louder they talk, and worst won't take a polite no to anything they want to do. The battery installed on the rear footboard and I was underway.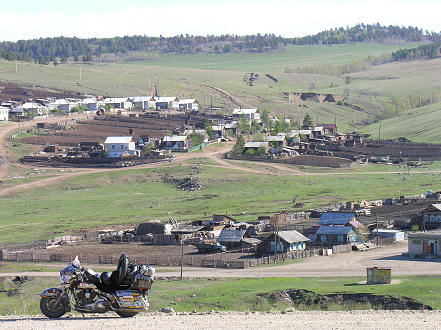 I have never been completely happy with the gel batteries, in the terrain I ride, the last one only lasting a year. The rain soon stopped, the road dried and the afternoon was crisp and sunny. About 500 km today, some new road, some being built and some old road through more small towns. Again the old slower dirt road my favourite. More mining towns before the trees disappeared and open grazing land about 400 km before Chita. There was no cover to camp behind and I ended up in the back yard of a small roadside cafe, watching the sunset across the steppe with just 250 km to Chita.
26/5/05 One thing that surprised me is how many people live in this area of Siberia. The town I stayed in gets winter temperatures of -50 to summer temperatures of +30. There are small towns, most slowly becoming ghost towns, their residences supported by government pensions, they are dotted all over the region. Plus there are some very large places of a few hundred thousand people. The last 100 km of the dirt and 150 km of asphalt and I was in Chita, supposed to be the end, or beginning, of this remote road section I have just crossed. The roadside mileposts indicate a 2165 km journey from Khaborovsk to Chita,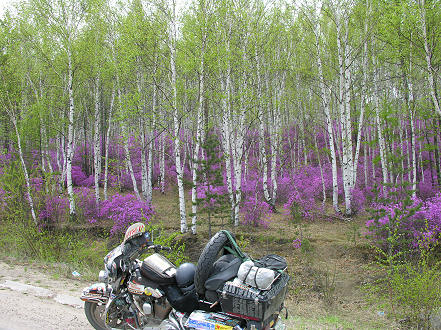 but that will be once the road is finished, don't hold your breath. I only saw work happening on one section. With the detours through small towns another 200 km can be added to the trip. About 1800 km is dirt, the rest varying quality asphalt, sometimes worse than the better dirt. The whole way, except where the road is currently being constructed (about 150 km), the road was well formed, no mud holes or sand traps. Small Japanese two wheel drive cars cover the trip. It is the distance, stones and pot holes that cause most problems for vehicles and tiredness most problems for drivers. A couple of cars had rolled over in accidents that I saw. I spent two hours looking for a hotel in Chita. The first three hotels were supposedly full, perhaps my dishevelled appearance a deterrent to offering a room. The fourth hotel had rooms for $US 17.00 which I took only to find I was expected to share it with three others. I settled for a $US 32.00 room on the fifth floor, no lift, cold shower, and boiled water with my petrol stove for a splash bath.
27/5/05 It was by accident I discovered I had hot water tonight, no one had informed me and when I checked in for an extra day I received a breakfast voucher, not received previously. Much of the old who cares, no service attitude still exists.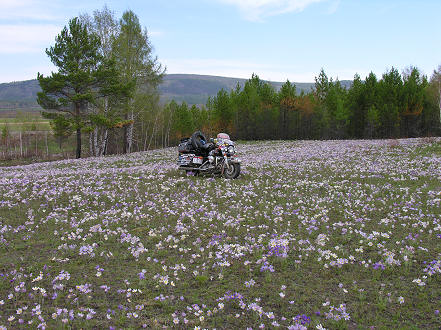 I emailed Morgan and Wacker in Australia, the H-D distributor in Brisbane, that has been assisting with parts at cost and advice, and they felt the problem could be a piece of hardener from the cam having come loose. The oil change yesterday revealed small metal fragments in the filter. Whether this problem is still located locally in the cam area or has damaged other parts remains unknown. Morgan and Wacker are putting together a package of parts to be air freighted to Ulaan Baatar, Mongolia's capital. Still 1200 km away but a preferred location, cost wise and being a capital city to get things done. I have never worked on the engine myself so it will be interesting to see the results, assuming the bike lasts till then. Not many travellers come to Chita. Just the few travelling by land, not many off the train. People still look at me strangely here. Few people have beards, usually only down and out drunks and street dwellers. My shoes are also rounded, not the long pointy for women or Aladdin boat length shoes for men, the current fashion. My pale colour scheme non existent here, dark colours the rage. In the two tiered Russia of the haves and have nots I appear as a have not and are treated with looks of disdain by those not realizing I am a tourist. Appearance is everything. Dress is the social status, not house or car as in other parts of the world. Observed the Friday nights drinking in Lenin Square.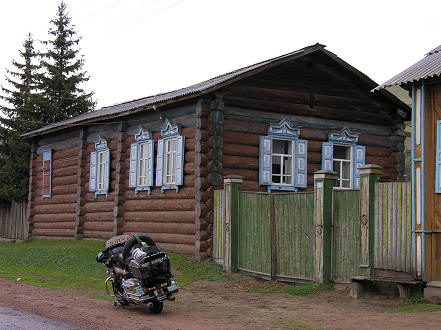 Buy a large bottle or can, beer the preferred, from one of the many canteens, join friends drinking straight from the bottle enjoying the late daylight. Although Communism was later coming to this area, the people fighting a resistance till 1922, Lenin has remained standing in all the towns squares.
28/5/05 I am finding this area of Russia a little difficult to move through. The Cyrillic alphabet, little English and not many road signs. Added to that the security, with people hidden behind a metal grill whether selling petrol or at a kiosk. Shop fronts don't indicate what is sold inside, often just a door and single sign I can't read, no display windows. I do a lot of walking into shops only to walk out again trying to find something. It's 10,000 km across Russia by road. I have covered just 3500. Time is 7 hours different in the east to that in the west. People are waking up in Vladivostok just as they are going to sleep in Moscow. It's a big country. Mostly jobs today, washing etc, still in Chita.
29/5/05 A bouncy asphalt road the 650 km to Ulan Ude. Babying the engine along at 75 km/hr or 2000 rpm had me being overtaken by everything but the local Ural motorcycles. Past many old interesting timber housed towns, their unpainted log construction with carved blue painted windows,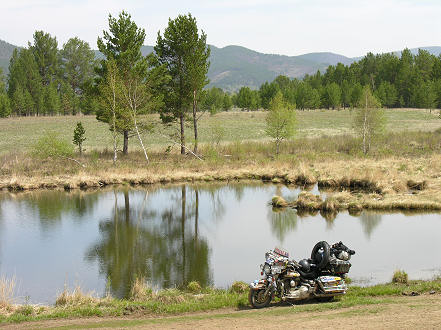 dotted near pastureland interspersed between forests gave this area a relaxed appeal. The warm morning parted with a cold wet afternoon and into Ulan Ude after two hours of rain. A similar Soviet city to the others. Buildings falling down, stripped of valuable materials. Buildings being renovated and even a couple of new constructions. Wide streets, statues and another Lenin monolith, this time just his enormous head in the main square. Went to dinner with an Australian geologist, he is here for a couple of days, staying at my hotel. First non Russian I have seen in two weeks.
30/5/05 This town doesn't have quite the same frontier feel to it. The population more a blend, Caucasian Russians and Asian appearance of mongolia or China.
31/5/05 It's just 240 km to the Mongolian border along a rough asphalt road that without the engine problems would still have limited my speed to less than 80 km/hr in most places. It seems the need to get a quota out, under the 5 yr plans of the Soviet Union created a mentality of get the job finished irrespective of quality. Unfortunately this attitude seems to have carried over till today. The border was a slow crossing. Only open from 9-1 and 2-7, but it is no use getting there at 12.30 as I did because only a few vehicles an hour cross and I ended up waiting till 2.30 to be allowed in. Mostly Mongolian vehicles crossing to Russia to buy goods in short supply in Mongolia. The actual crossing took less than an hour on the Russian side, polite, English spoken, no requests for money, nor has there been anywhere in Russia this trip.
Move with me to Mongolia , or go to my next visit to Russia .