Travel Through Russia on a Harley-Davidson
By Peter & Kay Forwood
Russia on a Harley (17/5/99 - 6/6/99)
Distance 3225 km (142502 km to 145727 km)
This is part of the fifth section of our around the world trip.
Complete Trip Overview & Map
Coming from Georgia

17/5/99 Charlie's tourist visa for Russia required accommodation vouchers, which had been stolen in Tblisi along with some other paperwork, and with the threat of him not being allowed entry a $US 20.00 bribe was paid along with $US 2.00 for paperwork handling for the motorcycle. While we both hate bribes and corruption when our documentation is in order, sometimes corrupt officials are useful when it's not. Avoided Vladykavkas as five people were blown up there yesterday (believed to be by Chechnyan rebels) and headed to Dargavs. The Ossetia conflict here for independence and division with Georgia is still not settled. Dargavs, in the mountains, has about 50 beehive tombs, the human skeletal remains now visible through open doors in the base of the tombs, the bodies wrapped in cloth and placed in boat shaped open coffins. These were believed to have been built by ancestor cults. Camped just outside the site and while listening to VOA on short wave learned two Red Cross workers had been kidnapped by Chechnyans 100 km away in the direction we are heading tomorrow.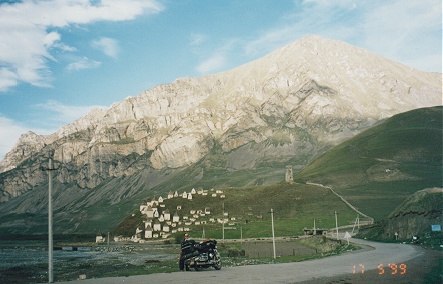 18/5/99 Still running on the temporary belt, now 2000 km, and optimistically hoping it will last to a dealer in Finland, we crossed the fog wet, muddy mountain pass to Verkhny Fiagdon, with Charlie's leg still giving him trouble being the first day he can mount and dismount without assistance, and our makeshift belt, it was a cautious slippery crossing to see the old "Tower" town. More beehive tombs and bodies, crumbling lookout towers and locals seemingly from another world, which is how they viewed us.
19/5/99 We had camped outside a restaurant and with luck the owner, a policeman, registered our visas, a usually lengthy process or expensive if through a hotel. We bypassed Nalchik, where the kidnapping occurred and stayed in luxury in a 4 star hotel, at Kislovodsk, with a heated spa fed swimming pool, at $US 20.00 thanks to the devaluation of the Russian rouble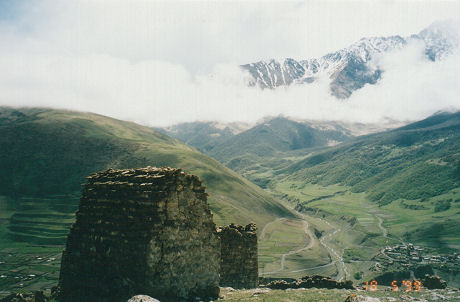 now running at 25 to the $US 1.00. We are accepted here as low spending travellers without the feeling that we are low class citizens, a feeling we got in Europe.
20/5/99 This spa water town famous for it's variety of carbonic mineral spring waters bubbling up in a glass dome inside an 1850 gothic building, situated in the town park and gardens. The economic down turn has meant large cafe houses now contain other businesses like chemists, small goods and groceries alongside the coffee and the town post office has 6 shops contained within its once thriving walls and still operates as a post office. The small business entrepreneurs are everywhere creating cottage industry. Angora shawls, socks and coats to the money changer, working inside the bank foyer and operating on a finer margin undercutting them for business. Government works are still running with the streets swept, spring gardens planted, roadside railings painted and general maintenance occurring. This town seems to be coming out of difficult times quickly.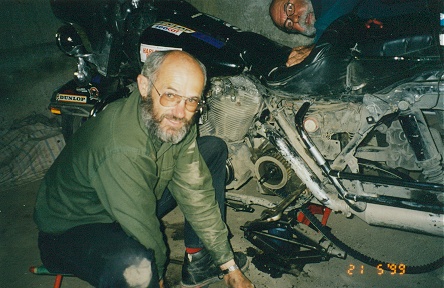 21/5/99 On leaving our hotel, just 100 metres out and the temporary belt snapped. Intourist Hotel offered the use of their garage and "workshop". The staff kept rolling through throughout the day, along with some sight seers, solving problems for us as they arose. Not being mechanically minded and attempting a usually 5 hour dealer repair, our 12 hour, 10 am to 10 pm effort hopefully a success. We required 2 large sockets not carried, provided after a search of the town by some helpful onlooker. And after mistakenly fully withdrawing the swing arm bolt, a special tool was required to re install it which despite being after closing time Friday afternoon was machined at the local machinery shop on a lathe and drill as a special order for just $US 1.50. We however discovered a previous repairer had used an over length crankcase bolt screwed through into the engine sump and thread stripped just Araldited into place. With no alternative at this time we repeated the error and hopefully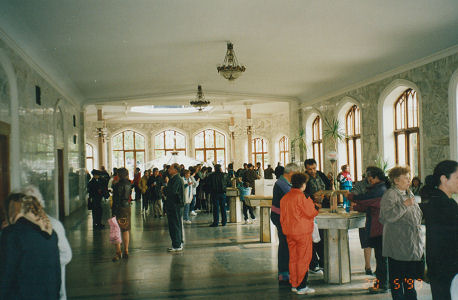 it will hold until it can be fixed correctly.
22/5/99 Yesterdays grey skies, rain and bike problems disappeared into crisp sunshine over the Gumbashi Pass and the Caucasus separating Asia and Europe with Mt. Elbrus's 5600 metres (Europe's highest mountain) dominating the divide. With eight police/military control points in today's 200 km travel we are choosing to ignore instructions to pull over as almost always all they want is to look at the motorcycles. Police officers at intersections and at stationary patrol cars are the easiest avoided, pretending not to see them despite loud whistles and gestures with their batons. To date none have chased us. The "republic" boundaries are the most difficult and after running one check, just a kilometre down the road was another check post and with our approach Kalashnikovs were unshouldered at the ready with their owners standing in the middle of the road. Feigning no Russian and not seeing the obvious previous check post, after document checks we were allowed to continue. Stayed the night in the magnificently scenic national park at Dombay.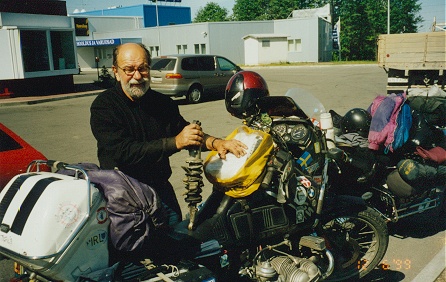 23/5/99 One bike up, one bike down. Charlie's BMW's rear shock absorber has been leaking oil for a couple of days and yesterday completely shat itself so that Charlie pogosticked down the road on top of the undampened spring. Using pieces of my broken belt woven between the springs we managed to get some form of dampening effect at least for the now improving roads as we left the Caucasus Mountains and onto the vast agricultural plains heading for Rostov-on-Don.
24/5/99 This is not the USSR of pre break-up or the post Russia that the media has been feeding me over the years. The organized communities with wide tree lined park laden cities, the clean, swept maintained streets, small to medium sized businesses everywhere, maintained highways and well cared for farming land is what we have seen. We have also seen enormous factory complexes not working but they are being salvaged of useful materials for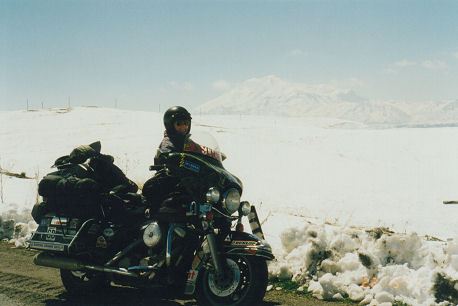 recycling. Unlike the three ex-Soviey states we visited, here things seem to be going ahead rapidly and smoothly. Rode into Rostov-on-Don for the night.
25/5/99 This area is that of the Cossack peoples, and taking a hydrofoil boar ride up the Don River to a now small village we visited the old Cossack capital.
26/5/99 400 km of flat busy road north on the M4, with ex-army lorries moving farm produce, ex-army prime movers towing trailers, ex-army wagons moving road gravel and ex-army tankers selling diesel directly on the side of the highway undercutting petrol stations. Despite reports of low grade or poor quality fuel we have managed 92+ octane everywhere so far in Russia and the former states, usually in bigger towns with highway fuel and small towns often only 76 octane available. Again hassled by police driving past four whistling baton-gesticulating officers but the wish to look at the motorcycles less a target than the desire to fill the policeman's Christmas benevolent fund
greater. In all we saw over 30 cars stationed at strategic points usually where road markings unnecessarily prevented overtaking the steady band of slow moving trucks. After being sprung once we though it prudent to obey the police instructions and were asked for money to placate our offence. "Me no speak Russian" and feigning ignorance and occupying precious bribe time (taking the officers from their more lucrative duty) we were waved on frustratingly.
27/5/99 300 km to Yelets (Elec), a closed town to foreigners in the USSR era with very new buildings giving it an antiquated feel, with the people still cautious of foreigners. We are still marvelling at the minimum cost of things, post devaluation, with petrol at $US 0.16 a litre, average double accommodation $US 8.00, and a two course meal and coffee in a roadside diner $US 2.00.
28/5/99 400 km and finally Moscow after the bumpy M2. Straight to Red Square and the mandatory photo under St Basil's Cathedral, the symbol of Russia. The Russian architecture more impressive and grand than we imagined, and not just in the centre but smaller churches and buildings on entering Moscow. Security for the motorcycles has taken on a high priority, not that we have seen any thefts or been threatened but with shops heavily steel-grilled, petrol station attendants behind bars in small locked booths, payment before being supplied petrol, warnings of theft of motorcycles and security parking for trucks and vehicles along the highway the theft threat must be serious. We have paid for parking every night in hotels or parked in locked, lit and guard-dogged compounds. Usually around $US 1.00 a night, quite a tidy business.
29/5/99 Still impressed
with Moscow centres buildings and visiting the matinee session of the Bolshoi Theatre's opera of "Iolanthe" in the magnificent six tiered D shaped building was great. Didn't understand a word of the opera (sung in Russian) could only see through the bobbing heads in front, placed at the back of the sixth tier (furthest seats from the stage) that's where you get the best view of the building and the crowd if not the stage.
30/5/99 Despite the total removal of anything "Lenin" from elsewhere in Russia his embalmed body still rests at the centre of Red Square where each day from 9-1 the square is closed off to pedestrians other than those wanting to file quickly passed the military guards to view the pasty faced, bearded corpse resting in its glass coffin. Busts of other famous/infamous leaders like Stalin and state favourite heroes are also placed in this honour area. The flag that flies no longer the hammer and sickle on red but the white, blue and red flag of Russia. The dilemma of old and new here mirrored elsewhere over Russia, full capitalism to full communism.
31/5/99 Ten more visas to get to complete this section but with time ticking over on the Russian visa and most embassies wanting double or triple the fee for same or one day processing as opposed to four plus days we decided to defer the inevitable to a country more liberal with its visa times.
1/6/99 After collecting our eight times the local price ticket we joined the other sheep to be herded around the Kremlin pathways shepherded by whistle blowing baton pointing guards who would shrill their wrath at minor misdemeanours like stepping on the grass or road. The numerous cathedrals
inside the walls were maintained by the USSR and much of the renovations were done during the Communist years but for historical museum reasons and not religious ones. Some of the countries best "Icons" were brought here. The worlds largest bell sits beside the bell tower, 202 tons of bell but an 11.5 ton chunk fell from one side after a fire in 1737. This clinically clean sterile environment the centre of old Russia.
2/6/99 500 km to Novgorod and again hassled by police. This time a specific bribe was asked for, 70 Roubles, for not complying with a no overtaking sign despite road markings to the contrary. Every document was inspected for minor blemishes and when we insisted on a receipt a small photocopied wad of receipts was produced. Not wishing to spoil 120,000 km of travel without paying a traffic infringement we argued our case and demanded to be taken to the nearest police station before any payment was made. This caused the official printed stationery to be produced and our details were being entered when a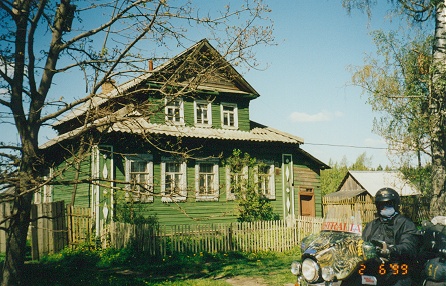 change of heart occurred, a return of documents and a gruff dismissal that we should leave. This entire section of road is lined with magnificent old wooden houses, some full log cabins, others slab cut with the window surrounds ornately carved, some listing precariously into the swampy ground, others recently renovated, some burned to the ground, some boarded up but most still lived in and the vegetable gardens recently turned for the spring planting.
3/6/99 Novgorod, Russia's roots, birth place, founded by the Vikings in the mid ninth century and undergoing a renovation revival post USSR. Our most beautiful town in Russia, small but big on history, with merchant churches, a palace and a living Kremlin with bell tower music, a functioning cathedral and the most beautiful fortified towers and town walls.
4/6/99 Morning to St Petersburg and afternoon spent walking the city, our last afternoon with Charlie who with his leg getting better but still a trouble and needing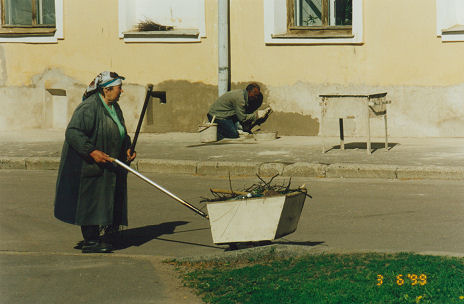 a new rear shock absorber is heading out of Russia into Finland tomorrow morning on the last day of his visa, then off to Berlin via Scandinavia while we will be heading through the Baltic's to Poland. Another grand Russian city, this time the capital for the Tsars, built around islands and canals, with most of the buildings from the same era giving a museum town appeal with little modern town development.
5/6/99 Strolling the streets, along with the Saturday crowd out to enjoy spring. The Lenin Park full of the very familiar kiosks (the most common type of shopping) selling imported goods to home-made crafts. The fun park alive with old Russian "fun cars" powered by new Honda motors. Fishermen trying their luck on the river bank and keeping even the smallest of the catch. Our last day in Russia and placed on the list of must return countries. Despite the hangover from USSR days for police and bureaucracy the burgeoning capitalism everywhere fascinating. The breakdown of the old aged pension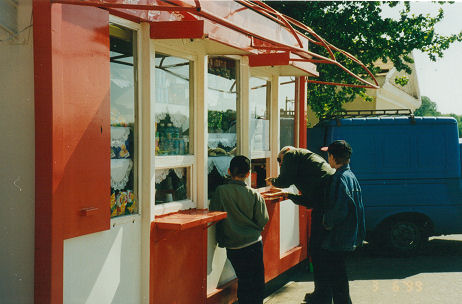 with women my mothers age selling small items on the streets, standing all day to supplement a meagre pension, is depressing. The unspoiled countryside and tree lined highways beautiful while the idle factories and mines an eyesore.
6/6/99 An easy border crossing out of Russia in twenty minutes and into Finland in less time.
Move with us to Finland or go to our next visit to Russia