Travel Through Romania on a Harley-Davidson
By Peter & Kay Forwood
Romania on a Harley (6/7/11 - 13/7/11)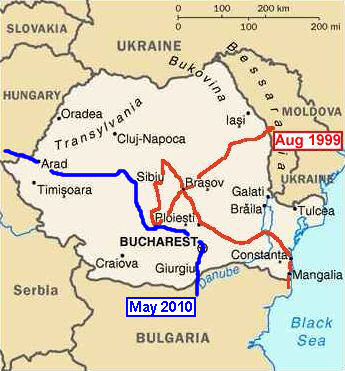 Distance 1206 km (591002 km to 592208 km)
This is part of the seventeenth section of our around the world trip.
Complete Trip Overview & Map
Coming from Bulgaria or read about our previous visit to Romania

6/7/11 There are still border checks for everyone between Bulgaria and Romania. EU document holders pass straight through, where we Australians need to be entered into the computer, people and motorcycle. Back in Romania it was just a short ride to Costinesti, a Black Sea seaside holiday destination for Romanians but on a wet midweek afternoon the beaches were empty and the spread out location of holiday businesses struggled for patronage. Early evening it was dry enough to entice some holidaymakers into the streets where street eats, rather than restaurants, occupied their consumption. We grazed, a beer here, a cob of corn there, pizza in another location, walking then eating to rest. Late evening we retired to a bottle of wine and movie in our hotel.

7/7/11 A different day, sunshine, and the beach was full of well rounded relaxers. The wealthier
people of this region of the world have definitely taken on the Western lifestyle figure and with beer being served almost everywhere at a little over a Euro a half litre there are many prospective Jenny Craig candidates. Development here has been a bit haphazard with new buildings next to the old concrete simplistics and many stalled high rise apartment developments lingering for completion when the European economy improves. Work is still going on readying temporary structures for the expected summer holiday crowds giving the whole place a feeling of disjointedness that Romania as a whole pervades.

8/7/11 Romanian driving is erratic at best and with increasing traffic from an increasingly wealthy population and little effective policing driving requires significant concentration particularly on some of the narrow roads where a motorcycle is seen as a secondary vehicle which can easily be moved out of the way by wealthy SUV drivers. Left the coast after Constanta, heading north, and into the region of the Danube River delta, an area of over 4000 sq km's where the enormous river spreads out over floodplain flatlands. A UNESCO World Heritage listed region agriculture vies with wildlife for land usage. Farmers graze their stock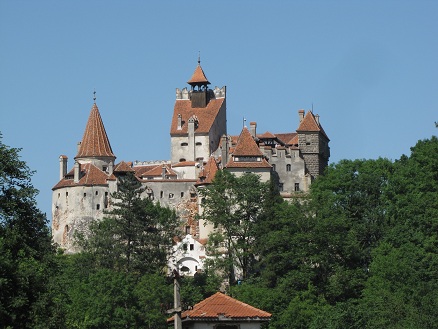 s on the now dry plains, others collect grasses for winter use. We passed kilometre after kilometre of brightly yellow flowering sunflowers, honey collectors out with their bees also taking advantage but further across the drainage expanse little was now growing as summer dried the land. Into Braila for the night, a poorer city not blessed with tourism or industry, with skinnier people and a few beggars.

9/7/11 On the move again, Buzau, Ploiesti, then headed towards Brasov turning off on a smaller road to Bran. The sunflowered flatlands gave way to timbered mountains as traffic increased with Bucharestians on the school holiday weekend. It slowed to a crawl in some towns, easing as day trippers found a spot alongside a stream for an afternoon picnic and swim in fields. Bran has become famous for Dracula's Castle and the ancillary almost Disneyland paraphernalia it has attracted. One can only imagine a Ripley's and Madam Tussuad's here in years to come. The castle, set on a mountain outcrop, looks spectacular, but rather than drinking his victims blood the real Count Dracula reportedly skewered them alive from anus to mouth on a pole, a slow and painful death.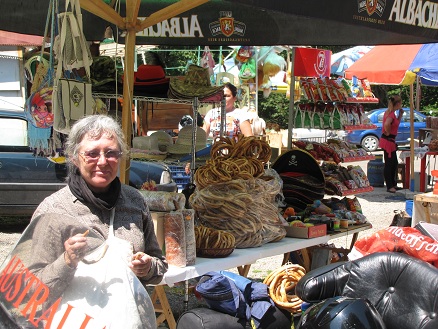 10/7/11 We had planned to stay three nights in the region but our hotel was overrun with a busload of holidaying school children running the wooden hotels floors and an evening disco so we decided to move on. From Bran, south west to Curtea de Arges, then over the mountains along the Transfagarasan road, a mountain pass, one we rode in 1999, with magnificent scenery, however, traffic here is phenomenal, slow and the road surface chopped up and rutted, not a good public relations advertisement for one of Romanians main tourist draws. The tunnel at the top of the pass a particularly traffic blocked area with cars lined up for km's each side, people leaving their cars to play in the snow while waiting. A holiday Sunday, a bicycle race to the summit, and disregard for parking rules not helping, still on a motorcycle we managed to weave past the worst. The slow traffic did give time to look around at the scenery, the gorge, the lake, waterfalls, Romanians picnicking.

11/7/11 Talmacel last night and tonight. A small village near Sibiu, where we stayed last year. A quiet place where more horse drawn wagons pass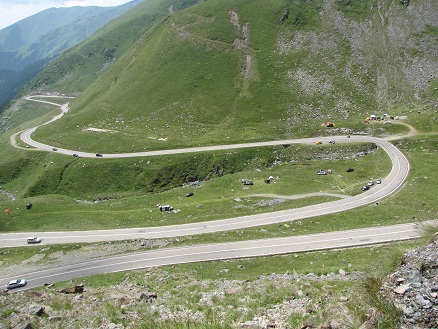 through town than motorised vehicles and the church bells ring each day for services. Where villagers say hello to everyone who passes, even tourist Australians. Worked on the motorcycle, the VOES, the vacuum switch that regulates the timing, seems to be giving us problems at the moment, might need to be replaced, will find out on tomorrow's ride. Otherwise we just relaxed in the pension garden, had a Romanian dinner, and did jobs.

12/7/11 We decided to take the smaller roads after Sibiu towards Cluj Napoca and after passing through some magnificently maintained rural villages, the best we have seen in Romania, villages like Alanor and Pauca, we got lost with the road turning to a dirt track until in a small village a lady offered to escort us to a more major road, getting us back on track to Cluj. This is a side of Romanians not often observed in the west, the generosity. It was a repeat when again we became lost in Cluj and a motorcyclist led us to our hotel. But our hotel marred the days Romanian generosity, having overcharged us with our Booking.com booking compared to the advertised rack rate on display at the hotel. If this process is allowed to continue it won't be long before people simply find a hotel on Booking.com then phone the hotel directly for a better deal. This is what is now happening with airline bookings, and only the companies offering better than airline deals are surviving.

13/7/11 Left Cluj Napoca in the direction of Satu Mare before crossing into Hungary. The road was smooth and quick with little traffic in the earlyish morning. People in this part of the world sleep late.

Move with us to Hungary