Travel Through Portugal on a Harley-Davidson
By Peter & Kay Forwood
Portugal on a Harley (21/1/10 - 27/2/10)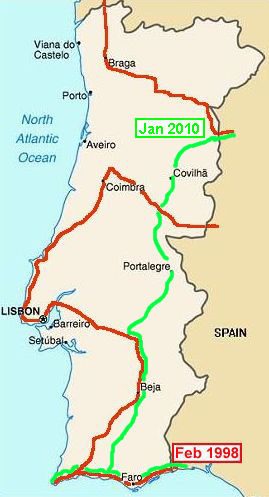 Distance 937 km (554940 km to 555877 km)
This is part of the sixteenth section of our around the world trip.
Complete Trip Overview & Map
Coming from Spain or read our previous visit to Portugal
21/1/10 It is almost 12 years since we were in Portugal. Its borders with Europe were already open by then but we had to change currency, now replaced by the Euro, so we crossed another borderless border, the only noticeable change was the countryside, where Spain has the agricultural plateau Portugal was left with quite barren countryside, but beautiful in its starkness of gorges and rocky outcrops. Covilha is a town nestled into the hillside, a mixture of old Portugal and newer development. A place in the cool for summer with many hotels, some, like ours, showing their age. We strolled the old part of town, a strong cup of Portuguese coffee, cobbled streets, buying some wood smoked salami and local cheese and bread for dinner, realising how tall we are in a short society and noticing the time influence of this country's historic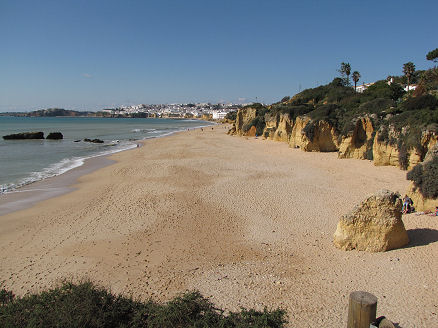 association with their north African neighbours, both in the architecture and people.

22/1/10 With a weekend approaching and rain forecast tomorrow, and no low cost accommodation along our route, we decided to head straight for the Algarve, which is offering two person studio apartments, with breakfast, for 20 Euro a night, that's not per person, that is for a double. It is winter after all and the economy is down, so after a hotel breakfast, normally included in Portugal, we headed out into fog for the 470km ride to the warmer coast. Taking smaller roads, avoiding the tolls which are the same for motorcycles and cars in this country, we passed through gradually increasing fertile country, cork trees, grazing land, cropping land and finally arrived in the Algarve late afternoon after a lovely relaxed ride of good roads and little traffic.

23/1/10 The resort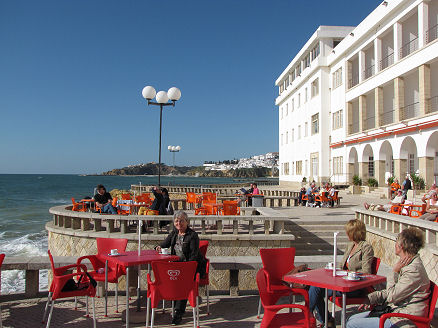 we are staying in is situated virtually on the coast, fronting a beach, a place that in summer attracts the hordes of all inclusive party holiday makers, usually from Great Britain, the type of place that has a bad reputation for excessive drinking, but in winter it is quiet. With 260 rooms, we estimated there were less than 100 people at breakfast, most rooms are empty, and many of the resort facilities are closed, like the outdoor pools, but the indoor spa and heated pool are open along with the sauna, gymnasium and hydro therapy, all of which are included in our ridiculously low price. There are a smattering of older Germans and Dutch couples getting away from the cold up north, a group of Irish men here for a stag long weekend, some middle aged mixed sex Brits here for a party, and a couple of Australian travellers resting up after a cold ride, us. It rained most of the day, heavy, so we spent most of the time checking out the resort facilities, and as Kay has a cold that hasn't been clearing during our southerly ride a rest was in order.

24/1/10 Sunshine and high teen temperatures had us out on the beach for a walk along with some other hotel guests, but it was mostly deserted. Our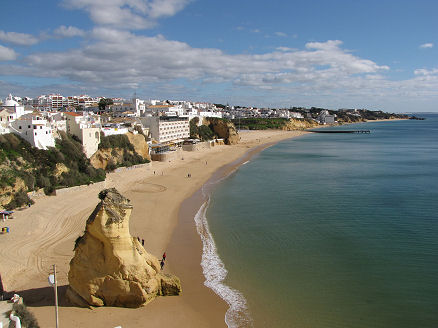 long distance property purchase is taking up some internet time but is also adding to things we can do on a quiet day. Checking into options for weed clearing, planting of native species, thoughts of what to build, jobs to do on our return to Australia, can all be easily researched over the internet and filled the time holes between beach walking and resting.

25/1/10 Another lovely sunny day, temperatures in the mid teens. A walk to town, Albufeira, along the coastal walkway, meeting more northern Europeans than locals, sitting looking out to sea, buying groceries, coffeeing in restaurants, it is easy to see why they are here. We had noticed a wobble in the rear of the motorcycle as we were arriving in town the other day and on investigating found that the rear tyre had developed a large bulge on the left side and covered part of the tread. We contacted Dunlop Germany by email, the people who provided us with the tyre, and hopefully they will be able to send us a replacement in a few days time.

26/1/10 Booked in for another week, can't move on while the price is so low. Thinking back over our entire
14 years of travelling we can't find any accommodation that has provided so much for the price, value for money. It's not just the location, on the beach, nor the facilities, or the room service each day, but the Monica Isabel Beach Club, where we are staying, provides a reasonable cooked buffet breakfast, and free internet in the reception lounge area. Our apartment has a kitchenette, fridge and stove, cutlery and crockery, linen provided, and a balcony to sunbake in the sun. Unfortunately today the sun has given way to cloud and some rain.

27/1/10 We think our ten days booked here is long, but others seem to be here for the winters duration, retired and settled in, five weeks, six weeks, or more, perhaps not a bad idea, we might not get to Morocco this trip, who knows. The long termers are starting to open up to chatting, normally keeping to themselves and watching the party goers come and go without getting involved. Breakfast and happy hour the main socialising.

28/1/10 Funny how routine develops. Breakfast at 8.00am, internet research on travelling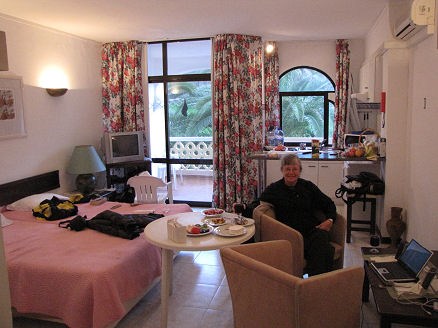 and the new block of land. A fast stroll to the beachside cafe where about 100 entrenched snow birds sit in sunshine, some bronzed down to their speedo's, others more tastefully dressed. A TV show pre-recorded on the lap top over a late lunch, internet, news and stories of interest in the afternoon followed by happy hour, perhaps a lap top movie, or real TV, and bed. The same again tomorrow with perhaps a spa or heated pool or walk on the beach for a bit of variety.

29/1/10 - 26/2/10 Rather than bore the reader with our sedentary lifestyle further here is a shorter summary of the last month.
The new tyre from Dunlop arrived and was fitted locally, although we haven't ridden much, just a day ride to the south west of the country, Cape St Vincent and some local rides along the coast.
We continued to extend our stay at the resort hotel, week by week, and ended up having our longest stay anywhere, five weeks, still at the same low price. It was hard to leave when the weather elsewhere was either no better or worse.
Daily walks continued along the beach, although there have been many rainy or showery days, and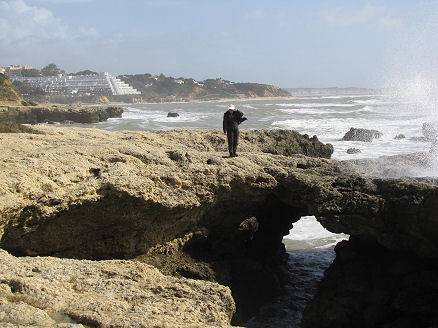 big seas attacked the soft coast causing a number of large conglomerate rocky outcrops to fall into the sea.
A steady stream of holiday makers, or locals here for Carnivale added a bit of interest and some people escaping the colder north outstayed our long visit.
Morocco didn't make the cut in the long run. The cost of the boat trip, that we have been there twice before and a bit of laziness kept us in Portugal too long so we are now going to move to Spain, then around the Mediterranean coast to France and Italy.
US Harley-Davidson advised that our new engine has finally left the factory in Milwaukee and was being shipped to the UK.
The purchase of our rural property in Australia went through without incident, the day after Kay's birthday, so it was an easy birthday present.
Much of our time has been spent reading up on forestry in South East Queensland, council rules on building, wildlife in the area and thinking of what we want to do with the block.
We are now ready to move on, even though the weather is still uncertain, but our laziness has grown to boredom so it is beyond time we hit
the road again.

27/2/10 There are certain signs warning travellers to move on. Waking up in the middle of the night and finding the toilet without fumbling or knowing where the light switches are. Knowing how to work the TV and knowing what program is on what channel, and worse, at what time. When none of the travellers you saw on arrival are still around. When staff at the hotel or local bar call you by your name. Doing washing twice at the local laundry. When the maid needs to change the sheets on the bed, or worse, needs to do it more than once. Finding items easily on the local supermarket shelf, and as we have sinned on almost all the above accounts we can no longer be considered travellers, and have dangerously become sedenters, (sedentary 2people). Luckily we finally saw the signs and have moved on but not before the motorcycle put up a last protest, its battery was dead and required a push start.

Move with us to Spain