Travel Through Poland on a Harley-Davidson
By Peter & Kay Forwood
Poland on a Harley (20/7/11 - 30/7/11)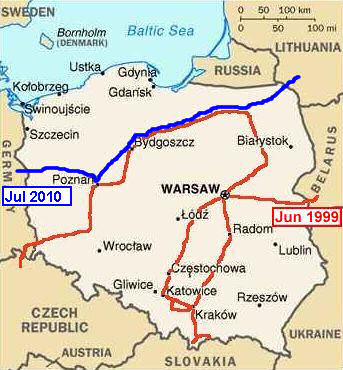 Distance 1290 km (593390 km to 594680 km)
This is part of the seventeenth section of our around the world trip.
Complete Trip Overview & Map
Coming from Slovakia or read our previous visit to Poland

20/7/11 Immediately over the bridge there was traffic. It continued till Zakopane, through Zakopane and to our hotel on the edge of town. It has been a long time since we have seen so much holiday traffic. The pedestrian mall in the centre of town was equally packed, mostly children groups, parents, grandparents, everyone. Stalls and shops to amuse each age group, each interest, lined the mall till it was difficult to progress smoothly. Cheap trinklets and carnival games amused the children, coffee shops the olders. People watched and strolled the pedestrian streets most of the late afternoon and evening.

21/7/11 It is cool here in the mountains away from Poland's flatlands and with storms yesterday and drizzle today it is cold, still it doesn't stop the crowds getting out into the hills for a mountain walk, a chairlift or gondola ride and the waiting lines were reportedly
up to two hours. We only left our hostel for a couple of hours walk to town for food and fresh air, indulging in the smoked sheep cheese popular with local tourists. Drizzle persisted all day.

22/7/11 Poland is still having difficulty growing its road network as fast as its vehicle growth rate so its roads can't cope with the summer holiday traffic. Also the south central section of the country is densely populated and summer holidays in the mountains is popular. It took three hours for the 100 km ride to Wieliczka, near Krakow, including over an hour just to get out of Zakopane, the traffic was so dense, bumper to bumper, often just stalled. Adding to the discomfort was it was raining the entire time and sitting in rain in traffic is not one of our favourite pastimes. Wieliczka is where the Unesco listed salt mine is located. The feature of this lovely, park filled tidy town, salt however is no longer mined, the main reason for a visit now is the salt sculpture work done by a few miners in their time off, an underground chapel, salt figurines, all beautifully carved.

23/7/11 A nicer day,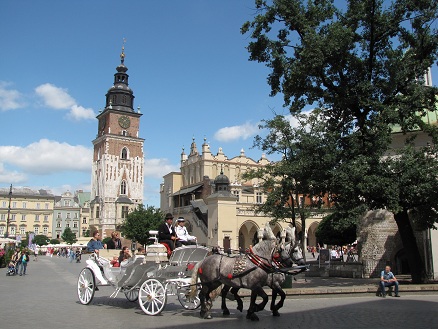 weather wise, we spent it with relaxers in Krakow city's older part. A predominantly pedestrian area, and likely Poland's most popular tourist attraction, the Castle and the old town, alive but not packed. This large area handled the crowds well and the buskers thrived offering street appeal with puppet shows, musicians, mime artists. We sat in the middle of the main square, beneath the 15th century town hall tower, for lunch and listened to a six piece jazz band playing American jazz. Poland has that great mix of being wealthy enough to offer a tourist great restaurants and entertainment yet prices that aren't fully western, yet.

24/7/11 Took the A4 freeway, tollway, minimum tolls for a motorcycle, to Wroclaw, 280km's, passing through timbered and grazing countryside, occasional deer could be seen in amongst the wheat, little traffic on this Sunday. A quiet afternoon spent wandering around the area of our modernised ex-Soviet era hotel, in the outer suburbs.

25/7/11 Another riding day to Bydgoszcz, busy early as Mondays in Europe often are after the truckless Sunday's as all the stationary trucks are out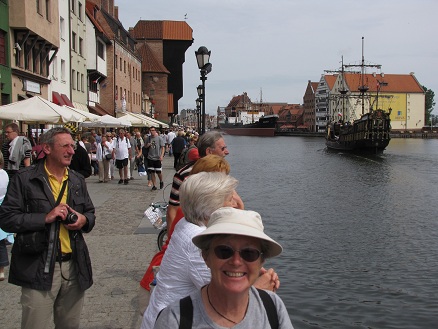 delivering goods. A longish day on smaller roads, timbered often as Poland is still over 20% wooded, crops also. Not much scenery as we are again in the flatlands, sandy soils, endlessly stretching ahead, aside and behind. A small highway bypassed hotel for the night, seemingly awaiting demolition.

26/7/11 We have luckily been dodging rain for the last couple of days and decided to sit out a storm in a petrol station restaurant on the way to Gdansk, else the ride was painfully uneventful. Suburban outskirts of the city again giving us a different perspective of current life in Poland compared to the touristy city centres of hundreds or even millennium old history. Gdansk is growing outward with new highrise accommodation blocks, similar but more colourful and diverse architecturally than the Soviet era constructions. Supermarkets of the Aldi format are cropping up everywhere along with fast food shops, pizza the preferred, and looking more generically western.

27/7/11 The old area of Gdansk was a pleasant, actually very pleasant surprise with its lovely 17th century burgher houses, many, actually most,
selling amber jewelery, incredibly popular in this area of Europe. A boat trip to Westerplatte, the place where WW11 began in Sept 1939 after the Germans started shelling the Polish naval base, added to the days activities. Of course Gdansk is also famous for its shipyards, now a little less busy than when Lech Walesa worked there and was active in the Solidarity trade union that in the early 80 led paralysing strikes that eventually caused the fall of Communism in Poland. The old city streets were busy with busloads of tourists, a vastly different time than thirty years ago. Some narrow streets, and along the waterfront canals, hardly coping with this peak holiday period leading up to a festival. People watching from a cafe a favourite pastime to rest city weary feet.

28/7/11 A nice road most of the way to Szczecin, right on the German border, 360km's. Good road surface, not too much traffic, sensible driving, and the scenery, what we saw was pleasant to the eye, more forests and cropping land, but it rained, often quite heavy, almost the entire time leaving us wet to enter our hotel dripping with sloshing boots. It cleared in the evening enough to have a walk around the typically Polish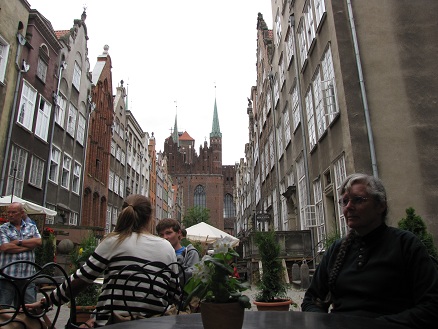 city of churches and shops without an influx of tourists. Poland has remained one of our favourite Eastern European countries, plenty to see with its historical cities,

29/7/11 There are quite a few homeless, street, people in Polish cities, begging, or rather asking for money but they are not the type of beggars we have encountered elsewhere in the world. These people are proud and honest. They approach us politely, not subserviently, and when I reply what do you want the money for? I have been getting an honest answer, for beer, which it is then hard to refuse such honesty. It rained most of the day and whilst we had planned to ride to the coast to the north today it didn't happen. We had ridden in rain yesterday and it looks like the same weather tomorrow. Most of the day was in the hotel with short outside breaks for a walk into town and food.

30/7/11 Rained overnight and still raining as we left for Germany this morning. An unfortunate end to a nice visit to Poland

Move with us to Germany