Travel Through Norway On a Harley-Davidson

By Peter & Kay Forwood
Norway on a Harley (24/7/10 - 3/7/10)
Distance 2079 km (575861 km to 577940 km)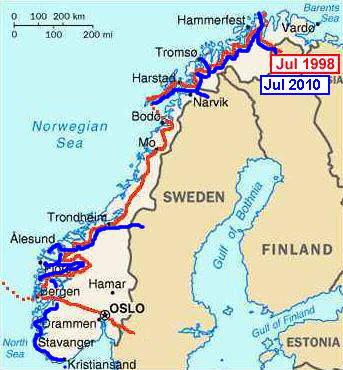 This is part of the sixteenth section of our around the world trip.
Complete Trip Overview & Map
Coming from the Finland or read our previous visit to Norway

24/7/10 Crossed the border into Norway at the same crossing and on the same day 12 years ago, near Karasjok. Knowing Norway was going to be expensive we tried to be mentally prepared. Norway has not joined the EU, preferring to go it alone in Europe. Despite living on its oil resources petrol is the dearest we have paid in Europe, about 1.60 Euro a liter, at least at these latitudes. In increasing cloud and a few sprinkles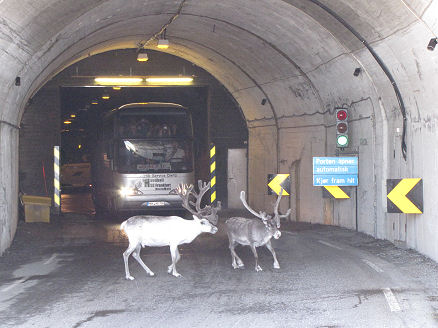 we rode through to Lakselv, constantly admiring the more mountainous scenery with its rivers and waterfalls, and choosing a roadside camp, near the ocean, our first sighting of the Arctic Ocean, camped for the night while the sun only dimmed slightly.

25/7/10 It was less than 200 km's to Nordkapp, the furthest north you can ride on a public road in the world. We had been seeing reindeer in increasing numbers since crossing the Arctic Circle in Finland but this morning they were everywhere, or at least we could now see them better as the trees had ceased to grow at these latitudes. Flighty animals they are easily spooked although quite docile. Occasionally one will take a dislike to being bitten by mosquitoes and take off on an extended trot onto the road and across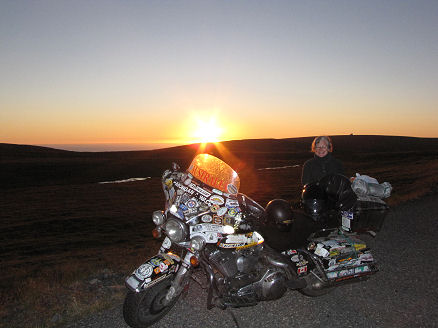 our path. Nordkapp is on an island and since our last visit, where we had to take a ferry, they have now built a tunnel, almost 7 km's long, under the ocean. Still charging what seems to be ferry prices they charge for the vehicle and each passenger, almost 15 Euro for us. In an extremely rough global warming comparison we noticed there was less snow lying around this visit compared to our last one, when the reindeer were sunbaking on the cool white patches. It was a sunny day, a day of great prospects for a midnight sun sighting, like twelve years ago, and we stayed awake, heading out from our campground about 11.30 pm, and there it was, just hanging above the ocean horizon, doing its ellipse in the sky, at least for the next few days after which it will start its descend below the horizon each evening. The price to enter the ever increasingly commercial Nordkapp enclave has risen to almost 30 Euro each person but it hasn't deterred most travellers, busloads of whom were parked up there along with motorhomes and cars. We again chose not to enter, having better things to do with 60 Euros, and watched the midnight sun hover over the water from the roadside just short of the top.

26/7/10 Nordkapp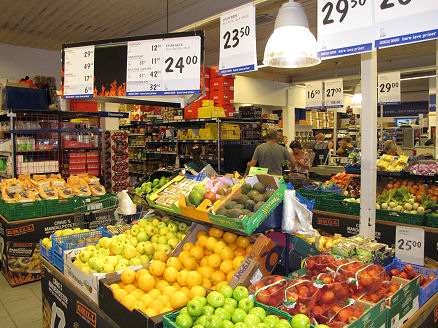 is busier than on our last visit, much busier. Last night, just after midnight, it was bumper to bumper traffic leaving the Nordkapp expensively commercial site. More vehicles, more buses, and many many more motorcycles than on our last visit. It has almost become a pilgrimage. In contrast to Finland most of the vehicles here are out of country registered, so despite the cost, Norway, its scenery and nature, are still drawing tourists. We are at a comfortable campground in Skarsvag, less than 20 km's from Nordkapp, over 400 km's above the Arctic Circle, further north than Prudhoe Bay in Alaska, but the weather is forecast for heavy rain tomorrow so we decided to hold up here where there is internet and a comfortable camp kitchen to use it in. Today we rode back to Honningsvag to shop at the local supermarket, a harrowing experience. We knew prices were going to be high, but due to the pricing policy at this supermarket of not placing the prices next to the goods we were unable to determine what price was for what goods. After half an hour of trying to compare prices we had five items in our trolley and had asked staff numerous times "how much is such and such". Hopefully other supermarkets in the country will function more efficiently, at least for the consumer.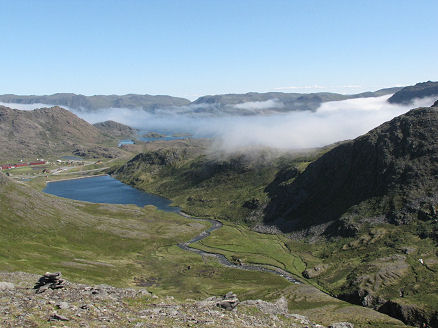 A sea fog rolled in across the hills around lunch time, clouding the coast and cooling the already cold air. At first we attempted to ride to the top of nearby hills for sunshine but gave up late afternoon and settled into the camp kitchen, taking an evening walk, still in fog, just for a bit of warming up exercise before dinner.

27/7/10 Stayed another night. The Skarsvag campground has all the facilities to keep us there for another night. Free wireless internet, free hot showers and a warm camp kitchen with tables and electricity. The day was vastly warmer, perhaps 18 degrees, but rain was forecast for the late afternoon and heavy overnight, which it was. We chatted with other travellers, some motorcyclists, a bicyclist (many of whom make the pilgrimage), Norwegians and foreigners. The midnight sun sighting on the 25th was the only one during our stay but it didn't stop the busloads of tourists, plus the self propelled, from an attempt.

28/7/10 Still raining in the morning we left late hoping it would clear, and it almost did, leaving behind a thick fog, dangerous with reindeer about. The sun never appeared all day and by the time we were ready to wild camp, alongside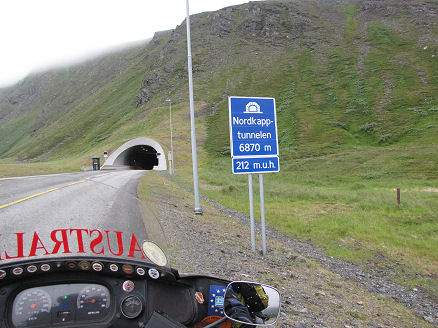 the ocean, just near Badderen, 350 km's down the track, drizzle had set in for the evening leaving us cold and huddled inside the tent, cooking dinner in bursts of venturing outside and collecting rainwater in cups from the tent fly as our supply was almost gone. A small motorhome had also pulled up near our campsite, a Finnish couple, a fisherman, who offered us an irresistible aperitif of freshly cooked fish and a cup of white wine, a lovely gesture, and sparked up our evening. Most of the scenery of the day passed us by under fog or low cloud, nothing much was seen, less in the cold tunnels where the temperature dropped by a few degrees compared to the outside, as they are dug beneath permafrost.

29/7/10 A different day. The rain had stopped overnight leaving behind rising fog which looked lovely across the early morning ocean. Also a warmer day and as it progressed the fog disappeared to leave behind the magnificent views Norway is famous for. All the waterfalls, and there are dozens, cascading from mountains, some from glacier thaw, were all in great strength, white streaks against the black rock face. The road followed the coast
most of the day, weaving in and out of fjords, finally bringing us to Tromso. Although it was out of our way, and we had been there just last January, we wanted to return to see it in summer, and it was vastly different to the total darkness of winter. In a way it had lost the white fairy lit appeal yet the streets were now packed with locals and tourists alike, busying themselves with activity. Further down the road south, and after 450 km's today, we finally set up camp at a roadside rest area south of Andselv. Although still above the arctic circle we have left behind the freedom of the true Norwegian arctic. We are constantly amazed at how many people live at these latitudes. The reindeer herds have been replaced by sheep and cattle. Grass is being cut for the next winters fodder. There are seasonal fishermen's huts for the salmon run and large towns, like Tromso, have over 50,000 people, with a university of 2000 students, all living in a land where in winter the sun doesn't rise and in summer it doesn't set for long periods. Traffic has increased on the roads and some of the roadside rest areas now prohibit overnight parking/camping, something generally allowed in Norway, a Right of Common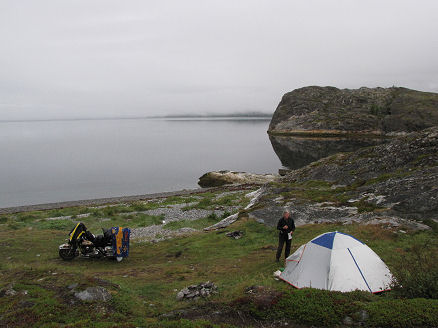 Access, that allows camping for two nights as long as it is more than 150 metres from the nearest residence. Just two days ago, tents and motorhomes were overnighting anywhere, dotted along roadsides, but now most travellers were overnighting in campgrounds. We have been told motorhomes are a love hate relationship with the Norwegians. They come from western and central European locations loaded with food and fuel, they wild camp, take fish, and spend little money in Norway to help the economy. But many of them do spend money, in restaurants, in campgrounds, helping the economy, but not all.

30/7/10 Just 280 km's to Svolvaer, our planned destination, where the world's northernmost Harley-Davidson Rally is underway, the first time one has been held above the Arctic Circle. We had been seeing many Harleys on the road the last week, travellers combining a trip to Nordkapp with the rally, and now a few hundred have concentrated here. Svolvaer is in a beautiful location, in a beautiful place, the Lofoten Islands. It would have to rate as one of the most amazing places we have seen for beauty.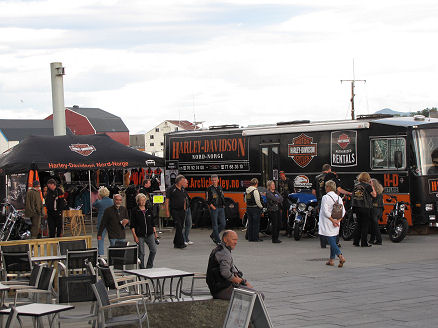 Small colourful fishing villages dot the coastline of rocky vegetated islands, and today it was lovely sunshine for us to enjoy the scenery. Harley's here are expensive, matching what we believe is the most expensive country in the world, Norway. An Electraglide Ultra, top of the range H-D sells for about 48,000 Euro, about twice the price of the same motorcycle in Australia. Many of the rally goers are staying in some of the up-market accommodation available in town, others at cabins in campgrounds, and us, along with a number of budget conscious riders, are staying in the rally's free campground at the end of a rough vegetated island, next to town. It is a historical spot with WW2 bunkers and a gun emplacement dotting the headland which is now seasonally used for fish drying where large weather bleached wooden racks rise from the vegetation. Just planning a one day visit we didn't register for the rally but spent the day at the rally grounds, which was open to the public, and in the evening listened to the live band, sitting outside the grounds with locals, mostly migrant refugees, who were as yet unable to afford or unwilling to pay the entrance cost to the concert.

31/7/10 One day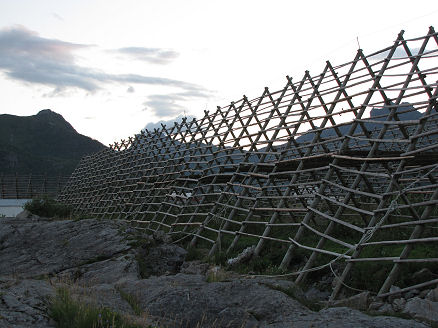 sunshine, one day rain, probably better odds than Norway has been getting weather wise this summer. This morning we awoke to rain and after hot muesli and tea, cooked in part of a WW2 bunker, out of the rain, we headed to town where a local coffee shop offered free wi/fi, for the price of a coffee, and where we stayed for a couple of hours. It was still raining when we left, bumping into Marcus Kingma, who is riding from the Netherlands to Nordkapp in aid of MDA the charity that Harley worldwide sponsors. He is doing daily updates to the internet along the route and interviewed us, in the rain, as part of todays update, and it was posted on "YouTube" this evening, a first for us. The rain brought cold weather and most rally goers chose to spend the day in their hotel rooms or at a restaurant/bar with only a few out and about at the rally grounds. As an aside we noticed whale meat on sale in local restaurants in town and from a vendor in H-D rally grounds. By evening we'd had enough of the weather and were early to our tent though the locals continued to party, despite a pub beer costing over 6 Euro, and the local supermarkets, who are only allowed to sell soft alcohol (no wine or spirits), having to close their liquor sales at 3 pm this afternoon. It surprises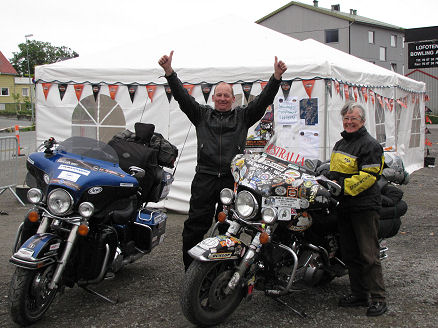 us that anyone could get drunk in this country at all, yet there were a couple of alcoholics/drunks at the end of the town pier, and one outside the supermarket who we encountered yesterday, indicating that, as the US found in the prohibition years, and the Saudi Government understands, people will find ways to get alcohol despite the cost and government regulations.

1/8/10 Over 100 of the more than a thousand estimated participants at the rally booked on the extension, a ride to Nordkapp, three days, leaving midday. Marcus was riding with them for the first day to obtain some camera footage and then would be on his own agenda, for MDA, for the last push to the top. The punters were milling around the registration area when Marcus asked if I could interview Kula, the Director of the Arctic Chapter, the rally organisers, as my English was better than his Dutch accented version. My first ever interview, on the questions asking side rather than the answering, is also on You Tube. Most of the other rally goers also left, heading home, or extending their visit to tour the islands. We headed south, in increasing sunshine, towards the town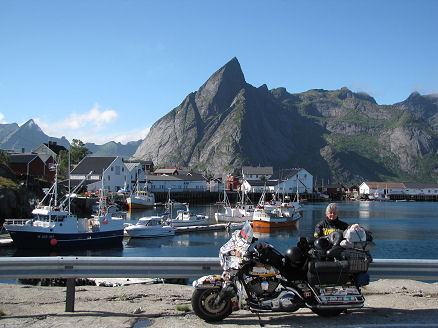 of Å, pronounced Aw, at the bottom of the Lofoten Islands, leaving behind the fog cloud that was hiding sunshine in Svolvaer. If it is possible the scenery improved the further south we went till it reached a pinnacle at Sakrisoy, a small fishing village, backdropped by sheer mountain cliffs sliding into a mirror bay. We turned around at Å and headed north late evening taking a roadside camp, in full sunshine, drying our humidity damp sleeping bags on the rocks, and watched the sun move horizontally across the sky, setting slowly.

2/8/10 A foggy morning. The days here have started badly and generally improved but today it drizzle rained till early afternoon moving us quickly northwards till after lunch we were back in Svolvaer, where at the end of the pier you can take a shower and do laundry, and here we sat, inside and warm, venturing out only for wi/fi and groceries, till we, and everything we own, was washed and dry. It was 10 pm when we left Svolvaer to look for a roadside camp spot, totally clean, and again wild camped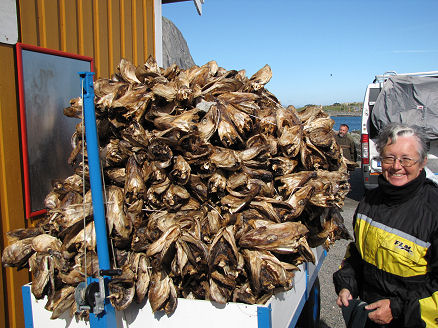 alongside a lake.

3/8/10 More drizzle and a strong cold head wind as we headed north out of the Lofotens stopping once for a warming hot chocolate and again for a comfortable chair in the tourist centre in Narvik. By late afternoon we were heading for Sweden, across the E10, rising into the low cloud that had been hanging over us for the day. Here, above the tree line, Norwegians have built small cabins, holiday cabins, amongst the lakes, dotting them on the rocky outcrops in lovely settings.

Move with us to Sweden or go to our next visit to Norway