Travel Through Nigeria on a Harley-Davidson
By Peter & Kay Forwood
Nigeria on a Harley (2/9/06 - 5/9/06)
Distance 924 km (467918 km to 468842 km)
This is part of the twelfth section of our around the world trip.
Complete Trip Overview & Map
Coming from Cameroon or read our previous visit to Nigeria

2/9/06 The border town of Banki straddles both countries and is incredibly open. It is almost a no-mans land town full of import-export goods. Nigerian authorities were very polite and helpful. As we waited a storm moved overhead and we were pleased to be off the dirt and across the river. It was a dry change with dusty wind and showers elsewhere but our route was dry heading towards Maiduguri and onto Potiskum for the night. The first 60 km's had more than 30 road blocks, immigration, police, customs, border patrol, revenue, etc, we gave up looking. We rode through each one without stopping. Most are here only to get their share of the petrol smuggling money, mostly police road blocks with nail boards which we rode around. Some tried flagging us down but a polite wave seemed to be sufficient as they probably only wanted a look at the motorcycle. We did however get chased by the immigration check point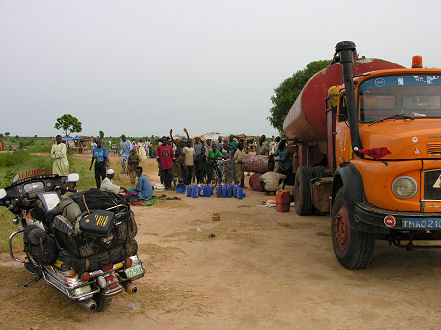 officers. A 4x4 flagged us down and they were initially abrupt asking why we hadn't stopped at their check point. They had been resting in chairs in the shade some distance from the road as we passed. They eventually saw the humour in us wanting to avoid all the other check points and after checking our documents we were allowed to continue. Nigeria is flat, here agriculture spreads in all directions. It's population dense, 20% of all Africans live in Nigeria. It's people are close but polite. Each time we stop they mass around the motorcycle. We stopped a few times for tea and grilled meat and the thin cloud cover kept away most of the heat.
3/9/06 We left Libreville a little over a week ago with the idea of travelling quickly but comfortably across the seven countries to get to the west coast of Africa at Dakar in Senegal. After three days on the road from Yaounde we felt like a rest today. There is nothing particular in Potiskum to see. It is a truck stop town. Dead trucks stripped for spare parts lie on it's outskirts and newer trucks are being repaired with the cannibalised bits. Otherwise it is probably like any other Nigerian Sahel town with shops strung out along the roadside. The electricity sometimes works. Taxi's are usually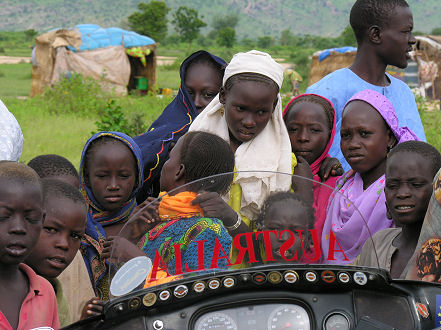 teenage kids on Chinese motorcycles. Robed men sit under leafy trees wearing their Muslim hats and talking business. We changed some US dollars with one of them after locating him through a motorcycle taxi. The rest of the day was spent oscillating between our room with air-conditioning when the power was on to outside under a leafy tree when it went off.
4/9/06 Just a travelling day. 500 km to Katsina near the Niger border. We passed through Kano where we had stopped on our last visit to Nigeria and it is even more bustling than we remember. Nigeria throngs with people and their attempts at making a good living. The pace of life on the road is fast but off the road it is relaxed. Children frolic in the warm waters of roadside dams as they watch their cattle and goats graze and drink. A cheaper country than it's Francophone neighbours and with many roads going in many directions we attached ourselves to a couple of the thousands of motorcycle taxi's who guided us through town or found us a hotel for a small fee. This area of Nigeria is governed under Sharia Law, Muslim Law, and Sharia Courts can be seen in some towns. Arabic road signs are also in some cities. The people were incredibly helpful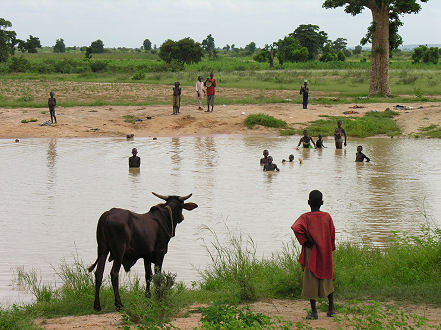 and welcoming. Both Kay and I have been feeling unwell the last few days and needed to make a dash into the tall stands of guinea corn to help with their fertilising. Water borne amoeba seem to be the problem and a course of Metronidazole was started. We avoided buying the medicine in Nigeria because in a recent BBC interview the head of the department responsible for drug quality stated that over 60% of all drugs in Nigeria are fake, imported corruptly from India or China. This importing and selling of fake drugs with little or no active ingredients has been responsible for many deaths including the department head's sister who died because of fake insulin. Children die daily from fake malaria treatment drugs or fake antibiotics. The manufacturers and distributors of these fake drugs are killing people yet there seems to be little effort to prosecute them. The problem is more far reaching because it creates a hesitancy to spend a family's small savings on life saving drugs because they are likely to be useless, so more people die unnecessarily.
5/9/06 The electricity in the state capital city, Katsina, stayed off all night and we awoke to darkness. The high cost of fuel in the world is hurting the poorer nations more than the west who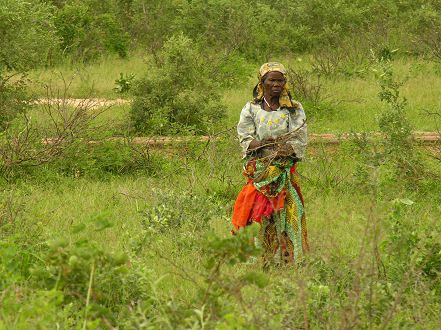 can better afford it. We have noticed many more hours without electricity this time to Africa than on our last visit. An easy ride to the border where we were assailed by a security officer who interrogated and questioned us for over half an hour about where we had been in Nigeria? What route had we ridden? Which other countries we had visited? Which towns we slept in and which hotels? Where we were going to stay in Niger and in which hotels would we be staying in Niger? Where would we be going after Niger? When he asked for my home address I had had enough and asked to see his identity card. It was flashed in front of me but he would not allow me to see his name or his ID number. We were then refused permission to leave Nigeria unless we gave our home address. Nigeria constantly rates amongst the highest countries in the world for corruption. It is where much of the internet fraud originates, particularly banking scams. We were not happy to provide an unidentified officer unnecessary details. For the next half hour we waited as the superior and his superior were informed, each refusing to identify themselves, and finally a phone call was made to a higher official in Katsina and we were allowed to leave after an hour. Customs and Immigration were efficient and polite. It is a shame that a visit to such a welcoming country was spoilt by an over zealous security officer.
Move with us to Niger