Travel Through New Zealand on a Harley-Davidson
By Peter & Kay Forwood
New Zealand on a Harley (1/1/09 - 7/4/09)
Distance 8774 km (516203 km to 524977 km)
This is part of the fifteenth section of our around the world trip.
Complete Trip Overview & Map
Coming from the Fourteenth Section, New Zealand

1/1/09 Nigel picked us up from the airport, a late flight made later by airline delays, so it was tomorrow before we were in bed, after first checking to see that the motorcycle was still safely stored in the garage.

2/1/09 Again a warm welcoming from Nigel and Lee and after starting work on the motorcycle, fork oil change, swing arm bolt grease, and a bit of welding extending the shank of a new mirror (for extra vision), we all relaxed in the garage sipping gin and tonic's, a sign of our aged maturity. Also re-rearranged our travel gear. We seem to have been spending as much time repacking as riding lately, a seeming never ending job, thank goodness we live out of a motorcycle not a house, the repairs are less, the tidying up easier, the materialism constrained.

3/1/09 Taking advantage of Nigel's welder, and knowledge, we ran a beads of weld around the inside of the wheel bearing races, notoriously difficult to remove from Harley's without the correct factory tool. While they didn't then fall out as hoped they were readily removed and new ones inserted, taking up the morning and the afternoon was occupied fitting the new rear brake line, unfortunately the old one had been rubbing on a longer bolt, inserted for extra strength on the pannier rack, not noticed as it only rubbed when the suspension was fully depressed.

4/1/09 Lee, for a hobby, or slight profit, occasionally sings at venues around Christchurch, accompanied by the accomplished guitarist, Tony. Today they were performing at a beachside cafe, attracting a crowd of holidaymakers at the relaxed location, listening to the easy listening music, jazz and blues. It was great having a break from the garage and work on our motorcycle, now almost finished after repairing the handlebar's air suspension.

5/1/09 New tyres fitted by Budget Motorcycle Spares, shop owner friends of Nigel's, and the motorcycle was reassembled ready to ride. We left Nigel and Lee's comfy caravan late afternoon, moving to a backpackers in Christchurch city and met up with Joy,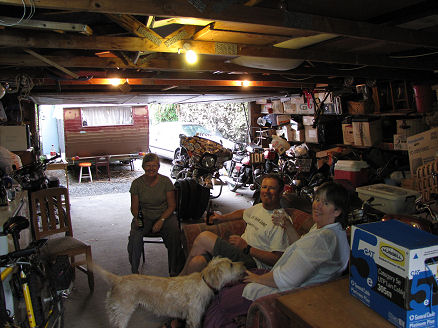 an Australian motorcyclist visiting New Zealand with her other hobby, Scottish Country dancing. Along with a few of her fellow hobbyists we enjoyed dinner together and caught up on the four years since we last met.

6/1/09 We will be travelling with Ron and Marylou (Lou), two Australian friends, for the next three weeks. I travelled with Ron in India in 1997, he had purchased an Indian Enfield motorcycle. Kay and I both travelled with Ron and Lou in North America in 2001, then they were riding their own BMW GS 1150, and they rode it again to South America a few years later. Today we took Ron to collect his buyback BMW GS 1150 from an Auckland dealer. It worked out more economical on a buyback deal than to ship his own motorcycle in and out of New Zealand. Two friends of Ron and Lou's were also joining the group for the next three weeks, John and Cathy (Cath). John is renting a GS1200, and Cath and Lou have decided to travel by car for this trip. So we will be three motorcycles and a car, loosely conjoined, travelling across the South Island. By lunch time all the rental/buyback arrangements had been finalised, and sitting around our backpacker's table with enthusiasm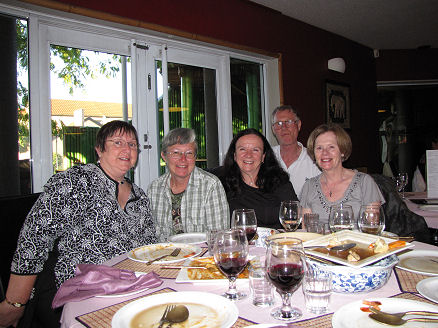 to start riding it was decided to ride to Akaroa in the afternoon with daylight savings it would not be dark till after 9pm. A scenic ride, pretty usual for NZ, and a lovely French feel to the destination town with hundreds of sightseers out doing exactly the same as ourselves. Unfortunately, heading home, the scenery overcame Ron and whilst he was looking around, the motorcycle slipped into a roadside ditch, causing more damage to the motorcycle than the incident seemed to warrant. Ron managed to tumble away from it as it left the road, scoring only minor damage to his protective clothing but much more damage to his pride. The tank had a slight dent, front forks scraped, engine covers gouged but not holed but worst the rear wheel had been dented on the road edge, breaking six spokes. After minor repairs it was barely rideable, travelling at about 60km/hr most of the way back to Christchurch where over a couple of bottles of wine the event was relived.

7/1/09 Ron and I were at the BMW dealer at opening, unfortunately there was not a spare wheel to be had in NZ that the dealer could find despite numerous phone calls. Ideas for solutions over coffee were thrown around,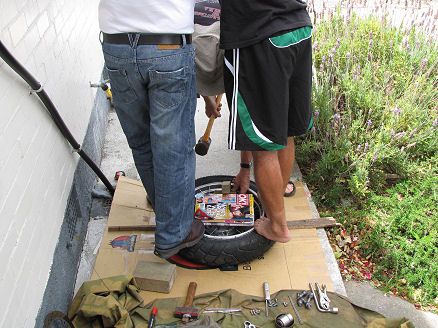 including having someone airfreight Ron's rear wheel from his Australian motorcycle or getting someone in NZ to repair the damaged rim. Ultimately, with little choice, it was decided to try and hammer out the dent ourselves, so a few new spokes were ordered from Auckland, arrive tomorrow morning, and with a couple of blocks of wood and the small hammer we carry we attacked the wheel. It was soon realised a larger hammer was called for and a 12 pound sledge was rented for the afternoon and used heavily on the rim, protected by wooden blocks and old magazines. It was slowly, very slowly, persuaded back into shape. The gaping hole where the six spokes were broken was redistributed evenly around the wheel and an attempt was made at truing up the wheel whilst rotating it slowly on the motorcycle, and by holding a pen against the frame, we looked for run out and wobble and tightening and loosening spokes accordingly. It took a couple of hours and the rim was still bent, but not as bent. A few more phone calls, this time to Australia, produced a second hand rim in Brisbane, but it won't be here for at least five days. Hopefully tomorrow's new spokes will allow us to pull the rim a little more into alignment so Ron can at least ride until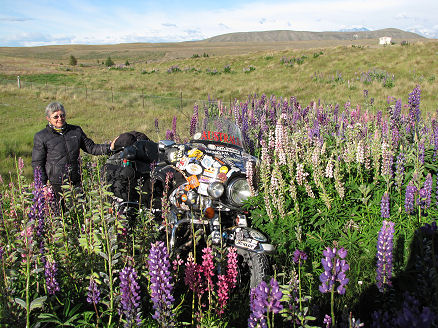 the other rim arrives.

8/1/09 Spokes arrived as promised, were fitted, but the rim could not be pulled fully into round. Ron decided to ride anyway, so we followed John to South Pacific Motorcycle Tours, an upmarket rental and tour organiser, where John had rented his motorcycle. The repaired rim appeared to run reasonably smoothly, and better at speed, so after a few photos it was on the road south inland, the same route we had ridden with Frank a few months earlier only it was now hot, not cold, mid 30's and being holiday season busier. Mixing different accommodations across different economic groups when travelling together can be difficult, but with no reasonably priced accommodation in town we sought out a camp spot alongside Lake Alexandrina, a magnificent place, with small local cabins (batches), dozens of small fishing boats and a friendly community. Our camp spot, with equally friendly ducks, ducklings, swans and cygnets, right on the waterfront, is as good as it gets anywhere. Cath, an excellent organiser, who loves cooking, whipped up a great all in meal,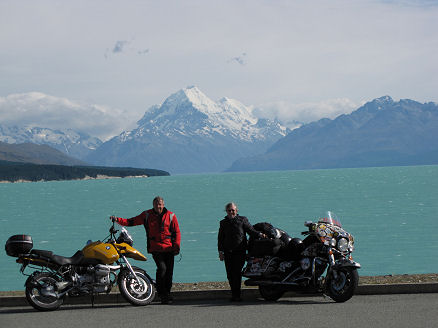 and despite a lack of a bit of camping gear, a mattress and sleeping bag, the soft grass helped with a bit of the discomfort.

9/1/09 A crisp start and early, well with six starters it was a bit later than we usually head out, but we managed to be at the Mt Cook lookout to see the mountain in its full majesty. Wildflowers, mostly lupins, dotted the roadside, and we struggled against the head wind riding into the national park. In this underpopulated region there are more tourist cars on the roads than locals, motorcycles and struggling bicyclists, pushing into the wind. The day soon changed, Mt Cook disappeared in cloud and by mid afternoon as we headed back to the coast at Oamaru light rain settled in. We haven't travelled with a catering support vehicle before and even though we are riding independently, leapfrogging down the road, the four vehicles manage to meet up for breaks. Cath and Lou, riding in the car, had lunch food prepared and purchasing a salmon fillet from a local hatchery, dinner was planned. With six people looking for accommodation, in a tight market, compromises were needed. We ended up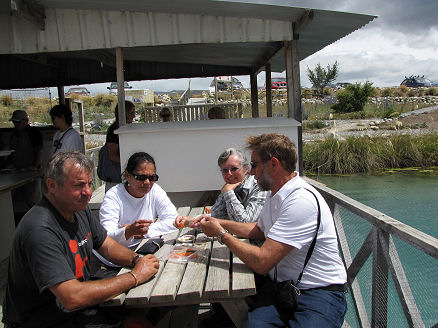 at a combined backpackers with attached campground.

10/1/09 Set alongside a stream, in magnificent gardens, the organic themed accommodation suggested a second night's stay. Kay and I are trying to take a backseat to planning, trying more to go with the flow, but it can be a little difficult as we're used to organising ourselves. Ron and John took their motorcycles for a 300km inland loop, Cath and Lou drove the car to intersect them, but crossed paths unknowingly and missed each other. Kay and I relaxed at the accommodation in the morning, venturing back to town for shopping and a short ride around the local area, along the beach and to the unusual seaside Moeraki Boulders.

11/1/09 A change of start time, earlier, great to have variety without routine, and we all headed up into the mountains. A now, fairly regular morning coffee at one of the many little coffee shops that dot NZ's countryside. There was a fete in St Bathans, an old gold mining town just off the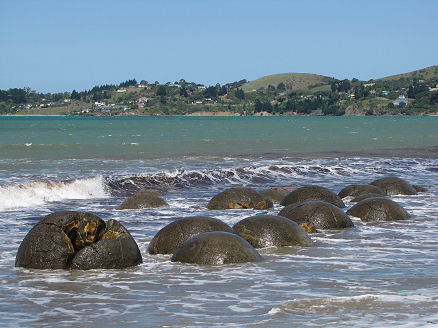 main road towards Alexandra, supposedly its first annual. The lively little town with a lovely blue lake, in the old workings, put on a great show, unfortunately the ladies in the car missed the event, a lack of mobile phone coverage. We have taken to texting to keep in touch, our locations, where to meet, etc. Whilst it takes away from the independence of just moving around, instead of travelling in convoy, it allows us individual freedoms and we can still meet up later. Stayed the night in Lawrence.

12/1/09 As happens with travel companions the group starts to move in different directions. With a definite night time destination we left alone, and on the foggy morning took the scenic inland road towards Balclutha and a ferry across the Clutha River, NZ's largest. The ferry, the only one of its kind in the Southern hemisphere, traverses the river using only the river's current. By positioning the rudders on the two pontoons and being held by a cross river cable the force of the water drives the ferry from side to side. For the last fifteen years the old gentleman has carried many vehicles across, but prior to a downstream bridge it
was the only crossing. The Catlin Coast was our main sightseeing, Nugget Point for seals, a walk in the Pounawea Forest and the Purakaunui Waterfalls, before camping on the Curio Bay peninsula in the evening to watch penguins come ashore to their nests.

13/1/09 An early morning walk along the foreshore, over a 160 million year old petrified forest, left over from Gondwanaland, with its logs and stumps easily visible, being washed by the ocean at each change of tide. We chose the dirt road along the coast rather than inland, in light drizzle, meeting up with the others in Invercargill. By coincidence, the movie, "The Worlds Fastest Indian", (referring to the motorcycle variety) was shown on Australian TV while we were home. Burt Munro, the owner, builder and racer of this heavily modified and streamlined 1920 motorcycle, lived his life in the area and despite dying in 1978, his motorcycle is on display at the E J Hayes Hardware Store, along with about a dozen other interesting exhibitions, interspersed between more normal hardware items. After the short stop it was more coastal riding before heading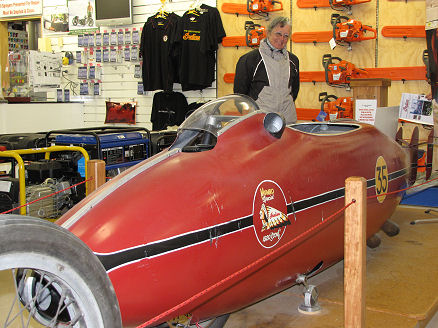 inland to Te Anau for the night.

14/1/09 As has become the pattern, we left earlier than the group, this time at 6.30am on a cold morning for Milford Sound, avoiding the traffic and stopping along the way at a picnic area for breakfast, and grabbed a few photos at Mirror Lake, crossed the divide and through the 1200m Homer Tunnel to emerge in brilliant sunshine and magnificent views before a short walk into The Chasm, with a few minutes to spare before boarding a Milford Sound cruise with the others. The large catamaran could accommodate almost ten times as many passengers as were on board, perhaps a sign of the economic times, and cruised slowly past waterfalls, enormous cliffs and sun baking sea lions, venturing out of the Sound to the edge of the ocean before returning. A slow meander back to Te Anau, lunching and walking through a beech forest, ending a great day, in beautiful weather. Billed by New Zealanders as the best motorcycle road in the world, perhaps not, but certainly a contender on a day like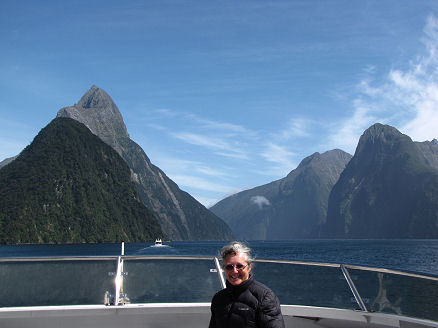 we just rode, with the company we shared.

15/1/09 Ron is a meat pie connoisseur, knows all the locally made meat pies in his home town region and anywhere he has previously travelled. There aren't many countries that have, what Australians call meat pies, those single serve, pastry, tasty filled, purchase at any roadside stop variety. New Zealand is another of the lucky countries where the "humble" meat pie has taken roots and Ron has been sampling as many varieties as available. A couple of shops sell a "dollar pie", a meat pie for a NZ dollar, still possible and they aren't a bad pie, at least not for the price. Ron's current preference is Jimmy's, available all over NZ but billed as "home made"? We had previously recommended the pies from Miles Better Pies in Te Anau, having sampled a couple there on our previous visit, venison, emu, lamb and mint, and the more usual steak, and over breakfast the group sat down to pies with coffee as if judging the world championships, and the verdict, as mixed as the pies. Ron favours Jimmy's, Cath likes Bells pies from Invercargill, but Kay and I think Miles Pies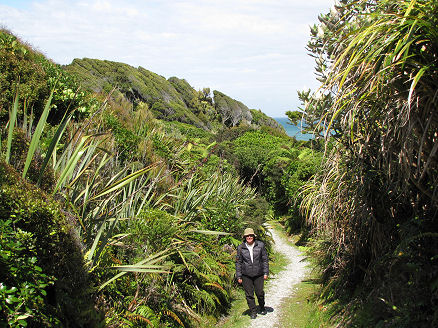 are miles ahead. Rode through Queenstown, the others not having been there before shopped, as we rode onto Wanaka where a triathlon was being run, later to all camp just to the north of town.

16/1/09 Riding again, over Haast Pass, a great ride early morning through mountain forest, with a light shower and fog blowing through to let us know we were heading for the wet west coast, but it all cleared before the township of Haast where we had a short walk on the beach. Ship Creek, further north, has two great walks, one showing the coastal vegetation, windswept, sand dunes, lagoon, with vegetation running up to enormous trees. The other walk followed a tannin water stream boardwalking across the swampy marshland. We caught up with the others for lunch at a salmon farm but separated again to different accommodation, us in the small township at Fox Glacier and them at Franz Joseph. A long day, we walked to view both glaciers, still as stunning as when we last sighted them 20 years ago. Unfortunately it is currently not possible to get close to Fox Glacier as a couple of Indian tourists
were recently crushed by a 100 ton ice fall, having passed the safety barrier for a photo, one body is still trapped beneath the ice.

17/1/09 It started raining late in the evening, got heavier overnight, poured down in the morning but slowly turned to drizzle in the afternoon meaning we spent most of the day at our backpackers processing photos, updating the web page and having a bit of time to ourselves and thankful of hardtop accommodation.

18/1/09 Met up again with the group of four, in Franz Joseph. The surrounding peaks had been dusted with snow from the storm and it was still raining but we decided to move on to Hokitika, the jade capital of NZ, and arrived wet and cold. Kay had had her favourite necklace, the one she wore every day, snatched from her neck in Ethiopia and hadn't found anything to replace it, but a small twin circle of jade on a leather strap caught her eye, now her new necklace. With rain continuing all afternoon a movie at the arthouse movie theatre seemed appropriate. Lounging back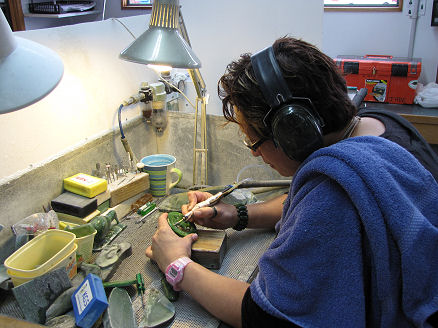 in leather armchairs, with a wine or beer, maximum seating capacity about 30, was a great way to spend a couple of hours.

19/1/09 We seem to be following the weather north, catching up with showers that recently passed, but by mid morning we were pretty much clear of rain. An uneventful day, more great riding, now seemingly common place in NZ. After taking the inland route from Greymouth, a small detour to Blackball, for a coffee at the Blackball Hilton, well actually it was forced to change its name by the larger Hilton group, so very cleverly renamed itself, Formerly The Blackball Hilton. We settled into Motueka, next to Abel Tasman National Park for the night.

20/1/09 With time running out for three of our travelling companions each's unfulfilled interests is becoming more pressing. Cath wants to walk at least part of a major trek and John would like to do some fishing, as far as Lou, well she would like a days resting, sleeping in. Kay and I don't mind doing a bit of motorcycle meandering so we headed up the coast, just slowly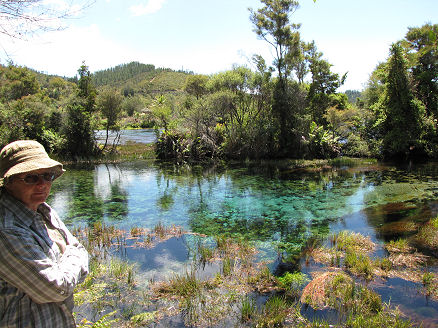 looking around, getting as far as Farewell Spit and almost the northernmost point of the South Island after our walk across sand dunes towards Cape Farewell. Meandering back we called in at the largest springs in Australasia, bubbling at 14,000 litres a second from underground, with such volume they start their own river, then the tight twisty ride back over the mountain to Takaka. A perfect day, a little above 20 degrees and sunshine.

21/1/09 Needed to leave Motueka, time deadlines starting to beckon, with a short ride to Picton. Tighter corners than can generate a gyro effect on the front wheel, at least for the H-D, and it became a bit of hard work in the corners. Picton still one of our favourite South Island towns, although busier than on our springtime visit. A walk along the foreshore to Bob's Bay followed by a drink on our return on the deck of the Echo, an old wooden schooner, now fully grounded as a restaurant.

22/1/09 With the others doing a boat trip on the Queen Charlotte Sound we decided to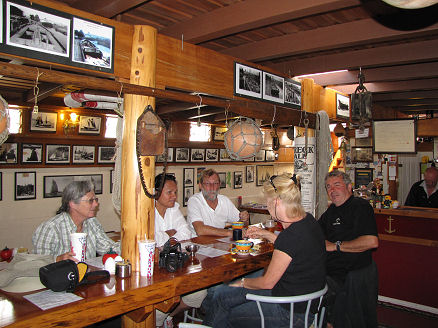 up-camp and headed slowly down to Kaikoura, another of our favourite towns, checking into Bad Jelly Backpackers, a place that had looked after us so well on the previous visit. This north eastern part of NZ is now dry in late summer, the hills covered in golden grasslands. Busy with tourists we tried to book on a dolphin swim tour, booked out for two days, wait-listed, we hope someone will cancel. Even the backpackers we had to ourselves on the last visit is now almost full, still a relaxing afternoon again catching up on jobs.

23/1/09 Our friends arrived late morning with a great surprise, having picked up a few lobster, actually crayfish, from a roadside shop along the way and we lunched on the deck of their comfortable seaside apartment. This was only excelled with a seafood and wine dinner at a makeshift seaside outdoor restaurant in the evening, after our walk along the headland looking out to sea scanning for whales, dolphins and seals, our last meal together before their departure back to Australia.

24/1/09 After a late morning coffee we said goodbye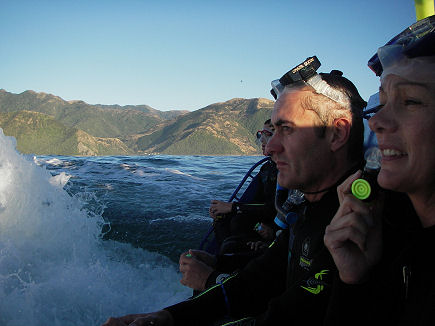 to our travelling companions, only Ron will be rejoining us, in two days time, after his wife flies home from Christchurch. Vowing to eat less now that they had gone, our waist lines having grown with the great food Cath cooked, eating out, and wines consumed, we settled into a relaxed afternoon processing photos when the phone rang. Ron's back wheel started making a grinding noise, was leaking oil, just five kilometres from Christchurch, but he limped to his accommodation, too late to get the motorcycle looked at till after the weekend. Whether his earlier accident, or the repaired wobbly back wheel, or just wear and tear, the diagnosis will have to wait. If you are to have good luck with bad luck, like breaking down just five kilometres from your destination after a 4000km journey, it can't be too bad.

25/1/09 A couple of days ago we had booked a 5.30am swim with the Dusky Dolphins, when it didn't look like we would get on as a standby, and this morning we headed out early in calm waters, 13 swimmers, dressed in 5mm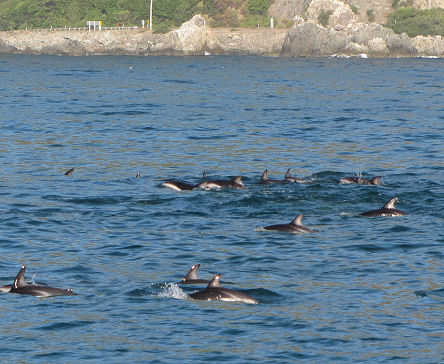 wetsuits, plus a couple of surface lookers. Only 13 people are allowed in the water at one time from each of the three boats currently operating. After 20 minutes of motoring, searching the seas, a pod of about 100 of the small black and white dolphins was sighted. Sitting on the backboard of the boat we slipped into the water, and having been told to interact to gain their attention by making noises, swimming along with them and duck diving there was initially as much of a display from the humans and the dolphins but not to be outdone they backflipped, jumped, tail slapped and just swam in and around us before moving on, joining more pods, and bigger pods, estimated to exceed 500 dolphins by the time we left. We moved a few times to again get their interest and being totally wild, not fed, it was only this interest that kept them swimming with us. Night feeders, we arrived during their play time, early morning, mothers and calves cruising along in the boat's wake, bow riding or just having fun splashing and socialising. As the boats left some dolphins continued to follow, gradually being left behind as we returned to our world, a great experience where the interactions were mutually enjoyable.

26/1/09 The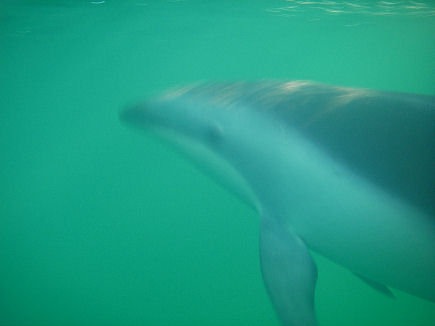 good news, bad news story of Ron's rear wheel problems continued. The rear wheel bearing needs replacement, they have one in Auckland, but it is a holiday there today so the parts won't be in Christchurch for two days. Ron had also ordered, from Australia, two weeks ago, a second hand rear wheel to replace the damaged one, apparently it has been sitting in Auckland, waiting payment of import duty before it can be sent to Christchurch, so that might also delay his rejoining the trip. I have been thinking of taking paragliding lessons, a full license course, should we have the spare time in NZ, so we decided to ride to Sumner, a seaside town just out of Christchurch, where a couple of instructors operate, unfortunately, strong winds are forecast for tomorrow, so no flying. I was hoping to initially take a one day course to see if I liked the experience before booking on the full license course. Almost as a consolation to the day's disappointments, it is the Christchurch, World's Buskers Festival and the Sumner Community Centre was packed with locals and travellers to see the evening's entertainment. Five local artists, stand up comedians, raunchingly entertained us for a couple of hours, lightening our mood.

27/1/09 With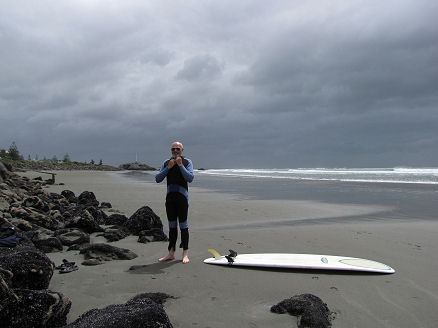 strong wind and light drizzle and not much to do, it seemed not a bad day to try my hand at surfing, a popular summer pastime in Sumner. I have had one lesson in Australia a number of years ago, have body surfed for years, but never really taken up boardriding. With a beamy 9ft 2in board, and about metre waves, I managed to stand up a couple of times, even riding almost to the beach once, by more luck than skill. The two hour board and wetsuit hire was plenty for a moderately unfit person in cold conditions and it seemed more sensible to spend the rest of the day indoors.

28/1/09 With sore muscles it was back to the beach this morning. The waves were kinder and despite being exhausted managed to catch more waves and stood up more than yesterday. Ron phoned late morning to advise the rear wheel bearing had arrived, and had been fitted. The second hand wheel had also arrived and was currently in the process of changing tyres so we would be able to head out towards Hanmer Hot Springs early afternoon. The plan was to ride the Molesworth road towards Blenheim, a 150km of dirt road through picturesque high country, through the Molesworth station, the only problem, we wanted to camp the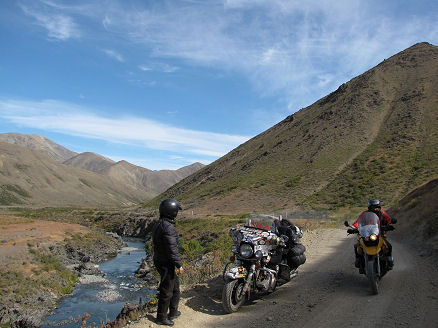 other side of the station, but the road closes between 7pm and 7am pushing us along a little faster than we wanted, but we still managed to stop for some photos, and arrived to camp at the historic Cob Hut just before gate closing. A lovely ride, mostly along a river valley, sometimes over hills, but always tremendous mountain scenery and a constant fight between looking around and watching the road. At least there was no traffic, passing only three vehicles along the way.

29/1/09 Ron's motorcycle seems to now be running well, and after breakfast, and a walk to view Molesworth Homestead, we rode the last 60km of dirt, more great mountain and valley scenery, and the pick of dirt roads for us in NZ. But all too soon it was finished and we were in miles and miles of vineyards, covering the hillsides, and back with the traffic on asphalt and heading for Picton and the 2pm ferry to Wellington, camped the night on the North Island, in Upper Hutt.

30/1/09 New Zealanders and Australians are like siblings, often fighting but defensive against outside attackers. Friendly rivalry exists mostly in sport, rugby, and cricket, a great banter often between us, but we tend to band together
against outsiders, like against Japanese whaling in our region. After riding some small roads to Palmerston North, then Feilding, we ended up at the tiny community of Apiti, where in this shrinking world, Ron had a friend, a Kiwi who had worked in Australia, but was now back home. The banter about the indigenous peoples, similar to what might occur in Australia, a common topic. The all too short a visit had us back on the road, riding over the Taihape to Napier Road, locally called the Gentle Annie Rd, before camping near the top of the range. Road works were happening on the section of dirt, like much of NZ road works are now occurring, whether it is just normal summer maintenance or part of the public works program during the recession.

31/1/09 Waking up in the mountains after a wild camp can't be beaten anywhere in the world. To hear the cicadas shrill slowly subside and the last of the birds songs fade as we lay drowsily in the tent, to have the night so quiet we could have heard ants fighting, then stirring refreshed to the same sounds awakening the following morning fills the soul. I am allowed use the term world's best in New Zealand, as it is a common term here, particularly the phrase, the "world's most famous" this or that, many meat pie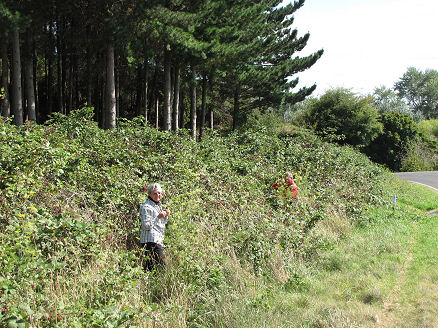 shops are world famous here, according to their signs. Funnily we hadn't heard of these shops before seeing the signs, perhaps we have been travelling in a different world. Without a bad road to ride we were at the coast near Napier, then Gisborne by mid afternoon, and having ridden the last four days, opted for a double nights stay in hardtop accommodation, a small cabin, beachside at the local campground, where another overland motorcycle traveller, Nick, was also staying, having ridden from the UK, NZ his last stop on his 10 month journey.

1/2/09 Gisborne is NZ's sunniest town, stuck about as far East as the land mass goes, and today it was as sunny as it gets, 32 degrees with NZ's piercing sun. It seemed a perfect day to go surfing but the waves were being blown flat and were just big enough for body surfing. The only excitement was when a mature lady shop worker ran through the caravan park chasing a young local lad who had stolen some ice creams from the shop's freezer. Asked for our help he was caught. In this Maori dominated region, where racial conflict and intolerance often raises itself, I was asked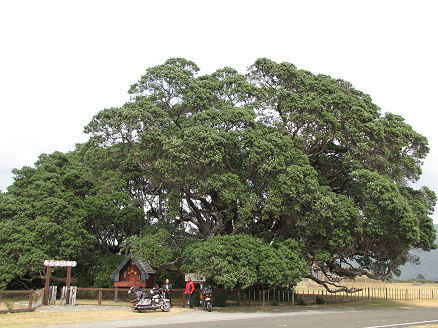 by a bystander, "what did the lava boy do", I presumed he was referring to the Maori boy we helped escort back to the shop.

2/2/09 The East Coast region has some of the North Island's most remote areas, perhaps not in distance but in lack of population and services. The Maori are believed to have settled here in the 1150's and it is still a stronghold, with their flag often seen flying from vehicles and gateposts. Anti establishment graffiti dots discarded cars and caravans alongside the road with clearly marked signs deterring people from wandering off the main roads, and it is a beautifully rugged region to want to hang onto. The S35, 330kms, meanders near and away from the coast that juts out into this easterly region. We also meandered, riding slowly, taking in the Manuka teatree forests, also distilled for their oils, and seeing what is believed the "worlds largest" Pohutukawa tree, that blooms masses of crimson flowers, the enormous amount of driftwood washed ashore in storms, and the changing from limestone to volcanic rock with the currently dormant volcano, White Island, visible offshore.

3/2/09 Thirteen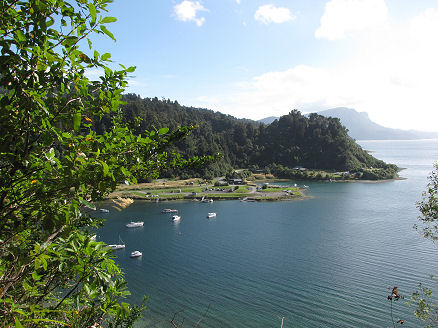 years ago today Kay and I rode out of Townsville heading for Hughenden along with a small group of friends farewelling me for the beginning of a short overseas trip. Little did we know at that time that 13 years later we would still be travelling, travelling with no completion date for our adopted lifestyle. It is rare, if ever, that a ride along a stream heading up to a mountain pass isn't a great ride. Today we headed up the Waioeka Gorge, along highway 2, back towards Gisborne before turning onto a smaller, Tiniroto Road and lastly the Waikaremoana Road to the lake by the same name, taking a lakeside mountain cabin for the night. Each road followed a river, twisting and turning with it, giving views of river, road and mountains, some more great NZ riding.

4/2/09 Australians and New Zealanders have a friendly verbal battle over who invented certain things, pavlova, vegemite, lamingtons, but the New Zealanders have no fight with us over their Kiwi Fruit, perhaps a fight with China, but not Australians. Originally a small grape size fruit, from China, the New Zealanders modified it to today's much larger Kiwi Fruit, which we have seen growing almost everywhere, but to cement them as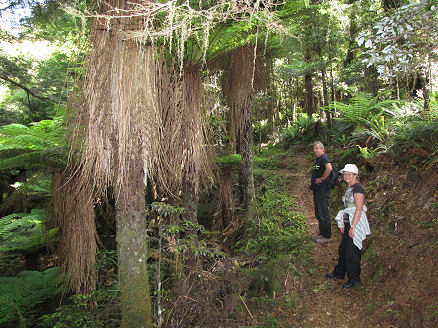 the true Kiwi Fruiters the New Zealanders developed, and intellectually protect, the newer gold variety. Feeling a little fitter than our age or condition might indicate, the three of us set out on a 17km, six hour hike, over hilly and sometimes decidedly undulating terrain, the Ruapani Circuit, which links to Lake Waikareiti. It wasn't long before the up hills determined our fitness levels were wanting, although the stunning tree fern, rimu and beech old growth forests, the lakes, swamps and grassy flats kept our minds, at least at first, away from aching leg muscles. By the time we reached Lake Waikareiti, although exhausted, the end was in sight and spirits lifted. A great walk, and we should sleep well tonight.

5/2/09 You can't settle down in one place and see the world, it would be to deny better places exist. You can't recreate nature in your own backyard and presume you have captured nature itself. You can't own a pet or visit a zoo and think of them as the world of animals. And you can't travel for thirteen years and think you have seen the world. How is it possible to stop travelling and put down roots once the adventure has started? There can be no, "been there done that" but forever there is "going there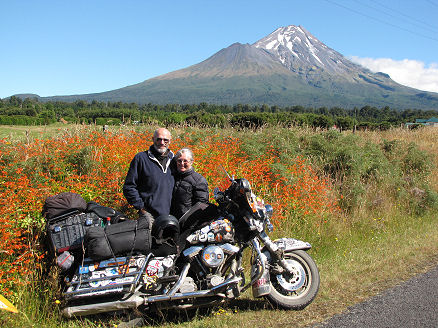 doing that" a quote from our good friend, Frank Wheeler. It had started drizzling late in the evening, continued overnight and early morning but a wait till 10am had a wet dirt road out but no rain. Blackberries, the fruit not the electronic variety, are growing all over NZ, and are now in season. We have been stopping roadside for a free feed each day.

6/2/09 We stayed in Turangi last night and, after again waiting for the early morning drizzle to clear, headed for the Forgotten World Highway in clearing cloud. A walk around the trout hatchery at Tongariro, coffee near the Chateau Tongariro at the base of Mt Ruapehu, another roadside stop for blackberries, and we were at the Whangamomona Pub to enjoy a beer and pub meal on the footpath tables, on this long weekend, with other travellers and a few locals, late afternoon and evening. The pub's accommodation had been booked out months ahead, so it was the council camp grounds in the long ago closed school grounds for the night.
7/2/09 Hardly a noise was heard all night, till the rooster crowed morning,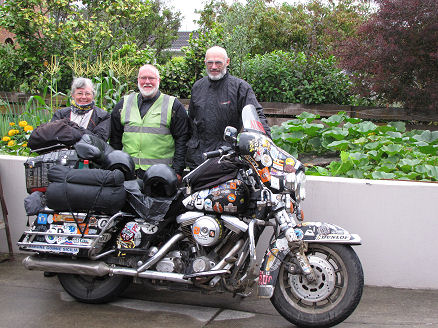 a little early, and fog was thick in the valleys. It lifted, and as we rode into Stratford, Mt Egmont appeared from it's band of cloud, fully exposed, standing as a perfect volcanic cone above the surrounding pasture lands. Our destination was "The World Famous" surfing town of Opunake. Unfortunately the black volcanic sand beach, at low tide, and a lack of waves didn't give a great first impression, and with the campground teeming with long weekenders, the place was a bit busy after the few days we'd had in the quiet mountains.

8/2/09 Partly to avoid the dismantling and packing up of the weekend holidayers tents we took an inland ride to New Plymouth, an oil and gas town, a previously thriving town, which perhaps had been a little immune to the full effects of the current recession, but now shows the signs of vacant shops on its main street. Riding back along the coastal, Surf Highway, showed little action from the waves or surfers, and we were back at the now almost empty campground, early afternoon.

9/2/09 John and Margaret had phoned us before Christmas, regarding a visit, after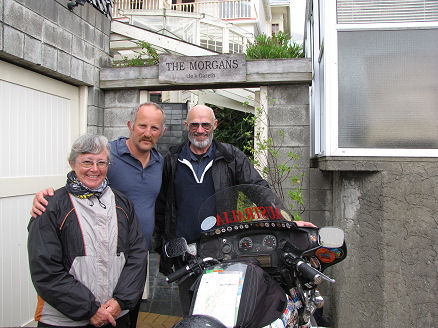 seeing an article on our trip in the Wellington Post, and today we rode to their home in Waikanae. Ulysses Motorcycle members themselves, they had also invited some other club members over for dinner and a social evening. A popular club in Australia and New Zealand, you have to be 50 years old to be a senior member, and junior membership start at 40, so it was with similar aged people we were mixing. A lively evening of like minded motorcyclists, people out to enjoy the sport, with us staying the night afterwards. John and Margaret are also planning to travel, in the not too distant future, but by a motorhome they are now outfitting.

10/2/09 We had also been invited to the house of Jo and Gareth Morgan, New Zealand celebrities in the financial and motorcycle world. For the last few years they have been doing adventurous motorcycle trips overseas, reporting back on their experiences via morning radio interviews from the road. Many times we have been asked if we knew of these celebrities, and even once were asked if we were they, so it was great to swap trip yarns with Gareth this morning, our meeting with his wife, a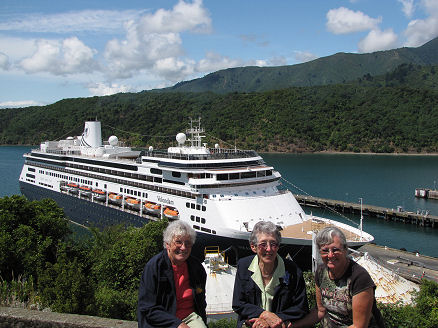 distinguished motorcyclist in her own right, will have to wait for a rally we will both be attending later this month, on the 21st. It was the early afternoon ferry back to the "main island" as locals like to refer to the larger South Island, and farewell to Ron, who is heading back to Christchurch, returning his motorcycle, and flying back to Australia in a few days time. We settled into the small town of Picton for the night.

11/2/09 Kay's 85 year old mother is still travelling. Her current adventure is a two week ocean cruise from Australia to New Zealand on the Holland American Line vessel, Volendam, with her friend, Shirley, of similar age, and today the ship called into Picton, one of many ports it stops in along its route. We hired a car for the day for a tour of, and the surrounding areas in Picton, and were also invited aboard for lunch and to view the comfortable vessel. Perhaps we won't still be travelling by motorcycle at their ripe old age but hopefully we will still be as interested in visiting different places as these two octogenarians are.

12/2/09 Expectations, they fill the mind with apprehension or visions of great things to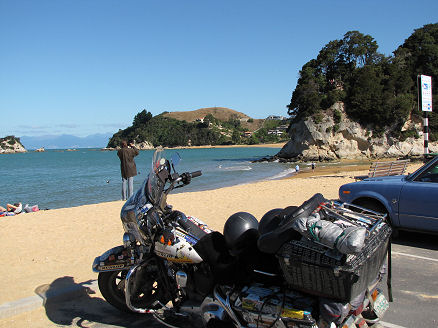 come, but often they lead us to disappointments when they are not realised. With so much newness each day as we travel we have learnt not to expect too much, either positively or negatively. Perhaps this removes some of the pending excitement of the trip, perhaps it keeps us more level in our moods, but we are often seen as a bit unexcitable, perhaps removed from some of the worry, and disappointments. We had planned to visit Queen Charlotte Sound but with a heavy rain warning for the area, camping didn't seem an option, so we stayed put in a cabin in Picton, where it rained heavily and constantly all day, again catching up on the jobs that are put off for a rainy day.

13/2/09 Grocery shopping for us has become, a long time ago, a matter of what is available rather than what we want. Too many times we decided we want something, only to find nothing like it existed in the country we were visiting, so now there is no deciding what we want for dinner, until we are in the supermarket or sitting in the restaurant. It was still drizzling, but a bit tired of our small room, we headed out to Motueka, deciding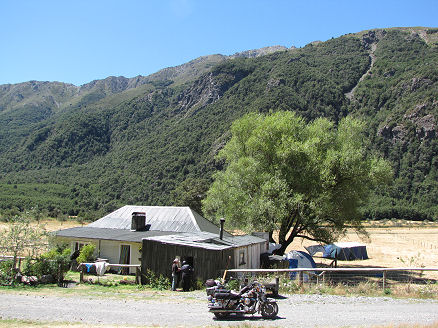 not to visit Queen Charlotte Sound as we passed by the turn off. While January is packed with local tourists entertaining their children, February is for the grey nomads and international tourists. Motorhomes fill the roads and Europeans the backpackers. We have virtually come to the decision that China will not happen for us this year. Our contact there, the Harley-Davidson representative for the region, has been unable to make special arrangements for a visit, so we tentatively booked a flight to Europe, arriving in Amsterdam on the 8th April, hopefully to meet our motorcycle, which we will ship from Auckland on the 26th February, and taking 40 days for the voyage. We will fill that 40 days, mostly at Sumner Beach, near Christchurch, surfing and back to writing the book, the one that may never be published.

14/2/09 It was a short ride to Kaiteriteri, the only yellow sand beach we have seen in NZ, and where most people start the Able Tasman track. A busy seaside place, swamped by foreign tourists with its popularity, and high priced accordingly. We met Axel and Katerina, two German tourists,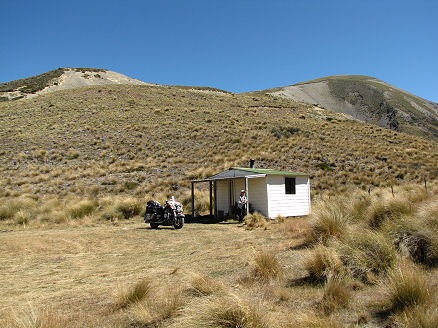 travelling by motorcycle, and over a drink exchanged travel stories, otherwise it was an uneventful day of slow sightseeing riding along the coast and back to Motueka.

15/2/09 We had chosen to ride the Rainbow road from St Arnaud to Hanmer Springs, a dirt, supposedly 4x4 only road, through private land, about 100km long with a few water crossings. The local Department of Conservation office advised the road was open, the water crossings were low, so we thought it might be an interesting ride. There is a fee of $15.00 NZ to pass through the private land, just 20km's, pretty steep on a per km basis, but dearer for a car, $25, but the lady collecting the fee was pleasant enough and advised us it might be better to stay in a back country hut at Island Gully rather than camping as strong wind was expected and a possibility of rain. Most of the creek crossings were either bridged or concrete forded but a number were a rocky bottom, and taking the first casually, and a little deeper than we expected, we ended up with wet boots. The remaining crossings we took a little more seriously and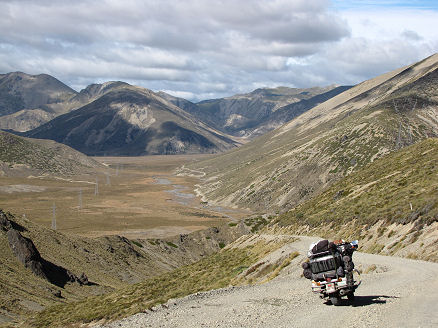 remained dry, a little late. The scenery, like that of the sister Molesworth road, was stunning high mountain, open pastures, above the treeline, alpine country, and as we approached the four bunk cabin we realised we would have this magnificent place to ourselves for the night. Basic, mattresses on bunks, a wood fire, it was all we needed with our own bedding and cooking facilities and we settled in to enjoy the sunset as it rapidly became cold.

16/2/09 Kay's 57th birthday, and a great place to provide her with breakfast in bed, the usual muesli and tea. The morning was still crisp cold as the sun peeked between clouds over the surrounding mountains. An early morning walk along the Wairau River, through swampy tussock grasslands, and it was already 10am before we were ready to leave. The road out more trafficked than yesterday's and rougher. Our sunny morning was replaced by drizzle as we approached Hanmer Springs and despite looking for suitable accommodation it was booked out at our price level, and we reverted to our original plan of riding to Maruia Hot Springs.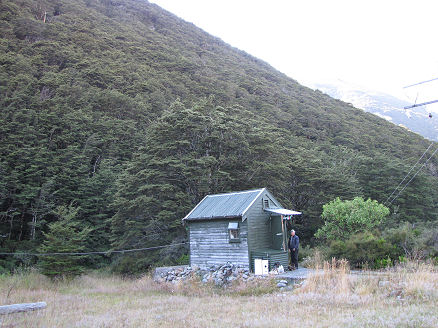 Like often happens in the South Island, the rain is only on one side of the mountains, and today it was on the East, so as we headed over Lewis Pass the rain cleared and sunshine welcomed us to camp at the hot springs, a bottle of wine, and dinner at the restaurant topped off a great day.

17/2/09 Nigel and Lee have a cabin at Arthur's Pass. In a former life it had been an electrical substation building, with a door and no windows. It was not large, perhaps the size of an average bedroom. Arthur's Pass itself had come about as a town to build a railway tunnel, over 8km long, through the mountain, connecting railheads that had ventured out from the east and west coasts, and their substation hut originated at that time, about the 1920's. When they started using the place it had little to offer, just four walls, a floor and roof, and even parts of those were not sound. New to each others company, it was a project they could work on together, something for the new relationship, and soon became a special place, set alongside a river, partially surrounded by beech trees, and in the mountains,
all added to the project's charm, and they were married there. We, as many people had been before, were invited to share their special place, and after finishing the ride across the Lewis Pass and half way across Arthur's Pass arrived in late afternoon. They had transformed the ugly duckling of a building into a comfortable functioning place, including a loft, windows, heating, kitchen, all neatly packed together. Arthur's Pass is a summer destination, busy for a few months of the year as people trek or stroll the mountain forests, and has a small community of transient locals, which Nigel and Lee have become. As friends of theirs, we were welcomed at the Wobbly Kea bar and restaurant over a beer in the evening, a place where everyone staying in town seems to meet. Its a nice walk from the hut, but a longer walk back.

18/2/09 Taking in the tranquility of the place it was a late start to the day, followed by a walk to Devil's Punchbowl Falls, a coffee at the shop, and people watching as cars, motorcyclists and bicyclists arrived, bought ice creams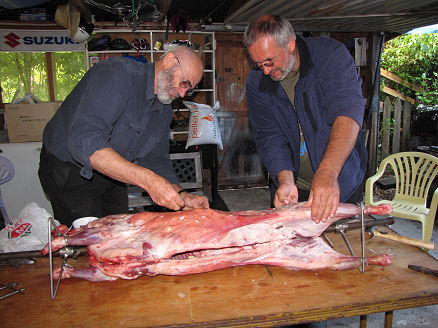 or coffee, and perhaps went for a walk. The train full of tourists arrived from Christchurch and buses took them further up and over the pass for the day's outing. The kea, New Zealand's mountain parrot, posed for photos, pecked at unattended cars, or snatched food when owners were distracted, and that about filled our day at Arthur's Pass.

19/2/09 We have been asked to present a slide show of our journey at the Horizons Unlimited rally, at Nigel and Lee's place in Christchurch in a few days time, and headed there this morning to start preparations.

20/2/09 The forecast for the rally isn't good, and it was raining all day. It has been five years since we have been to a rally where we needed to speak, and our previous slide show was well out of date, so it took most of the day to select photos and caption them. We also wanted to prepare a static display, a rolling slide show, self explanatory, easier on our stilted speaking abilities.
21/2/09 Nigel's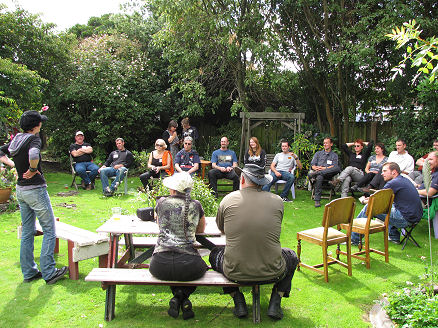 garage was emptied of his collection of motorcycles, replaced with tables and chairs just in case the rain continued, but the afternoon cleared and their sunny garden was often enjoyed. Lee was out collecting the roasting spit, making salads and preparing vegetables, and by lunch time the place looked like a rally was about to start. The first people to arrive were given jobs, finishing touches, and a whole lamb was placed on the spit. We had our static slide show running all afternoon and after a brief introduction by everyone present, their nationality, their travelling experience, etc, we did a presentation on selected aspects of our trip. The lamb, cooked to perfection, and literally falling off the spit, was carved and consumed in the evening. A keg of beer had been tapped earlier and was flowing freely and as far as we could tell everyone was having a great time. Jo, the other half of the Jo and Gareth Morgan team, spoke after dinner of their travels and was followed by a few other motorcycle travellers who had much to contribute. The almost 40 people that were in attendance were a mix of current travellers, past travellers, and people wanting to travel, and was well balanced,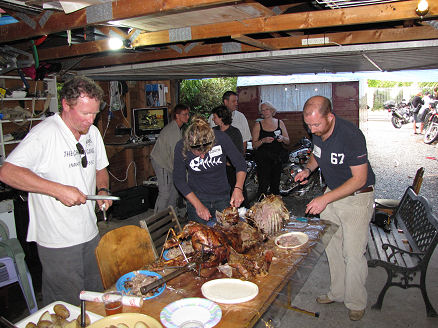 and small groups gathered, asking and answering questions and telling their stories. By late evening almost everyone departed, a travelling German couple set up tent on the garage floor and we retired to Nigel and Lee's caravan.

22/2/09 Unfortunately deadlines are ahead of us. The motorcycle is now booked on a boat to Rotterdam, Netherlands, and needs to be in Auckland in three days time for crating and shipping. By 10am the garage had been returned to its former organised disarray and after a relaxed coffee and farewells we headed north to Picton, spotting Jo at a coffee spot along the way, so we loosely rode together, enjoying a beer in Picton before her late evening ferry.

23/2/09 We had chosen an early night and early start today rather than pressing on last night, catching the 8am ferry to Wellington and riding to Turangi, 320km's. Along the way the speedometer clocked over 524,500 km's or 500,000 km's on our trip since we first left Townsville 13 years ago. Managed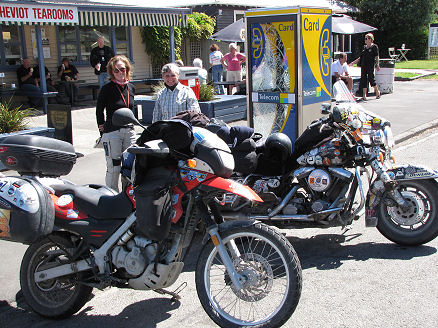 to process photos and update the web page while we were on the ferry, now just a boat trip. An easy day, like yesterday, in great sunshine, and unhurried, although our minds are now not on looking around, but on a destination ahead, further ahead than today, more towards what we will be doing while the bike is being shipped and mentally thinking and planning our visit to Europe.

24/2/09 We were on the road in time to watch the sun rising over the desert landscape to the east side of Mt Ruapehu as we continued our progress up highway 1, a route we would normally avoid as lower numbered roads usually pass through many towns and have lots of traffic, as this one does at times. By 11.30am we were at PFL, the shipping agent for the ECU Shipping Line, the motorcycle's route to Europe. Luckily we were a day early as our booking hadn't been finalised, but with a bit of persuasion it was managed that the motorcycle would be on a vessel leaving on the 1st March, in five days time, and would arrive in Rotterdam, as expected on the 3rd of April, transshipping through Singapore. We will wait and see, as we have come to learn with shipping timetables. Our crate had generously been stored at a friend of a friends place, but had unfortunately been out in the weather and some items we'd had stored in it had become rain affected, a bit of a disappointment, still we managed to get the crate to the shipping office and arranged to crate the motorcycle tomorrow.

25/2/09 Rather than getting a one day hire the hostel manager offered us her car, a similar price but more convenient logistically, so I followed Kay to the warehouse. The freight depot is near Auckland airport, more convenient than the shipping port. They offered us an undercover area to work, crating the motorcycle, and by 11.30am it was ready for shipping, paperwork done, and the $NZ 630.00 or $US 315.00 paid. A great price considering the distance compared to where we have recently been shipping in the Pacific, and a friendly company to work with. With our Bill of Lading in hand we were at customs minutes later, and getting the right person this time, we had our GST (VAT) refund processed in 30 minutes, but it will take a week or more for the cheque to be posted. So by about lunch time the deed was done and we were relaxing back at our accommodation,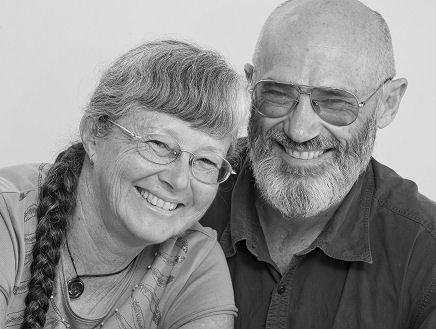 bikeless, bikeless again, this time for an expected six weeks, to be seen again in Rotterdam, the Netherlands, hopefully.

26/2/09 Our first bikeless day was occupied with answering email questions for an article to appear in the HOG Magazine, the official club magazine of Harley-Davidson, with over a million members. The writer who wrote a series of articles in 2003 on our trip had again approached us for a follow up article. This occupied most of the day.

27/2/09 - 7/4/09 After the HOG email interview the editor decided to hire a local photographer to take a couple of close up photos. This was one the photographer gave us, good quality, but a little cheesy for our liking. Missing the motorcycle already. Rather than fill this diary with daily accounts, we will summarise the last six weeks till we arrived in Amsterdam. We spent a week in Auckland, then a month just out of Christchurch at Sumner Beach, then back to Auckland for the last week. Our spare time was again be spent on book writing, and we managed to finish the first draft, well almost. As it doesn't look like there will be many more shippings in the near future, the second draft might be years away, we would rather be riding than writing. Other time was spent trying to learn to surf, but the weather turned a bit cold, still there were a number of days on the surfboard, probably more time was spent in coffee shops. This has been the longest shipping we have waited out but as we felt we'd had a good look at New Zealand, and it was still pretty cold in Europe, we didn't feel we were missing much. We still looked at getting into China, but each time we have inquired it seems the prices go up, usually meaning that more is paid to the corrupt officials to give their permission so we are unlikely to go there until things change. Our plan is to spend the next two years in Europe, but the visa situation has changed there. As the EU has grown, Schengen, that borderless region has also grown. We, like everyone else who lives outside the EU, are now only allowed to spend 90 days in every six month period in the larger Schengen area, which now encompasses 27 countries. Luckily Great Britain and Ireland are not members so if we spend three months there, we can then re-enter the EU (Schengen area) for another 90 days. It means we need to do a little more planning than we had expected, but it is still manageable. With shipping tracking we managed to follow the motorcycle's progress on the high seas, from NZ to transshipping in Singapore, where it was placed in a new container, and onto a new vessel. We followed its route through the Suez Canal, after checking that it didn't get pirated as it neared Somalia. It arrived in the Netherlands as promised, to the day, a great service. We also flew out on flights we had booked eight weeks earlier. It is always great when a plan comes together.

Move with us to the Netherlands