Travel Through The Netherlands on a Harley-Davidson
By Peter & Kay Forwood
Netherlands on a Harley (8/4/09 - 17/4/09)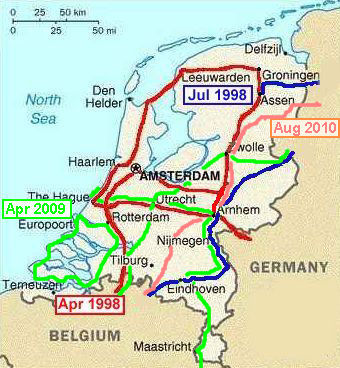 Distance 586 km (524977 km to 525563 km)
This is part of the fifteenth section of our around the world trip.
Complete Trip Overview & Map
Coming from New Zealand or read our previous visit to Netherlands

8/4/09 It has been over ten years since we have been to the Netherlands and almost as long since we really travelled through Europe. I guess much has changed here. It certainly has in our lives, more than 400,000 km's having passed under the motorcycle since then. After 36 hours from hotel to hotel we arrived in Rotterdam at 9.30 am. Even though we didn't have a return ticket, neither Malaysian airlines in New Zealand, nor immigration in the Netherlands requested one. Between the Amsterdam airport and the train to Rotterdam we purchased a new sim card for our mobile phone, a paper overview road map of Europe, and a Tom Tom GPS road map navigation system, not the one specifically for a motorcycle, but the cheaper car version which included maps of Western Europe and the UK, for 149 Euro. The shipping agent informed us the motorcycle had arrived on the 4th, and after destuffing it was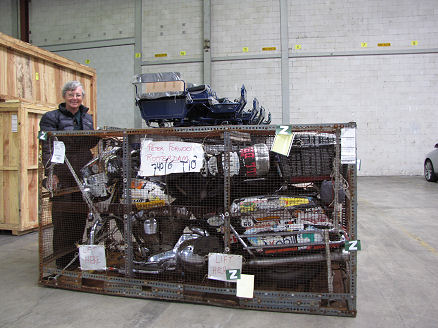 now available to be collected, after we cleared customs, and they emailed us the specific customs form. As the motorcycle was not for permanent import, just temporary, their customs agent couldn't clear it for us.

9/4/09 Taxi's are incredibly expensive here, so it was two subway trains and a bus to get to the port customs house, after having first visited the city customs office which couldn't help us. The port customs staff were incredibly helpful, even providing us with a cup of coffee while we waited. Passport, shipping documents, vehicle registration and insurance papers were necessary. We had yesterday made inquiries from the ANWB, the Netherlands automobile registration office, to obtain the necessary compulsory insurance, but it was impossible to buy. Apparently we needed to fully register the vehicle, also impossible as we weren't residents of the Netherlands. So we were in an awkward situation, the motorcycle was here but we couldn't get it out of the port without the unobtainable insurance. ANWB's solution was to have insurance from our home country that covered us in Europe, also unobtainable.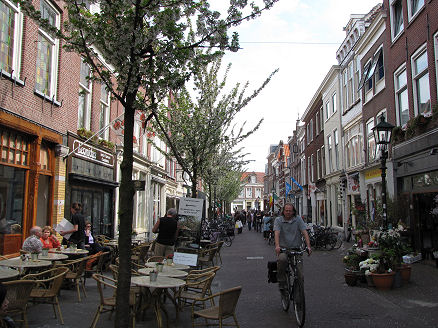 Luckily, at the customs office, they accepted our Australian insurance, the one included with our registration documentation, even though we consider it only valid in Australia, and they thankfully stamped the release papers. It was then another bus, train, bus, and 3km's walk (the Tom Tom navigator works as well for walking as riding) to the shipping office out in Haven 5044. Luckily the public transport system here is incredibly efficient, almost everyone is helpful and speaks English, and with our all day transport pass we had unlimited use of trains, buses and trams. ECU Line, the shipping agent, had some steep charges for releasing the motorcycle including what they called a "kickback" fee to the New Zealand shipping office of 65 Euro. A total of 250 Euro in fees, about the same price as the freight, plus 25 Euro to dispose of the motorcycle's well used metal crate. It was with mixed emotions we uncrated the motorcycle for the last time from a crate we built in India almost two years previously and one we had used twenty times to visit all the Pacific island countries, but the crating and uncrating will not be missed. The well worn procedure of reassembling the motorcycle went smoothly, it rumbled into life without problem, and we rode out of the warehouse and into the Netherlands about 1.30pm feeling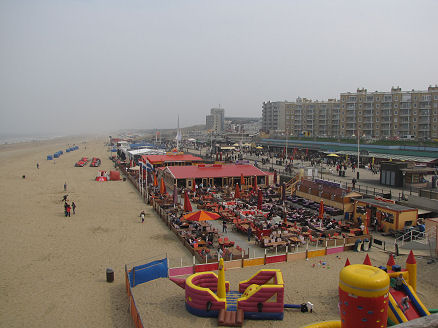 incredibly lucky to have the motorcycle the last working day before Easter, and that all had gone smoothly. Tom Tom managed to find our hotel where we collapsed exhausted from jet lag having run on adrenaline for the last two days.

10/4/09 Ten hours difference in our body clocks from New Zealand time to Netherlands time gave a fitful nights sleep but it was a lovely sunny spring day and our location right near the water, well almost everywhere in the Netherlands seems to be near water. We strolled along the canals where century old canal boats were tied up, now converted to liveaboards and beautifully maintained, where the pilgrim fathers left for America before Australia had been discovered. Like many port towns there is a greater ethnic mix here than can be expected through the more general population, in people, shops, foods, and as we strolled the streets it was as if we were passing through many countries. Ethnic problems here have been rising, with the fairly recent killing of a politician, 5.5% of the population are now Muslims, double that of ten years ago. It seems people are again moving around the world, this time arriving, not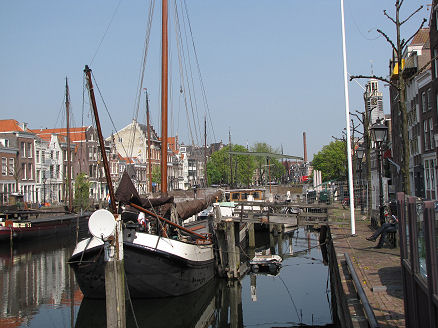 leaving from this port town.

11/4/09 Easter Saturday and sunny, locals were out en-mass. After filling up with expensive petrol, 1.40 Euro a litre, (but well down on the price of a litre of a couple of years ago), we headed for Delft, a city founded in 1100AD, famous for its hand painted blue china, and still containing much of its character of canals, churches and paved streets. Bicycles dominate transport in the centre of town, not the sort of bicycles we have been seeing in New Zealand, these bicycles for transport, not for sport. There are no bright coloured lycra pants and shirts, no helmets, no racing or off road bicycles, just normally dressed people on standard bicycles. Still admiring our new Tom Tom navigator, it directed us there and back effortlessly, and looking further into its features we discovered it has a campground locater, something we are sure to use when looking for a place to stay after a days riding.

12/4/09 Our last trip to Europe involved many museums, ancient buildings and history. This time we are more looking at how Europe is today, how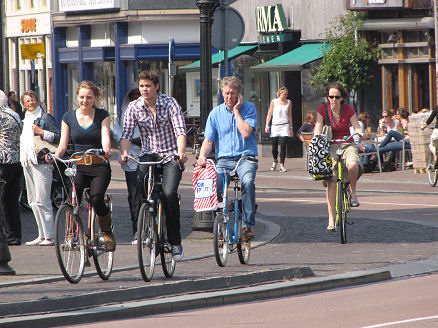 people live here compared with the other western societies, and it is usually in the first weeks of entering a country or region that our eyes are most open, when we see more, before we become accustomed to our surroundings and they seem more normal. On a foggy Easter Sunday we headed, as did thousands of locals, for the beach side location of Scheveningen. Naturally, no one was in the water, and only children were playing on the sand, almost everyone else was enjoying themselves over a coffee in one of the dozens of beach side open air restaurants, or promenading the hard packed sand or boardwalks. It was just a place to get out, with the family.

13/4/09 The Netherlands has a few reputations that spread its name around the world. The legal use, or at least decriminalisation, of marijuana, and prostitution has been legalised here for almost two centuries, and the prostitutes have their own union. But there are other advances in social liberalisation. Doctor assisted euthanasia is legal, as are same sex marriages, both world firsts. With almost half of the Netherlands lying below sea level, 2400km's of dikes are necessary to keep out the ocean. Extensive barrages stop storm surges from flooding the land and at the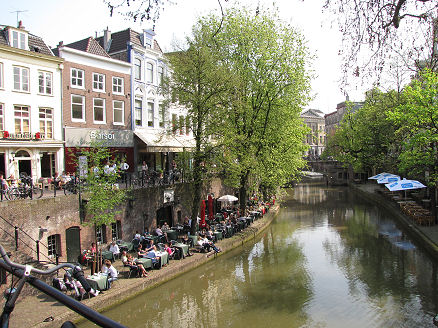 same time allow rivers to flow into the oceans at low tide. Pumps are available in cases of extended heavy rains coinciding with high tides and unfavourable winds, so that since the last major inundation in 1953 the Netherlands has managed to keep out the sea water. We rode down to Middelburg in light drizzle and fog, crossing many of the barrages, and walked along a couple of beaches, watching holiday makers enjoying themselves.

14/4/09 A warmer, sunny day, our last in Rotterdam, spent sitting in the sun people watching and having a couple of glasses of wine in a small cafe. Cafe's here are bars and coffee shops are where you buy a marijuana joint, a little confusing when just arriving in the country.

15/4/09 We had noticed another crack in the frame just before leaving New Zealand, near the rear of the engine, it had been slowly opening up so we took the motorcycle to a small garage where they put a temporary patch weld, enough to allow us to ride. To do a proper job it would have been necessary to remove the exhaust pipes, a couple of hours job. Said goodbye to Rotterdam then rode out towards Utrecht, an old city, where 13th century canals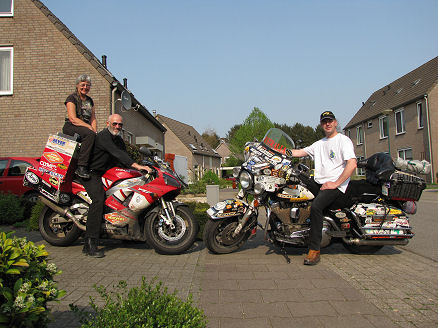 and wharves meander under brick bridges below street level. Still a thriving city, restaurants line the streets and wharves where cargo used to be loaded. The narrow cobblestone laneways are only suited to pedestrians and bicycles and are closed off to other vehicles, making it a pleasant place to wander around looking at the ancient buildings. Later in the afternoon we rode to Maashees, where Sjaak Lucassen, a motorcycle traveller, longer travelled than ourselves, lives. We first met Sjaak in Malaysia in 1996 as I was getting off a boat from Indonesia, he was loading his motorcycle. We have kept in touch ever since, but is has been eleven years since we had last met, and he has travelled over 260,000km's on his R1 Yamaha, many extreme kilometres in Africa and South America, in that time. On checking our separate routes we were amazed how close we were at times in our travels but never close enough to meet up. Sjaak has recently returned from a ride to the top of Alaska, in winter, also on a R1 motorcycle, a truly extreme adventure, riding up the Alaskan Pipeline road with studded tyres, heated everything, and temperatures over 30 degrees below zero. Check out his video on UTube.

16/4/09 Sjaak's friend,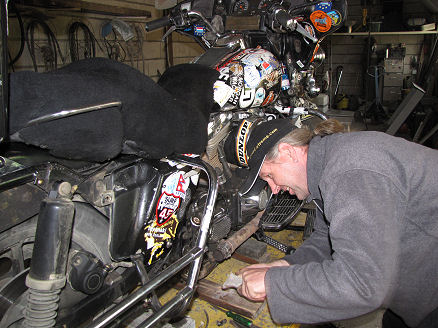 Hank, a welder, looked at the crack in our motorcycles frame, and after preparing a plate and rod to strengthen the area, and with us removing the exhaust pipes, the morning was spent getting an excellent repair job done on the frame. Sjaak does slide show presentations on his around the world trip and is currently preparing one on his Alaskan trip. He has his own merchandise to sell at the shows, is sponsored by many suppliers, including Yamaha, and writes regular articles for Dutch magazines, quite a productive enterprise, financing his travels by his reputation. In the evening, after an enjoyable walk around the rural neighbourhood, we had a few beers at Sjaak's local pub. Having grown up in the same village he is known and recognised by everyone.

Move with us to Belgium or go to our next visit to the Netherlands