Travel Through The Netherlands on a Harley-Davidson
By Peter & Kay Forwood
Netherlands on a Harley (14/5/98 - 16/5/98)
Distance 231 km (101305 km to 101536 km)
This is part of the third section of our around the world trip.
Complete Trip Overview & Map
Coming from Austria or read our previous visit to Netherlands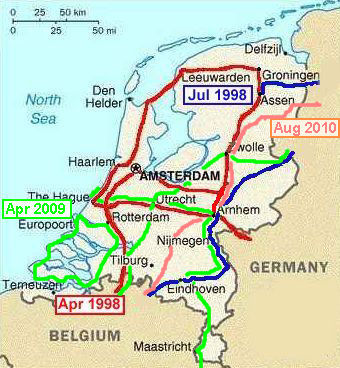 14/5/98 Just 200 km to the Netherlands and Arnhem and starting to get excited about our return to Australia, but kept busy with a total repack of the motorcycle and what to leave and what to take home. A pressure wash to get the salt, from Austrian roads, off the motorcycle, a change of oils ready for storage and we are ready.
15/5/98 Into storage, on an army base, inside a locked building within a locked building, last minute disconnection of the battery, anti moisture spray on nuts and bolts loosening of brake disc pads to prevent rusting and sticking to the disc and a final soft wash before saying goodbye.
16/5/98 After 534 days on the road total and its back home again. We hope. After planning to be at the airport more than 2 hours before the plane departs, our train was held up by a gas leak. After much discussion by the guards we were bussed, along with 50 other passengers, to the airport arriving less than 1 hour before departure only to be told that the plane was delayed by 2 hours. Great start to a 24 hour flight home. About a week ago we had thoughts of only staying in Australia for two months and not the 6 months we had previously planned. Then we would be back in Europe to enjoy the end of summer.

You can either move onto planning the fourth trip or onto the first country of the next trip Netherlands .