Travel Through Nepal on a Harley-Davidson
By Peter & Kay Forwood
Nepal on a Harley (27/3/07 - 13/5/07)
Distance 1527 km (490828 km to 492355 km)
This is part of the thirteenth section of our around the world trip.
Complete Trip Overview & Map
Coming from India or read our previous visit to Nepal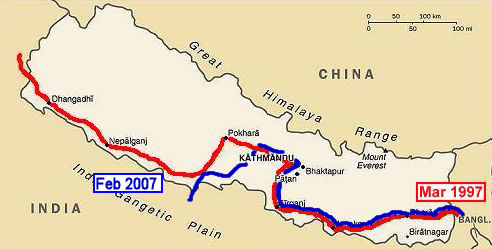 27/3/07 Another warm welcoming from the Nepalese Authorities but unfortunately they have a strange visa policy. On a second entry to the country in the same year, they will only give a 30 day visa, not the normal 60 days, despite us only having stayed 6 days on our previous visit. This cost $US 30.00, however if we had stayed a minimum of 15 days previously we would have received a free 30 day visa? A little awkward as we want to stay longer than 30 days, but if we again leave the country, for at least one night, we will receive a free 30 day visa on our re-entry, this year. I don't know who dreams up these complicated visa rules. Customs was easier, accepting the carnet, even though they are not a signatory to the agreement. We moved onto Lumbini for the night.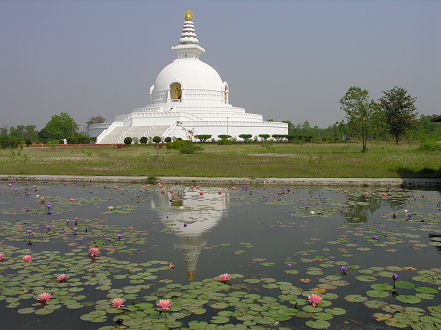 28/3/07 Lumbini is effectively the end of our Buddhist trail. It was here that Buddha was born about 2500 years ago. A stone, recently uncovered, is said to mark the exact spot, in the ruins of a 3rd century BC temple, beside a pond where his mother washed before she stumbled a few steps and hanging onto the branch of a sal tree gave birth. A large site of about 3 sq/km has been set aside for development of international monasteries, stupas, pagodas and temples to honour the birth. A recent interest has about ten new buildings under construction from Buddhist societies around the world. Some are enormous structures like the Japanese World Peace Pagoda or the lavish German Lotus Stupa, or the Chinese Monastery. We hired a couple of bicycles to tour the vehicle free grounds, and were again charged a different fee for foreigners, compared with locals, to enter the site of Buddha's birth. Amazingly western photos are also somehow different from local's photos as western cameras are charged five times the local's price. We voiced our displeasure with this ridiculous two priced situation, to such an important international site,
where almost all development money has come from foreign donors, only to be insulted by being charged a discriminatory entrance fee, to little effect, to an uncaring official who had obviously had many similar such complaints. An interesting aside was watching about a hundred vultures compete with half a dozen dogs for the carcass of a recently dead steer. The remains were stripped bare within an hour of our watching, leaving only the skeleton. It is a jailable offence to kill a cow in the Hindu Nepalese society. Cows are kept for milking and breeding, some steers are used in the fields or for carting goods but there is often a surplus. Water buffalo's are different, making it to restaurant menu's, and are often the preferred work animal on farms. The dead steer had been skinned and it's ears removed making any identification impossible.

29/3/07 Hinduism is an ancient religion, believed to be more than 3500 years old and has changed to meet different needs at different times. The one "God" has three main physical "other God" representations, Brahman, Shiva and Vishnu. Vishnu has ten incarnations, deities of earthly form, of which Buddha was incorporated as one form. Shiva has over 1000 manifestations,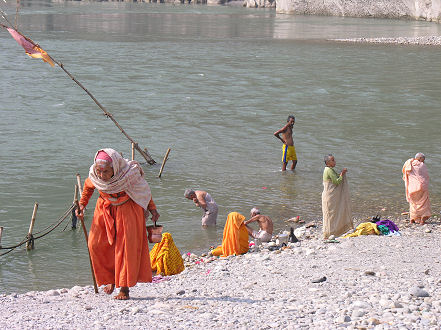 how he shows himself. Added to these there can be an associated animal, monkey, bull, and consorts. There are temples in every small town and almost every temple shows a different form or manifestation that is worshiped. It is a complicated religion to understand and follow. Hinduism is taken very seriously in Nepal and moreso at Devghat. Here two rivers meet, later flowing into the Ganges River in India, and many feel this is the most sacred place for Hindu's to die in Nepal. Old people congregate, bathe daily at the rivers confluence, waiting out the last years of their lives, and will be cremated at this confluence. A quiet, vehicle free town, accessed only by a long pedestrian suspension bridge across one of the rivers, we walked to the confluence this morning and quietly watched as the elderly ritually bathed and threw offerings of petals into the waters. Rode on to Chitwan National Park later in the day.

30/3/07 With the warmer weather the tourists numbers have thinned. We are here for peace and quiet and took a comfortable room riverside, incredibly priced at $US 6.00 a night. Sauraha, the park's support town, has suffered economically from the fighting in Nepal, not only from a decrease in tourists but also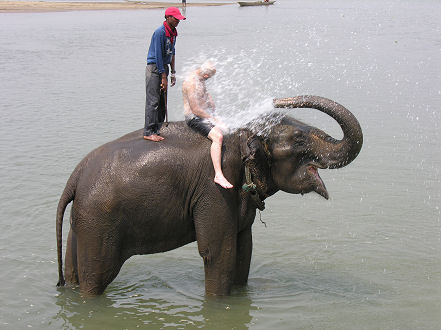 from reduced animal numbers in the park due to poaching, whilst the governments attentions have been elsewhere. Nepali tourists have increased recently as travel within their own country has become safer. There are still enough visitors to demand elephant rides, and the elephants need bathing, which happens in the river each day outside our hotel. About eight elephants, with mahouts, arrived after the morning's rides. Anyone, for the price of a donation, can help wash the elephants, getting to ride them into the water and getting a shower from it's trunk. A relaxed fun time for the elephants they seem to enjoy the excitement, screams and laughing as the tourists get drenched.

31/3/07 We had come here to rest up and actively did that today. Hardly leaving our hotel room, except for meals and a little bit of maintenance on the motorcycle we processed photos, an ongoing job as we like to caption each photo, now many more with digital cameras.

1/4/07 Kay decided she would like a bath with the elephants this morning and choosing one of the five resting in the river she found it to be a little more playful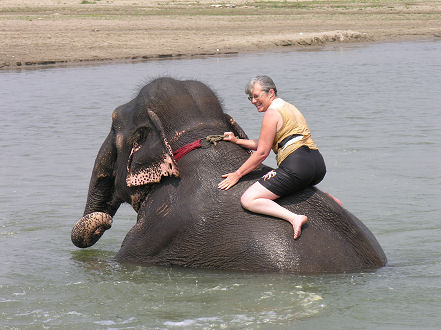 than anticipated. A young five year old, the elephant was enjoying lying in the current and was not too excited about giving a tourist a ride. Despite much encouragement from it's mahout, the elephant, each time Kay tried to climb aboard, decided to bury it's head under the water and roll over to one side, dislodging Kay. It rose onto it's front legs a few times, with Kay aboard, but left it's rear end on the river bed, to the great humour of Kay and the mahout. The young elephant seemed to be more playful than wilful in it's antics.

2/4/07 There are a number of community forests bordering the national park. Animals can wander freely between the areas but many stay in the more protected community forests, away from predators and poachers. The community has it's own rangers, watching animals and clearing weeds and undergrowth so tourists can view clearly. Almost thirty privately owned elephants use these community lands for animal watching rides. There is also a watch tower in one where we stayed the night. Walking to the tower in late afternoon we came across four rhino. The first two, a mum and small calf, are quite tame, living in the same place and being viewed by elephant riding tourists every day. The other two were more serious and our guide,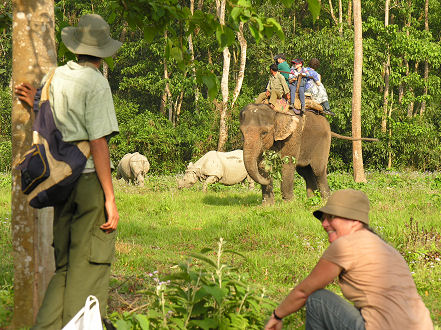 still wearing bandages from a rhino attack three weeks ago, was extremely cautious. To get to the tower we needed to be shepherded, elephants between us and the rhino, so as not to disturb them. The tower has views over a cleared part of the forest where deer and pigs come down to graze. On dusk we went for another walk, this time coming across a rhino wallowing in a drying up pool. A little disturbed by our sudden appearance he rose as if to give chase which was enough to have us moving quickly away. Rhino are short sighted and have poor hearing which means they can be approached quite closely but have a reputation for aggression, charging at anything. The night passed in the watchtower with only jungle sounds and a few distant town dogs.

3/4/07 An early start walking back to town, breakfast and off riding into the mountains towards Kathmandu. The motorcycle again overheating as we climbed up from Hetauda. Stopped roadside to let it cool and decided we need to investigate the problem further as it is likely damaging the newly built engine. With the lap top, literally on our lap, sitting by the roadside, while the motorcycle cooled, checking the workshop manual,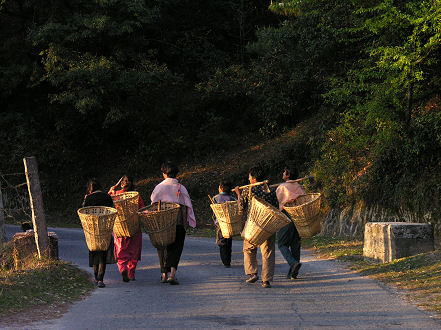 we surmised the oil pump as the likely problem. It seems there is leakage somewhere and when the oil is hot and thin insufficient pressure can be obtained and the engine runs hot. We continued on to Daman at the top of the mountain range, where an old run down two storied stone building was our accommodation. The first floor wooden balcony barely supported our weight and the rammed earthen floor was ripply from sagging beams. It was quaint and comfortable and we were left alone, the building to ourselves for the day, the owner returning in the evening.

4/4/07 The view from here to Mount Everest, less than 200km away, is supposed to be one of the best in Nepal, however the skies need to be clear and even though we were up with the sun the smoky haze prevented the mountain's appearance. We did see the peaks of some closer snow-caps above the smog on our walk to the viewing spot. A peaceful trail through a flowering rhododendron forest to a small flag draped Buddhist gompa was disturbed on its return by four busloads of Nepalis from Kathmandu on a pilgrimage to the same gompa. Excited by their adventure the loud voices echoed through the quiet hillside. In the afternoon we had the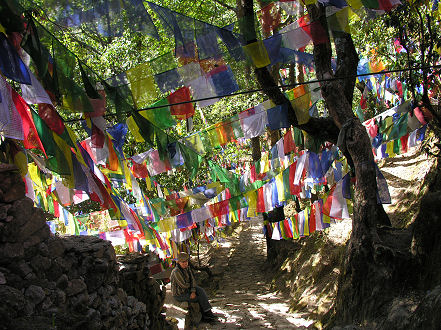 oil pump off the motorcycle. A question often asked is can we fix everything on the motorcycle. The answer, only things that have previously broken. As the oil pump has not previously needed repairs we were opening it for the first time. An oil seal looks to have hardened and along with scoring to the pump wall, likely done when we had a cam follower collapse in Russia two years ago, it seems the oil pump could be the likely oil pressure culprit.

5/4/07 The pump was reassembled, an O-ring placed on the shaft near the seal to hopefully stop oil loss between chambers and we headed off towards Kathmandu. If we had made any improvement in the pump at all, it was not very apparent, as heading up the last 20km to the city and getting stuck in a traffic jam, again we had the oil light coming on from heat and low pressure. Kathmandu has become a tourist mecca since we were here two months ago. It doesn't seem like the same place. Thousands of tourists, almost outnumbering locals in areas like Thamel, the main centre, are here. Accommodation discounts have disappeared and the number of hardened street sellers tripled.

6/4/07 Off to the Indian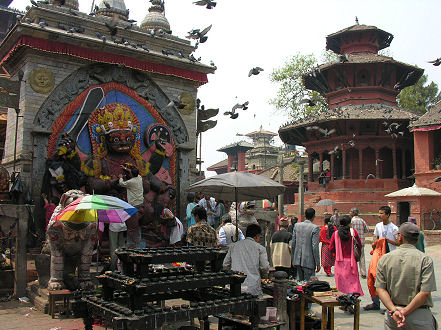 Embassy this morning, early. We had been warned of long lines and slow processing so at 6am we were at the gates only to be told the embassy was closed for the Easter holiday. Easter holiday in Nepal, a Hindu country? Easter holiday at the Indian Embassy? We emailed our son and the Harley dealer in Australia, Morgan and Wackers, to see if they had an oil pump in stock, and hopefully will have it sent to Kathmandu. Kathmandu is modern enough, or receives enough tourists, that it has a couple of wifi, wireless internet connection points, a first for us, and we used the lap top to surf the net while sitting in a comfortable restaurant most of the afternoon and evening, enjoying drinks and a meal and conversation.

7/4/07 Durbar Square is the still functioning centre of Old Kathmandu and probably it's most visited tourist attraction. There is a plethora of religious shrines here dating back to the 13th century, and likely earlier, and most are still worshipped at today, and everyday. Early morning Hindus perform Puja, the bringing of a plate, mostly flowers and grains, or burning a butter candle, to their favourite deity. There is one for almost all ailments. To help cure or prevent, small pox, leprosy, poor sight, eradicate demons,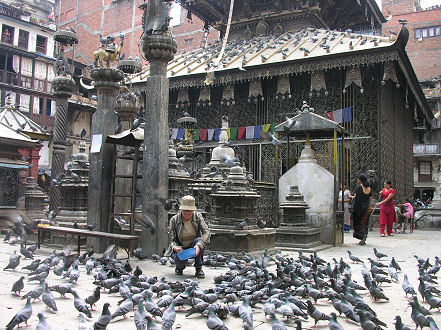 for fertility, rain making, making money, and even a large piece of wood, where if a coin is nailed into it, it is supposed to cure toothache. And just in case that doesn't cure the toothache, there are plenty of western style dentists in the area. We wandered, sat and watched the faithful go through their morning rituals and incantations before their preferred deity, wondering if the west is vastly different with it's array of saints and high church rites. The food offerings are removed by the thousands of pigeons and a few fat cows that benefit from the generosity.

8/4/07 Swayambhunath or the Monkey Temple, set on a hilltop overlooking the city was originally a Buddhist centre but today with Buddhism incorporated into the Hindu religion it is visited by more Hindu faithfuls than Buddhists. A long stairway leads up to the large stupa and it's surrounding temples, where dozens of fat monkeys collect the offerings to the gods made by the faithful. Another place to people watch, both tourists and locals. If the world stopped watching each other or being interested in each other's lives little would be learnt, but more would be done. Unlike at Durbar Square the souvenir sellers here have learnt that
tourists don't want to be pestered by them. They seem to understand tourists like to shop unpressured, and will ultimately buy more. Kathmandu is one of the world's hardest sell places, from cycle rickshaws to tatty dressed women with babies at hip begging, they interrupt to get attention, cut people off by walking or standing in front of them, tug onto their shirt sleeve, refuse to take no for an answer, even if it is repeated many times. It is the burden of the haves and the weapon of the have nots, guilt, a weapon that works well with polite new western tourists who have often seen poverty on television and are now fronted with it for the first time. In all our travels we have not found a universal way to easily and politely deter beggars and touts. We have tried to ignore them, say no once, repeat the no, occasionally raise our voice, shrug our shoulders, look them in the eye, avoid eye contact, but they are experts at their job and often have the added incentive that comes with hunger, their persistence levels can be greater than most people's tolerance levels. What really amazes me is do they feel by pestering more, people are more likely to give a donation, buy from them, or use their services, when by the time they have become annoying they are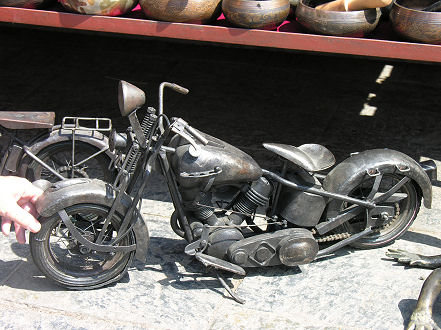 likely the last person most people would think of dealing with. This also is their power. A beggar can annoy someone far beyond what would be tolerated from anyone else. Few would side with a foreigner who raises his voice, or threatens a local beggar, no matter how obnoxious or rude they became.

9/4/07 Our Indian visa expires before we will be leaving the region. We were again at the embassy early but it was near 1pm before we had seen an official. A couple of hundred foreigners were being processed before us by the two Indian agents allocated to the task. Before anyone can even apply it is necessary for the embassy here to telex the Indian Embassy in your home country, for permission for this embassy to issue the visa. It took the morning waiting for our turn to fill in the form and pay the telex fee. If they have received an answer to the telex, in three day's time, we can again line up and submit the visa application, which could be processed the same day. An American who had waited a week was submitting another telex, no reply to the first one. This process is the improved version. Our guide book talks of the previous system where people started lining up at 4am as there were a limited number of applications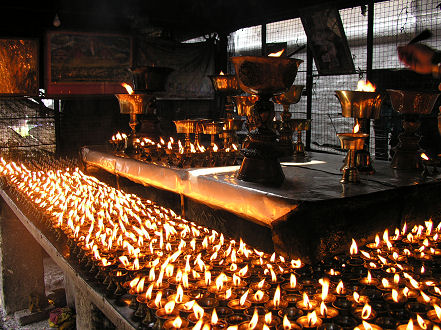 seen each day, and a surplus of applicants.

10/4/07 Another visa run. This time to the Pakistan Embassy. A little more personal and immediate than yesterday's wait. Pakistan requires a letter from the applicant's embassy, due to tension in the country, and the Australian Embassy here issued ours on the spot. Collect the visa in two day's time. Nepal has some great rafting rivers. We canvassed a couple of tour operators and settled on a four day kayaking course and a ten day raft trip two weeks later. Whilst tourist numbers are up 30% on last year they are coming off a low base and many tour operators still aren't getting enough people to run tours.

11/4/07 Bodhnath is where many Tibetan refugees settled after fleeing Chinese communists in the late 1950's. Since then a number of monasteries have been built in the area surrounding the main stupa which dates back over a thousand years. We listened to the cymbal clanging, drum banging, trumpet blowing and chanting typical to a Tibetan gompa. Later in the day we walked to the main Hindu burial cremation ghats and holy site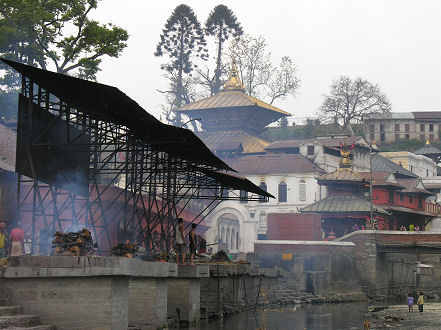 at Pashupatinath where like in India people are cremated on an open wood fire, their ashes then washed into the sacred river.

12/4/07 Almost all of Nepal's taxis are small Suzuki, 800cc models. Petrol is by far their major expense and a careful driver can save more than his daily wages in petrol. Just 2-3 litres is a day's pay. This results in a different driving style as the engine is turned off at the shortest stopping of traffic. The neutral gear is engaged to let the car roll on any downhill and running in a higher gear than normal are all methods the drivers use. Empty taxis rarely drive past looking for a fare and passengers need to seek out where they are parked. We caught a taxi back to the Indian Embassy after easily collecting our Pakistan visa. Unfortunately no reply had been received to the telex for my Indian visa application. Kay could have a multiple entry visa, her telex was answered, but I could only have a double entry visa. As we need three entries another telex had to be sent to Australia, a reminder to that Indian Embassy that we need a reply. The general comment from others waiting, "This Is India", which seems to explain away any lack of efficiency, logic or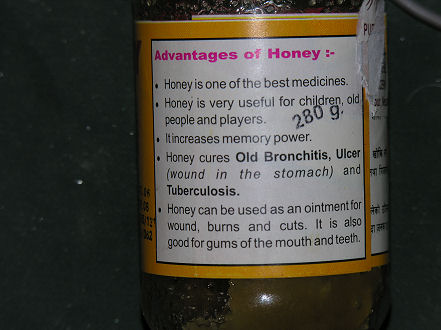 reasoning as to how things happen, or don't happen in India. We can return again, line up again, mid next week, to see if the Indian Embassy in Australia has replied to the telex. I have had sore gums for the last couple of months and decide to see a dentist. The one recommended by a western hotel was basic. The dentist advising me that there are no regulations relating to dentists in Nepal and that most are staffed by, at best, a technician, not a qualified dentist. Looking further into a country of few regulations we read the label of a jar of honey which purports to cure anything from bronchitis to tuberculosis. It can increase memory power and is useful for "players"?

13/4/07 Different countries have different new year dates and Nepal's is April 14th making today New Year's Eve. The country has a festive feel. People after ten years of fighting have started to realise they can move about their own country freely, without fear and can again enjoy life. Many places have been attracting more local tourists than internationals after the Maoists were recently incorporated into the government. Thamel, normally the international tourist centre in Kathmandu was tonight given over to young local men, some young women, for New Year celebrations.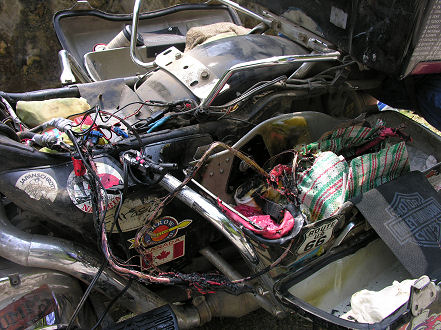 Western boom boom dance music penetrated every hotel room and we almost slept, with earplugs.

14/4/07 The roads out of Kathmandu were packed with holiday makers. Not many private cars, petrol is too expensive, but bus loads of holiday celebrators heading for rural riverside spots and dozens of motorcyclists carried their girlfriends for an outing. We headed towards the Chinese border to the north when the motorcycle stopped running. On pulling over a fire was burning under the seat. It then erupted inside the left pannier, luckily in its early stages, we doused it with our drinking water but not before it had singed a number of pannier contents. We carry the motorcycle's battery in the pannier as genuine HD batteries are not usually available, those batteries that are available are too large to fit in the allocated spot. The positive lead, running under the seat, had shorted to the frame and totally melted all it's coating rubber, catching fire, and finally melting through the copper cable. Our concern was what damage had it done to the motorcycle's electrics or the battery. Amazingly when we had cleaned up the mess and reconnected the battery it started the motorcycle. Covering the now bare cables with inner tube strips and electrical tape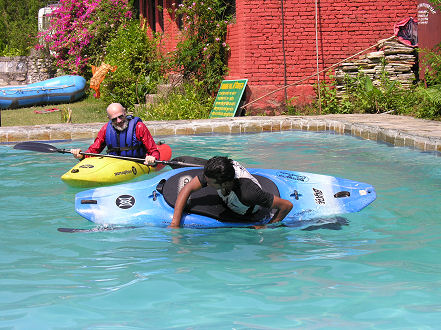 had us continuing into the mountains.

15/4/07 The Bhote Kosi river is one of Nepal's favourite short trip river rafting rivers. We are at a tented campsite riverside where I am to learn kayaking while Kay was here to relax but the operators offered for us both to join today's rafting trip. So after an hour in the pool with the kayak, practising paddling, rescues and rollovers we headed for the river rafting. The river is currently low, relying only on snow melt for volume as the monsoon rains don't arrive till June. We have both rafted before, many years ago, and mixed in with the younger crowd of travellers. The low river made the going easy with a few exciting rapids, where Kay managed to get flicked out of the raft near the top of the biggest one. Falling backwards and caught underneath the raft for a few seconds she surfaced confused and continued to bob, carried with the fast current, till a rescue kayaker pushed her towards the raft for an unceremonious rejoining whilst we were still manoeuvring through the long set of rapids. Whilst one other passenger had been flipped out during the day Kay's was the most spectacular and warranted great conversation over dinner as all the rafters stay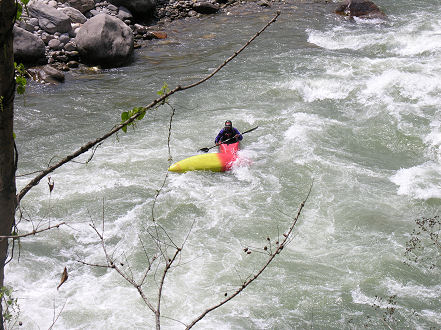 the night at the camp and hit a more difficult section of the river tomorrow.

16/4/07 Kay had again been invited to join the rafters but had wrenched her hand a bit yesterday and it was swollen and quite sore. It was necessary for me to get seriously into the kayaking course. Another session in the pool with a number of eskimo roll attempts and a few successes before we hit the river. I am the only student, receiving one on one instruction, which is great, but a bit "full on" as there is little rest between lessons. A couple of practice rolls in the river and an unplanned self rescue where being caught upside down, it was necessary to escape the kayak. The afternoon had us down river, popping through small white water where again I went over and ended up drifting for half a kilometre before the river was quiet enough to escape to the bank. We caught a public bus, kayak and us riding on the roof, during a thunderstorm, back to the campground. The day and I were finished by 3pm. Totally exhausted I was wondering if mid fifties was a little bit late to be learning to kayak for the first time.

17/4/07 A pool session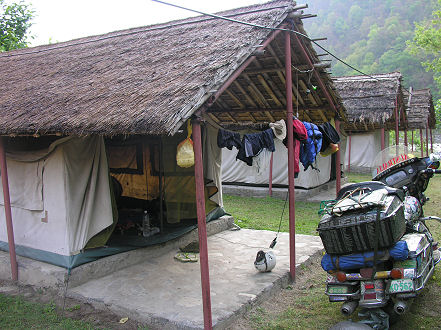 with more successful eskimo rolls and feeling comfortable we again hit the lower river, travelling six km's. There are no rafters or kayakers here today so the riverside is ours alone. A few more practice eskimo rolls in the swirling river waters and a few hard paddling exercises. Flipped over accidentally in one rapid and after unsuccessfully trying to roll back upright on my own I needed a T-rescue. Whilst drifting upside down the instructor places his kayak in a position for me to use it as leverage to roll upright. Much better than a self rescue, which involves leaving the kayak and bobbing in the rapids. Being the only student progress moves at my energy levels so we had this afternoon off, enjoying the riverside camp.

18/4/07 The last day and effectively the exam. A three km stretch upriver with one grade three rapid, three grade two and four ungraded, but for beginners, still difficult whitewater. The first two rapids went well and we walked to look at the grade three to select a line. Almost through and I caught a wave sideways and was over, an attempted unsuccessful roll and I was again swimming having escaped the kayak. Two rapids later and again I was upside down but this time the eskimo roll worked,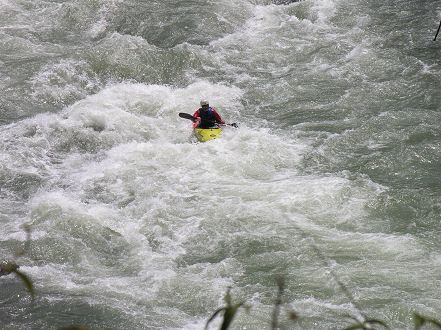 on the second attempt, and we finished without further adrenaline. Less than two hours on the river this morning and again I was exhausted but pleased with the results. A celebratory couple of cold beers in the evening rounded off our stay here.

19/4/07 Back to Kathmandu and straight to the lines at the Indian Embassy in the morning where we were promised multiple entry visas and collected them late afternoon. The new oil pump, sent by our son from Australia, was at the hotel when we arrived along with gaskets and seals. While surfing the internet at another hotel, Tracy, who I used to work with in our home town in Australia 15 years ago, recognised us and with her partner, Steve, we went out to dinner at a rooftop restaurant. It is only the second time, while we have been travelling, that we have met someone we knew from our home town.

20/4/07 Early start to fit the new oil pump in the hotel parking lot. We also had the cam area apart to fit new breather gear, also damaged by pieces of metal from the lifter collapse in Russia two years ago. The job seemed to go well and we found some fluff material in the old pump that might have been
partially blocking one of the oil lines but a new pump at almost half a million km's is probably necessary. We won't know if this solves the low oil pressure problem until the motorcycle is run for a couple of hours, tomorrow. We joined Tracy and Steve again for dinner. They are here for a trek to Everest Base Camp, starting tomorrow and spent the day looking around Kathmandu's sights.

21/4/07 Left Kathmandu for Pokhara. The traffic still slow and petrol is again not available due to a transport strike. Luckily we bought some two days ago. The new oil pump doesn't seem to be overcoming the low oil pressure problem when the motorcycle is hot. The pressure is slightly better but only due to lack of wear in the new unit, so it appears the pump has not been the cause of the problem.

22/4/07 Pokhara is situated next to a lake flanked by a snow-capped mountain range nearby where trekkers head into the Annapurnas. Lakeside has grown enormously in the last ten years with restaurants, bars, kayaking, rafting and paragliding adding to the trekking entertainment. Almost traffic free compared to Kathmandu it is a relaxed quiet place.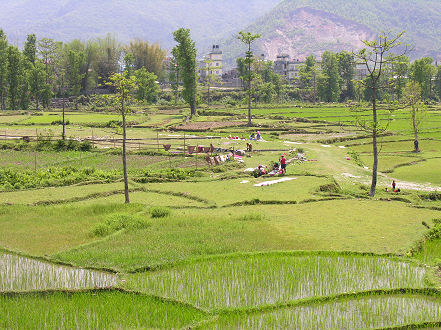 We had a full day starting with a row boat across the lake to the walking trail up to the peace pagoda on top of a hill. Back down through a sal forest where local women were out with their baskets collecting firewood and leaves, for their goats. We managed to extend our one month visa to Nepal at the immigration office, $US 30.00, just half an hour and were back at our accommodation before an afternoon thunderstorm dumped a white coating of hail in the garden, stripping plants of their leaves. Afternoon thunderstorms are a feature of the area at this time of year. Situated with nearby mountains and the lake the clouds start forming mid afternoon and dump heavy rain, or hail, early evening, emptying the streets of shoppers.

23/4/07 Pokhara has a motorcycle ethos. They can be rented by tourists and are the main form of local transport. Backpackers often bring Enfields from India and hang out here for weeks, or months, sometimes settling in the region with a local partner. It is the first time in a while where people have heard of Harley-Davidson. Having never seen one, other than in movies or photos, our motorcycle attracts more attention than we seek. Out for a morning ride to Sarangkot where the mountain views were clear after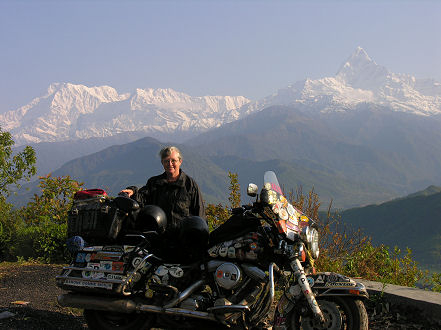 the last couple of days rain. Still looking for a reason the motorcycle is running hot we removed the cylinder rocker covers to check oil flow in that area and to make sure we had not incorrectly assembled any parts after the rebuild. Almost hoping to find a problem, we were disappointed, everything looked normal, at least as normal at two untrained backyard mechanics could figure.

24/4/07 Someone once said you should rest on the seventh day. I guess today was the seventh day.

25/4/07 We are really just waiting for the start of our ten day rafting trip down the Karnali River starting on the 28th near the Indian border. The handlebars on the motorcycle have been slipping recently and despite tightening them a few times they keep loosening again. We cleaned and roughened up the clamps for better binding. A considerable job as the handlebars are under the fairing and beneath the radio, both of which need to be removed. Pokhara has many Israeli backpackers. After compulsory military service, starting when they are about 19 years old, three years for men and two for women, they want a cheap holiday to unwind and like other nationals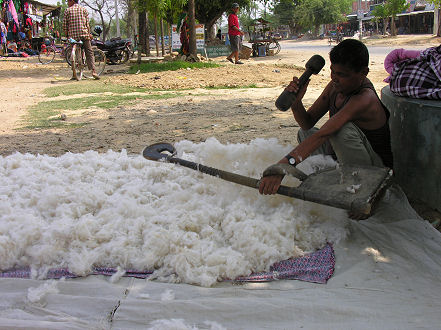 congregating in different parts of the world, Israeli's seem to like Nepal, and Pokhara in particular. They generally mix only with other Israeli's, groups eating in restaurants and moving about town, going rafting or trekking. About half the young backpackers in Pokhara at the moment are Israeli's.

26/4/07 Since digital photography we are now keeping about five photo's a day where previously the cost of print photos had kept it to one or two a day. Too many travellers and ex-travellers we have met never catalogue nor look back over their photos, ending up with boxes or hard drives full of unused memories. Our lap top screen saver randomly goes through our photo library, reminding us of previous events. Each photo is captioned with the country, date and event making it a great memory jog, particularly the older ones, eleven years ago, which if not viewed occasionally fade from memory. The long term aim is to replace a wall painting, in our house, when and if we return to sedentary life, with a flat screen that randomly shows the photos. An ever varying wall hanging. Sometimes we get a bit behind in the cataloguing, today we caught up, staying most of the day in the hotel room.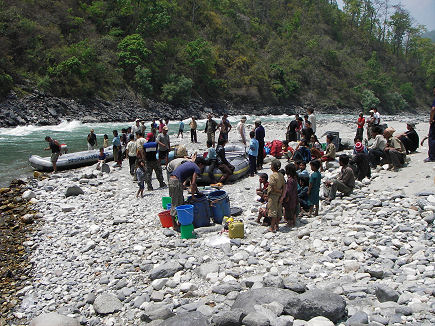 27/4/07 Finally had to leave the tourist enclave and quiet streets of Pokhara and out along the great sceneried mountain road down onto the Terai, the flatlands bordering India. Here with temperature increasing rapidly to very high 30's we knew summer was pounding in. Morgan and Wackers, the Harley dealer in Brisbane, by long distance email diagnosis, suggested we look at the motorcycle's timing, amongst other suggestions, to help reduce the overheating problem. Normally set with a timing light we have had to guess it's correct setting. I had mistakenly thought that retarding the timing would help the engine to cool where actually I now found out that it makes the motor run hotter and advancing the timing, whilst increasing the possibility of knocking (pinging) makes it run cooler. So before heading out we advanced the timing, just a millimetre of adjustment. This certainly helped a bit with cooling but increased pinging slightly. It now looks like it might be, and still is a combination of factors, including poor quality petrol and a newly rebuilt tighter engine. Whilst it is still heating up after idling for some time and riding long uphill it has hopefully
become a more manageable heat. The Terai is where most of Nepal's continuing problems exist. There was a road block, a protest or strike, closing the road to the west till 6pm. All cars, buses and trucks were lined up waiting. Passengers were being ferried the 20km between military security by bicycle rickshaws. Luckily motorcycles were also being allowed to pass and cautiously we rode, being stopped by a line of rocks across the road midway. We were politely waved around and continued, thankful we did not have to wait till 6pm and stayed in Kohalpur, and about 400km for the day.

28/4/07 Wim and Petra, riding bicycles from Europe, and who we had first met in Iran, are also doing the rafting trip. We had arranged to meet at a local hotel, where we can store their bikes and our motorcycle for the eight days of rafting. Not having met for three months, they having given up bicycling in exchange for buying Indian Enfield motorcycles whilst in India, but were now back on their bicycles. We had plenty of catching up with lots of stories. The rafting bus arrived at 8pm with just three other rafters, an Australian, a Brit and a Canadian, all males. We had been told there were to be a total of 15 on the trip, perhaps just a sales pitch, the official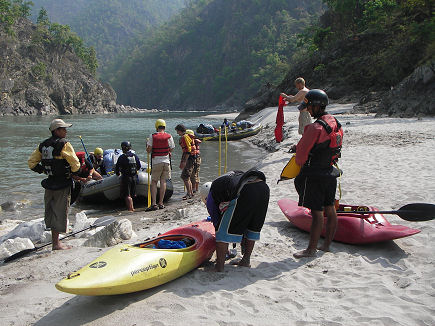 line was the rest of the group got sick? There were also five staff, a good ratio for the seven rafters. After introductions everyone stayed at the hotel for the night.

29/4/07 A 5am start towards the Karnali River with the old Indian made Tata bus rattling along the road to Surkhet. Two years ago this was as far as the road went. Rafters then had to hire porters and do a two day trek to the river but as roads reach out to smaller and smaller settlements in the hills our off road bus can now get right to the river. After some discussion with local villagers, trying to insist we take their bus for the remainder of the journey, we were allowed to proceed along the winding track of a road, three hours to the river. Cut into the steep mountains were rice terraces, their vertical walls often higher than the horizontal growing area, we counted more than two hundred stepping up one hillside. Locals were at a funeral, at the confluence of two rivers, when we arrived and many migrated to watch us prepare the rafts, pumping them up before eating a late lunch. With two rafts, one for most of the gear and the other one for the passengers, plus three safety kayakers, we headed down river for just half an hour, after brief rafting instruction, and set up camp for a
relaxing afternoon.

30/4/07 The cool riverside camp was pleasant after our previous night's hot hotel. With just two candle power for evening light and torches we had gone to bed early and were up at daylight, 5am. The river temperature is still a cold 20 degrees coming mostly from snow melt. The river height is now at its lowest, rising within the next few weeks as thunderstorms precede the monsoon rains until it is too dangerous to raft in less than a month's time. Rafting will not then be possible until October when water levels again fall, making it a short season for rafting companies. Being Nepal's largest river there is still plenty of water and after enjoying the cool morning we were on the river at 9.30am and wet almost instantly as the first set of rapids drenched the raft. With our personal camping gear strapped to the centre, plus eight passengers, we are a sluggish raft, ploughing through the rapids rather than bouncing over them. Today is billed as a get ready day. Some exciting rapids but with bigger ones over the next two days. Our team started to mesh together by afternoon and were responding quicker to the guide's instructions. Positions in the raft were
rotated, giving everyone a chance at the more exciting and demanding front seats. The river moved continually so other than manoeuvring there was no hard paddling. On longer drift sections we left the raft to swim, floating and cooling off. There were a couple of troops of monkeys along the bank and some hardy humans grazing a few goats or cattle. Our crew, like most Nepalis, enjoy a bit of fun and splashing and throwing people overboard became part of the trip. At the camp by 2pm, relaxed, reading books, and playing cards into the evening.

1/5/07 The riverside is dotted by occasional villages, usually just a one family unit, trying to survive on a little rice growing and a few animals. Fishing is also a good source of protein. They use dug out canoes, a tree felled that is hollowed out, to cross the river, although there are an increasing number of safer suspension bridges spanning it. Our routine has now been established with hot water for coffee at 7am, cooked breakfast at 8am, all gear to the rafts at 9am and a 9.30 departure. Sounds regimented but the times are flexible with the rafters usually ready to get underway earlier. Meals are laid out on a couple of boards and we sit on the sandy beach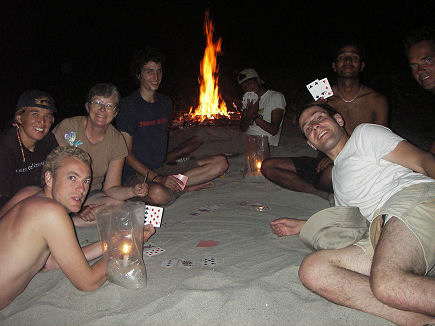 to eat. A toilet is dug each night in the sand, a small tarp for privacy, filled in the next morning and the paper burnt. Nothing is left on river, all rubbish is removed and hygiene is good. Water is drawn from the river for drinking, cooking and washing vegetables, iodine purified or boiled. The rapid size and difficulty increased today. We walked to look at three sets to survey a route which changes each trip depending on the river level. Some rapids are more difficult in low water as now exposed rocks need to be manoeuvred around whilst others are more difficult in high water as large standing or breaking waves can capture the raft. The major concern is flipping, usually after getting caught in a hole. There was a little nervous tense apprehension between a couple of the paddlers leading up to one rapid which soon passed afterwards. Two of these rapids went as planned but the third, where we had to negotiate between two rocks had us missing the line, running into one rock, spinning and proceeding backwards with us almost falling into an enormous hole. Afterwards we again cooled down from the high 30's temperature out of the water to the cold 20 degree river by floating through small rapids.

2/5/07 With three safety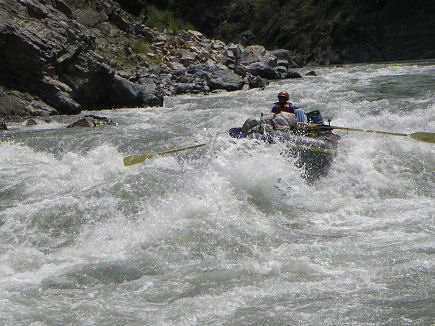 kayakers we can enjoy the luxury of having one take photos at some interesting rapids. We brought Kay's smaller waterproof camera, good to just 1.5 metres depth, but enough to keep out the sand and rafting spray. The rafters, a little more relaxed today, tensions a little eased, quieter from tiredness rather than nerves. It had rained overnight upriver, just a few drops on us, but the water was still blue green and at the same level. Probably the most exciting day, a couple of class 4 and many class 3 rapids with an almost continuous drop and only short rests between. It is a full moon, today is Buddha's birthday so for a bit of celebration, getting through all the more difficult rapids without flipping the raft or popcorning anyone, (falling out of the raft), although Charlie, the Brit, went incredibly close, we had bought 5 litres of the local rice alcohol from a small riverside settlement. Distilled to about 40% and almost tasteless, the locals like it straight, but westerners prefer it with a couple of herbs, lemon, some floating pieces of apple, like a punch, this is how we drank it in the evening. We also stopped to buy some local chickens. After negotiating the price they had to be caught, chasing them around the settlement until six were inside a bamboo basket. Tied onto our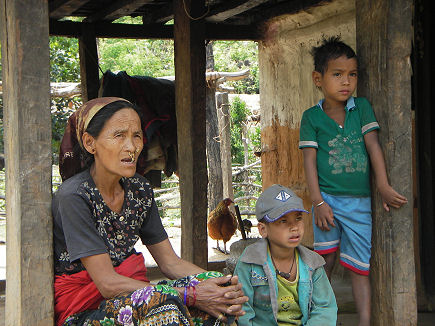 provisions raft they enjoyed the next few sets of rapids before becoming curried for the celebrations. Scott, the other Australian, built a fishing pole, and each morning tries his luck, one edible fish was caught the first day, a couple of bites and as is often the case the big one was almost landed but survived. Another beautiful sandy beach camp.

3/5/07 The water from the thunderstorm two nights ago had arrived this morning, raising the river level by 15cm and turned it brown. Kynan the Canadian, had also recently done a kayak course and today, with the difficult rapids behind us, we left the raft to try kayaking. The others had an opportunity to try their hand at rowing the gear raft, controlling our raft, fishing as we drifted or just relaxing looking at the scenery, while the staff almost slept they were so relaxed. The Seti River joined us before lunch swelling waters more and the narrow gorge between mountains, that we have had the last few days, started to widen but with the larger volume it was still deep and fast flowing. The rapids were exciting enough for my level of kayaking and the deep swirling waters flipping the kayak over at the bottom of one set. After an attempted roll, unsuccessful in the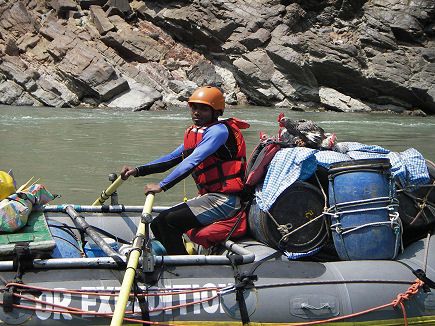 strong swirling water I exited the kayak and was towed ashore. We tried to buy fish for dinner from one village, as they only had a massive 26kg cat fish, too big for our needs, it was vegetarian tonight. Charlie and Scott had a kayak lesson at the campsite in late afternoon but it is difficult to try learning in this river. Smoke filled the afternoon air with locals burning leaves and undergrowth before the monsoon rains and small fires dotted the hills lighting up the night sky.

4/5/07 Quite exhausted from yesterday's all day kayaking I decided to join Kay on the slow but steady drift of the raft watching the small village life where children run to the river bank waving as we pass by. We have not heard any mechanical noise since the first day on the river showing how simple the lives of these people are. Thunderstorms started to build soon after lunch and by the time we reached campsite it was raining and cooling the air nicely for an evening campfire. The river had widened to a gravely bottom, it's banks of conglomerate rock carved by monsoon floods. The crew, constantly happy, young and enthusiastic, spent much of the drift time in "horseplay".

5/5/07 We are all feeling the end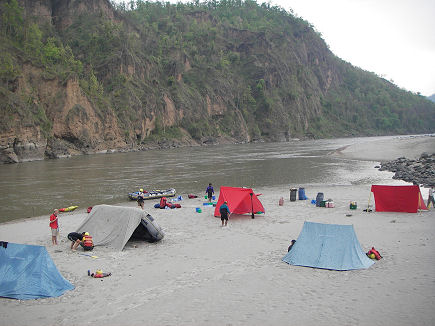 of a trip no-one wants to end. I was back in the kayak for a long morning as we decided to set up camp by lunch time, just an hour short of our take out spot tomorrow. The river is still growing in size. The Bheri River joined the Karnali this morning, and whilst there are only a few low grade rapids the sheer volume of water, viewed from my kayak is daunting. It was Ramesh's birthday, one of the crew, and the cook managed to bake a cake and again we had rakshi, the local alcohol for an evening celebration.

6/5/07 A large Japanese built suspension bridge crosses the river where we leave it and gave opportunity for last photos. The hard work of carrying all the gear, including rafts up the bank to the road began, but the bus was nowhere to be seen. Another demonstration protest road block was delaying it just 23km away. Landless people, supported by the Maoists, had been blocking the road for the last three days preventing all vehicle movement through the west of Nepal, a couple of government buildings had been burnt and the situation was reportedly tense. We waited over an early lunch pondering what to do when a 4x4 flying the red and white Maoist flag pulled up advising the road had been opened. Our bus arrived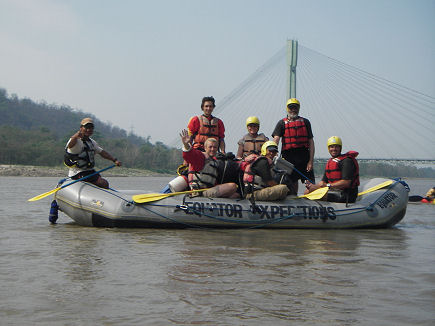 soon after and we quickly loaded and left fearing the road may again be closed. Back at the hotel in Kohalpur we said our goodbye's and were reunited with the motorcycle.

7/5/07 We had arranged to meet up with four of the rafters at Bardia National Park to exchange photos. It was lunch time when we arrived, the road was still open but large river rocks blocked one lane and it could be easily closed again. Bardia has not been receiving many tourists as it is situated in a strong Maoist region. Since the Maoists have been recently accepted as part of the official government, tourist numbers have been slowly increasing. The Karnali breaks up into a delta of rivers running into the park and we were taken down to an area where elephants are kept and bred for ranger patrolling of the wildlife and tourist rides. A small orphaned baby elephant is currently the highlight. With his human handling he revels in being bathed and patted and tests his strength by pushing people about.

8/5/07 It is the first opportunity we have had to relax since starting the rafting and catching up with jobs. We are staying in an elephant grass and mud walled hut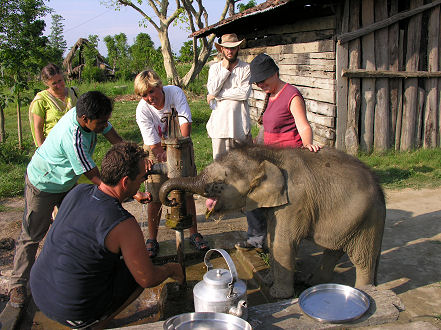 with grass roof. Much of the accommodation here is of the local built variety, cooler in the night than concrete structures. It is Wim's birthday, a pan"cake" with candles, some more locally brewed rice wine and rice moonshine, a good group of friends.

9/5/07 The Karnali, after our rafting pull-out bridge two days ago, breaks up into a braided river as it levels out, depositing silt and rocks onto the plains. It breaks up into many branches as it flows through Bardia National Park. We were again back on the river, this time in a small raft, seven of us plus two park guides, looking for wildlife, drifting slowly, weaving between islands. At one stop, the guide spotted a lone bull elephant, close enough to create caution. He sensed us and took on a defensive stance and we backed away. Few other animals were seen as a thunderstorm swept through dumping us with cold rain till we took refuge in a watch tower for lunch, drenched. At another watch tower three rhino were seen at a long distance along with deer. Despite the rain it was a great day, but the high river bank sometimes blocked out longer distance views where animals might have been spotted.

10/5/07 Two friends tried to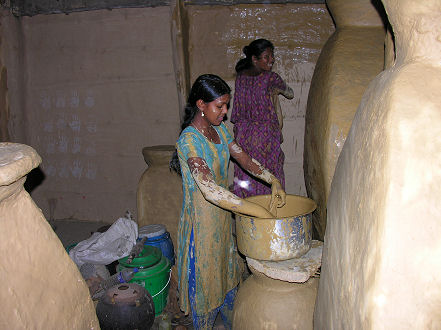 leave the national park today but another road block, or the same one, doesn't seem to matter, prevented them from doing so until late in the afternoon. Today's protest seems to be against the government's handling of the AIDS problem. No vehicles are moving towards the East. Armed with a detailed email from Morgan and Wacker's head mechanic of possible causes for the motorcycle's overheating we again started investigating. Exhaust leaks, timing, fuel too lean, possible incorrect gasket, blocked lifter screen, oil flow blockage, all checked but nothing concrete could be identified as causing the problem. We are now at a total loss as to the cause.

11/5/07 Another email and a few more things to check on the motorcycle and we have now eliminated everything we can think to do without pulling the engine apart. It is time to just accept the problem will either go away or eventually destroy the engine. It limits us to having to stop if there is too much traffic to let the engine cool, or if going up hill for a prolonged period. We have been staying at Bardia Adventure Resort where the manager has been incredibly generous, taking us to the elephant breeding facility, even giving us a local meal for no cost. Competition here is fierce for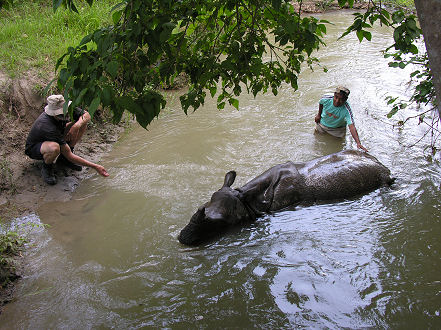 tourists. While some places try to get as much as they can by overpricing everything, others, like where we are staying, offer a few, at little cost to them, extras, so people will feel more relaxed and decide to stay longer and recommend the place. It certainly worked with us, now staying five nights.

12/5/07 Decided to stay another night, needed to do washing, well that was the excuse. The manager took us, again for free, to a couple of local village houses to see how the local people live. The elephant grass and mud walls with thatch roof contain the three or four generation family of perhaps a dozen people. Grain is kept inside, in mud containers built into the walls. The kitchen is a basic wood fire and everywhere mud dirt floor. Electricity has only been in the region for the last two years and only the more wealthy have it connected. At one house the women were freshening up the walls with a new coat of mud, they seemed to be getting almost as much on themselves as the walls and floors. We were also taken to see an orphaned rhino, now seven years old, he is almost sexually mature and needs to be locked up at night to prevent damage to the village crops however during the day he wanders about.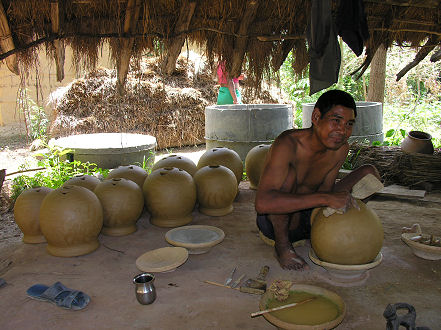 The guide and I got a little bit too close at one stage while he was having a cooling dip in a stream and incredibly agile he leapt up and faced us to show he was not happy. Not aggressive but we certainly had no doubt he wanted to be left alone.

13/5/07 Finally it becomes time to move. Not looking forward to heading back into hectic India we have procrastinated here as long as we can. Wim and Petra also left, heading in the other direction. A couple of hours to the western border and an easy crossing out of Nepal.



Move with us to India
Home