Travel Through Nepal on a Harley-Davidson
By Peter & Kay Forwood
Nepal on a Harley (8/2/07 - 14/2/07)
Distance 859 km (486634 km to 487493 km)
This is part of the thirteenth section of our around the world trip.
Complete Trip Overview & Map
Coming from India or read our previous visit to Nepal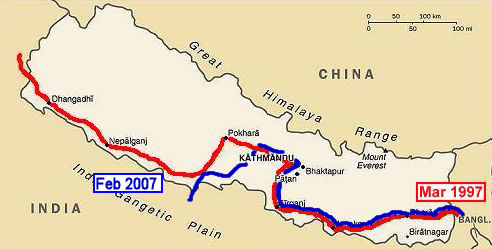 8/2/07 Already at the border we felt a more friendly peoples. The smiles, straight talking, seemingly caste-less society where businessmen work with their employees is vastly different from India. Purchased our visas, $US 30.00 each, processed the motorcycle with the carnet, and ate our first momo's, steamed pasta pockets and settled into a border hotel. There had been a general strike today closing the road onward but it should be open tomorrow. The uncertainty of the political situation and unrest in the country has been deterring tourists from visiting here for the last few years.
9/2/07 A later start with only 150 km to Chitwan National Park. The good road, with little traffic, and polite drivers, through hilly forests
a boost to the riding enjoyment after Indian congestion. Chitwan is Nepal's premier National Park but is currently receiving few tourists and we were approached by a few hotel owners for business. A two day all inclusive package, $US 40.00 each. All meals, accommodation, elephant ride, canoe trip, jungle walk, visit to the elephant breeding facility, traditional dance night and park entry too good a deal to pass up. Our package included an ox cart ride to the elephant breeding facility. It is currently the source for replacement elephants as they can no longer be taken from wild stocks. A couple of elephants were initially introduced from Burma and Thailand to broaden the gene pool and wild elephants also mate with the captive animals. As we walked amongst the baby elephants it appears the program has been a success.

10/2/07 The early morning canoe trip was in a dug out log, big enough to take our group of eight, just drifting down the river in the fog. It was followed by a three hour walk through the national park looking for animals. Unfortunately the troubles that Nepal has been experiencing have filtered down
to the wildlife. There have been more weapons in the community and some have been used for hunting at a time when the authorities have been preoccupied elsewhere. The rhino population in the park has halved over the last six years. We managed to see two large crocodiles, some monkeys and deer but the sloth bear, tiger and rhino are harder to sight close to the local populated areas. The afternoon's elephant ride was more fortunate. Two hours sitting uncomfortably was rewarded with the sighting of four one horned rhino. With the aid of the park ranger security personnel we tracked two large animals through the forest with our elephant often breaking down small trees and crossing steep sided creeks. The rhino did not seem worried by our presence on the elephant even though we were making considerable noise getting within a couple of metres of them. Two more, a mother and calf, were later sighted in open country. Spotted deer, red deer, sambar and wild boar were also seen as the animals, used to the lumbering elephants, seemed to ignore our presence.

11/2/07 We left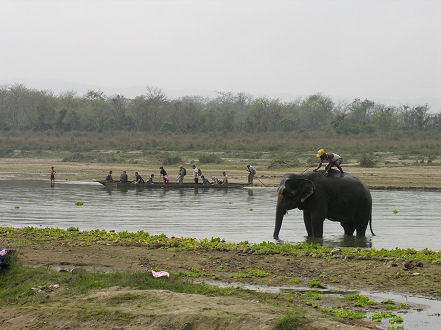 the relax of the quiet village and headed back on the road. Traffic in Nepal is much less than India but as the trucks have only just started to travel again, after the strike, there are plenty on this main artery supply road. We started looking for petrol almost immediately but at each station we received a negative. Finally at one where we found some imported oils and did an engine oil change they offered us two litres, arriving in plastic water bottles, enough to get us to Kathmandu. The road winds up through some beautiful mountain scenery alongside a snow melt river but the last 30 km it becomes steeper with gravel trucks supplying building materials chugging slowly and breaking down blocking the road. The petrol story in Kathmandu was no different. Every station was empty. Lines had formed at one where a tanker was discharging. We arrived at our hotel with nothing in the tank but a shrewd tout walked us to a station that had just received a consignment where we could get 20 litres in plastic containers.

12/2/07 Took a day off from travelling and sightseeing just to take in the main street of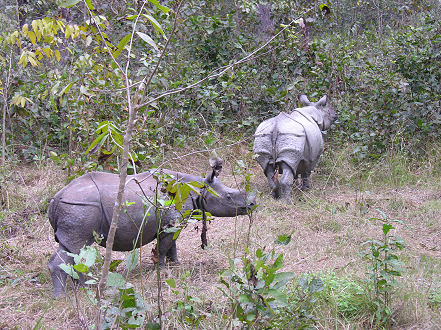 Thamel, where the tourists hang out, usually waiting before or recovering after a trek. Nepal has lost, or is losing it's prime position as the Himalayan trekking destination as the political problems, pollution and rising costs deter. The Thamel area still has all the comforts of western restaurants, German bakeries and souvenir shops for the tired trekker. It had rained yesterday afternoon and today the air was sunny and clear of haze as we relaxed in a rooftop restaurant watching the locals.

13/2/07 Still on a schedule deadline we left Kathmandu taking the mountain road south. 107 km's of magnificent scenery to Hetauda, crossing two mountain passes with snow-capped peaks on the horizon for most of the trip. Heading down after the second pass the road meanders through a cloud forest of flowering rhododendrons and holly trees covered in moss. The narrow, poorly maintained road deters trucks and leaves it almost traffic free. Petrol was still scarce but we had managed to talk one station in Kathmandu to allow us a drum of 10 litres and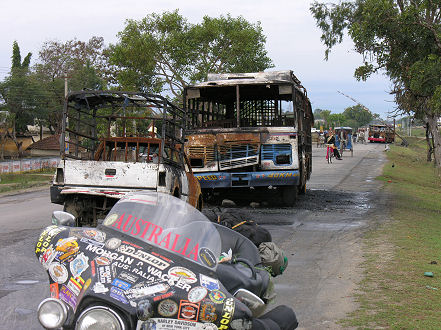 with a refill in Hetauda have enough to return to India tomorrow. Once onto the plains our speed increased. It is here that only last week 24 people were killed in an uprising. 17 were killed by police trying to control the situation, the rest by civil unrest. We passed two burnt out trucks, left in the middle of the road, where it appears they were turning around trying to escape. We stayed in a small hotel, in a now quiet region.

14/2/07 It started raining in late evening yesterday but had mostly cleared when we left this morning. The troubles of the region were again apparent, even moreso in the town of Lahan, where we counted 20 burnt out vehicles. Most were buses and trucks but a police vehicle and tractor were amongst the wrecks. Another small town had two official buildings also burnt. We stopped in Lahan for breakfast where it was now quiet and business was back to normal. By lunch time the rain had returned and stayed with us all the way to India. Leaving Nepal was relaxed and polite at the border.
Move with us to India or go to our next visit to Nepal

Home