Travel Through Namibia on a Harley-Davidson
By Peter & Kay Forwood
Namibia on a Harley (4/5/00 - 27/5/00)
Distance 4619 km (192407 km to 197026 km)
This is part of the sixth section of our around the world trip.
Complete Trip Overview & Map
Coming from South Africa or read our previous visit to Namibia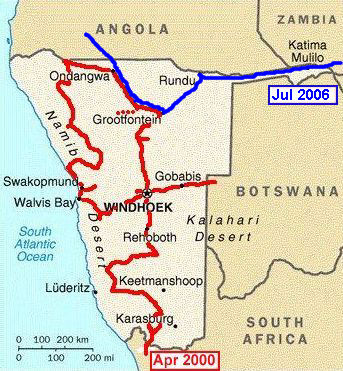 4/5/00 Back to where we were four days ago. 850 km ride into Namibia to Grunau. We have seen the road before but it's colder now. Winter seems here as we arrived on dark. The bike running better than I can remember, just purring along. Using more fuel though, maybe the valves are staying open longer with the new and tighter cam.
5/5/00 550 km (400 km of dirt roads), we finally made it to the rim of Fish River Canyon after a 3 degree centigrade ride to the edge. Big, spectacular and bright varied colours of rock meander down to the riverbed. We then chose the 707 road, it runs the path between mountains and sand dunes, sometimes they merged and mixed with the road suffering from blown sand drifts. The dirt roads of Namibia are the best in the world (at least where we have been), fine sandy gravel, regularly graded on a good base. We are travelling up to 100 km/hr on some and rarely less than 70 km/hr. Some do have a floating layer of about 2-3 cm of loose which can make the bike move around a bit but with lower air tyre pressure traction is adequate. The overflow rains from the Mozambique floods have watered this desert for the first time in seven years. Now run to seed and dried off the golden grass stalks contrast the red sand dunes and barren chocolate brown mountains giving some magnificent scenery. We were lucky enough to spot three oryx at dusk with their long horns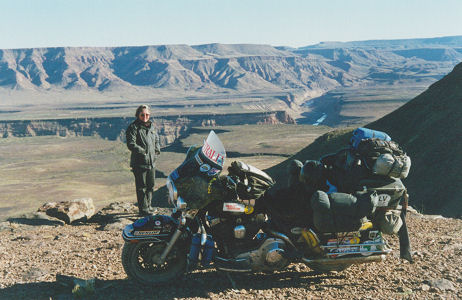 and longer tails before camping roadside and not hearing another vehicle all night.
6/5/00 550 km (200 km of dirt), Windhoek at last, some 2000 km in three days. We had been hurrying to meet Ken and Carol Duval having just missed them twice before in Addis Ababa and Nairobi and almost missing them again because of our engine problems. Never having met we had only heard of these two Aussies (and corresponded by email), on a 1981 Paris Dacca BMW, they have been travelling for over three years without returning home and just a couple of winters working in the UK. Our age, or close, we exchanged the usual travel stories that only travellers to travellers can understand. A late night, tired and with a cold attacking my energy we slept.
7/5/00 Windhoek, a quiet city on a Sunday. We are back into the high brick fences and electric wire on top. Even out in the suburbs where we are staying security is high.
8/5/00 No joy
at the Angolan Embassy. The security situation is fine, the road border is open in the west but it's 15 working days to get a visa. We fly out of Johannesburg on the 5/6 which doesn't leave enough time. I hate deadlines. That decided we thought it might be fun joining up with Ken and Carol Duval for a couple of weeks in northern Namibia. Maybe we could visit Angola next trip.
9/5/00 A visit to Daan Viljoen game park just out of Windhoek. It's a walking game park with none of the dangerous game, but with different, mainly antelope species found in the south of Africa. Kudu, gemsbok (oryx), mountain zebra, spring bok, hartebeest, warthog etc. Seen differently because we were on foot, couldn't get as close but we feel more a part of their environment, more a big game hunter or stalker. The hilly country would have been difficult to traverse by vehicle and the slow pace of walking gave plenty of time to see the smaller lizards and insects. At about 1800 meters overlooking Windhoek the air is very dry even on a partly cloudy day.
10/5/00 270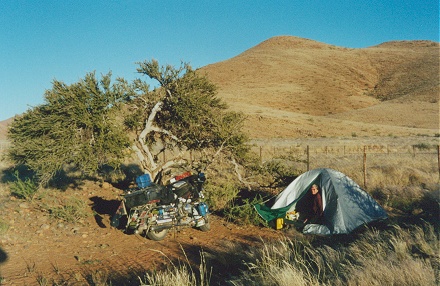 km of dirt, our first days riding with Ken and Carol. Out along the C26 which changed to the C14 at Namib-Naukluft National Park. 80 km/hr dirt gradually reducing to sandy creek beds where the freeloaders on the back of the motorcycles had to walk or push. Stopped in along the way to a cheetah research centre and game park. The hunting kind. Mainly large antelope and warthog. The Austrian owner gave us the other view of a hunting game park. Farmers try to rid their country of the competitive native animals to run more cattle. We try to increase our native animals and encourage them for better profit, much greater than cattle. Our animals run free, across boundary fences, are not domesticated, require no husbandry and have been avoiding predators forever, only the fittest have and do survive. Our campsite tonight at Mirabib in the middle of the now grassy green desert under a rock overhang.
11/5/00 The bright milky way and stars of the southern hemisphere broke to a desert sunrise. The wind rose, blowing dust, making the sandy patches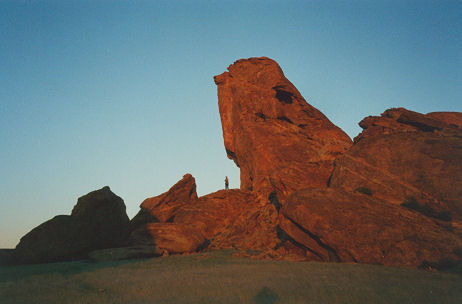 difficult to negotiate into Homeb where the Kuiseb river divides the sand dunes from the pebble plains. Dune 7, just out of Walvis Bay, rises high above the surrounding bleak desert. It's a place to challenge the dirt bikes and snow (sand) board riders. I hit it fast, managing only about a quarter of its height on the H-D getting gradually bogged the higher I went. Getting down harder than going up. Some dirt bikes have managed to top the dune.
12/5/00 Ken and Carol pack the lightest of anyone on a motorcycle we have met. Two up on their 19 yr old BMW they still manage to fit in such luxuries that we don't, even though we are packed heavier. The fold out chairs, travel fluorescent light, a hammer and even some "wet ones" for desert use. Our clumsy heavier gear antiquated compared to their compact tent and bedding. They say the west coast of Namibia is either blowing sand from the desert or blowing fog from the sea. Sand today, a true storm as we visited Swakopmund for the day. Just 20 km and one side of the chrome was polished and the paint work pitted.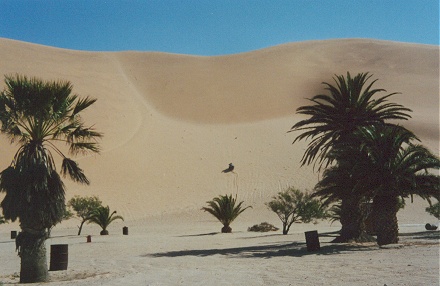 Down the back of my jeans to the crack, in the eyes and hair. Some so fine that it passes through the "no-see-em" insect mesh on the tent and as I write now the particles are clogging up the ball on the pen as they are being wafted around the tent. The wind gone in the afternoon and we visited some of the oldest plants in the world, 1500 year old welwitschias, growing in minor water courses of the desert, getting enough water from the sea fog and occasional rain to survive.
13/5/00 No change today except the morning desert sandblasting started at 4 am and as we rode out of the campground it was much worse than yesterday. North of Swakopmund the sand dunes disappeared as did the blowing sand but the desert wind and the 37 degrees temperature at 11 am made riding uncomfortable. The coast road here is made of salt. Spread on the dirt it sets hard as rock forming a great road to ride on, as good as asphalt but probably not great in the wet, if it ever rains, and definitely not great regarding rust. 11.45 am and within seconds the hot desert wind was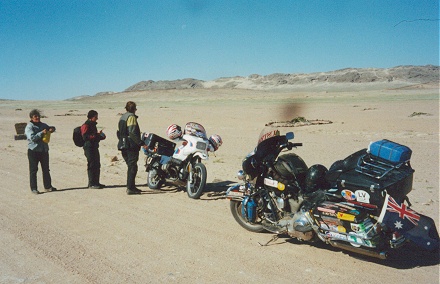 replaced by a cool ocean breeze the temperature dropping 17 degrees. Cape Cross seal colony and thousands of the sea lions. The shore and ocean looked like a packed Sydney beach on a summer holiday weekend. Seals playing in the waves and jostling for limited beach space and sunbathing areas. We chose to head north and across a minor road to Uis for the night but with all of the heavy rain in the mountains this year the gullies were awash with sand with the road disappearing in places. We were being hunted along by an enormous thunderstorm looming over Namibia's highest mountain to our left and feared flash flooding of some of the creeks in our path. Ken and Carol were making slower going in the creek beds and ended up in the storm. With the sand now wet the travelling was easier but visibility much poorer. Luckily we found hard topped accommodation as a dust storm and rain settled in over the town.
14/5/00 The dirt roads not as good as further south and with about 2000 km since we reached Namibia and 500 km to go we are all looking forward to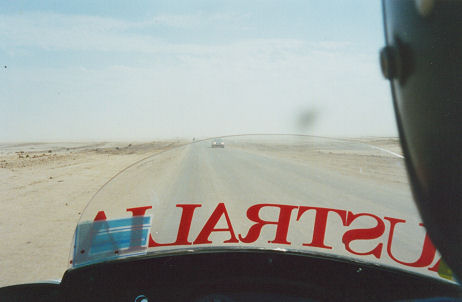 their ending. We had sheered a pannier mounting bolt yesterday and with other minor checks and repairs it was almost 10 am on departure. Regular supplies of food are limited, made worse by Sunday so it was pasta, soup and cheese mixed together for dinner. The last of each, in our camp at Twyfelfontein. We had managed to raise enthusiasm to visit a petrified forest on route, believed to be 260 million year old trees washed down from the Congo to their current location where their remains are set in stone.
15/5/00 Ken was not feeling well and this mornings breakfast only lasted 30 minutes before reappearing. While he recovered we visited the rock engravings believed to be 2-6,000 years old and done, using quartz rock on the softer sandstone by a nomadic tribes people who covered an area from the sea to the Angolan border. The art was unusual in that footprints were a big part, the base of the leg being turned into a vertical plan of the foot. Ken had mildly recovered and moved on ahead of us towards Palmwag. This area of road is where it is sometimes
possible to see the desert elephant but with the lush vegetation and plenty of water they could be scattered anywhere. The closest we got was a pile of dung, still fresh with butterflies swarming over it's wetness. Ken's last last nights dinner now reappeared up the same route as it had descended and we thought it best to stay in Palmwag for the night.
16/5/00 Rest and recovery. Abdominally settled but weakened Ken slept and we lazed at the bar and on the grass of this green oasis.
17/5/00 With Ken partially recovered we continued north spotting 11 desert giraffe in the hills. These animals are specially adapted to the desert including taking on much lighter markings than their northern cousins enabling them to blend in, in the light brown colours of the desert. Heading for Opuwo where the traditional Himba people still cover themselves in red ochre mixed with animal fats. The only clothing, an adornment of animal skins worn around the waist, bare breasts with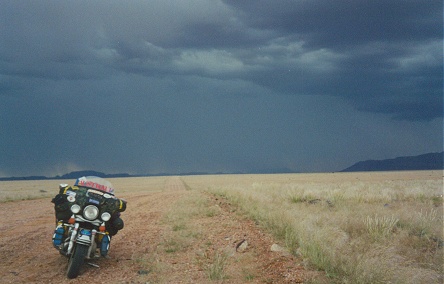 small bead and conch shell neck and bib brace. Though quite happy to pose for photos for reward some still wander the streets and supermarkets traditionally dressed oblivious to the 21st centuries ways and western culture. The 40th anniversary of SWAPO, the liberators of Namibia from colonial rule, was today. A group of drinking men let us know about midnight at our camp by mouthing off in english that they hate all whites and would never have one as a friend, that they are the cause of all of Namibia's problems past and present. Luckily their women left about 1 am and they followed.
18/5/00 Left early for a last attempt at visiting Angola. The last 150 km of Namibian dirt and we are at the border and the Ruacana Falls. We were allowed to pass through the Namibian border post to view the falls but not allowed to visit Angola. The consulate in Oshakati also refusing us a visa. All over Africa we have met US Peace Corp volunteers. Usually in isolated regions as individuals assisting in local development. Chris (whom we met in Windhoek) is an english teacher at the local school in Onathinge.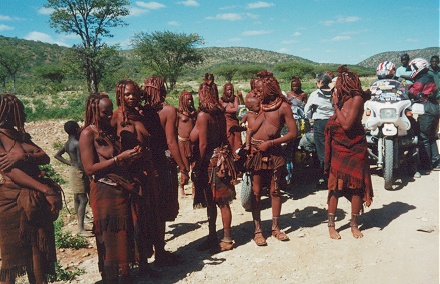 He'd invited us to visit his school and after a few drinks at the local cuca shop we set up camp in his backyard.
19/5/00 We were "show and tell". A class of about 30 students, year nines, english class. Riding into the school grounds carrying the teacher we explained to the class the reasons for the trip and the type of motorcycle we were each riding. By the time we had finished the entire school population of 600 students had stopped classes and most were gathered around the motorcycles. In the afternoon we visited another Peace Corp volunteer teacher living in a more remote village. The homestead is a compound yard surrounded by a fence of vertical sticks dug into the ground. The more traditional small round mud and grass huts gradually being replaced by larger concrete brick and tin roofed houses within these compounds. Again the mix of traditional values, beliefs and religions being mixed with western ways of convenience.
20/5/00 A ride to Tsumeb, gateway to Etosha National Park where we arranged car hire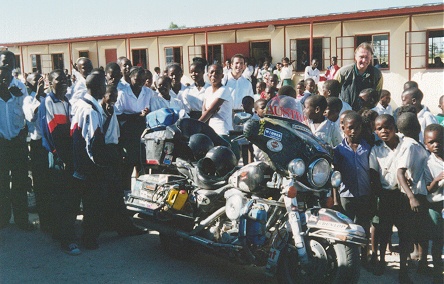 for a two day visit starting tomorrow. As usual motorcycles are not permitted into national parks.
21/5/00 We chose two day car hire and two nights in the park. To maximize morning and evening game drive time we left at 11 am to return 48 hours later. The park entry only $US 4.00 each and sharing the same camp site and car with Ken and Carol the whole deal decidedly cheaper than in Tanzania. From the gate entry there were animals in this fully fenced 22,000 sq/km park. Kudu, springbok, hartebeest, giraffe, wildebeest, Burchell's zebra and one large lone elephant bull. At each of the three camp sites are flood lit water holes and just after dark three adult and one baby black rhino spent 30 minutes there drinking and feeding the baby. Two hours later three hyena and still later a jackal. The sightings from a low car not as good as standing up in the back of a 4x4. The animal numbers less as they are more spread out due to recent rains and plenty of water and feed, but each encounter still great. Game meat steaks for dinner, a tradition here, a little strange
to admire them all day and eat them in the evening.
22/5/00 Off on an early drive, one large male lion in the distance, plenty of bird life, squirrels, mongoose and another elephant. The antelope unafraid and almost posing for photos. The roads, camping, restaurants and shop facilities the best we have seen and the numbers of people low. Restaurant dinner with oryx and ostrich on the menu.
23/5/00 Our last morning drive, beautifully peaceful dawn after hearing lion roaring all night. Sighted a cheetah standing on top of an ant hill surveying the long grass for prey. He waited for a couple of minutes before vanishing into the grass. Returned our vehicle and spent the rest of the day relaxing. It's surprising how much energy is used on game drives trying to spot every animal.
24/5/00 Tsumeb has ten of the worlds minerals found nowhere else. It also has the worlds largest meteorite nearby. At three meters by three meters and
a meter thick it must have made a hell of a thud when it hit earth some 80,000 years ago. Just lying in a farmers paddock this 50 tons of mostly iron is an impressive piece of space junk.
25/5/00 We had arrived at the Waterberg Plateau, a natural sandstone area 50 km X 20 km and 150 meters above the surrounding plains, yesterday evening. An environmentally delicate area the only way to visit is by national park safari vehicle which we did. This area has very little fencing using the natural cliffs as animal barriers and is used as a breeding program for semi endangered species. They have 38 black rhino and 30 white (having just released 12 to Etosha National Park), unfortunately we didn't see any. Sable and roan antelope we saw fleetingly along with eland and the other more common antelopes. When these numbers are sufficient the animals are restocked to parks or sold to one of the dozens of game reserves all over the country. With cattle prices low and game hunting more popular almost every second farm has been turned into enormous free range animal parks whose revenues come primarily
from hunting and top end accommodation.
26/5/00 Starting to unwind with just ten days to go and thinking about home jobs instead of being on the road. Repacked the motorcycle entirely, separating those things to stay and those to go home, together with a list of replacement things for the next section to central and western africa. The bike will have travelled almost 200,000 km at this trips end and serious thought about what spares to bring is required.
27/5/00 Ken and Carol are heading south to South Africa (Cape Town) and we are heading east through Botswana to Johannesburg , so its goodbye to them and goodbye to us.

Move with us to Botswana or go to our next visit to Namibia