Travel Through Mali on a Harley-Davidson
By Peter & Kay Forwood
Mali on a Harley (12/9/06 - 15/9/06)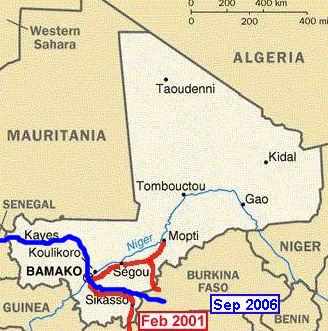 Distance 1152 km (470567 km to 471719 km)
This is part of the twelfth section of our around the world trip.
Complete Trip Overview & Map
Coming from Burkina Faso or read our previous visit to Mali
12/9/06 Easy into Mali but a couple of niggling requests for money. The efficiency of Burkina Faso gone and the prices higher. The road blocks returned, speed humps in every village and the road full of potholes, but with roadworks happening, made the trip to Bamako long. The Sahel still flat with only short distance views through scrubby bush and crops as more storms brewed in late afternoon to dump one on us just short of the capital.
13/9/06 A storm moved through as we were about to leave the hotel dumping rain for two hours. Still drizzling we rode to the Senegal Embassy, a refreshing $US 6.00 visa, collect tomorrow afternoon. Into the city centre, an endless market where shops have encroached onto the footpath with their goods, street sellers abound and motorcycles and cars park anywhere narrowing traffic to one lane one direction. That lane is mostly occupied by mini buses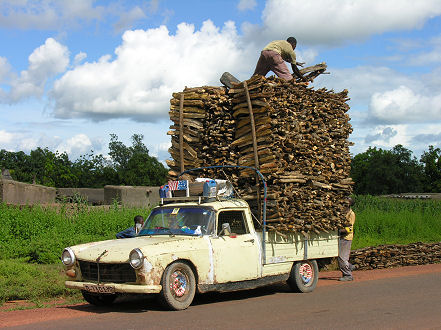 stopping frequently. In some streets the vendors became so thick cars can no longer move through and they have been turned unofficially into pedestrian ways. Only the main thoroughfares are asphalt, crossroads are rocky mud puddles after the rain. No city looks appealing in the rain, this one even less so. We had to change money and do internet. Moving the motorcycle became an endless chore in the one way streets as the ancient mini bus fumes surrounded us. I wondered what the life expectancy of a local, spending all day selling goods, would be in these fumes. It became quicker to park and walk and we ended up doing internet at the Grand Hotel in quiet air conditioned comfort, where an evening glass of red wine in the bar seemed appropriate, away from the outside chaos.
14/9/06 Collected our visas at 2pm and headed out towards Senegal. The road heads north and is asphalt to Didjeni. Other travellers coming from Mali previously advised us that the road was then dirt to Diema, but they didn't know the condition of the road from there to Kayes. Apparently from Kayes all the way to Dakar in Senegal it is mostly new asphalt. Truckies are always a good source of road information. Almost none, in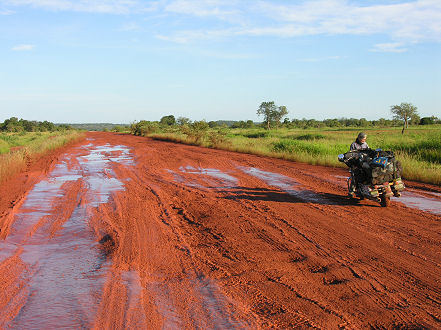 this part of the world, have ever seen a map and not too many more can read but they know the towns and distances by memory and the surface condition from hard experience. We asked a couple on the road outside Bamako and were told that the road was now asphalt from Diema to Kayes leaving just the one section of dirt. With clear skies and no rain since lunch time we arrived at the end of the asphalt in Didjeni late afternoon and decided to press onto the dirt till sunset and camp roadside. The wet season had destroyed most of the road. Trucks had been gouging bogs and creating ripple potholes. Luckily their tyres were also spreading the mud and a dryish track had been created in most areas. The wetter areas were a slurry but the clay content was low and we passed without sliding, travelling at about 35 km/hr.
15/9/06 Trucks and buses rolled through all night but we had camped far enough off the road not to be disturbed. The road was wetter today and we decided to take the dryer, smoother, parallel side track which would normally be too sandy but was now solid. A couple of trucks made the same, but for them, wrong decision and were completely bogged,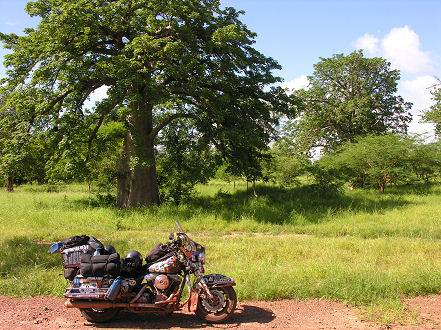 probably won't move now till the dry season. After a total of 120 km of dirt the surface improved, ready for asphalting, and after just 10 km more it was new asphalt for the last 40 km into Diema. They are working on finishing this last section to link Bamako with Dakar. The road to the Senegal border was great, interesting scenery of low hills and masses of baobab trees in leaf and flower. The Baobab is so independently majestic. Each tree is an individual standing proudly alone with no two alike. One might be flowering whilst another is loosing leaves and another with seed pods. Of no value for timber they have survived mans destruction, just trimmed occasionally for cattle food. No fences here to spoil the landscape and many herds of cattle are being moved along the roadside to greener pastures. We watched overhead as clouds formed, rising to thunderheads, drawing in other clouds, then dumping their load. A few came near us but most just watered the surrounding hills. Crossed the border out of Mali late afternoon with no problems.

Move with us to Senegal