Travel Through Malaysia on a Harley-Davidson
By Peter & Kay Forwood
Malaysia on a Harley (31/10/04 - 10/11/04)
Distance 748 km (403032 km to 403780 km)
This is part of the eleventh section of our around the world trip.
Complete Trip Overview & Map
Coming from Brunei or read our previous visit to Malaysia


31/10/04 Back into Sarawak, Malaysia. Only a few klm more and a border crossing between Malaysian States. Passports stamped out of Sarawak but no paperwork into Sabah. Every where's different. Kota Kinabalu (KK) is Sabah's capital, 200 km, mostly palm oil plantations, some rubber and forests. KK is a busy town Sunday holiday's, shops and markets are open and the traffic stationary with cautious Malaysian drivers.
1/11/04 Another museum, already about the only way to see more traditional buildings and an almost disappeared culture. A good display of homes from different tribes, also festive costumes plus weaving and hunting implements all but disappeared from use. Planned our time in Sabah and found out the boat to the Philippines can carry our motorcycle so it now depends on their customs.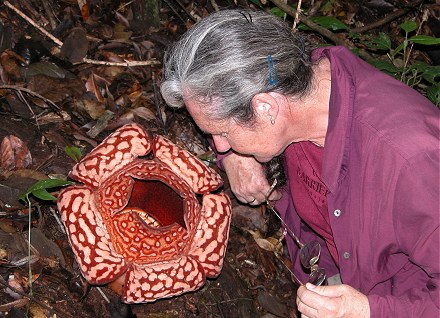 2/11/04 Left KK and up into the mountains. Eastern Borneo being much more mountainous than the rest of the island it was great to get to cool air away from the humid coast. The government run Rafflesia Centre has identified 46 plots in their reserve, where the world's largest species of flower grows. The local species, Rafflesia pricei, has flowers as big as 70 cm across, the one on Sumatra Indonesia, is up to 1 metre across. An unusual parasitic plant, whose host is a vine, has no leaves or stems, the only visible sign is its flower, on our arrival it was three days old, at its peak, a 40 minutes walk downhill through the rainforest. A five petalled, waxy artificial feeling flower. Normally smelly to attract flies to help pollination. Mountain rain sets in around lunch time and in showers broken by hot sunshine we headed for Kinabalu National park for the night.
3/11/04 Most tourists come here to climb the mountain, at over 4000m it's the highest in this region. It's been a while since we have had any real desire to climb mountains.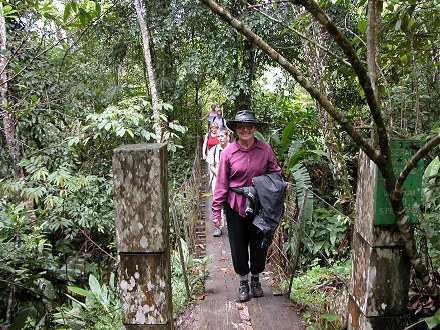 The energy and recovery time needed not balanced sufficiently by the enjoyment, a bit like getting drunk as we get older. We did an early morning walk, breakfasted at the restaurant, joined the guided walk, and had a tour through the gardens followed by lunch and a video on the park. The sheer diversity of plant life amazing. 1700 different species of orchids grow on the mountains slopes. 400 are represented in the garden, many now in flower. Pitcher plants, some holding over 3 litres of liquid solution and can capture small mammals but mostly insects, to supplement their food source, grow here. Palms, ferns, trees, believed to be the most concentrated diversity of plant life anywhere in the world. Later in the afternoon, and raining, we moved onto Poring Hot Springs.
4/11/04 The hot springs were developed by the Japanese during their occupation here in the second world war. Individual pools or bath tubs with hot and cold water to regulate the temperature in a natural setting. The morning relaxing here. Another Rafflesia flower, the second biggest species, was in bloom outside the park, young children on school holiday were guiding people to it for a small fee. The trail wandered through local's land, past small orchards of durian and jackfruit, dry land rice, a suspension bridge across a stream and finally to the flower,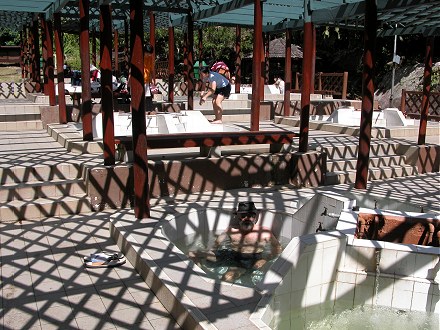 past its prime at about five days old. We had rented a three bed roomed house with two other couples, enjoyed their company over rice wine and cola mixed with four local fruits, an unusual fruit cocktail.
5/11/04 To Sandakan on the eastern side. Palm oil plantations again, this time with the oil tankers leaking palm oil onto the road, luckily it was not raining for us. The Philippino influence apparent as there is a lot of trade between the two countries from this port. Currently there is an amnesty in place for illegal workers from other countries to be allowed to return home without penalty or prosecution. It is estimated that there are over 1 million illegal workers in Malaysia, mainly from Indonesia and the Philippines. The boat we want to catch leaves from here. It can carry 1000 passengers, it's never full, except for now with repatriated illegals. The price has also risen sharply as a consequence and due to increased oil prices. We checked with the company and for us to travel $US 60.00 each and the bike $US 180.00. Again there seems to be no logic to transporting a motorcycle compared to a passenger, with food and a bed provided compared to a bit of deck space. We tried to negotiate only getting that the price is set in the Philippines.
Checked with customs that the paperwork is correct. We just needed our entry papers to be stamped for exit. The next sailing is in four days time, Tuesday and Friday evenings at 5 pm. We decided to take a jungle tour for three days leaving tomorrow to fill in the time.
6/11/04 The lower 500 km of the Kinabatangan River, Sabah's longest has been the home of many of Borneo's wildlife. The flat swampy land now mostly cleared of timber, has been concentrating their habitat into the nine small reserves along its shores. Because of this concentration pressure animals are more easily seen, but for how long. The logged land is now turned over to palm oil plantations. Migratory animals like the Borneo Pygmy Elephant, recently identified as a sub-species, separated from the Asian Elephant, 300,000 years ago, follow the seasonal foods from one reserve to another, damaging crop land in between. Almost too late the government is trying to replant corridors between reserves. Even the reserves are not old growth having been logged about 50 years ago. We joined a tour bus, then boat, down river to a jungle camp. Now out of season there were only a few westerners, out numbered by staff. The original river camp, Uncle Tan's was set up over 15 years ago.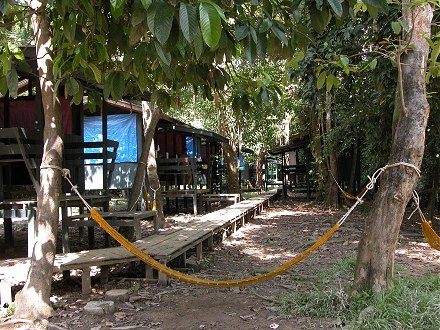 The boat trip in is in itself wildlife viewing. We spotted long tail macaques, proboscis and langur. Large king fisher, egret and hornbill birds. An evening spotlight safari revealed more birds and crocodiles. Around camp are bearded pigs and monitor lizards.
7/11/04 Our $US 70.00 each package included two nights accommodation, meals for three days, transport in and out, six guided wildlife safari's (2 walking and 4 boat). Most of the animals are more easily seen along the river banks, their preferred area in the mornings and evenings, monkeys sleeping in trees overhanging the river. It's not just the large mammals that are concentrated on here. One tour is on plants, one on night time swamp, frogs, insects. The last evening tour we saw civet cat, finishing at 11 pm.
8/11/04 At 5 am we were up for the sunrise tour on the river. This time watching the monkeys wake up. The youngsters playing with energy, young males fighting with testosterone, mothers already tired feeding babies. We were hoping to again see Orang-utan. We had briefly spotted a young one yesterday.
However instead we were surprised by a herd of elephant, about 20, grazing along the shore, almost unconcerned with our presence in the boat. Normally here only in April and August as they migrate through, totally unexpected. Unfortunately their migratory route may have been blocked by trenches or electric fencing around palm oil plantations along the river. After about half an hour of eating and knocking down the cane grasses, the sun was up and they left for the forest, and we followed on foot, for about a klm, through the jungle walking in their tracks. Back to Sandakan early afternoon to confirm our tickets to the Philippines. We had argued the price for the motorcycle and in our absence the agent had negotiated with the company a price of $US 55.00, less than a third the original quote.
9/11/04 We were at the wharf area by noon. The red card we had filled in at customs on arrival into Malaysia was all customs needed to stamp out the motorcycle. A nominal payment for port fees in the same building. Another form stamped by a different customs officer and a copy to security had the bike onto the wharf. The ship found a pallet big enough for the bike and another small fee to the forklift driver had the motorcycle loaded by 3 pm. We joined the other passengers, through immigration, changed money with the money changers at the wharf and were on board by 4 pm. There were a group of about 200 deportees, illegal immigrants at the last minute, with a police escort, they were loaded and the boat left at 5.30 for Zamboanga, in Mindanao the Philippines.

Move with us to the Philippines