Travel Through Luxembourg on a Harley-Davidson
By Peter & Kay Forwood
Luxembourg on a Harley (4/9/09 - 6/9/09)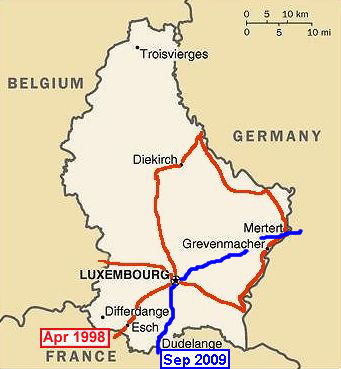 Distance (including France transit) 435 km (544631 km to 545066 km)
This is part of the fifteenth section of our around the world trip.
Complete Trip Overview & Map
Coming from France or read our previous visit to Luxembourg

4/9/09 We arrived at Thomas and Nadine's place mid afternoon where we could dry out. A lovely home they had recently had architecturally built a short distance from Luxembourg city. We had met Tom at the Tesch Rally in Germany. He has recently spent two six week motorcycle trips overseas, one to New Zealand and one to South America, all the time his career job as a aircraft engineer would allow. As he put it, a bad day at the office for him can result in an 8 million dollar engine failing, so his motorcycle trips are for relaxation and the next one planned is a tour, again to South America. His wife,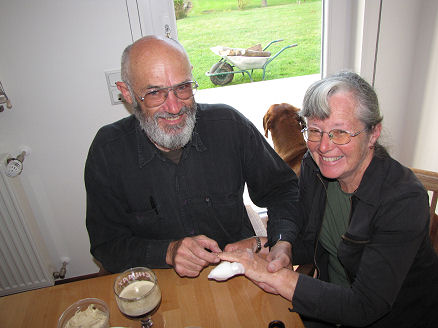 Nadine, we also met, she works for the Luxembourg government, and they both took us out to dinner at one of their favourite restaurants, a lovely meal, but unfortunately when we arrived back at their house the last joint of Kay's little finger got caught in their car door and sliced off the top, removing a chunk of skin and flesh. An x-ray at the hospital revealed a splintered bone, but there was nothing to be done other than painkillers and bandaging. An unfortunate end to a lovely day.

5/9/09 With the shock, particularly for Kay of last night, and as we didn't get to bed till 3.30 am after the hospital visit, it was a late, quiet morning. Tom drove us to Polo, a motorcycle shop in Germany, just across the border, where Kay bought new wet weather gear. With all the rain our old gear had lasted less than two years and was now leaking. Tom also gave me an old set of his, one that was now too large as he has gone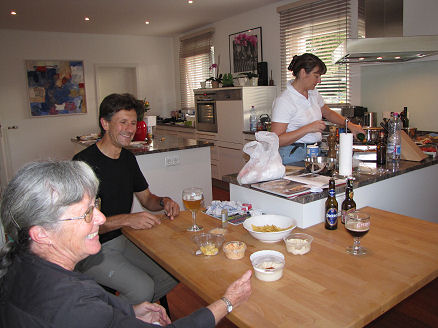 into training to run a marathon, and had lost 40kg's. We spent the afternoon walking with Nadine and Akila, their dog, through a nearby forest, and in the evening had a lovely, quiet meal at home, and an early night.

6/9/09 Part of the disadvantage of visiting people is having a time frame, and this morning, despite not feeling fully recovered, and with Kay's bandaged finger slowing preparations, we had arranged to meet up with Dietmar and Midori in Switzerland, 560 km's away, but as the day was forecast for sunny warmth we headed out after breakfast pretty relaxed. It had been a lovely visit to Tom and Nadine's home and we all felt a little awkward over Kay's accident, and whilst it prevented us seeing more of Luxembourg the visit was still most enjoyable. Not feeling like sightseeing we took the tollway to Strasbourg then crossed into Switzerland at Basel.

Move with us to Switzerland