Travel Through Laos on a Harley-Davidson
By Peter Forwood
Laos on a Harley (14/2/05 - 16/2/05)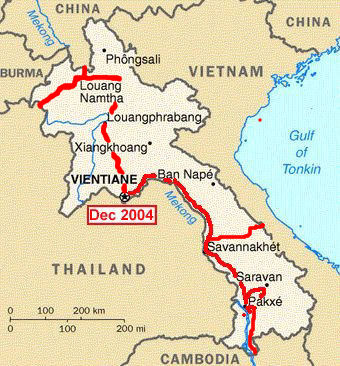 Distance 373 km (411958 km to 412331 km)
This is part of the eleventh section of my around the world trip.
Complete Trip Overview & Map
Coming from Thailand or read our previous visit to Laos
14/2/05 Through immigration in five minutes, thirty day stay, and no-one from customs waved me down so I kept moving. Again I wish this was Vietnam. The trucks started to arrive from Thailand at 10.00 am and headed for a customs compound just on the edge of town. Lao being a land locked country relies heavily on this supply route. A bridge is already partially completed across to Thailand anticipating extra trade. I looked into putting the bike on a truck from here to Vietnam but couldn't locate any that crossed the border.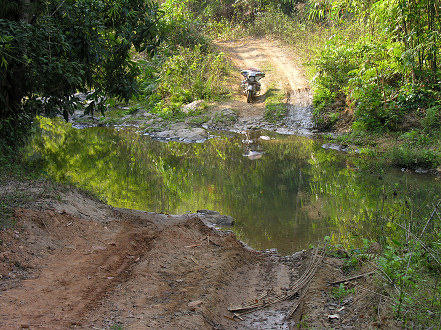 Stayed in Savannakhet for the night.
15/2/05 Headed east along a good road the 240 km to Vietnam border at Lao Bao. Rather than attempting the border I approached an import-export business near the border. The owner, with not a lot to do, took me on as his project for the day. Only trucks loaded with Lao timber were crossing, no chance for the motorcycle. Surprised that the motorcycle would not be allowed into Vietnam he sent his employee with my paperwork across the border to check and find out what bribe fee would be required. The answer, a 250cc motorcycle can be bribed in, anything bigger can not be bribed into the country. Undaunted he phoned the Vietnamese consulate for a special permission letter. Request denied. He phoned a friend with police contacts in Vietnam, no approval. Another friend regarding a track around the check point and over the border. A foot track through this hilly area but no motorcycle track. Four hours later he admitted defeat and I retreated 50 km's to stay in Muang Sepon.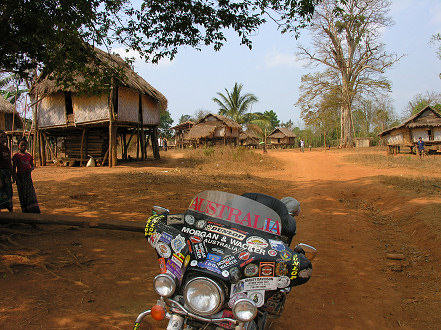 This area of Laos is some of its poorest. Slash and burn and poor soils in the hills make eking a living difficult.
16/2/05 Laos is still Communist. The people more reserved than neighbouring countries. Less likely to get involved in what others are doing. Holding back on touching or being interested in the motorcycle. It doesn't mean they are less observant, just don't show it outwardly. I rode back towards the border, 20 km short, and took a left turn along a dirt track, ostensibly taking photos of the villages but also to see if it crossed the border. The track deteriorated into a walking track up and over hills broken by creeks and small rivers. At times I was forced to cross as the motorcycle was pointing down hill with nowhere to turn and no-one to push. I was dreading the thought of having to return. It became apparent I was approaching the border as a couple of motorcycles carrying clothing passed, the only smuggled goods I saw. I simply rode past the quiet Laos border post.


Move with me to Vietnam or go to our next visit to Laos .