Travel Through Laos on a Harley-Davidson
By Peter Forwood
Laos on a Harley (30/12/04 - 11/1/05)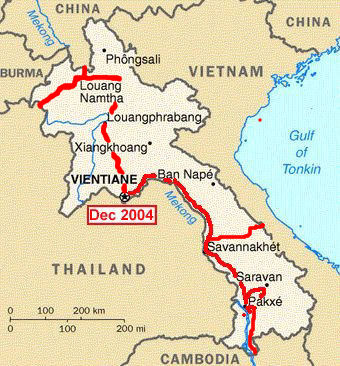 Distance 1274 km (407018 km to 408292 km)
This is part of the eleventh section of my around the world trip.
Complete Trip Overview & Map
Coming from Thailand

30/12/04 The bridge is in no-mans land with an easy immigration, visa already in hand for me, Trudie getting hers on arrival. They accepted the Carnet for the motorcycle, about 30 minutes in total. Laos has only recently opened its first international ATM but charges $US 2.00 for the privilege. I brought a wad of Thai Baht, easily exchanged at an excellent rate, and its saves my US cash for emergencies. Vientiane is a quiet city largely dominated by tourist infrastructure, restaurants and hotels. Now is the peak season with tourist numbers up 33% on last year, an asian "flavour of the month" country. Travelling with someone who has vastly different views leads to different experiences.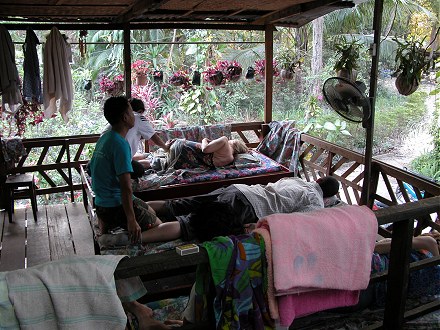 Trudie, a former artist, vegetarian, seeker of a healthy lifestyle through meditation, exercise and eating macrobioticly also participates in a range of alternative experiences like fasting, fire walking and attending ashrams. We went together to a local sauna and Laos massage at Wat Sok Pa Luang. A herbal sauna, simply boiling water in a large drum the aromatic steam filling the room. A mix of locals and tourists, sarong wrapped, all ages. The Laos massage, more of a pressure point event than like the Thai style, also relaxing.
31/12/04 I was up at 5.30 am to watch the city awake. There were no security guards and no-one sleeping in the streets. Early morning joggers passed me and a few people were aerobic dancing to local music alongside the Mekong. The monks from the many temples were out collecting alms, the food devotees of Buddha give each day. I talked to a novice, 16 yrs old, slight build, been at the Wat for two years from southern Lao,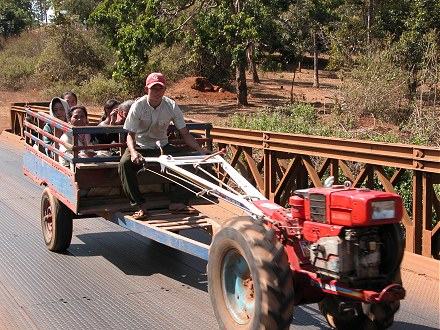 hopes to become a full monk or study more. Most boys spend time in a Wat at some time of their development. Lao doesn't celebrate the western new year, theirs being in April, however a few places were organizing events for tourists. In a country where there is yet to be built a cinema the night passed with me hearing only one band playing music and I will see the new year when I awake tomorrow.
1/1/05 Heading south towards Cambodia. Savannakhet, 450 km, road excellent and little traffic. A surprising number of stock, cattle and goats out grazing unfenced areas. The rice season over, just stubble in the paddocks, some irrigated areas starting their second crops. An unusual but popular form of local transport here is the hand tractor. Two wheels, the operator walking behind to plough rice fields. Also used, hitched to a trailer to carry anything, water buffalo, bagged rice, the family, and driven along the highway at about 20 km/hr. Each bamboo and grass hut village has a couple. Food in Laos also a bit exotic. Eggs with fully formed chicks. Day old chicks BBQ'd, squirrels purposely raised for meat, plus all the more usual intestines of indistinguishable animals.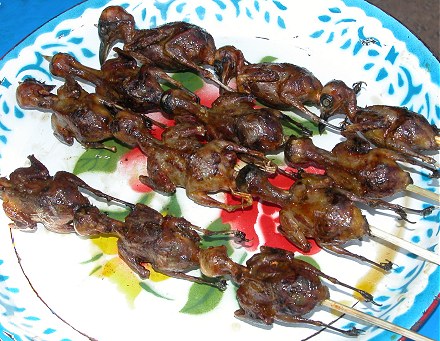 I tried the day old chicks, soft bones and quite strong meat, more like quail, not much meat though.
2/1/05 South again, to Pakse, 250 km, a slow meandering day with roadside stops. A market of local bush products, frogs, eels, honey, roast nuts, palm nuts, tamarind and other forest gathered edibles. Here we met a Lao American, emigrated as a refugee after the Vietnamese war, when Lao gained the distinction as the most bombed nation on earth, even though not at war with anyone. He is now returning to Laos to visit his family and new house, built recently, a fraction of the cost of a western home, intending to retire here. In the evening Trudie wanted to show me a technique she had learnt at one of the spiritual centres she had visited. A rebirthing, for the new year, controlled breathing, regimented in its pattern, slowly stimulating the body to a tingling sensation, a feeling of total relaxation and at peace. I was extremely surprised at its effects, being a sceptic of these things. It opening my mind a little to contemplating other "alternative" views.
3/1/05 In the hills just an hour out of Pakse is the Bolaven Plateau.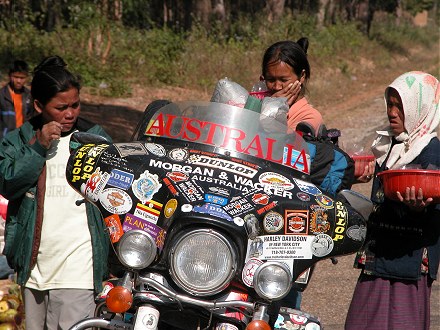 At 1500 metres it is cooler and normally greener. The people here are less touched by the outside world and live a more traditional life of raising cattle, weaving baskets, slash and burn crops, and raising pigs and dogs for meat. The rivers, now the only available water, support small vegetable crops planted along their banks and harvested before the wet season floods. We sat at a bridge, the bike attracting a variety of children and workers returning home for lunch. Finishing the day riverside at Tadlo Falls, a low key tourist hang out in pleasant surroundings.
4/1/05 Two elephants, 64 and 65 yrs old, carry tourists for 90 minutes to the water falls, across the river to a village and back through the forest. Ex farming and logging animals this work the only way to support the 200 kg a day diet these animals require. Trudie and I took the early morning ride, a slow peaceful stroll. Later in the day we visited another local village by the motorcycle and received a completely different reaction, interacting with the children, women and village chief, giving him a seat on the bike. The debate of tourism's effect on these people endless amongst travellers.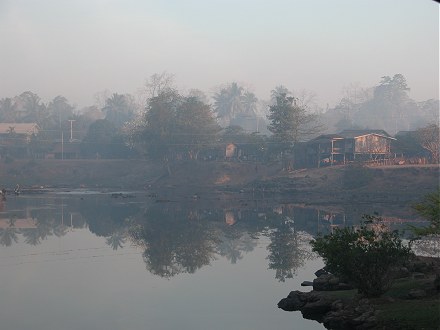 It's just the latest in a series of changes cultures have endured over the last thousands of years. Missionaries, iron tools, domesticated animals, agriculture, bronze tools, stone tools and fire, all externally introduced improvements to most cultures lifestyles, that would have created enormous changes to the past cultures, and like modern westernisation, these changes managed to spread across the entire world, still leaving intact what we call individual cultures today.
5/1/05 Back to Pakse via the southern route, 20 km of volcanic red dust.
6/1/05 Wat Phu Champasak, 50 km south, was in full swing by the 12 Th. century, the site having been occupied as early as the 6 Th. century. Originally a Hindu site, later converted to Buddhism, situated across the Mekong River and extending up the mountain. Extensive stonework buildings and stairways cover the site. We rode there, returning to Pakse for the night, crossing the Mekong on a small wooden boat raft.
7/1/05 Trudie left this morning, heading back to Bangkok and Japan. I caught up on things often left undone when travelling with others.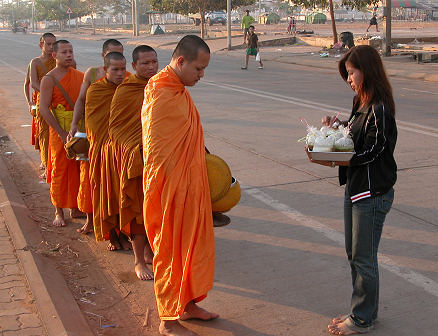 Internet updated, washing and repacking. Pakse is a bit of a crossroad hub, cross border from Thailand plus the road to the mountains and a North-South route leaving travellers resting here between connections. A pleasant town many rest up for a while. Whilst the Christmas-New Year rush has eased, tsunami affected travellers have rescheduled to the area. Some directly involved, with first hand accounts of lucky escapes and of devastation and bodies. Some needing to outpour their emotions, others walking away if the topic is raised. There does seem a more unusual closeness between travellers though.
8/1/05 The bracket holding the rear brake fluid reservoir and ignition module fatigued and broke while in the hills a couple of days ago. A trip to a welding shop, $US 2.00, strengthened and painted, a bit of extra maintenance on the bike and ready to travel alone. Lao coffee is famous and expensive anywhere in the west. Grown in the mountains near here, it sells in the cafe's for 30 cents a cup, same price as a nescafe. Unfortunately it's too nice and I have been drinking too many cups. It also results in a lot of time, wasted, relaxing, talking, collecting information, bragging or bantering with other tourists. Little is actually achieved in these discussions, like most similar discussions amongst friends, its just social contact.
Similar social contact to two women delousing each others hair, seen often in rural asia, or having a massage or facial, having your ears cleaned (speciality shop here in Pakse), all social interaction.
9/1/05 The lap top didn't start this morning and despite my efforts at the internet cafe over the next two hours continued to lay dead. The motorcycle also gave trouble. An intermittent electrical fault. It seems my travel equipment doesn't like travelling alone any more than me. 130 km south to the region of Si Phan Don, 4000 islands. The first solo travel on the motorcycle in over 300,000 km, six years. The island of Don Khung, the largest and where the French first settled in Laos retains some of its old buildings. By chance the military were performing a live show, public relations, whilst here on holidays. A band, singers and dancers, traditional and comedy skits. About 1000 locals and a few tourists watched. Event foods of peanuts and sugarcane were on sale along with some games like balloon darts and number darts.
10/1/05 It is here that the Mekong River fans out like a delta surrounding over 4000 islands connected only by boats. Fishermen in timber canoes are out before the stunning sunrise. Longtail motorboats carry tourists and locals about. Most come to see some of the last remaining Irrawaddy dolphins, believed to only number between 60 and 80 left, a freshwater species, endangered by net fishing. Most stay here for the quiet peacefulness. I took a tour by boat, through the islands, to waterfalls and finally to see the dolphins on the Cambodian border. They were easy to see,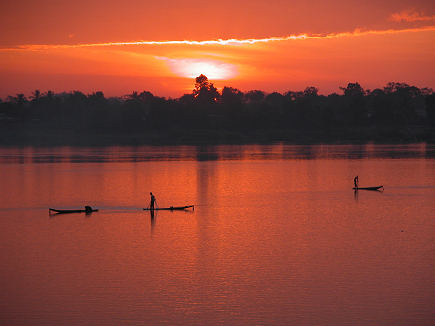 playing in the waters around the island where all the tourists are deposited, The day ended almost as it began, watching the sun set over the Mekong, but this time from the other side of the river.
11/1/05 It looks like it will be back to typing this web page at internet cafe's as the laptop still isn't responding. I apologize in advance for the bad spelling. Unfortunately there are unlikely to be any photos till it is repaired. Headed for the border. Another two outlines of bodies painted on the road. The only remaining sign of a recent accident. I have seen a few in Laos, don't know how long the paint lasts but a steadying reminder. Customs wasn't happy to stamp the Carnet at this outpost. Supposedly not an official foreigner border crossing yet dozens of foreigners cross here daily. They allowed me through but now I have an incomplete Carnet. Immigration played the $US 2.00 bribe for a stamp game, completely refusing to process my passport. There are two immigration posts. One for those crossing by boat, almost everyone, and one for a land crossing, just me. Alone I went through the usual anti bribe routine, asking for the officers identification, commenting on corruption, but it wasn't till I took out the camera, photographed the officer, implying I had his identity for a complaint, that the passport was processed. A sorry ending to a great country.

Move with me to Cambodia or go to our next visit to Laos.