Travel Through Italy on a Harley-Davidson
By Peter & Kay Forwood
Italy on a Harley (25/3/10 - 5/4/10)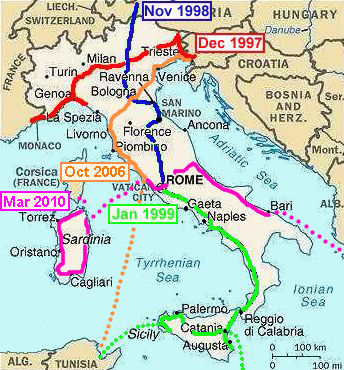 Distance 1693 km (559071 km to 560764 km)
This is part of the sixteenth section of our around the world trip.
Complete Trip Overview & Map
Coming from France or read our previous visit to Italy
25/3/10 Just 50 minutes between the ports of Bonifacio and Santa Teresa and we were riding in Sardinia, Italy by 9.30am. We followed the coast westward, alongside low granite headlands, past continuous yellow sand beaches, arriving at Castelsardo late morning for a castle view picnic lunch. Coffee in Porto Torres, then to our prebooked agrotourism accommodation at "Domo de Pedra" in Tottubella. Already the country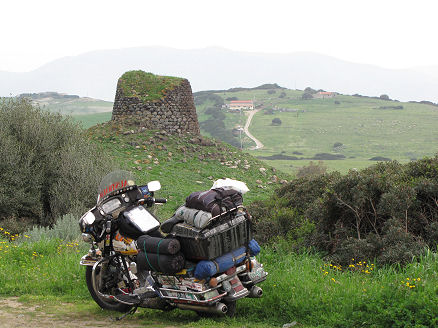 is different from Corsica. Immediately it seems more developed, more populated, more industry and agriculture as the land here is less harsh than its island neighbour. On the road we immediately noticed the driving to be more sedate, perhaps the frequency of police cars, or perhaps the 50km/hr speed limit almost everywhere is having that effect.

26/3/10 Tottubella's accommodation is run by the women of the family while they also help the men work their nearby fields. Breakfast was almost entirely locally produced produce. Jams, cheese, eggs, fresh orange juice, bacon, butter and honey, then a ride along the western peninsula to Neptune's Grotto, watching seabirds nest on offshore islands, finding a couple of the thousands of stone nuraghi (stone towers) that dot the island as well as again meeting up with a British motorhome couple we had crossed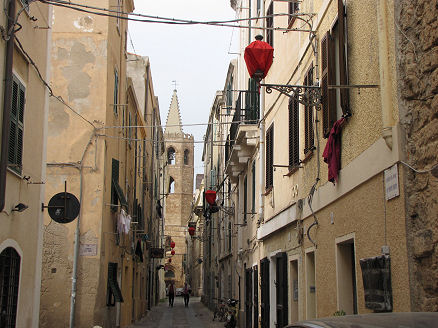 with on the ferry yesterday. They describe the roads on these islands as intestines. A good description of the tight curves outlined on maps. Perhaps the oesophagus would be the major highways. Long sweeping curves the large intestines and the tight twisties the small intestines. Under this description Corsica would be the king of the small intestines with Sardinia pretty much large intestines. Spent the afternoon in the old town of Alghero, wandering the narrow pedestrian streets of ancient highrise, dotted with churches, town squares, and now upmarket restaurants and shops, but it is still a used part of the city as can be attested to by the washing draping from pull cord lines outside each upperstory window.

27/3/10 We left Tottubella to take the coast road to Bosa, one that had been recommended to us by a number of people and we weren't disappointed. Cut close into the mountains above the coast we had both sea and mountain views and added to the appeal was low fog cloud swirling about the mountain tops. Continued south to Guspini, then the tight twisty backroad ride in the cork tree and shrubby vegetated mountains to arrive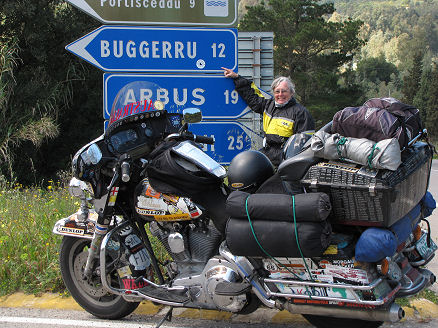 at the old mining town of Iglesias. Another magnificent day of mostly sunny weather and high teen temperatures. On our arrival we were surprised to be confronted by another Australian, a mining project manager from Perth, just starting out with a team to help stabilise an old mines tailings, now leaching into the environment. His team consisted of a few more Australians in the mining field, a couple of geologists and a driller, all staying at our hotel, so it was an evening with a few drinks and stories.

28/3/10 Short ride to Sant Antioco, a nearby island connected by a bridge, then back to the town square where most of the locals were milling about chatting after church on this Palm Sunday.

29/3/10 Another sunny day which was great as it was a long, time wise, ride today. Two nice sections, Selargius to San Priamo up through more twisty mountain passes and cork forests. The second and more spectacular section through massive limestone mountain formations with gorges and sheer cliffs was between Tortoli and Dorgali about half way up the eastern side of the island.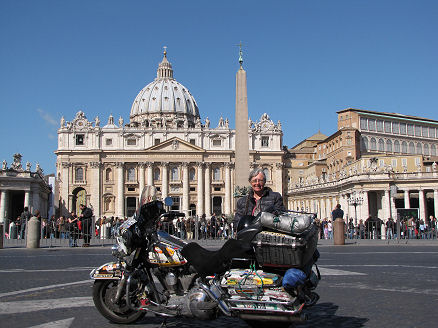 In between it was good riding but nothing spectacular. We ended up near Olbia, north east, to await a ferry for the Italy mainland the day after tomorrow. Campgrounds are still not open in this area so it is another cheap hotel, again just opened for the season, and we are again the only residents.

30/3/10 We took a short ride to the north to Costa Smeralda with its enclosed hotels, now with little tourist life, overlooking the areas magnificent offshore islands.

31/3/10 The Corsican Ferry Line, exceptionally comfortable and efficient, our second sailing with the line, had us from Golfo Aranci to Civitavecchia on Italy's mainland just after lunch when we rode to Monterotondo just north of Rome. It is leading up to Easter and was the only place available in our price range.

1/4/10 We have been to Rome twice before, once with our children about 20 years ago and once on the motorcycle, in 1998, so it was to be just a refresher, a one day all of Rome visit. Both previous visits had been in winter and now,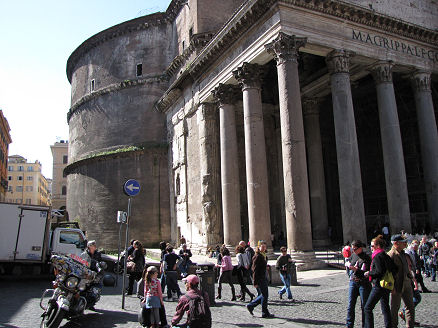 in the last couple of days leading up to Easter, the city thronged with the faithful, the interested, and the student on holidays. We chose to ride the motorcycle into the city rather than take public transport, faster, and an easier way to get between the sights than walking the streets, and we could use the red stop lights to look at some amazing cityscapes. The first stop was the Vatican, St Peters Basilica, where after a morning coffee we realised the Basilica was closed to the public because of a Papal Mass, but the outside was as spectacular as previous visits and could never cease to impress. A riding loop of the Vatican City then to the Pantheon, one of our favourite historical buildings. Its massive dome almost 2000 years old and towering external pillars stunning as we sat eating a picnic beneath the piazza statue whilst listening to a busking woodwind band, followed, by a stroll to the fountains and artists of Piazza Navona. On returning to St Peters Basilica the Mass was over and we had an opportunity of again wandering through this magnificent building, open to all peoples, irrespective of religions or creeds, and I couldn't help but reflect on not being allowed to even enter the city of Mecca in Saudi Arabia, prohibited to non Muslims, a different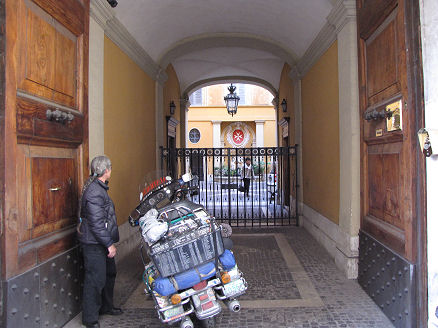 attitude to those of other faiths. The Colosseum for another snack sitting on the sidewalk, taking time out between tourists and traffic. It was mid afternoon when we arrived at the Trevi Fountain, where in reminiscence of the visit with our children we purchased ice creams, from the same shop of 20 years previously. The sun was descending as we sat with the hundreds of others on the Spanish Steps, with barely room to climb, and with no real reason to leave, we departed but not before we had pushed the motorcycle through the pedestrian area to the Sovereign Military Order of the Knights of Malta headquarters in a nearby pedestrian street for a photo. While off the African Coast country of Sao Tome, the owner of a boat that rescued us from that island, was also a member of the Knights of Malta and had sparked an interest in that order. It is also a place on the Most Traveled Persons list. In traffic we rode back to our hotel and crashed after an exhilarating day that only Rome can generate.

2/4/10 Good Friday, and although it is not celebrated with a holiday here as in most of the Christian world, we decided it was a great day to rest and catch up on chores, washing, internet, and importantly relaxing, an almost compulsory one in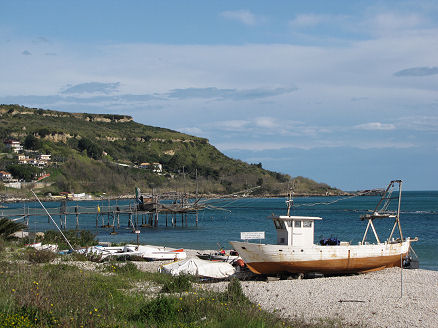 seven days, else our enthusiasm for travelling collapses.

3/4/10 Another beautiful spring day, 18 degrees and sunny. A ride from Rome to near Pescara on the north eastern side of the boot, just 210 km's but twisting slowly over the magnificent spinal mountain range that runs down Italy. Motorcycles, particularly sports motorcycles, were out at the start of their season on this holiday weekend, zooming past us on the smooth flowing mountain road, congregating roadside at coffee/bars or scenic spots atop passes. Other traffic was light and we took eight hours to ride the distance, also stopping for long warm up rests along the way. Another magnificent day.

4/4/10 Since our arrival back in Europe in April last year the strength of the Australian dollar, combined with the Euro's weakness, has meant prices have dropped for us by over 25% in the year. Because Europeans aren't travelling as much, hotel prices have been even more discounted, and our last nights and tonights, near new, fully equipped apartment, with magnificent views across the Adriatic Sea, is incredibly economical at this time of year, 35 Euro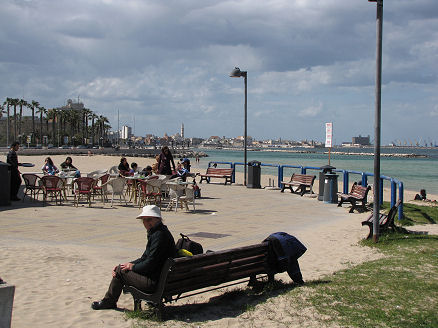 , or 52 Australian dollars a night, unlike the high season price of 210 Aust a night. It drizzled most of the day and with a longer ride and ferry trip to Greece tomorrow we decided to rest and enjoy the view from the apartment balcony.

5/4/10 Another beautiful spring day, how long can they last? 330km's, firstly along the coast south, then a chunk of inland riding in strong winds, then more coast as we arrived in Bari. It was the last day of the Easter holiday and with hectic traffic, luckily all heading in the opposite direction. Driving in Italy is fast, busy, and at times a little erratic with people concerned with themselves more than other drivers. We arrived in the lovely city of Bari mid afternoon and rode the coast past the fort, to a small sandy beach and parks, and decided to rest up in the sunshine till our boat boarding time of 6pm arrived, and 8pm departure.

Move with us to Greece