Travel Through Italy on a Harley-Davidson
By Peter & Kay Forwood
Italy on a Harley (9/9/09 - 10/9/09)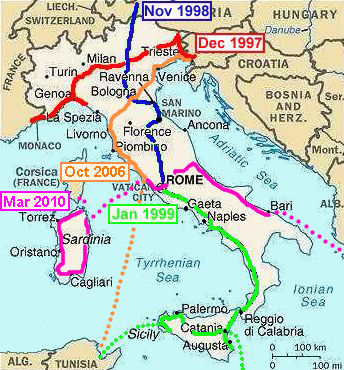 Distance 255 km (545734 km to 545989 km)
This is part of the twelfth section of our around the world trip.
Complete Trip Overview & Map
Coming from Switzerland or read our previous visit to Italy
9/9/09 The constant stopping, throwing the motorcycle on its side, and time taken to repair the puncture, had delayed our progress, as did the few stops we snatched to eat and admire more of the magnificent scenery. By 6pm, our preferred latest stopping time, two hours before sunset, we found a campground in the ski town of Pozza di Fassa, having crossed into Italy earlier in the day. This whole region, once we crossed the mountains from Switzerland has an Italian feel. Signage is in both languages, architecture as Italian as it was Swiss.

10/9/09 The tyre had deflated slightly overnight, a slight leak from the BMW plug, so our battery electric tyre pump was again put to good use. The weather staying fine for us and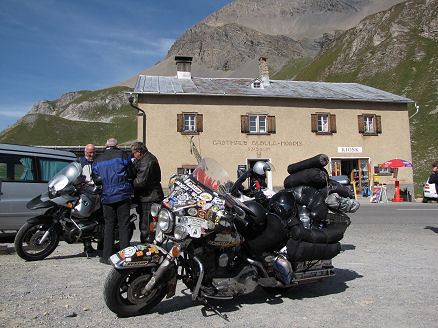 although cool in the ski area riding was pleasant enough early morning, however traffic increased as we moved into the apple growing area of Italy and being harvest time many small tractor trailers were out on the roads carting apples to be processed. Traffic didn't ease as we started to climb the first of the days three passes in the Cortina d'Ampezzo region, the Dolomites, a beautiful area of Italy but currently full of Italian holiday makers and road recreation users like bicycles, motorcyclists and car enthusiasts just out to cruise the roads in this lovely region. The scenery was truly stunning, barren mountains showing their limestone peaks above the tree line. Cable cars carried busloads of tourists to the tops, way above the road.



Move with us to Austria or go to our next visit to Italy