Travel Through Ireland on a Harley-Davidson
By Peter & Kay Forwood
Ireland on a Harley (29/6/09 - 12/6/09)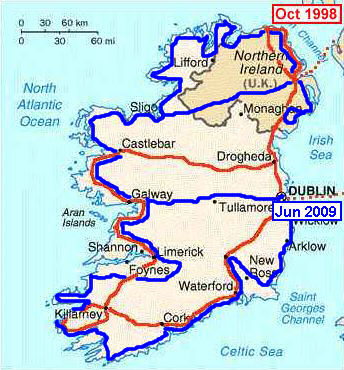 Distance 1673 km (535111 km to 536784 km)
This is part of the fifteenth section of our around the world trip.
Complete Trip Overview & Map
Coming from the United Kingdom or read our previous visit to Ireland

29/6/09 The Stena Ferry line left the UK at 10.30 am and we arrived in Dublin a couple of hours later at our prebooked, lastminute.com, small hotel, ready for some time to ourselves and catching up on jobs. Australians, like many countries, have jokes about the Irish, friendly but a little hurtful, but somehow on each visit they seem to fit, a little. Last time it was the indecision about roadsigns in miles or kilometres, they left it undecided, the signs varied throughout the country and this time on arrival immigration just asked our nationality, anyone who said British was waved through, other nationalities were asked to wait by their cars but could easily have driven away. We could simply have said British and become illegal immigrants. Anyway, after our wait, we were back in Ireland, and we had been warned it will have changed, a lot, having been through enormous boom times, and now back to a recession, that immigration from Eastern Europe had changed the culture, that the old Ireland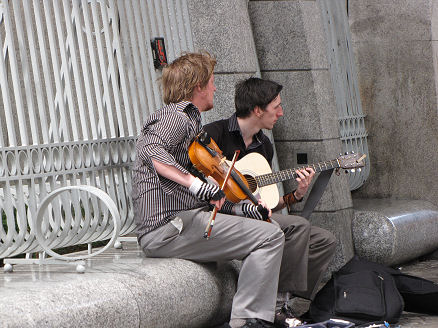 had gone, and walking down the main pedestrian street of Dublin we were confronted by a melting pot of nationalities and the shops that different ethnic groups bring to a city.

30/6/09 A quiet day, wandering the streets of Dublin, not with quite the same highly recognisable sites as London, but still an interesting walk along the river. Buskers were out, some quite excellent performers, Irish music the preferred choice, both for the busker and the audience, one band in particular causing a pedestrian blockage. Beggars were also out in numbers, quietly sitting on the footpath, backs against a wall, looking despondent, hoping for money, paper cup held out. Some were Romney gypsies but many others were Irish, a more conservative begging than we have seen elsewhere. Our hotel is also finding the lack of patronage difficult, as many nearby places discount in fierce competition, tourists staying away from this now expensive Euro country, and Britain cheaper with the falling value of the pound.

1/7/09 Still enjoying time to ourselves, another night booked in the hotel. The young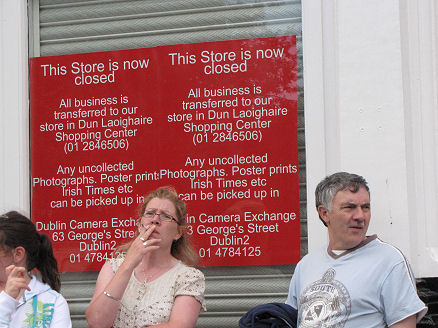 and vibrant population of Dublin gives the place a festive appeal with local and foreign student groups, partying during the summer vacation. We watched another popular busking group in the Temple Bar area in the evening, sitting in the gutter like most listeners. The Garda (police) rushed through at one stage, four on foot, a few more plain clothed, plus a couple of cars, arresting one man, but there was little interest, the buskers kept playing, the public kept listening. Perhaps the police action is a regular event here as crime seems prolific, with most businesses having at least one security guard on the premises, our hotel is behind a security entrance, and we were warned about leaving our motorcycle in the street, but we took the risk, as paid parking seeming a worse risk financially.

2/7/09 With a severe weather warning out for the day we stayed in the hotel yet another night, competition in Dublin keeping hotel prices cheaper than in regional areas, but our smallish room is sending us a bit stir crazy, jobs now done, TV repetitive, and our choice of city sites already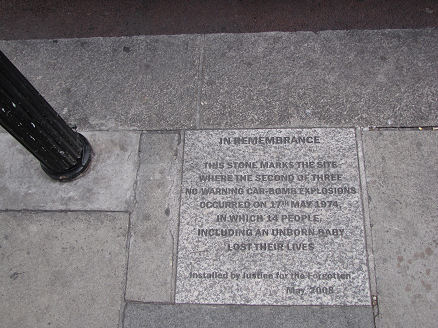 visited.

3/7/09 Finally got away from Dublin, south towards the old fishing, now touristy seaside town of Wexford, then inland to Kilkenny where we camped for the night. There were a couple of other motorcycle campers, two from France having caught a direct ferry, and one from Switzerland. It is now summer here, at least that is what the locals tell us, and the campground was quite full, mostly mobile homes, and school holidays have started. We wandered the streets of Kilkenny for a couple of hours, its castle on the river, small pubs, but we were not overly enthusiastic and it was a quiet afternoon, and we preferred to be outdoors at the campground.

4/7/09 More rain overnight and early morning delaying our departure for a particularly heavy storm to pass before leaving. Back towards the coast at Waterford, where the famous crystal glass is made and carved. We didn't visit the workshop this trip, the memory of our visit of eleven years ago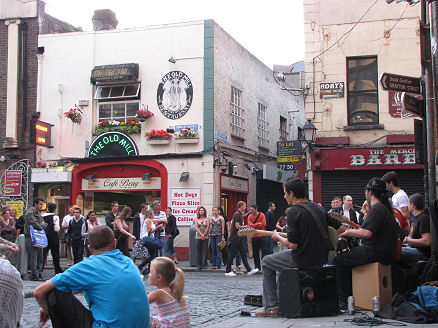 still fresh enough, so it was straight towards Cork when we spotted a road sign to the H-D C I Rally. Intrigued we followed successive signs to a lovely spot near the ocean and were welcomed by the local bikers with a shot of homebrew whiskey, followed by a rideout, along the coast back to their club house in Waterford for lunch, a short stop at the H-D dealer, a beer at the local in Stradbally, and finally back to the rally grounds to erect our tent to stay for the night. It appears we had lucked in on their annual rally. Motorcyclists from all over Ireland, and England, on a couple of hundred bikes had come to the event. An interesting bunch, their club, part of a Europe wide affiliation of about 60, threads a line between the "outlaw" bikie patch clubs and the conservative Harley company HOG clubs. There were many alternate brands of motorcycle, even a prize for the best non Harley at the event. Most riders were more interested in riding than showing, their motorcycles not all shiny and new. A couple of shovels, many evolution models, but there were also some great custom bikes, a real across the board turnout of both riders and motorcycles giving plenty of interest. A few members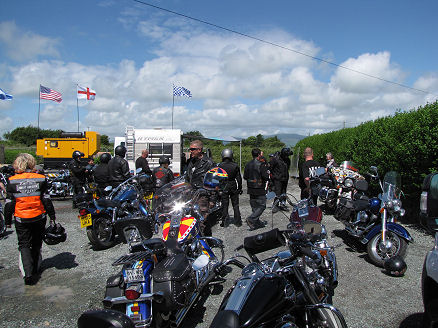 had brought along a guitar or banjo and jammed a bit before the main rock band started playing late evening. The pretty much standard prizes were awarded later evening, with us winning the longest travelled, a nice plaque, the raffle was drawn, donated prizes, and the evening continued with plenty of Guinness well into the morning. We were in the tent a little earlier than most as more rain rolled through in showery bursts.

5/7/09 We are starting to realise that this country doesn't ever get dry, why it is called the "Emerald Isle". On our last visit all we remember was rainy days, rainy nights, and so far this trip every day and night it has again rained. It doesn't rain all the time, coming in short sharp downbursts, then sunshine, and today we must of had a dozen of these turning on and off of the tap these as we travelled. There were a few bedraggled souls from wet tents this morning at the rally, some choosing to crash in the bathroom change room. Bikes started moving early, timing themselves for ferries back to the UK, others were slower to emerge from the previous nights entertainment. We left mid morning having really enjoyed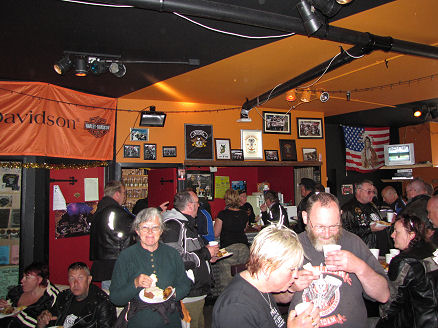 the event, deciding to look for more of these rallies as we cross Europe, perhaps a breed of riders we can best relate to, at least in this part of the world. Travelled the scenic coast road to Cork, then more coastal scenery to the pretty seaside town of Bantry and a hostel for the night. Being a Sunday we were looking for a pub lunch, an early pub lunch, but in Ireland the pubs don't open, as we were told, till after Mass, so it was 12.30 before our first real rest stop, and a meal.

6/7/09 We have been finding there is a big price jump between camping and B&B's, but last night we found a B&B connected to a Hostel, and just paid for a double room, no breakfast, 30 Euro, pretty good considering camping is about 20 Euro, or more. And tonight in Waterville we found another small hostel, comfortably basic, also 30 Euro a double, so in wet Ireland we might be looking for similar places. We have now been married 35 years, today is the anniversary, having now known each other for over two thirds of our lives. Guess we took each other on a motorcycle holiday to Ireland for our 35th wedding anniversary,
not a bad present. As an extra it was dinner on the terrace and a movie. Well actually it was a supermarket meal, splurging on anything we wanted, then eaten at our hostel overlooking the ocean, and the movie, well that was one we pre-recorded on the computer. It had been another day of rain, sunshine, rain, but the scenery between showers was magnificent, particularly as we travelled around the Ring of Kerry, clockwise, avoiding getting caught behind the many tour buses.

7/7/09 On the road again, five days of travel in a row, a little unusual for us, recently, but no reason to stop for a rest at this stage. Finished riding around the Ring of Kerry then headed left down the Dingle Peninsula, actually nicer scenery, and riding than the Kerry, but it is also full of American tourists, many are over here on cheap package tours. The scenery was most stunning out along Slea Head Drive, past the town of Dingle, where the road followed the cliffs with views over nearby islands, past stone houses in stone fenced fields. It seems though that the Dingle area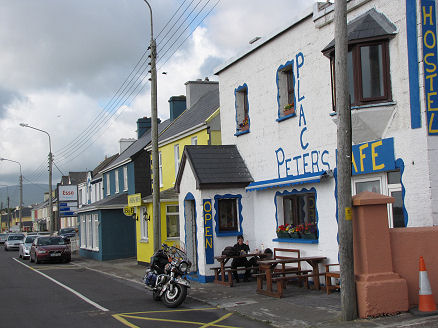 has had the full effect of the boom. Large new homes have cropped up all along the roadside, many new ones still for sale, many empty. Dingle itself, still busy with the American tourists, too busy for accommodation in our price range, so we moved on late afternoon, crossing the Connor Pass to the south of the peninsula, with more magnificent scenery, this time glacial lakes, and ocean vistas. We finally settled on a campground next to a beach, where some locals were swimming, brrrrr, a few km's short of Tralee.

8/7/09 Still hunting for a rest spot we rode to Tipperary, it was a long way, and on to Limerick, but finally arrived at the small town of Doolin, not much to look at, no old town centre to speak of, and all pretty modern, but near to the Cliffs of Moher, and it has a hostel that has it all together, what we were looking for. Aille River Hostel, with its camping out back, free washing machine, free wireless internet, nice common areas and kitchen, friendly relaxed staff, it is the best and first real hostel we have stayed in since arriving in Europe, so we set up camp for three nights. Billing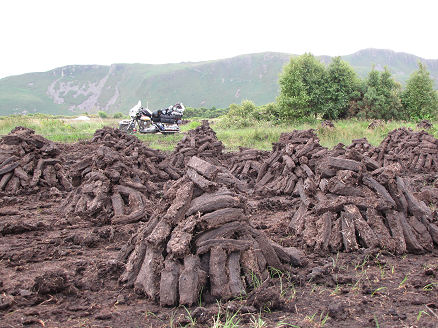 itself as a music town, the three local pubs have live music each night, and meeting up with a few British motorcycle riders left over the rally, still touring the country, we had a bit of a session chatting and listening to music at one of the pubs, another late night, actually early morning. The three main male musicians, guitarist, banjo and piano accordion player, were joined by a talented female singer, flutist and penny whistle player, and as things go in Irish pubs another singer, with a haunting voice stunned the audience with a few local songs. As much a jam session, people with talent, or who think they have talent, are often asked to join in for a song or two.

9/7/09 As good hostels are, this one was full, camping as well, but the 50 odd residents moved slowly away in the morning as we rested from last night, only taking to the day properly after lunch when we walked along the coastal track, along the edge of the Cliffs of Moher, eight km's of stunning coastal scenery, with nesting seabirds, through fields and past famine ruins, only to have our quiet strolling shattered by the throngs of viewers at the actual tourist site. Another evening out listening to local music
at the local pub, different group, different pub, there are many in this country, sipping a Guinness extremely popular, or a Bulmer cider.

10/7/09 There is not much to do for 50 backpackers when it is raining heavily, other than to sit around talking in the hostel, which is what we did for most of the day, finally taking to the outside late afternoon, now just drizzling, to walk along the coastal Burren, a mixture of limestone and basalt rocky outcrops. A now familiar evening routine, 9.30 stroll to a local pub, listen to live local musicians, perhaps stroll to another pub for a slightly different atmosphere, a couple of Guinness's, and back to our tent after midnight.

11/7/09 Forecast more rain late afternoon so we decided to book hardtop accommodation by lastminute.com, a place in Castlebar, 270km via Clifden away. Probably a mistake as the storm arrived early, just as we were entering Clifden and in heavy rain and strong wind we saw nothing of the great vistas this region offered as we concentrated on just keeping the motorcycle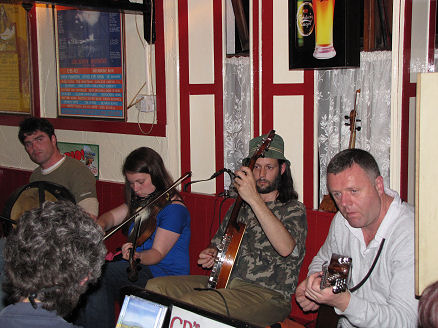 on the road. Breaffy Woods Hotel, a classy resort, currently suffering from the economic downturn advertised rooms incredibly discounted, down to our budget, and as we arrived dripping wet in the foyer, carrying my designer luggage, (a 15 year old hessian bag from India, torn and battered, repaired many times, but it has been with me to every country of the world), we were perhaps not their usual clientel. Things didn't improve. Wanting to warm up and dry our gear, we spread it about the room to have a shower only to find out the drainage wasn't working and flooded the bathroom. An hour later we were moved to a second room, but luckily before again rearranging our wet gear, discovered the TV wasn't working. Another move, wet gear again spread out, and a few minutes later we were told we couldn't stay in that room, it had been booked as part of a wedding party, so at our fourth room, with apologetic staff offering 2 complimentary glasses of wine as compensation, and two hours after we had arrived, we were finally in a room that functioned, and was ours for the night. Not sure we like upmarket hotels, even at these prices.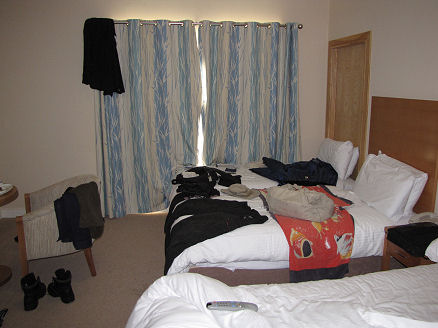 12/7/09 It was a comfortable, large room, hard to leave, within quiet grounds and pleasant outlook from our window. Clothes dried overnight but we couldn't bring ourselves to leave before check out time, watching Sky news from our bed, getting the most from the room. Rode to Sligo, and crossed the border into Northern Ireland near Enniskillen. It is a strange occurrence that when we entered Ireland by boat directly from the UK there were passport checks, but now leaving to Northern Ireland nothing at the border, no sign, no border, just a change from km's to miles in the roadsigns. Ireland sees the two parts as a single unit, no need for an official border.

Move with us to the United Kingdom or go to our next visit to Ireland