Travel Through India on a Harley-Davidson
By Peter & Kay Forwood
India on a Harley (13/5/07 - 9/7/07)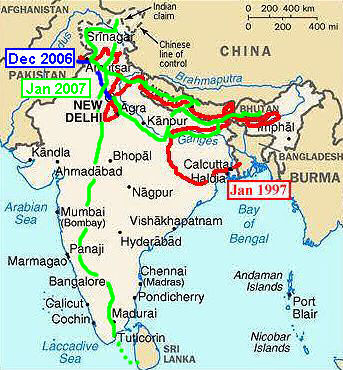 Distance 6709 km (492355 km to 499064 km)
This is part of the thirteenth section of our around the world trip.
Complete Trip Overview & Map
Coming from India (part 1)

13/6/07 Armed with 14 litres of spare fuel we left for the three high passes on the road to Keylong, ranging from 4800m to 5300m. There is no petrol along the road for over 370km, way out of our range at this altitude and with some poor dirt roads. We casually teamed up with a Dutch and Australian couple riding a rented Enfield who had been staying at our hotel. We were intending a three day ride, taking in the scenery slowly. Tented summer camps spring up along the way for travellers but we hoped to camp wild. The Enfield started to overheat heading up the first pass, Taglang La, and almost seized with its load. A couple of cool down stops and both motorcycles reached the reported second highest motorable road in the world. India likes to claim the three highest motorable roads, possibly debatable, still in the last couple of weeks our travels have now taken us to each of them. This Himalayan region of high crumbling mountains and political disputes with neighbours has pushed roads into areas that would have otherwise remained isolated. The road to Pang, the first real tent settlement,
about 170km, was generally good single lane asphalt except for the mountain pass and some road repairs. The only exception, a short section of sand track where we, by luck, met Dietmar coming out from his couple of days at the lakes. His motorcycle has been slowly losing power the last few days and now needed pushing through some of the sand. Despite having removed his air filter, replaced with a less restrictive piece of cloth, the motorcycle could barely be ridden uphill at the altitude. Pang is not an inviting place to camp with its many truck and jeep travellers moving through. We had a meal and moved on, pleased to see that the bridge over the river exiting the settlement had finally been finished enough to let us cross. Some of the bridges along this road are removed and replaced each season otherwise the heavy snow and raging rivers could sweep them away. Vehicles have been moving along the road now for three weeks, the rivers slowly rising as the snow melts. Morning is the best time to travel, the rivers are at almost half flow, little snow melts overnight, late afternoons are the worst. Two trucks, not knowing the bridge was now open, nor that the river had washed away the crossing, were stuck, waiting to be dragged out.
A spot, a few km's along and just off and overlooking the road looked good for camping. Dietmar departed with the Australian girl by motorcycle to take some photos but returned by car, his motorcycle now completely without power was back in Pang.

14/6/07 It was a picturesque but cold camp. The Enfield riders had not planned to camp so the warm gear was shared. The Dutch guy was a bit of a backyard motorcycle mechanic and he and Dietmar were back in Pang early to try to fix the motorcycle. It seemed one of the choke cables on Dietmar's carburettor had been locked open making the motorcycle run rich. Added to the high altitude, also making it run rich, it had been coking up the spark plugs and cylinders and eventually ran out of power. The Enfielders, on a tighter time schedule, left and we ferried Dietmar's gear back to Pang and his motorcycle and had breakfast. Having missed his sunset photos of this magnificent area, particularly the braided river system leading into Pang, the day before, Dietmar decided to stay another day. We were again riding alone, over another 5000m pass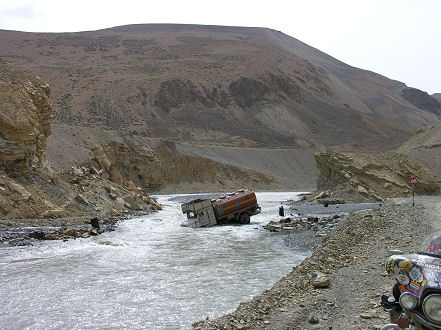 and down to Sarchu, a nicer tented settlement set up more for private rather than truck or bus travellers, individual tents, not a platform of mattresses and blankets under a parachute. Still only about lunch time and with cloud increasing we pressed on, another mountain pass, 4800m, the afternoon warmth creating more snow melt and often the dirt track became a small stream. Today's riding is more dirt, patches of great asphalt, patches of rocky dirt. There is more snow on the surrounding mountains and often drifts have been cut by the road. This is a wetter region than Leh and is also more stunning in its scenery. Petrol trucks supplying Leh have been the most consistent other road users but quite a number of Indians riding motorcycles are taking to the road as a challenge along with a few bicyclists. We passed two today, slowly climbing up one of the passes, not enough energy to wave, just a head nod, and another pedal push. The grade is quite gentle, has to be for the low powered loaded Tata trucks to be able to climb at this altitude. By mid afternoon we were tired and found a quiet camp spot by a now fast flowing stream and settled in for the night.

15/6/07 A warmer night, cloud covered the sky and by morning it was raining, slow big drops.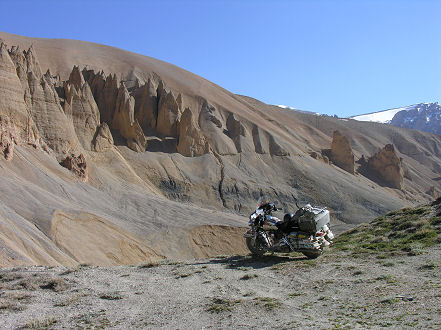 I am now sitting in the tent writing the diary for the last two days and wondering if the rain will last and if we should stay here all day or brave the now freezing rain, pack up the tent, for the 45km dash to Keylong. The satellite radio died last night and the computer battery is weakening, so it would be a long day in the tent. We will wait a couple of hours and hope for a break in the weather, not optimistic as it has been a slow system coming.
The rain cleared by 9am and we rode into Keylong, the countryside getting greener as we descended to 3500m.

16/6/07 Not quite out of the Himalayan mountains yet, Rohtang Pass, comparatively low at 3900m, is usually the one that stops movement from the plains of India to it's mountains due to the enormous snowfall each year that dumps on this region. It is also the divide that stops most Indian tourists from coming further north. We arrived at the top of the pass late morning, battled the poor road washed away in many places by spring snow melt, to be greeted by thousands of Indians enjoying themselves. Despite the rapidly receding snow, they were photo shooting themselves on yak's, riding horses, even hiring skis for a short steep ride. Fake fur coats were the favourite hire accessory, men and women, or waterproof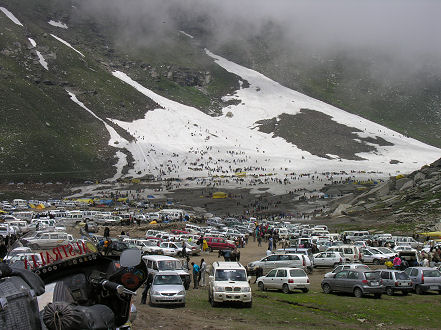 ski gear. The rough dirt and asphalt road packed with cars ascending and descending, often halted by jamming up the narrow road or by roadworks. It took us three hours to descend to Manali, just 50km's. Braced for our return to the Indian plains, with their densely populated roads we are planning a rest here for a few days.

17/6/07 Vashisht is the popular foreigner's region just out of Manali and where we are staying. The old mud and slate stone roofed houses surrounding a hot spring where cows stroll the streets and people lived a relaxed lifestyle has been overrun by Indian and Western tourists with their unappealing concrete hotels and pancake cafe's. The ideal setting, the reason locals have been happy here for centuries, is the same reason the tourists are arriving in great numbers. The weather is cool, the scenery magnificent, afternoon showers keeping it green. Many similar more remote mountain settlements throughout India have recently been similarly over run by the increasingly wealthy plains Indians. Locals are often left out of the development money as the new hotels, catering for the different culture of plains Indians, are owned and managed by plains Indians. We added to this cultural over run by enjoying what others come for,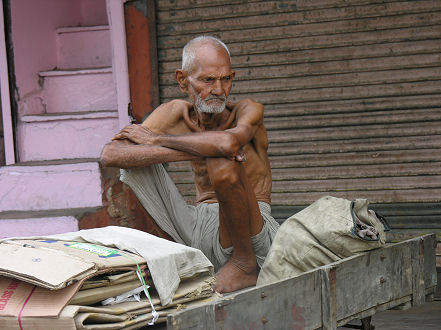 conscious of our impact, changing the peace and tranquility of the past.

18/6/07 Morning sunshine and afternoon rain heralds the onset of the Indian wet season even as far north as Manali. Dietmar's motorcycle had apparently not been properly fixed a few days ago and after just a few km's the problem returned and it was necessary for him to have it trucked to Manali, 22 hours for the 300km journey. The local mechanics thought he had been sold a mixture of kerosene and water which apparently clogs up the plugs with soot. A recent study, analysing 125 petrol stations in Delhi showed that over 20% of fuel sold was below standard, a kerosene mix, saving some hefty government duties. We had dinner together, our likely last meeting as he is heading back towards Europe.

19/6/07 Time to head south. Something that has not been exciting us. Back to traffic and heat and now the wet season. Left at 6am to try and avoid these. Out of the mountains and onto the plains we settled into a roadside hotel at 2pm after covering 300km's. A bypass road took us around Chandigarh, reportedly India's only planned city and a showcase of modernity. The bypass was lined with new biotech industries but outside the tidy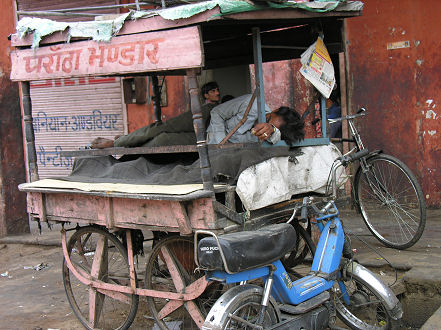 compounds was the other India where labourers lived in plastic tented cities collecting plastic and cardboard waste for recycling. As a democracy it won't be long before the ultra poor demand a piece of the ultra rich's pie. Part of a country's maturity is surely to take responsibility for it's poor.

20/6/07 Another early start, 5.30am, the same routine. Travelling at this time has less than 20% of the traffic. Heading south we avoided the congestion of Delhi by taking a long bypass road. The motorcycle still running hot and doing more damage to the newly reconditioned engine as we are now burning 600ml of oil per 1000km after just 10,000km, and getting worse rapidly. After we leave India the motorcycle will be in the islands of the Pacific, not many km's to ride there, till we reach New Zealand where we hope to have the engine checked and fixed. 400km by 2pm and as the heat increased we grabbed another roadside hotel just 80km short of Jaipur. Now onto the flatlands camels towing carts are taking over from the more normal mule and ox carts we have been seeing in the north. It had rained here a few days ago, muddying the roadsides, drenching the fields but it's now dry.

21/6/07 We chose to enter Jaipur early morning to reduce the motorcycle's heat, getting to a hotel by 7am. The divided road from Delhi to Jaipur is excellent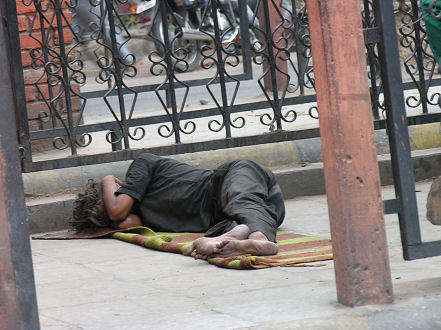 and lightly trafficked. Jaipur is probably the capital of discrimination in India, against foreigners. Every attraction in the city has either a higher entry fee or higher camera entrance fee for foreigners than for Indians, often five times the price, five times the price for foreigners to take photos? Can you imagine the outcry in Britain if the British Government started to charge Indian Nationals five times the price for entrance to British exhibits!! The problem is accentuated as local businesses assume if it is OK for the government here to charge higher prices for foreign tourists then it is OK for them to do the same. Having been here before, ten years ago, and having seen a lot of old buildings we voted with our feet and decided to look at the city from the outside of the buildings. One thing that has often caused me to ponder with concern is that virtually all of the world's ancient structures were financed and or built by the poor, often slaves, at the benefit of the rich or for their religious benefit. The Egyptian pyramids, Ankor Wat, Taj Mahal, St Peters Basilica, Sadam Hussein's Palaces just a few examples. All financed and constructed by the poor's labour and taxes. The lasting legacies mankind has from the past that masses of modern day tourists visit were built by dictators and tyrants, people who today we would despise, punish with crimes against humanity, yet we continue to
visit these structures for their beauty and lasting legacy. There are few Pompeii's and Herculaneum's around that show how the more average people of the times lived. To add to the day's frustrations we were out walking in a predominantly Muslim area of the city when over the period of a few minutes one child of a group threw things at us three times. Despite my protestations, not one of the many onlookers said or did anything. I have often wondered why more moderate Muslims do not speak out against radical Muslims as it only seems not to do so, in our culture, condones their actions. This is how we left this area of the city, feeling the adults condoned the child's actions. We have, many times, had things thrown at us by children, both boys and girls in Ethiopia, Pakistan, Somalia, Syria, Tajikistan, Bahrain and now India, every time it has been in a Muslim society. Conversely we have also had some of our greatest hospitality and generosity in Muslim countries. There have been three occasions of public theft during our travels. A camera was stolen from the motorcycle in Bangladesh, in full view of more than a dozen men it was pilfered under the coat of one of them, nobody said anything. A necklace was snatched from around Kay's neck in Ethiopia, in daylight, in a busy street, no adult would come forth saying they had seen anything. These two were Muslim countries.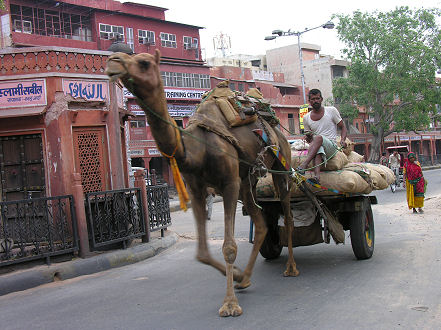 We were mugged on a beach in Brazil, one of two women passers-by immediately called the police and was prepared to provide a statement giving assistance to Kay as I chased the offenders, a Christian country. There are vast cultural differences between these societies. Societies have developed their own rules that work for their people, and these are our limited experiences and may not reflect the total picture but are all we can comment on.

22/6/07 A few years ago we met a mature lady who had temporarily lost control of her frustrations and was loudly voicing an opinion to someone who was yet again overcharging her. She was explaining, "The cow is dry. I have been milked by beggars, scam artists, touts, rickshaw wallas and high entry fees. There is no milk left. Restaurants have overcharged me, bus drivers left me stranded, taxi's extended the shortest journey. You can not get any more milk from this cow, she is dry!" We have often felt the same and her displeasure often reappears in our memories. Unfortunately we currently feel this of India. Over 100 years ago the Maharaja painted Jaipur pink to show his hospitality to the then Prince of Wales, the colour has stuck, and now all the old historic buildings remain pink. We were early and watched the city wake up. Men, with only a cloth slept on road divides, under the city's gates, on their cart, their only toilet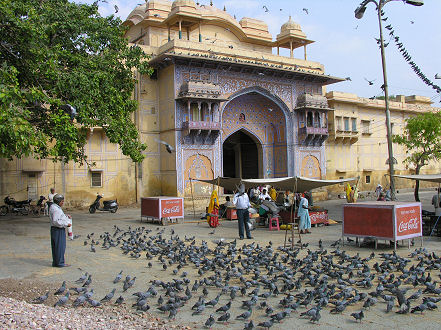 a quiet corner, a pungent smell. Camels moved into the old city carting sand and were competing with tractors bringing rock. A polio child, running on his knees, his legs twisted, a pleasant smile, approached us as did a young mother with child at arm, outside the Palace of the Winds. A well dressed holy man, a snake charmer, were also hoping the now increasing busloads of tourists would notice them enough to offer money for a photo, but few did. A quick photo of the bamboo scaffolding covered building under repair and back onto the bus. The chappal (sandal) shop owners begged us to enter, false conversations of hello, where are you from, I have a friend in Australia, part of the inviting repertoire. We saw no other foreigners walking the streets. They all came in buses and cars, moving about the city in a bubble of steel, removed from its sensory overload, escaping the bubble for a quick photo, a quick local interaction or just ignoring the surroundings and back onto the bus.

23/6/07 Whilst westerners get tense in this society of noise and bustle Indians seem to move through their society oblivious to it's organised chaos. This is clearly seen on the roads. Blaring horns advise of approaching vehicles, insisting you get out of their way, but are rarely used for abuse as in the west. A minor accident between a bicycle and motorcycle or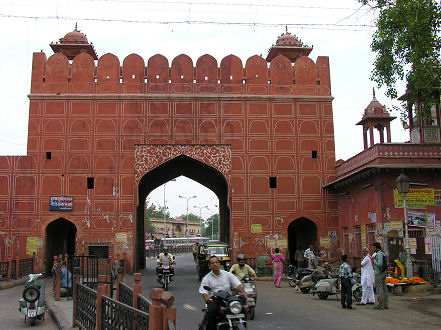 motorcycle and car, we see a few each day, doesn't result in terse words or anger. The drivers pick themselves up, sometimes look at their vehicles damage, sometimes not, and simply continue on their way, usually without blame of responsibility or accusation of right or wrong. Each has a right to use the public space. No rules seem to exist, no blame can be laid. The police don't seem to "police", just a few direct traffic at intersections, a few others collect for their retirement or broadening waist line. Speed limits are exceeded with impunity. Trucks limited to 40 km/hr often run at almost double that speed on freeways. Motorcycles are limited to 50 km/hr on freeways, cars 90 km/hr, we are yet to see a policeman monitoring any vehicles speed. The road from Jaipur to Ajmer was an excellent six lanes of near new asphalt. From Ajmer to Chittaugarh good four lane stretch of freeway, getting the first 300 km's of the day over in just four hours. The last 100 km's was back to the more usual rough surface, highway 79, two lanes with everything overtaking everything else forcing us off the road many times. This region of India is flat cropping land. Having already received early rains they are now waiting for follow up to start the crops. The humidity is oppressive and we are pleased to have another day of cloud build up but no rain, grabbing a hotel in Mandsaur by mid afternoon.

24/6/07 The pattern
of 5.30am starts now entrenched. The fuel gauge failed a few days ago and yesterday the clutch started to vary in its engagement and disengagement of the plates. Not sure if it was the cable or the plates, now over 300,000 km old, we did a bit of an inspection this morning before leaving the hotel and found the primary drive area overflowing with oil. It seems the engine might not be using as much oil as we thought, just transferring it to the primary area, likely through a failed seal, a job we can look at more closely in a few days. We realised today that the road we are taking is also an alternative road to Mumbai, a toll free way to get there so has many trucks. It is also dreadful asphalt. We wondered how anyone could build such a bumpy road without trying to. Just 250 km to Maheshwar, past a number of old forts, seems like there is one on every hill in this region, that is every hill that doesn't have a temple. This area of India has been settled for a long time and fought over many times. A couple of storms sprinkled us, getting closer to the wet season.

25/6/07 India's monsoon season is essential for it's agricultural survival but in the last few days, just to the south of us, about 200 people have died from storms, coastal shipping disrupted and roads cut. Took some smaller roads cross country through burgeoning cotton crops to Ajanta Caves,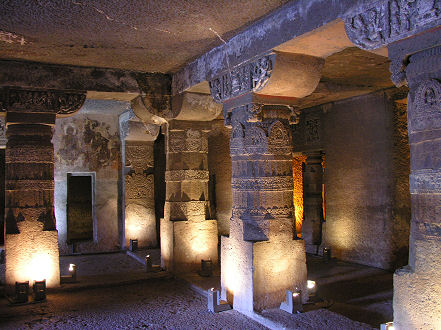 via Jalgaon. Different state's roads are of different quality. Madhya Pradesh's roads, last two days, were dreadful but now in Maharashtra the roads we have travelled are smooth, and most traffic is oxcarts not trucks. 300km and we were in town by noon. The caves are closed Mondays, today, so an afternoon's rest in a cheap hotel. Light rain caught us a lot of the way but was more cooling than annoying.

26/6/07 The about 30 caves at Ajanta were built by Buddhist Monks over eight centuries from the 2nd century BC. Hewn into the solid rock of a cliff face each cave is different giving an historical time line. Many were not finished, others were elaborately painted in great detail. In the earlier caves Buddha was not depicted, conforming to what was believed to be his wishes, but later caves show a merging of Buddhism and Hindu depictions. No public vehicles are allowed within 4 km of the caves, all tourists are ferried by bus. Foreigners entry fee is 25 times that of locals. We arrived at opening and had the caves virtually to ourselves for the first two hours before busloads of locals arrived. Set on a horse shoe bend in the river the monks retreated to here in the wet season, a pleasant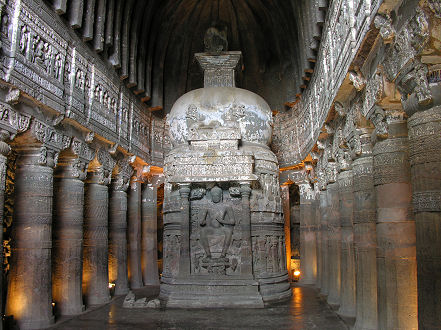 place today.

27/6/07 In the parking lot of our cheap hotel, early morning, we removed the primary drive to reveal a deteriorated seal between the engine and primary oils. Its rubber was badly cracked. We were surprised that this one had only lasted 100,000km when the original had lasted four times as long. A spare is carried and we fitted it. We later visited Ellora Caves, just 100 km away. These are similarly carved out of rock like Ajanta but are from a later period, starting around 500AD. The main cave is a massive structure, not really a cave but a deep open cut carving, leaving behind a 23m high elaborate shrine, an obelisk, life sized elephants and other lesser structures. The quarried walls are also undercut by a raised walkway gallery with carved pillars. It's construction was a mammoth task, believed to be the world's largest sculpture from a single rock. Our entry ticket was collected instead of being torn in half, like the cheaper local tickets were, presumably it would have been resold. We requested it be torn to the chagrin of the ticket collector. With little reason to stay in the area we headed out towards Pune, travelling just 100km before finally finding a suitable hotel. This is a wealthy area of India. Weddings are big business. Large families often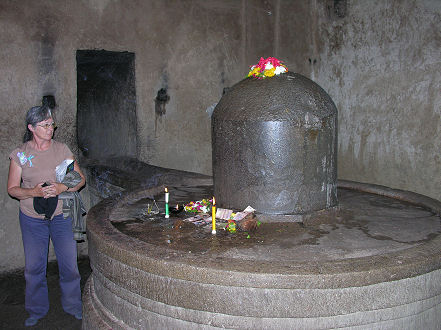 book out a few hotels for the event. We finally found a room in the suburbs.

28/6/07 The usual early start. The drizzle started not much later. It slowly increased and by the time we were to head towards Goa on the west coast it was pretty steady. We had planned a five day rest there but the weather forecast was for continuing heavy rain, not much fun at a beachside place, so we were pushed on towards Bangalore. Travelled almost 500km on what have to be the best, most traffic free roads we have seen in India. The new four lane from Pune was excellent, near western standards and with light traffic we averaged 80km/hr and decided this road has come close to our first truly enjoyable ride on the Indian plains. A nice little money earner for petrol attendants is to not zero the pump before pumping our tank. Many motorcycles only buy one or two litres each fill, an amount fairly easy to disguise. The attendant will often stand in front of the meter to try to prevent his scam from being discovered. Short changing is also a big problem, about every second petrol station will try to short us 100 rupees. Again we had hotel difficulties. This time not from overbooking but because the new four lane highway doesn't go through towns there are few roadside hotels. Finally found a place 400km short of Bangalore where, wet through, we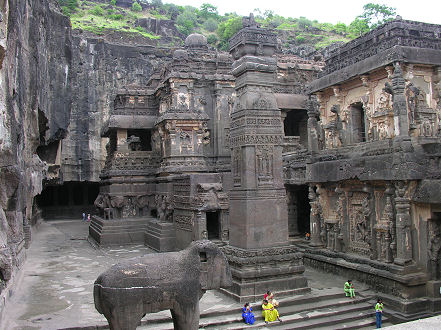 attempted to dry out.

29/6/07 Moving more quickly through this region has us almost two weeks earlier than anticipated leaving India for the Maldives, we will attempt to get the motorcycle on a 14th of July sailing from Tuticorin. We are ready to leave India. It is a difficult country to sustain enthusiasm for a long time. Seeing hundreds of men and children evacuating their bowels or bladders each morning along side the road (don't know what the women do?). The rubbish heaped up outside cities. Being seen as a money cow to be milked by almost everyone from the local beggars to the hotel staff. The almost ceaseless noise of car and truck horns in cities. The on again off again electricity in hotels. The total disregard for rules or polite driving causing daily gridlocked traffic jams. Always having dozens of people watching our every move. The attention the motorcycle gets on and off the road and the repetitive questioning of its cost and fuel consumption all add to the wearying of being here. Still we have a minimum of two more weeks. Building a crate for the motorcycle that will move it through the remaining island countries. Getting through Indian shipping customs and a boat to The Maldives, we hope we have the energy left. Today we rode 400km to Bangalore, India's premier technology city, 6 million people and still 15km out the traffic is again gridlocked with motorcycles, cars and trucks spreading out to five wide in the two lanes. With the motorcycle rapidly overheating we took the first hotel we could find, planning to get through the traffic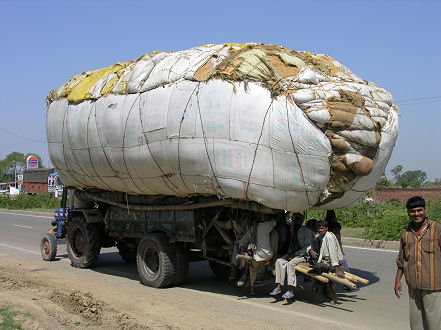 snarled city early tomorrow morning.

30/6/07 Most of the roads we have been riding on are toll roads. Quite an amount for trucks if added up over long distances but for us, we are allowed to ride around the booths, a motorcycle only luxury. The trucks were on the road earlier than us, also trying to get through the city. It took us over an hour to clear the, by Indian standards, modern city. Our one year old map showed a four land divided road all the way to Madurai but it was optimistic, the divided road has been started but that is about all. There were some city bypasses, a big help, but it took ten hours for the 460km's. We have been incredibly lucky with the rain having only had a few hours wet and a few showers, now gone. Local news reports of flooding where we have just been. We moved through just the beginning of a major system, a cyclone moving to the north and dumping rain, half a metre in 12 hours. The usual overnight accident wrecks were still along the roadside early morning but we passed a three bus collision just minutes after it occurred. No emergency vehicles had arrived and locals were removing passengers from the buses and laying them on the roadside as we passed. An all too common event here. Occasionally you meet someone who in their simplicity can sum up a country in a sentence. Today whilst waiting for a train to pass at a railway crossing a vehicle pulled up along side us, on the wrong side of the road, blocking it for when the boom gates would be lifted. Traffic on the other side of the crossing was doing the same thing. Both lanes on both sides of the crossing were now completely blocked which meant when the gates were lifted, another of the many gridlocks we had already seen,
would occur. In not too polite a mood, after we had answered the usual questions about the motorcycle, we questioned him on why he blocked this lane when he knew what the result would be. Ah he explained, there is no system in India. In that one phrase he summed up the entire country. Like watching ants collecting food, running about everywhere, there appears to be no system, but somehow the colony survives, that is how India "functions". Others have placed responsibility on religion. Muslims and Christians have organized their societies, laid basic teachings, but Hindu's operate more individually added to a caste system of inequality.

1/7/07 We were going to rest up in Madurai but with just 150km to go to Tuticorin, our planned shipping port, we moved on. A slow leak in the rear tyre has been bothering us for the last couple of days. Normally we can see a nail, pull it and plug the tubeless tyre but no nail or leak could be found. Today we put the motorcycle on its side, spun the wheel and with water finally found a slow leak, no visible puncture object. The wet season doesn't come to the South East of India for a few months and it is still hot here, but we are told it is winter, averaging 36 degrees a day, summer is hotter. Tuticorin is a fairly typical port town, dusty, noisy, busy with trucks. Being Sunday we regrouped after five days of solid riding.

2/7/07 We had come here because Maldives National Shipping Company runs a weekly direct service to Male, The Maldives capital and after contacting their head office by email, and getting a price for shipping the motorcycle, LCL, less than container load, we expected it to go on their direct service. Unfortunately today we just found out their agent in Tuticorin doesn't handle LCL cargo, they were simply passing us on to another commission agent. His LCL cargo goes with another shipping line, via Colombo and would take three to four weeks to arrive in the Maldives. Obviously we were not too happy, having come specifically to Tuticorin because of our arrangements with the Maldives National Shipping Company to find they were not offering the service expected. By the end of a frustrating day the only reasonable alternative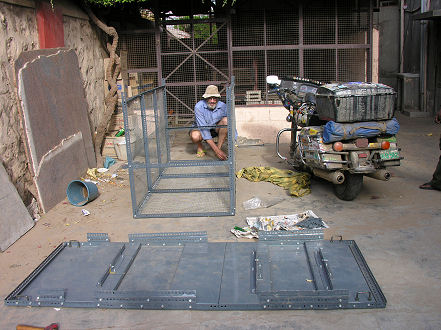 we could obtain was shipping to Colombo in Sri Lanka, leaving in five days time and taking only one day. We will now have to visit Sri Lanka first, there are regular boats from there to The Maldives, we are told, but promises in this region are cheap, and you get you pay for.

3/7/07 With 17 countries left, all need shipping the motorcycle to, we started planning to build a reusable crate, made from steel. We have been seeing a lot of the right type of steel along the way through India but now that we need it we can't find what we require and with limited time settled on using bolt together prefabricated modular shelving. Spent the day buying a few tools, incredibly cheap and quite good quality, hacksaw, pliers, spanner, tape measure, drill bits, hired a drill, bought the shelving and broke the motorcycle down to its crateable size, removing the front wheel, mudguard, back seat rest and rack. As usual with these projects they never go as planned, still by days end we had a base and open box frame around the motorcycle but are not sure if it will be strong enough.

4/7/07 A few slight design changes on the crate as we continued to build it from early morning till after dark. Our hotel is kindly allowing us to use a work area at the back of its building. By nightfall it was almost complete, covered in light wire mesh with a solid enough base to be moved many times. As we are likely shipping it almost 20 times we have tried to make the crate as small as possible, shipping and handling costs are on a cubic metre basis. The overall size ended up at just 2.1 cubic metres but likely weighs 60kg's, quite heavy if we need to fly it.

5/7/07 The mobile phone has rapidly taken prime place as the must have item of necessity in India. Manufacturers expect to sell over 100 million new phones each year for the next three years as people start to move up the economic ladder. Already no appointment can be confirmed for later without first a mobile phone check making it difficult for those without one, like us. We did minor modifications to the crate in the morning and then after many phone calls ended up at customs to ensure the carnet would be accepted. We had visited customs head office two days ago but this is a different customs office and we needed to again explain the process of a carnet use to each officer whose hands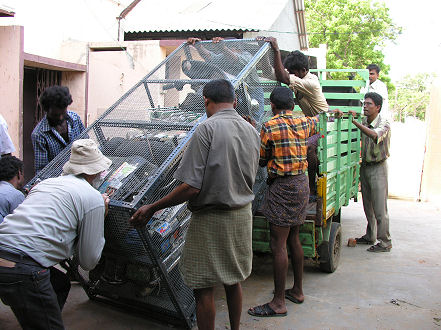 it would need to pass through. A couple of hours of slow but helpful clarifications and we were cleared to export the motorcycle. Not so lucky were the official customs clearance agents waiting patiently to have their documents processed.

6/7/07 The motorcycle's crating was finalised, tied down, and with the help of four loaders lifted from behind the hotel, our work area for the last three days, and trucked to the St Johns CFS container handling facility. We were again given priority for customs clearance, receiving special treatment from most officers but as it was required to deal with nearly a dozen some were not so happy with the preferential treatment our shipment was receiving. It still took another two hours for the paperwork. If someone was dying of thirst one group of people would likely offer water for free whilst another group would try to sell it for the highest price they could get. It seems these two groups of people live in every country of the world, however the percentage of each varies from country to country and within a country. Not surprisingly the "free water offerers" always seem happier in their lives than the extortionists. We have found the percentage of "free water offerers" very high in our dealings in Tuticorin, having received a great amount of help from almost everyone we have dealt with. To build the crate we required considerable amounts of different hardware items, all supplied by Mr J Ganesan of P.A.D. Jeyabalan Traders. He also arranged our air tickets to Colombo, truck and loaders for the moving the crated motorcycle, any supplies he didn't have in his shop he accessed, gave advice on the bus we need to Trichy, all at a normal cost basis. This type of dealings we have rarely had before in India where we have often been asked excessive charges simply because we are foreigners. It was a refreshing end to our visit to the country and will leave a lasting memory.

7/7/07 On checking our emails this morning we found the Maldives National Shipping Company had gone out of their way and offered to take the motorcycle as deck cargo on its next sailing. Unfortunately it was too late to change our plans with booked airfares to Sri Lanka and the motorcycle already at the shipping yard. Hopefully they will be able to assist us later. Finalised the account with Mr Mindo at GGL Line Shipping. He has spent considerable time with us on getting the motorcycle through customs and formalities yet charged only $US 25.00 for the entire shipment, handling and formalities, passing on only his immediate costs. A true sign of what we have found as South Indian hospitality.

8/7/07 Our flight is from Trichy, tomorrow, 300km to the north and a 6am bus had us there in six hours. It was interesting sitting on the other vehicle, the one that usually runs us off the road. Under powered they take a long time to wind up to speed and don't like to have to slow just because a motorcycle is coming in the other direction. The licensed 57 seater express service had over 80 passengers by the half way mark, collecting and putting down locals at a few stops, still it was a pleasant trip.

9/7/07 The small Trichy airport was efficient and we left on time, 9.30am, flying Sri Lankan Airlines.

Move with us to Sri Lanka