Travel Through India on a Harley-Davidson
By Peter & Kay Forwood
India on a Harley (13/5/07 - 9/7/07)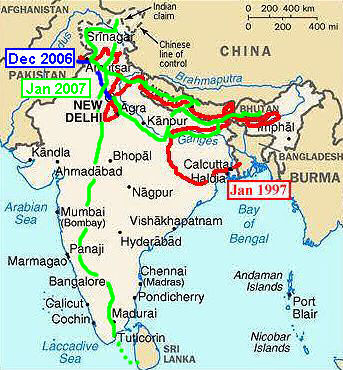 Distance 6709 km (492355 km to 499064 km)
This is part of the thirteenth section of our around the world trip.
Complete Trip Overview & Map
Coming from Nepal or read our previous visit to India

13/5/07 This border crossing into India was also smooth. Now that the western side of Nepal is safer from the Maoists more tourists are passing through. Headed further west towards Haridwar but stayed soon after lunch, about 100km into the country. The old frustrations of India arrived immediately. Increased traffic, pedestrian, bicycle, car, tractors, buses and trucks all vying for a space on the narrow roads along with buffalo, cows and goats. Bus horns, blaring as they move through, kings of the road. Trucks, second in line, lumber down the middle of the road trying to avoid even slower traffic on the edges. Motorcycles are hardly noticed and pushed off the road by anything bigger.

14/5/07 Into Nainital early this morning almost before it was awake and after a quick loop of the lake we were off to the north. It is the same route I rode alone ten years ago but despite it being scenically beautiful there was little I remembered. A long 280km day of
constant twisting, relatively good mountain roads up and down over about half a dozen mountains. Some virgin forest, terraced rice fields, small creeks and fast flowing snow melt rivers, monkeys begging for food roadside and at the 12th century temples in Adbadri, thousands of pilgrims were blocking the road. We were not sure if it was a special festival or just a normal day but trinket sellers and trinket buyers slowed our progress to a horn blowing walk. By mid afternoon we were at Karanprayag and grabbed a hotel in this junction town.

15/5/07 The speedometer had stopped working about 10km short of last night's hotel and this morning, roadside we replaced the cable, a fairly regular repair. We were planning to visit the Valley of Flowers, a national park high up into the mountains, accessed only by walking or horse. Unfortunately our guide book forgot to mention it doesn't open till the first of June. Already into the mountains we continued up to Badrinath at 3100m. One of the four Char Dam Hindu temples is here and during May and June thousands of pilgrims arrive each day to the normally small town with dozens of new hotels. People have always come here but with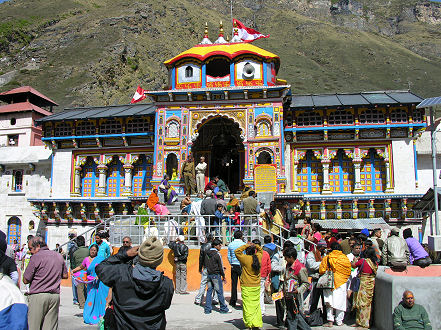 the increasing wealth of the middle classes in India, (or upper middle class as one wealthy Indian corrected me), local tourism, and the desire to escape the heat of the plains at this time of year, is demanding extra facilities be built. The road, currently under major repair, clings to the steep mountain cliffs, packed with buses and jeeps. The snow has only recently thawed and snow drifts are still roadside. Sadhu, holy men, line the road as they walk on their pilgrimage, dressed in saffron robes, with long hair, beard and walking stick the trade mark. Marijuana has been growing regularly along the roadside since the middle of Nepal and the Sadhu can be smelt enjoying the product as they rest.

16/5/07 One of four starting points of the holy Ganges River, Badrinath Temple is the easiest to visit and attracts a large number of beggars, sadhus and trinket sellers hoping to benefit from the wealthy pilgrims. The line was already long early morning for those wanting to enter the temple and pilgrims patiently waited their turn, shaded by a covered walkway while others bathed in the hot springs flowing beneath the holy site. We mingled for a while watching while the military controlled the crowds then headed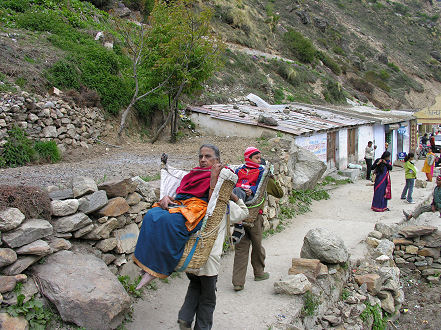 towards Mana, a more traditional village of stone and slate roofed houses prospering from its proximity to the temple. It also has a couple of religious sites of it's own where fleshy, wealthy, Delhi men and women, unable or unwilling to climb to the sites, could be carried, by wiry local men. A specially built wicker basket, resting on their backs, held only by a head rope is how the different castes interact. We left the bedlam along a well formed trail uphill into the mountains and a waterfall. A ten km return trip with less than 20 other walkers encountered. A thunderstorm last night cleared haze for a crystal clear view of the nearby peaks, some near 7000 metres high and by the end of the day we had walked over 16km's and were pleasantly exhausted.

17/5/07 A one way road system had us waiting for the 9am downward time but despite not leaving till 9.15 much of the uphill traffic had not arrived and minor bottlenecks occurred. We decided to go back to Govindghat, to the Sikh Gurdwara (temple), to try and arrange horses for the 13km climb up to Ghangaria, the base for the Valley of Flowers National Park to see if we couldn't try a visit. This Gurdwara operates a 6000 bed hostel in the pilgrimage season, starting in two week's time. It feeds and beds the faithful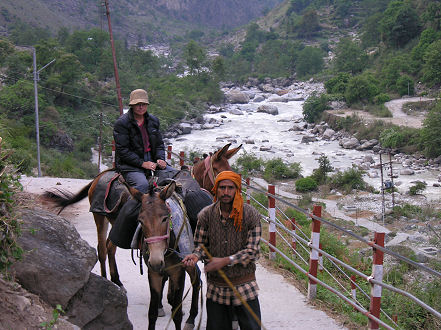 and visitors for free or an optional donation. The friendly manager offered us a bed, meals, motorcycle storage and arranged a meeting with a local mule owner who could get us to Ghangaria tomorrow. On our arrival the place was empty but by nightfall over 100 Sikh volunteer helpers had arrived. We enjoyed a simple meal of dhal baat, (lentils and rice) with them in the evening. They were excited about the adventure of the upcoming pilgrimage season.

18/5/07 The two large mules (horse, donkey cross) arrived early and we joined the couple of dozen pack mules carrying supplies for the season's opening. After a winter's rest all the animals had been well fed although they were often whipped with as little thought as the Indians use their car horns and even carrying up to 150kg loads of soft drink, charcoal, generator diesel, kerosene and food they could manage a steady pace. Our basic saddles had little padding and knees and bums soon became well rubbed. We immediately started to climb over a well made but constantly under repair footpath through beautiful pine and birch forests interspersed with mountain meadows and vertical valley cliffs. We were required to dismount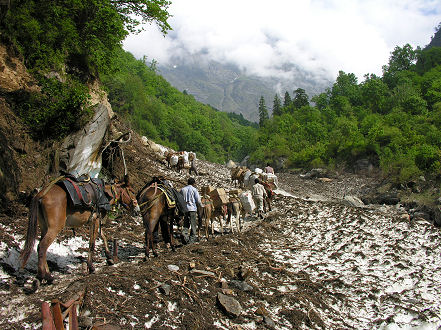 to cross a large avalanche run with an easy path well trodden by the mules. A couple of tea stops kept the legs functioning and after three hours we entered town. A deep valley which receives little sunlight. The Sikh Gurdwara here is not officially open and whilst it is providing meals we needed to find accommodation elsewhere. Almost all of the guest houses were closed but some were renovating in readiness for the up to 10,000 visitors a day they were expecting. Electricity and water is not yet functioning, and as we had passed many broken electrical lines and avalanche flattened poles it looks like electricity will be a long time coming. Found a place with buckets and candles for just $US 5.00 a night, which rents for $US 50.00 a night in the season with people sharing the expense sleeping on the floor and verandah. The rest of the day we sat in mechanical silence. Some hammering and wood chipping, conversation and laughter the only sounds. I went to the Gurdwara for dinner and sat around a log fire with the military who had been detailed to clear snow off the path to Hem Kund, to the Sikh pilgrimage lake, six km's further up the mountain. A large portion of India's military is Sikh, along with the current Prime Minister.

19/5/07 The path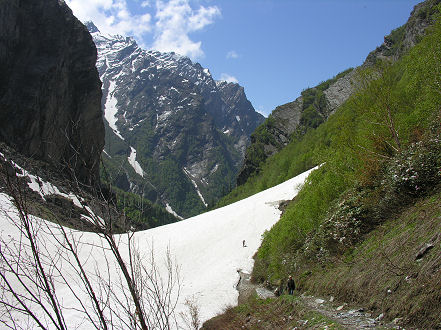 to the Valley of Flowers crosses three rivers, two of which currently have no bridge, washed away. There was also a landslide to cross and about four avalanche runs, one quite large. Trees had fallen across the path with last season's snow and our progress for the just 3km's was quite slow. There was no park entry fee, the booth remaining unmanned for two more weeks. We knew there would be no flowers, they are best in July and August but were pleasantly surprised by late flowering pink rhododendrons, early primulas, iris and wild strawberries. Two hanging glaciers, one at each end of the valley and dozens of waterfalls gave us plenty to spot sitting to warm in full sunshine. Before noon the lowering cloud removed the glaciers and upper waterfalls and we headed back to town arriving with the afternoon drizzle and cold. Relegated to our bed for warmth, a book by candlelight had us asleep early.

20/5/07 Resigned to the fact that travel alone is not sufficient exercise to keep us fit at our age we recently started an exercise program, hopefully a remainder of life commitment. The 5BX, Royal Canadian Air Force regime, that I used in my teens, can be done in our hotel rooms. Although we only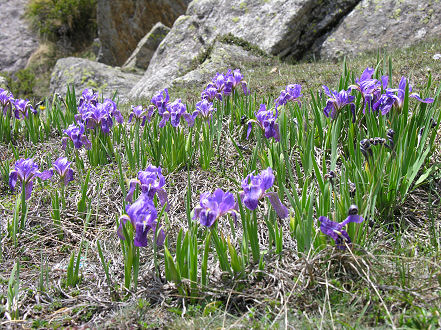 started a month ago there has been a noticeable improvement in our fitness, particularly at altitude on uphill walks. Started the 13km walk back to Govindghat at 6am but it wasn't long before we encountered mules coming up followed by whole families carrying little more than a backpack each, a couple of blankets and some polythene sheeting which they hoped to construct, with some pine branches, a makeshift home that would house them during the four month mountain work season. Similar dwellings were constructed on any vacant land in Badrinath. Low paid labourers, restaurant staff and porters lived in them. In just the last two days the numbers of uphill walkers and mules has doubled. Eventually we were told there will be no room on the path as the arriving 6000 people a day pass the departing 6000 mingling with the up and down hill provisioning mules. Happy to have been here in almost isolation, departing just as the frenetics begin. Collected the motorcycle, said goodbye to our Sikh friends and rode down to Karanprayag for the night.

21/5/07 While India is spending mammoth amounts of money on it's roads the slow progress of breaking rock by hand to make gravel, boiling bitumen in pots
roadside and cutting back mountains with crowbars and hammers make any progress slow. Large sections are constantly under repair and with winding roads in mountain areas they are often too narrow for two vehicles to pass. It took us five hours to cover the 180km to Rishikesh, fighting against busloads of pilgrims and holiday makers.

22/5/07 Rishikesh was made famous in the west when in the late 1960's the Beatles spent some time here at an ashram writing songs, smoking local weed and "gaining enlightenment." Since then westerners, lost or looking for something or just hanging out have been coming here. It bills itself as the yoga capital of the world but anything from meditation, crystals, ayurvedic, humming, laughing and massage treatments can be obtained. Really whatever the demand, the locals will ultimately provide. Alcohol is non existent and meat almost as scarce in the vegetarian environment. The western clientele at our backpacker's hostel are pretty much "into" the place. Dressing in local robes, dreadlocked, beaded wrists and neck, often attached to a local opposite sexed partner similarly attired, hanging out in a meditative aura. A little more than a bit cynical, apart from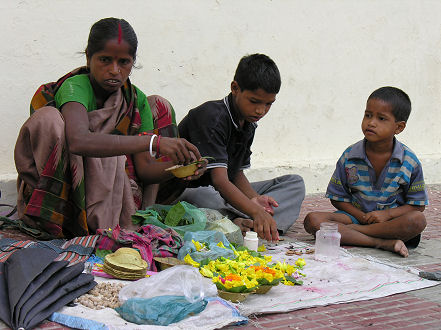 watching other's doings, we occupied our time recuperating with our regular jobs.

23/5/07 Rishikesh is situated at the base of the mountains and at the top of the plains getting a mountain breeze in the morning but a hot blast in the afternoon. A 6am stroll over the vehicle-less suspension bridges we watched the locals who had come to bathe in the Ganges River, offer floating bowls of flowers and visit their favourite shrines. More recently a holy visit has incorporated a recreational aspect for families and river rafting is becoming a popular pastime.

24/5/07 With daytime temperatures regularly exceeding 40 degrees we tried to get the most of the cooler morning by leaving at 5am but our coolth was short lived as by 8am it was already baking hot. It seemed others were planning the same as the early traffic was also heavy yet we managed to cover 200km in four hours to the Grand Trunk Road and then with a four lane divided section ended up in Amritsar by 2pm, 450km's for a smooth day with almost no extended stops. Our next tourist place is Srinagar, back in the mountains, in Kashmir, but before we head there we need to take the motorcycle out of the SAARC region, (India, Nepal and Bhutan) as it is only permitted to be here for a maximum of six months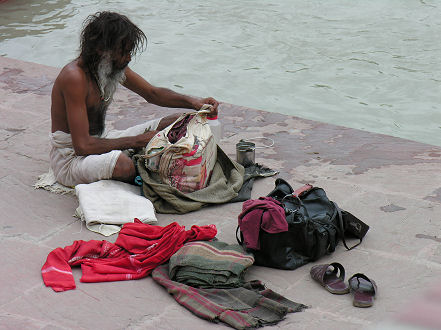 or else import duty is payable. Tomorrow we intend to cross into Pakistan just for one day, before returning to India, hopefully that will start the six months again.

25/5/07 The main border crossing between Pakistan and India only opens between 10am and 4pm, an amazingly short time between such major countries and even then little in the way of people or goods cross. We have received various differing information on how long our motorcycle can remain in India without incurring duties. This border first advised us that it was a maximum of six months, including time spent in other SAARC countries. Other Indian borders that we crossed were equally adamant that when leaving Nepal the six months started again. So today we returned to the Wagah border to clarify the situation as the duty payable on our motorcycle would amount to over $US 5000.00 if we overstayed the allowed time. The first two officers we spoke to gave differing answers. We asked that one sign the carnet to confirm his statement, which he refused, not prepared to stand by his advice. I asked for his identification card so I could quote him if we had problems when leaving India, also refused. It wasn't till Kay went to the Deputy Commissioner of Customs that a copy of the legislation was produced clarifying the situation. The motorcycle can stay in India for a maximum of six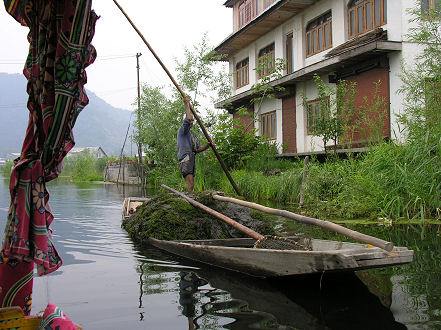 months in any twelve month period. Only the time it spends in India is counted. If it leaves the country but returns to India in under six months that time will be added to any other time already spent in India within the twelve month period. The six months can possibly be extended by contacting a regional Commissioner of Customs. This information was different from any of the four other opinions we had previously received showing how difficult it is to get accurate information in a society that rarely admits they don't know something or where they are not accountable for their actions. Even though the motorcycle first entered India on the 15th of December 2006 it has been in and out to Bhutan and Nepal so it doesn't need to leave India till the 12th of August. Our idea of going to Pakistan for a day and re-entering, one of the Customs officers suggestions, was totally incorrect, it would need to be out of India for six months for the time to start over. Pleased that we finally had the correct answer, and didn't have to go to Pakistan, we headed towards Kashmir, travelling just 200km before late afternoon, when strong wind whipped up a dust storm blanketing visibility.

26/5/07 We have learnt to fill a bucket with water, shower at night, and immediately boil tea and charge camera batteries on arrival at a hotel because inevitably
the water or electricity will not be on in later evening or in the morning. Having a TV or air conditioner in the room is often a waste of time. Even if the hotel has a generator it rarely provides more than lighting and fan power. The great wealth and growing middle classes that we are constantly told of by Indians seem to be outstripping the government's abilities to provide adequate services and roads to meet the increased demand. It was 350km to Srinagar, up over two passes and through a two km tunnel when abruptly on exiting we were in a different climate. The dry vegetation replaced by green hills and we soon overlooked the Kashmir Valley of flooded, terraced, rice fields and green seed beds waiting to be planted out. The military presence is astounding. More than half the vehicles on the road are army trucks and buses, mostly ferrying personnel but one convoy was full of mules. Armed personnel lined the road, one or two every few hundred metres. We stopped roadside to check an engine mount bolt and were rudely told to move along. Not sure if this is a normal situation or special troop movements it seems as if half of India's army is on the road.

27/5/07 We were told today that there are over a million troops in this region and yesterday's movements were normal along the one access road.
Srinagar is Kashmir's capital and armed troops line its main tourist streets at 50 metre intervals. Indian tourists started coming back to the area about four years ago when the security improved but western tourists are still thinly spread. The main attraction is Dal Lake with its hundreds of house boats. Apparently the British were not allowed to own land in the area so they built houseboats instead, the idea caught on and expanded. The local wood pine boats last upwards of 100 years floating at mooring. Prior to the uprising in the late 1980's most tourists were foreign, few Indians, but again the expanding wealth of the plains dwellers brings them to the cooler climate at 1500m to escape summer's heat, pushing up prices, and filling the once empty house boats. The season lasts just four months, and while the Kashmiri's consider themselves to be not Indians they welcome the money gained by the influx. The locals are definitely different culturally. Quieter, less abrupt and open to smiling, we had some great encounters in just our first day here. Offered genuine assistance and fair price bargaining, although hard, friendly and polite. Took a shikara (gondola type boat) for four hours on the lake. Paddling narrow canals with houses on reclaimed land, vegetable gardens raised just above water level and the floating houseboats lined up like mobile homes in a trailer park. We were invited into one, owned by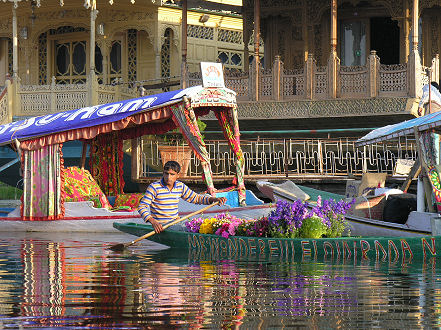 a Kashmiri, living in the UK, for tea, hoping to rent us a room. Currently filled with backpackers he'd met on his travels in the south of India, now welcomed to his family's boat. Despite it being peak season and reports that the houseboats were full we managed to readily rent a room in a luxury one, at half the official price with a walkway access making it easy to enter and leave at any time, but we will remain in our hotel for the next two nights.

28/5/07 A nice sunny day we watched the washing dry on the rooftop of the hotel as Kay sewed and I read, away from the constant honking traffic. Occasionally it is nice to be removed from the country we are travelling in for a day. Many say that the USA is the most capitalistic society but in the new India we are yet to meet just one person who friendly approaches us that is not trying to sell something or wanting something from us, like assistance to move to Australia. The constantness of these approaches, the calling out to gain our attention often keeps us in the hotel to gain sufficient energy for the next encounter.

29/5/07 The houseboat owner met us at our hotel, a shikara was waiting and we were paddled to his houseboat. At five metres wide and forty metres long it is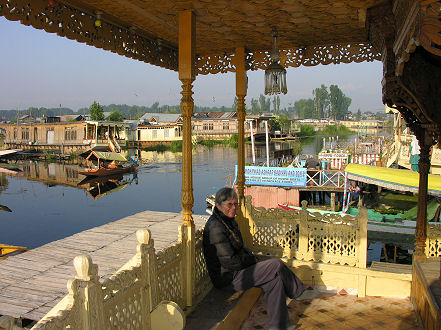 in the large category but there are much larger boats here. Three bedrooms, a dining room, lounge and front porch, it is a modest house size. Tonight the other two bedrooms are empty so we have the whole place to ourselves, may it continue. Indian families often prefer to rent entire boats, westerners don't mind sharing a boat. A family of nine Indians looked at taking the remaining two rooms but shied away when told they had to share. All the walls and ceiling panels are pine, untreated, many carved. Furniture, also carved, is walnut timber, curtains hand crocheted, chain stitch on calico with matching quilts, bedspreads and cushions, woollen rugs cover the floors. Truly luxurious for us. Our $US 40.00 (20 each) a day includes dinner and breakfast. We settled in, with the over exuberant owner hovering to ensure we were comfortable.

30/5/07 India's, what might be called new money, allowing an overload of household staff for the haves, leaves them with little to do other than direct. Most cars at the hotels have drivers, easy to spot as they are the clean ones. Children grow up utilising the staff in a similar manner to their parents. What westerners might consider social norms are non existent. Car rubbish is emptied into the street or hotel car parks. Not accustomed to waiting for service it is demanded immediately even when others are being served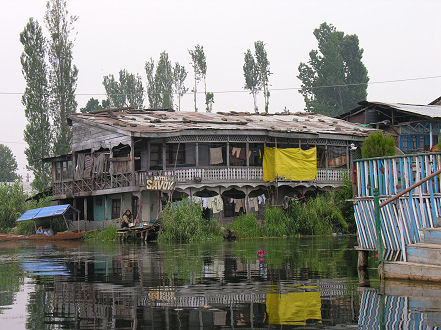 or were there first. A closely packed society people pushing on the sidewalk is accepted. Noise levels are high, predominantly from ineffective car horns. We took an extremely quiet, apart from the guttural TB phlegm clearing, man powered shikara to the floating vegetable markets. Leaving before sunrise it was cold and invigorating. The lake's dark water reflecting in windless conditions. A small number of boats were there trading locally grown vegetables. The extensive lake waters are heavily fertilised by the thousands of houseboat visitors or permanent livers here, effluent and waste water going straight into the lake. It is surprisingly clean. The water weed and lotus lilies filtering, but they are unable to remove the plastic thrown haphazardly, now floating on or slightly beneath the surface. The weed is collected for fertiliser and to build up vegetable mounds while water lilies are used for stockfeed. Later in the day we took a three wheeler across to the sister lake, Nagin Lake, where houseboats line its shores in a more peaceful setting but there is also less happening on the water, fewer tourists, fewer sellers of goods.

31/5/07 We have been lucky, enjoying our houseboat alone for the three nights. Srinagar is a predominantly Muslim city. Most women wear a head scarf, or a face veil. Mosques dot islands on the lake, calling the faithful to pray.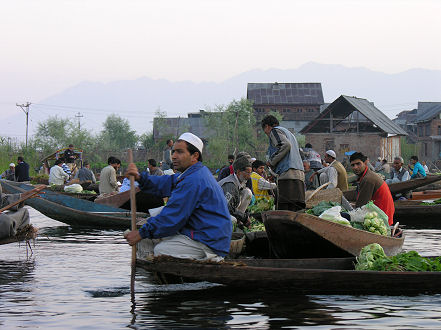 Most visitors are Hindu's. Few people we have met want to openly discuss the region's problems, past or current. A quiet truce seems to have descended. It is believed here that India and Pakistan have already done a deal along the Line Of Control (unofficial border between Pakistan and Indian controlled Kashmir) but don't wish to announce it for fear of restarting the violence. Whilst still high the military presence is no where near levels of the recent past. Spent some research time at the internet cafe looking for a boat to Sri Lanka and The Maldives, finding one sailing weekly from Tuticorin in Tamil Nadu, South India, to both places, a likely possibility, else we spent most of the afternoon on the houseboat front verandah.

1/6/07 The houseboat was excellent, unfortunately the owner was quite overbearing and overbusied himself around us whenever we were about. Three days was enough. Caught a shikara to the hotel where the motorcycle was stored and rode up through lovely greenery, climbing out of the Kashmir Valley, following a snow melt river above the tree line to Sonamarg where a couple of glaciers come near enough to the road for dozens of entrepreneurs to offer horse rides to see them. Hundred of horses were awaiting the arrival of busloads of Indian tourists as we had breakfast. Despite having asked at the tourist office and bus station in Srinagar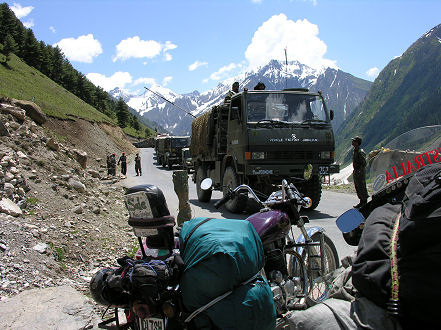 on road opening times the information given was incorrect. A short way out of Sonamarg a narrow road heads into the mountain pass with downward traffic in the mornings, closed then for the military convoy. Upward traffic is supposed to commence at 11am for smaller vehicles, larger ones have to go with the upward military convoy in the afternoons, but today the downward convoy was late and it was after 12 before we were allowed to pass. To add to the confusion the road is totally closed on Mondays for repairs. We had the road virtually to ourselves. Passing through some magnificent scenery, the best we have seen in India, as much for the clear air, giving stunning long distance snow capped mountains and long valley views. There was also a foot migration of families, their belongings strapped to ponies, dogs running alongside and sheep following, heading for the summer grazing in the high mountains. With the snow melting the grass is starting to come away. Some had already arrived at the summer grazing grounds and tents were erected on long used rocky pads whilst we saw many more homesites awaiting their owners arrival. We arrived in Kargil late afternoon. About the closest point that the road passes to the Line of Control, where the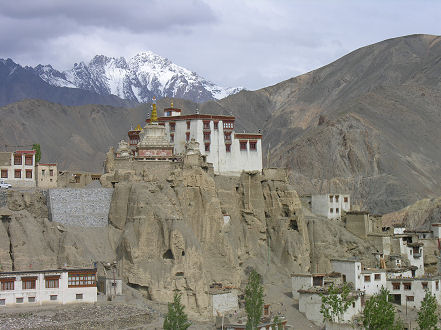 Muslim presence is strongest and most conservative and where fighting between the two countries occurred in 1999 when the town was shelled by Pakistan.

2/6/07 I was awakened in the night with large bites increasing in size on my buttocks, neck and arm. Nothing was identified on the bedding and switched to my own sheet and went back to sleep. The bites continued to increase in size and become more itchy as the day progressed. Another dose of bed bugs. Mountain damp, poorly ventilated rooms often the worst places for them. It wasn't long out of Kargil when we saw a chorten (stupa), the first sign of Buddhism. For a while it mingled with Islam but by the time we had crossed Fotu La at 4100m and entered Lamayuru the transformation was complete. Here a magnificently situated gompa, (Buddhist monastery) stands atop an eroding pinnacle overlooking the oasis town surrounded by barren mountains and snowy peaks. Believed to be the oldest gompa in Ladakh, the Indian region bordering Tibet. A compulsory "donation" of 20 rupees to enter. Most of the major religions seem to have "entry charges" to many of their more famous holy buildings. A fine balancing act between religion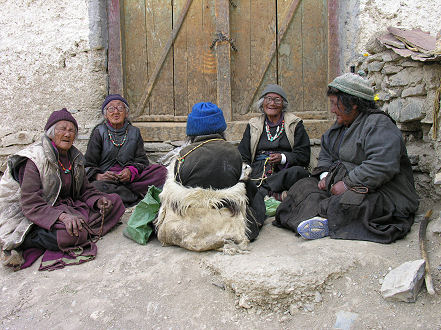 and business. I sometimes wonder how the founders of these religions would view the direction their religion has taken, and the people who have taken them in that direction. The structures inside were as impressive as the outside. We were guided around by a lama, (monk), who later played a double flute, that we could buy it if we wished. A walk through the older and now crumbling part of the small town and a look at how tourism is likely to rejuvenate the place just in time to preserve it. New guest houses and restaurants are springing up, the monastery has even built an upmarket four story hotel to accommodate visitors.

3/6/07 Just 110km to Leh. The small riverside settlements started to disappear as the landscape widened and flattened. Poplars and willow trees are grown along with crops as this treeless area doesn't naturally provide building materials. Poplars are cut for the large roofing timbers and the slimmer willow branches hold up the mud roof. Both provide stock feed. This has always been a marginal region. Fiercely cold in winter the short summer months need to provide sufficient supplies. Most people working in the fields are old, the younger ones milling about town, easier
money is available from tourism or working outside the region. We arrived in Leh, surrounded by stark barren snow capped mountains. At 3500m above sea level the centre of Ladakh is an enormous military base. There are more western tourists here than we have seen in weeks. They come for the cool air, away from the Indian plains like us, for trekking, for clear air and for the culture. Dietmar, a German motorcyclist we have been keeping in contact with since last year's meeting in Tanzania is also here. He is a photographer, returning to Germany to sell his photos and do slide shows to help finance his two year trip of Africa and Asia. We mealed together, catching up on past and future plans.

4/6/07 Dietmar asked if we wanted to join him on a ride to Pangong Lake, two nights camping at 4300m. We applied for the permit through a travel agent, $US 2.50 each, collected it later in the day, necessary as it is close to the Chinese border, bought food, changed oil on the motorcycle, and cleaned the air filter ready for the 5300m pass to get there.

5/6/07 Ladakh claims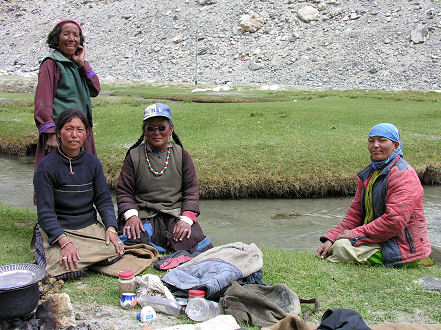 to have the three highest roads in the world. Chang La at 5300 metres is the third highest. The military keep the road open all year for security reasons. We arrived at the pass after giving the motorcycle a rest due to overheating, otherwise it performed well to its highest ever ridden road. It is also the highest we have been on land. The military welcomed us with a cup of tea and advised they spend four months at this pass, then one month holiday to return here for another four months. A bitterly cold assignment in winter. The scenery stunning all the way to Pangong Lake, which we did not reach till mid afternoon, stopping for photos and just to admire the hardiness of the few people who live in this remote area. Barren, stark mountains of pastel hues, snowcapped with creeks or small lakes at their base, a few yak, cow cross animals, goats or sheep grazing. A couple of shepherds brewed tea on a yak dung fire happy to pose for photos as we passed. The lake is brackish, salty, and gives a deep blue reflection of the sky in sunshine which we were lucky to have. It is said here that you can get frostbite with your feet in the shade whilst in the sun your face will be badly sunburnt. We camped near the lake, a small settlement of a few
houses, getting rapidly colder as the sun set with changing light on the surrounding mountains.

6/6/07 The road to the lake, 150km, is mostly asphalt, apart from the high pass and the lake foreshore. We headed back, just 30km to a nice camp spot near a small stream to while away the day in glorious sunshine. There was no reason to return to Leh today, the quiet mountains an excellent place to hang out. A Belgian guy with a French passenger managed to coax his 350cc Enfield motorcycle with all their gear over the pass, needing to ride the clutch extensively but made it to our camp in late afternoon, a snack and they were on their way to the lake. Three other Enfield riders passed by almost on dusk, solo riders. The evening cold had already set in and it was still more than an hour's ride to the lake. The season has started. Dietmar shoots slide film, 600x36 rolls over his two year trip. He was up at sunrise to capture the morning light over the lake and tonight moved ahead of us to photograph some Buddhist prayer flags at tomorrow's sunrise. Alone we enjoyed one of the few grassy spots for camping, paying the locals a small fee for the privilege.

7/6/07 Heading back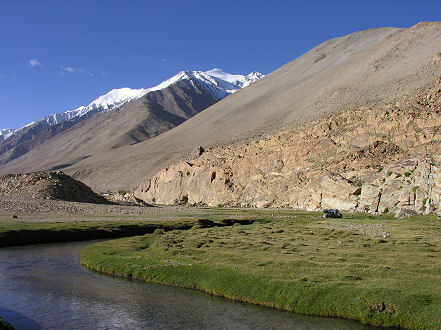 to Leh this morning we called into a summer grazing camp at 4700 metres and were invited into their stone walled and mud roofed cottage for salty tea with butter and hot yak milk. They had just finished milking the yak, turning them out to graze, and were about to start milking the goats. Just tied together and milked in a small pen only a bucket or two was obtained from the more than 20 goats. Their main production is pashmina (cashmere), which they were also combing from between the coarser hair. Back over the pass and into Leh.

8/6/07 I am not sure when it was that we thought it would be an interesting exercise to have the motorcycle visit the four corners of the globe plus it's lowest and it's highest roads but it was cemented as one of those ideas that eventually become a requirement. The four corners, the furthest north in the world that can be ridden, Nordkapp, in Norway, was our first point, July 1998, followed by Cape Agulhas, southern most point in Africa, April 2000, Prudhoe Bay, northern most road in the Americas, July 2001, Ushuaia in Argentina, the most southerly road in the world, October 2002. The lowest point at 400 metres below sea level is the Dead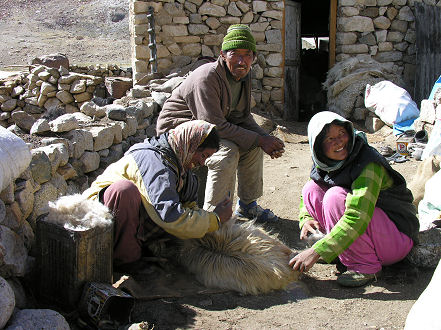 Sea which we first visited in Jordan in March 1999. The last point, Kardung La, at 5600 metres, in Leh, India, where we rode today, means the motorcycle has been ridden through a vertical height range of 6000 metres. Those who are a little more pedantic or attuned to more specific accuracy's than ourselves will argue that we could have paid the Nordkapp entry fee and ridden an extra 500 metres north or that there is a dirt road that takes the rider slightly further south than Ushuaia and perhaps we should have gained special permission to ride right to the Arctic Ocean out of Prudhoe Bay as others have done. A wheel could have been dipped into the Dead Sea in Jordan and whilst it is generally accepted that Kardung La is the highest motorable road in the world there are higher tracks, like Marsmik La, a nearby military track and 77 metres higher. Our maps also indicate passable roads in Chinese Tibet that cross glaciers, one, Gyugti La is only a whisker short of 6000 metres. Whilst it is possible that this is the first motorcycle to have visited these six points any debate will have to involve others as we were only visiting for our own enjoyment. The chugging low down power of the Harley made the pass easily despite there being only half the amount of oxygen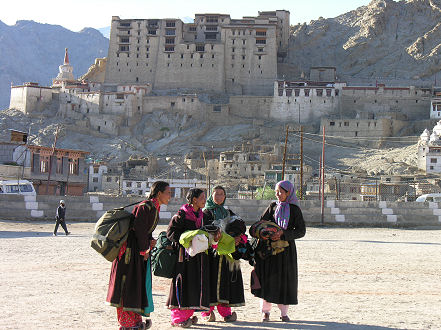 at this level compared with sea level and a height greater than Mt. Everest base camp. The uphill grade is slight but we encountered one truck that had burnt out its clutch trying the ascent. Two other trucks, not so lucky, could be seen a few hundred metres below the road, smashed almost beyond recognition after falling off the road. We stayed at the top of the pass for a couple of hours before returning to Leh, chatting with a few western Enfield riders, Shiva Riders Club, their motorcycles modified to reflect their personalities. All regular visitors to India they were enjoying its wild growing weed whilst relaxing in the midday sunshine.

9/6/07 Leh is a very relaxed place. Almost too far away for Indian tourists to visit in great numbers and attracting long time foreign travellers rather than the holiday makers, with a short summer season, the local's friendliness has not been too changed by visitors. The skies are clear, the nights cool, hotels and restaurants of quality and plenty of travellers to talk to, a great place to just hang out for a while.

10/6/07 We will be here for a couple more days. Dietmar is leaving tomorrow for lakes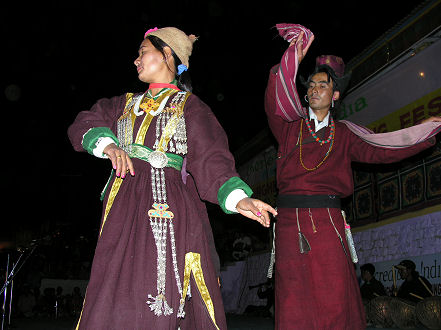 to the south east. A couple of Enfield motorcycles are starting to arrive from Manali, the direction we are heading. The road has been open for a couple of weeks. More socialising, at about my limit, conversations start becoming repetitive.

11/6/07 Sunset on the hill overlooking the town, above the palace and around an old castle is a popular place. We walked the hill to where prayer flags fly strung out on ropes. Already it can be seen, this place will become another local tourist destination, the early signs are already here. It is still expensive to fly from Delhi but the wealthy, wanting to escape the heat and noise are starting to come. There are only a few vehicle streets, the rest are little laneways winding between mud brick houses, interesting to stroll through, and quiet.

12/6/07 Today is the start of the Ladakh Spring Festival, three days of local events. Traditionally dressed men and women normally move about the town but today there are many more. The evening dance program, villagers from all over the region came to perform along with a special invitee from Delhi, performed at the polo grounds.
Move with us to the next section in India