Travel Through India on a Harley-Davidson
By Peter & Kay Forwood
India on a Harley (28/2/07 - 27/3/07)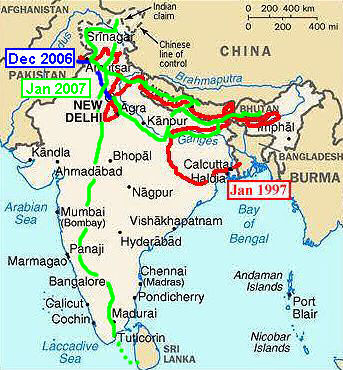 Distance 2183 km (488645 km to 490828 km)
This is part of the thirteenth section of our around the world trip.
Complete Trip Overview & Map
Coming from Bhutan or read our previous visit to India

28/2/07 Back to the bureaucracy that we have come to expect in India. Whilst Bhutan was happy to process our passports without us being present, in India we all waited roadside as each member of the group was called in to be identified, the process taking an hour. We said our goodbye's to everyone as our arrangement with Ferris Wheels Tours finished here but as there had been political activist problems, some militants having been killed, the region of Assam was on a 12 hour strike till 5pm, we were requested to travel with the group at least till we reached the main road, 40km away. Our plan was for a 350km day to Madari Hat but after 150km's there was a roadblock. The military advised that the road ahead was unsafe till after the strike finished at 5pm, too late to reach our destination today so we found a hotel in Bongaigaon. We had left the tour earlier, who had headed for a national park and an elephant ride.

1/3/07 With the strike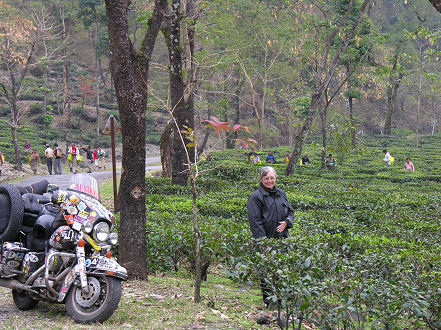 over, all of yesterday's traffic joined today's and packed the roads. The state border between Assam and West Bengal had trucks lined up on both sides waiting for permission to cross. Impatient they had occupied both sides of the road and created gridlock with almost none moving. We weaved in, out and around what we estimate to be over 1000 trucks stuck in the couple of kilometre long traffic jam wondering how long they would be stuck at the border, between two Indian states. We had intended to rest up at Jaldhapara Wildlife Reserve but found the accommodation expensive and not a good rest spot so continued on towards Mal. Just 10km short it started to rain heavily, the worst time. Waiting an hour in a bus shelter for the storm to pass was of no use, it was still raining as we arrived at a hotel, wet.

2/3/07 Still looking for a rest we were advised that the holiday of colours, Holi, would start tomorrow and last for two days. This beginning of spring festival on my visit to India ten years ago resulted in me being held up at local roadblocks and being sprayed by coloured water staining clothes. Decided to move onto Kalimpong where we could sit out the festival.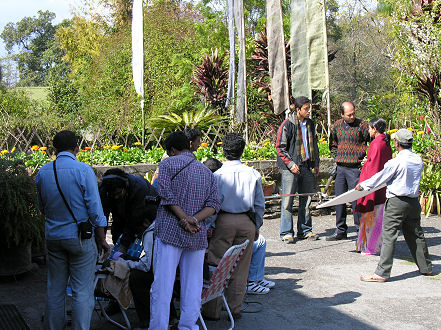 The rain had all but cleared and taking the mountain road through Lava we twisted up through tea plantations and through forests of pines.

3/3/07 Few people in Kalimpong publicly celebrate Holi. Some children were seen covered in red and blue dye but the widespread covering of adults and motor vehicles I had seen last time doesn't occur here. We walked the empty streets to the Himalayan Hotel. A century old western icon in the area, the hotel is perched hilltop, with magnificent views across to India's highest mountain, Khangchendzonga, showing its pointed, snow covered peak in the distance. A slightly luxurious breakfast on the upstairs terrace filled the morning. Another walk further up the hill to a former maharaja's home, now hotel, for tea on the terrace, where a Kolkata (Calcutta) film company was making a telemovie. The director and actors, intrigued with our presence, were happy to talk about the movie business. A seventy minute film it would be shot in three days and edited on the spot, a low budget and tight time frame. There were some evening Holi celebrations on the local football fields. A bonfire had been lit and people, many with farm implements, chanted and sang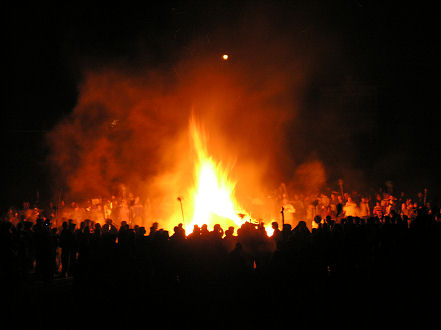 as they walked around the fire. Coals were later collected on shovels and carried through town.

4/3/07 We have been eating too well on the Bhutan trip and now slipped back to the two meals a day we normally eat when travelling, in an effort to reduce weight. The weather was not so kind nor the mountains in view as we retraced our steps to the Himalayan Hotel for late breakfast. The whole of this mountain region across northern India only gets good views, because of air pollution, after rain, once it washes away the pollution particles. The clear air only lasts a day or two before more pollution clouds the skies. Each year the population of India grows by more than the entire population of Australia. 220 million more people live here now than when we visited the country ten years ago. It seems we misjudged the Holi celebrations. As we were resting in the Himalayan Hotel's gardens the noise from back in town started to reach us. Ten young western volunteers, happy to help celebrate, arrived covered in coloured dye. Even though they had washed most off, it had stained their skin, hair and clothes. By noon the noise had subsided and we ventured out of the hotel's grounds. Coloured pavements dotted the town and silver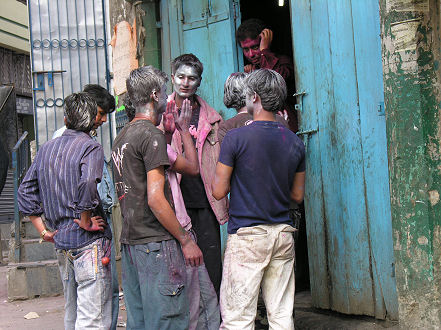 faced, red and blue skinned young people still strolled the streets but the throwing of colours had finished.

5/3/07 We used to cringe a little when we first started travelling and met some Americans as often we thought them to be loud and complaining. Since then Australians have also become louder and more complaining. Unfortunately it is only through complaints, and often loud complaints that things are improved. The squeaky door gets the oil. Poorer Indians don't complain. They are crammed onto overcrowded buses. Squeezed into ancient trains. Asked to line up for poor service and expected to wait for just about everything. Consequently without complaints, or people voting with their feet, or true free enterprise, things won't improve. We are daily amazed by the acceptance in India when we find things that only require small effort necessary to correct the problem. Sikkim is one of India's border states that requires a permit for foreigners to visit. It has only been an Indian state since 1975, but was incorporated as a dependant territory in 1950, just before China annexed Tibet, it's neighbour. Almost surrounded by China and claimed as part of it's territory, even with permits, travellers are restricted where they can go.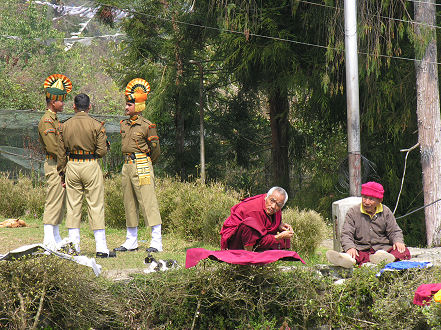 We arranged our permit at the state border at Rangpo, just a few minutes, and moved onto the state capital, Gangtok, at 1700m. Since the start of Nepal's political problems over the last few years tourists have started to come here as an alternative trekking destination. Still cold the season is just starting.

6/3/07 We are continuing our Buddhist tour of the region. Bhutan is a Buddhist society as is most of Sikkim. Whilst Buddhism started just 500km to the south when Buddha first preached his "middle way" lifestyle about 500 BC it has not been as accepted in India as in many other parts of the world like Japan and Thailand. Perhaps this is because Hindus have incorporated and swamped Buddhist teachings within their religion. When China occupied Tibet many Buddhists moved south to Bhutan, Nepal and India. The monastery nearby at Rumtek is a reproduction of one destroyed in Tibet. Built mostly of concrete in 1960 it has little of the appeal of an ancient monastery but functions as a teaching centre for the Black Hat sect. Tension between India and China has prevented the new Karmapa (head of the sect), currently in Dharamsala (west India), from taking up his seat at the monastery. Military security is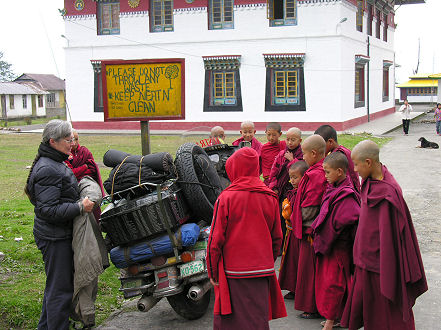 high, a metal detector and bag check at the entrance along with armed patrolling soldiers within the grounds detract from the serenity of the place.

7/3/07 The Indian economy is growing at about 9% and is heralded as a tiger however it is coming off a low base and it's population increase and inflation disguise the net benefit. India's Gross Domestic Product, the value of goods the entire country makes, is still only slightly above the value of goods made in Australia. We produced little today for either India or Australia. Talked with other travellers and a bit of planning.

8/3/07 Part of the joy in coming back to a country is retracing our steps in some regions, seeing how they have changed, or how our memory has faded, and visiting previously unvisited areas. I was in this region almost exactly ten years ago with a friend, Ron, who was travelling on an Indian Enfield. The roads have improved but are still basic and constantly under repair due to landslides. We rode to Phodong, with a brief visit to the monastery, a fully functioning community place and no soldiers. Then onto Singhik, a small village about as far north as it is possible to visit
in Sikkim without special permits. Houses dot the hillsides and we wondered how people support themselves in this poor region. It seems only a couple of years ago India introduced a work plan where every household gets a guaranteed 100 days minimum, manual labour each year, probably working on the roads, effectively a work for unemployment benefits. This underpins the economy which otherwise relies heavily on cardamom production and subsistence farming. We stayed at the lovely Friendship Guest House. A basic place, run by a few ladies it certainly lives up to it's name, as they chuckle away amongst themselves in the kitchen making our meals.

9/3/07 It rained last night and the air cleared enough to get a good view of the mountain range, including Khangchendzonga, the world's third highest. We headed back down the valley, following the river, currently being dammed for hydroelectricity, before again climbing the next mountain ridge, the way of riding in this area. Waterfalls and mountain scenery all along the route with many landslides as these mountains are being both pushed up by the continental plates and worn down again by rain. Pelling for the night, same hotel as my last visit. The town has grown, mostly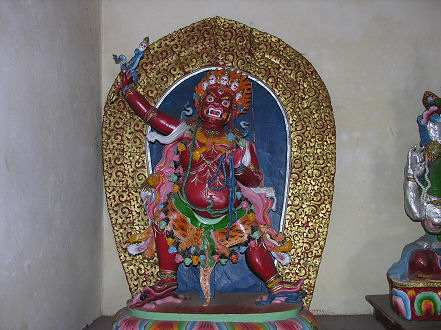 Bengali tourists coming up from the plains to avoid the summer heat, hotels the main new construction.

10/3/07 Buddhism has only been in this region of India since the 17th century. A late comer compared to Bhutan whose history goes back to the 7th century. Consequently there are no very old monasteries, but a couple do date back to when Buddhism arrived. Sangachoeling Gompa is the second oldest in Sikkim and has murals dating back to it's construction. Definitely phallic in their depiction they show some of the eight manifestations of tantric Buddha in sexual displays, a vast contrast to the South East Asian Buddha. We walked the steep climb to the monastery where a road is under construction, has been since 2003, supposed to be finished by 2004, and is likely still years away from completion. Built entirely by hand, the road is dug out by men, large stones separated, crushed by women and then concreted back into retaining walls by men.

11/3/07 Pelling gets it's share of foreign backpacker tourists doing treks between local towns and through the hills. A popular walk is to Khecheopalri Lake,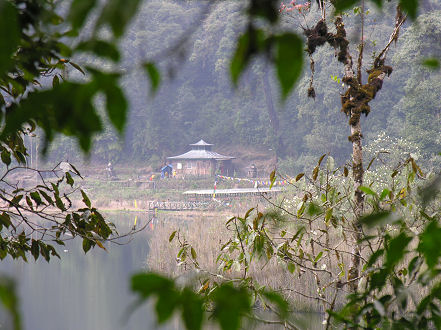 18km by foot or 25km by motorcycle our option. On our arrival a youngish local man said he recognised the motorcycle. This has happened before where people have seen a similar motorcycle or on TV but this gentleman queried, "Didn't you used to have a painting of a tiger on the front and not so many stickers?" It's ten years since I was here and the man was then a young student. He had seen the motorcycle in his local town, Legship, where Ron, travelling on an Enfield, and I had spent the night in the police station, as the local hotel was full. The lake is unusual in this area and is considered holy by locals although not that stunning or spectacular it does sit beneath towering hills of dense temperate rainforest with flowering magnolia and rhododendrons. We took a trail to walk around the lake before returning to Pelling.

12/3/07 The skies had cleared and again Khangchendzonga came out in full view. Neither needing to stay nor go we decided to stay another night to socialise with other travellers and walk to another monastery, almost monasteried out, our likely last in this region. Pelling has a monastery a few km's from either end of the town. Pemayangtse, to the east, has an intricate,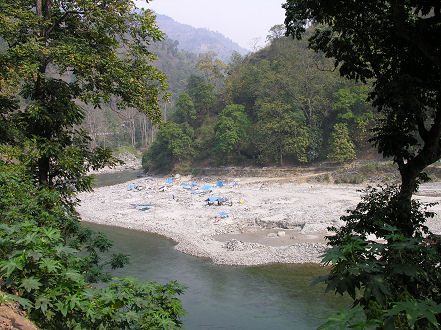 seven tiered, wooden sculpture depiction of Buddhism. Built by a single man over five years it is quite impressive in it's detail.

13/3/07 Time to leave. A ride back down the mountain to Legship, then following the now withered river, hydro taking it's life, we arrived at Naya Bazaar before leaving the state of Sikkim. I had remembered the ride from here up to Darjeeling to be the steepest, most switchbacky road we have ever been on and even after ten more years of riding it still remains the steepest and most switchbacky road we have ever been on. The potholey, one vehicle wide road, winding up through tea plantations, climbs 1600m in just 20km's. The motorcycle was overheating and pinging coming out of many corners overloaded. We rested and cooled the motorcycle before the final section of twists. A local bike, with three riders, rode past with the chain slipping on the front sprocket. We passed them later, stranded. The passenger jeeps plod too slowly for our high range first gear and riding the clutch we had to wait an opportunity to pass. Like the last time I arrived in Darjeeling sleet welcomed us, taking refuge in an internet cafe for it to pass. It had often surprised me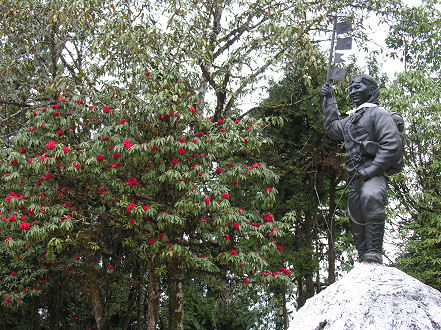 how hot the motorcycle got at cold altitudes. Air cooled is not very efficient in the thin atmosphere.

14/3/07 With the weather heating up on the plains of India we decided to have a change of plans for this trip and will try to remain in the Himalayan mountains of India, Nepal, Pakistan and perhaps China. We have again been looking into getting the motorcycle into China but are having little success. A couple of tour operators have said it is possible but on further inquiry they find out that motorcycles are for some reason more difficult than cars and as we want to cross more than one province that adds another difficulty, a minimum of two months to get approval, if it is successful, plus quite high expenses. It will be a long time to spend in the region if we can't get into China. The motorcycle has been running hotter than we would have expected since the rebuild with a resulting low oil pressure. We opened the cam area and noticed the oil scavenge pump was worn. It is likely it was caused by metal fragments from the cam follower failure in Russia two years ago and needs replacement but we couldn't see how it would be suddenly affecting oil flow and the high temperatures.
15/3/07 Awoke to clear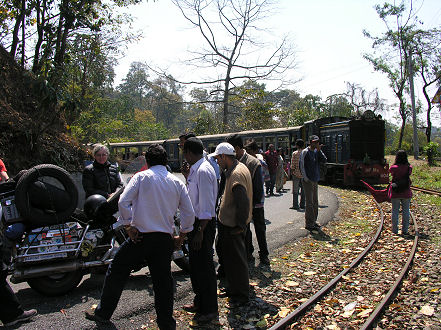 skies blown in from Tibet. An early morning walk to the viewpoints gave stunning Himalayan views, snow-capped mountains peaking behind more snow-capped mountains. Darjeeling is home to a large Tibetan community, displaced when China occupied the territory. They brought with them their hard work ethic and unique cuisine. Vegetable momo, slightly spiced cabbage and onion wrapped in dough pastry has been our consistent favourite. A takeaway order, wrapped in newspaper, because in a growing number of Indian cities plastic carry bags are banned, either shows environmental concern or an inability to recycle. A steamed item, the newsprint soon rubs off on the momo's with the newspaper disintegrating from moisture.

16/3/07 A transport strike, buses and trains are not running, shops have their shutters drawn, restaurants are closed. Just about every business in Darjeeling is closed in protest. The shooting killing yesterday, near Kolkata, of 14 unarmed farm workers by police trying to remove them from their land to convert it to industrial use the reason. Women and children, caught up in the problem, were also injured and beaten. The mood of locals is understandably angry.

The government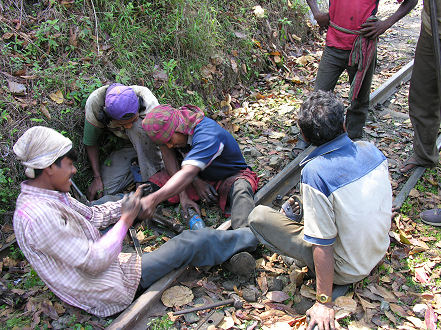 run tourist hotel we are staying in was once owned by the King of Nepal and is heritage listed, with extensive views towards Nepal. I think we are in the servant's quarters. A small room with an attic like aspect. Despite it's heritage listing no maintenance is being done and each evening the water is turned off to stop pipe and tap leakage. Downstairs rooms remain damp from leaking drainage with mould and peeling paint. We are staying here because it is quiet, has motorcycle parking and above all a room heater, not seen by us in the last couple of cold weeks. Darjeeling is largely a vehicle free town, situated on a ridge the top few streets are pedestrian only. The British built the town and their historic legacy of well laid out streets with parks and viewpoints remains but concrete higher rise is replacing timber low rise. The older structures seem to be only recently gaining restoration value and some upmarket hotels are renovating. Government offices are about the only places open today. That includes the Himalayan Mountaineering Institute which has good exhibits of the conquest of Mt. Everest by Sir Edmund Hillary and Tenzing Norgay in 1953 along with other Himalayan mountain conquests. Some of the clothes they wore along with the two flags, a British and an Indian one, that they placed on the top of Mt. Everest are on display. The nearby zoo,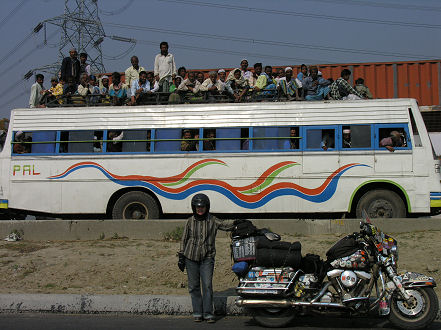 well appointed, has snow leopard, clouded leopard and red panda as well as some more well known mountain species roaming large enclosures.

17/3/07 The "Toy" Train Railway from Siliguri to Darjeeling runs on a 60cm track at just 10km/hr. It is often stopped due to track repairs. On our way down the mountain we encountered it waiting for four men to hand drill a hole in the tracks so they could bolt the repair together. Passengers had disembarked and were waiting patiently. We took the opportunity to get some photos as the weekend vehicle traffic passed carrying thousands of Indian tourists up towards Darjeeling along the narrow road where often two vehicles couldn't pass. Into Siliguri and finally found a tyre place that was prepared to change a tubeless tyre. We had flown in to India with the spare and the tour operator had carried it to and through Bhutan for us but we were ready unload it. India's technology doesn't run to many tubeless tyres and smaller tyre wallahs don't want to work on them. It had required a large city to find someone.

18/3/07 We are back in "India", the India everyone thinks of. The mountains are a quieter, more peaceful place to escape the thick crowds and noisy traffic
of the plains. The mountain people of Nepali and Tibetan origins go about life at a quieter pace. Fitted the wheel back onto the motorcycle, in front of a gathered crowd, after greasing the bearings, at our hotel's entrance area. We now just throw the motorcycle onto it's side to remove and replace the front wheel, requiring no assistance or special equipment.

19/3/07 A couple of nights ago we walked across the main bridge into Siliguri. There can be little as demeaning to a human than to have to defecate, open to the public, on the sandy beaches of the river bed as thousands walk above on the bridge. Squatting, thighs to mid back exposed, hunched over. Thousands have done the same since the last rains as the sandy beach was littered, barely room to walk between, till the next flooding of the river to take it away and clean the area. Headed towards Bodhgaya, some 600 km and needed to spend one night on the road in a small town. Some of the road has improved, other sections are the same or worse than when I travelled this difficult section ten years ago. At least 50% of the roads we have travelled so far in India are under repair, and we are not sure if it is a massive road building program, needed,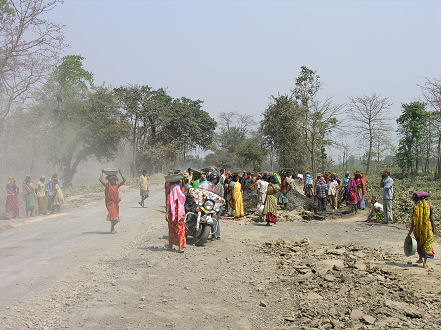 or whether this is the normal state of events as it takes so long, done by hand, to build a road that it is disintegrating as fast as it is built, probable. We are constantly told by Indian nationals that India is now a "super power", it has nuclear weapons, can launch satellites by itself, the newspapers are full of the latest achievements in technology, how the west needs Indian call centres and computer programmers. CNN India is running a series highlighting India's recent advancements, but there is little improvement to see in the average lives of the average people. After nine hours of almost constant riding we had travelled 350km to Begusarai where the electricity was off and on all evening, something we have become used to everywhere we stay. Euphemistically called load sharing, actually rolling blackouts due to under supply and over use, lasting from seconds to hours each day. We had passed through some magnificent country. Starting with flatland tea plantations, pineapples, bananas and into vast acres of grain crops. The area is so fertile, water so plentiful, that one crop is being harvested as the next is planted and everywhere in between. Wetland rice, dry land wheat, sunflowers, maize, oats, canola were all being grown.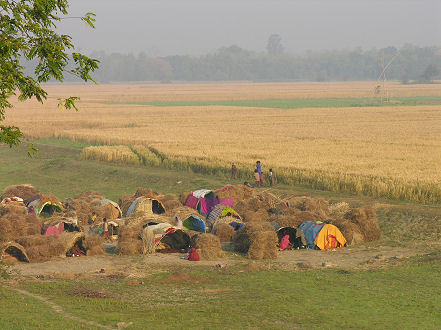 20/3/07 250km to Bodhgaya. The new road a marked difference to most of yesterday's. Traffic was also light on the second half and after leaving the main road we wandered through small villages living along the roadside verge. Land is so precious none of the fertile bits are used for housing. Water buffalo the mainstay animal. Milk for protein, dung is sundried in biscuits for cooking, the animal harnessed it ploughs the fields. The countryside gradually getting poorer and dryer the further south we went.

21/3/07 Bodhgaya is where Buddha found enlightenment under the Bodhi tree, a descendant of the original, 2600 years ago, still thrives. Since then monasteries and temples from Buddhist communities around the world have been built in the town. Japan, Thailand, Burma, Tibet, Bhutan, China, Nepal, Vietnam and the first Indian temple, built about 200BC, all dedicate this site as the most holy of Buddhist places in the world. We were at the Mahabodhi Temple, built on the site where Buddha found enlightenment, early in the morning and watched the faithful meditate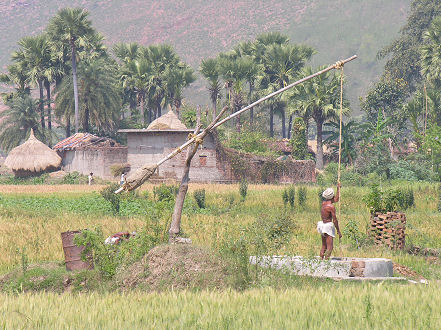 or slowly file past the place where Buddha had sat. There is currently a large contingent of Thai Buddhists, celebrating the 50th anniversary of their monastery in Bodhgaya making the place busier and more interesting than usual. More than 100 French Buddhists are also here. Of the Tibetan faith they have a Chinese Master in France and are here to reopen the Chinese Temple, closed for many years due to the poor relationship between India and China, but now the temple has been renovated and will open in a few day's time. A couple of Belgian Buddhists, travelling the Buddha trail independently, shared our restaurant table along with many other nationalities, some Buddhists, others like us just interested in the teachings and followings.

22/3/07 We had come here thinking to do a meditation course. We have met many travellers who do meditation and often wondered it's benefits. A course often lasts ten days, starting at 4am till 10pm each day, meditating for over ten hours in that time, some sitting, some walking meditation. A little intensive we chose to first try a couple of sessions. Last night we spent a pleasant hour at the Japanese Temple, meditating Zen style to the ringing of a range of bells and drums as well as sitting silently.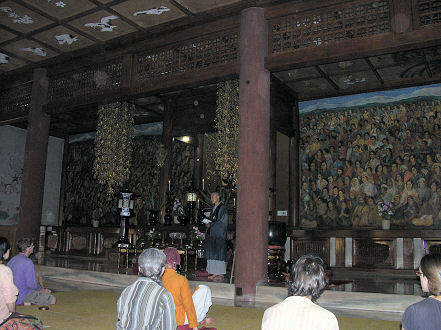 The Japanese Temple is one of the simplest in design reflecting the Zen style of minimalism, contrasting vastly from the Thailand and Bhutan Monasteries. This morning we joined the many people in quiet solitude meditating or supplicating away from the busy bustle of the city inside the Mahabodhi Temple grounds. The days on the plains are already hot and most tourists spend the heat of the day in their hotel rooms, coming out at dawn and dusk. Tourists will soon disappear from this region as the heat build up to the monsoon arrives making it unbearable for people of European origins.

23/3/07 A bit of yoga this morning, something we have also not tried before. An hour and a half with a Nepalese yoga instructor, who was taught by an Israeli master, at a Korean owned business with Indian staff indicates the international makeup of this place. Quite a relaxed event with Kay and I the only participants, the instructor paced things to our abilities. The early evening was again spent at the Japanese Monastery in Zen meditation, which we again enjoyed, this time with about 15 other tourist meditators. With the hectic nature of travelling in India meditation can easily help to reduce the stress of traffic, traffic noise, beggars and poverty that often drives tourists to annoyance beyond enjoyment. After both meditation sessions we have come away with an air of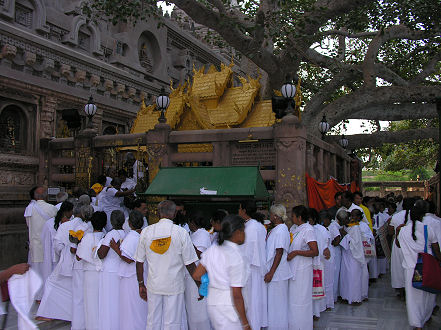 aloofness to our surroundings, unfortunately it is not a lasting effect. Other tourists have become engrossed in the process. Some spending months here, repeating meditation courses, seeking and finding a different direction or way of life to take back to their home country.

24/3/07 Mahabodhi Temple was cleaned up for today's Princess of Thailand's visit. The street sellers and beggars that usually wait around the entrance area were gone. Extra flowers and welcoming ribbons were draped and people, like us, were told we could not sit on the grass, something we, and others, have been doing for the last few days, in peace and quiet. Armed military strolled through the temple grounds and it was no longer the peaceful place we had been enjoying.

25/3/07 Another Hindu festival. This time people, mostly women, go down to the local water hole to make an offering or enter the water. As we travelled the 250km to Sarnath, just north of Varanasi, leaving at dawn to avoid the heat and traffic, we passed many small celebrating villages. The road was good but the four lane GT road was unfinished and as we have
come to expect on divided roads they are often treated as just two, two lane roads, with vehicles going in both directions on both roads. A couple more horrendous head on accidents leaving wreckage along the road, the result. At the state border, the usual line up of waiting trucks was compounded by a truck having broken down in the middle of a bridge. With trucks unable to pass from either direction they waited. We counted over 500 immobile trucks stranded on just one side, with more arriving every minute. There was little prospect of repairing or towing the broken truck as other vehicles had gridlocked it firmly on the bridge. We manoeuvred slowly through the melee. Following the road signs we arrived at the double decker, road/rail bridge over the Ganges River near Varanasi only to find that vehicles are no longer allowed to cross. A detour to a narrow floating pontoon bridge a few km's down river had us in Varanasi traffic, and onto Sarnath.

26/3/07 Our government tourist hotel is where the Dalai Lama resided for over a month on his pilgrimage to the area 50 years ago. Sarnath is where Buddha preached his first sermon after gaining enlightenment in Bodhgaya. Again there are many temples from the world's followers. The Sri Lankan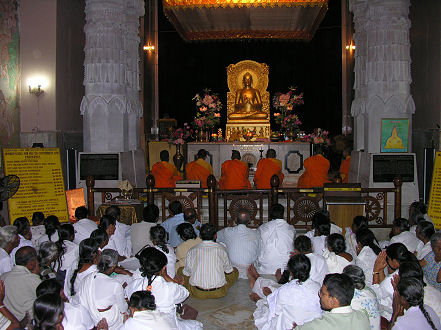 temple has a "service" (Buddhism is not necessarily considered a religion but a way of life by many followers) with a reciting of Buddha's first sermon carried out here every evening. We joined a couple of hundred Sri Lankan pilgrims sitting on the floor of the temple who recited the sermon last evening. Today we visited the museum and ruins, along with many hundreds of pilgrims from all over the world, the exact place where Buddha has been identified as preaching his first sermon to five followers, now surrounded by many monastery ruins from the 5th and 12th century. Unfortunately the experience was marred by one of my pet hates. Non Indians are charges 20 times the entrance fee of India nationals. Not a large amount, however this world class religious site is not the place for this two "caste" system. Not just westerners, Sri Lankan pilgrims, and all other poorer nation's pilgrims are asked to pay this higher charge, while Indians, irrespective of their wealth or religious association with the site, pay the "discriminatory" different price. If any western nation tried to do the same at such an historically important religious site it would receive universal criticism as should the Indian Government.

27/3/07 Straight through to the Nepal border at Sonauli following the same route we did two months ago. The road is still good with light traffic and this time we managed not to get lost in Gorakhpur. The border here is quick and efficient and we were out of India in under half an hour. The customs officer reconfirmed India's rules on carnet imported vehicles. There is a maximum 6 month stay in India, including time in Nepal or Bhutan, else the vehicle is deemed to have been imported and duty, he thinks 150%, is payable, and will be claimed against the carnet. Leaving through the borders of Bangladesh or Pakistan and returning start the 6 months again. We have to be careful to leave to Pakistan before mid June. Whether the authorities will match up the original entry to the region with the final departure, as each entry to Nepal cancels a page in the carnet, is doubtful, but the risk is too high to ignore the situation.


Move with us to Nepal or go to our next visit to India