Travel Through India on a Harley-Davidson
By Peter & Kay Forwood
India on a Harley (15/12/06 - 23/12/06)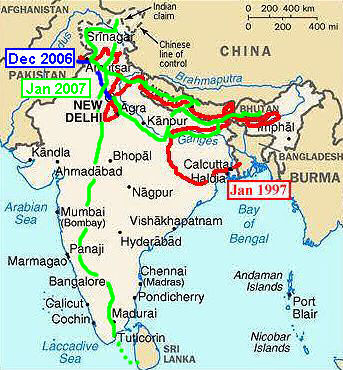 Distance 499 km (484991 km to 485490 km)
This is part of the twelfth section of our around the world trip.
Complete Trip Overview & Map
Coming from Pakistan or read our previous visit to India
15/12/06 We had the same slow cold welcoming on our arrival at the border as we had at the Indian embassy in Ankara. The immigration officer was quite put out by our arrival disturbing him from his lethargy it took 30 minutes to process our stamps despite being the only ones at the border. Customs were equally inefficient as the only officer to be able to check the motorcycle's engine number was at lunch despite the border not closing for lunch and it took one and a half hours to finish the border despite only seeing one other person crossing. We rode to Amritsar for the night.

16/12/06 We decided to take an extra day here to visit the Sikh Golden Temple. An enormous complex, and the Sikh's holiest shrine. All are welcome here, a great contrast to some other religious places. Pilgrims and visitors are offered accommodation and meals, and no money will be asked. Tens of thousands of people receive free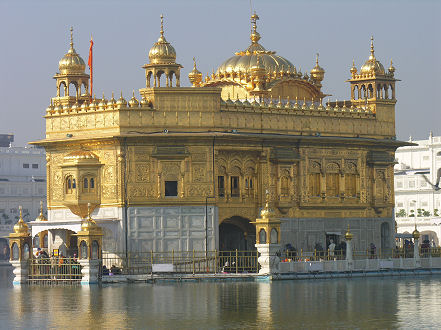 meals each day in a production line of stainless steel plates and bowls as they rotate from food to washing. I don't recall such a welcoming, of everyone, by any other religion. Formed in the 14th century by Guru Nanak and taking facets of the major two religions of the day, Islam and Hindu, it has now grown into a major Indian religion having more influence in politics and finance than it's size would suggest. We returned to the Indian Pakistan border on sunset to watch what has come to be a daily spectator sport, the lowering of the flags. About a dozen border guards from each country, watched by a couple of thousand, mostly locals, spurred on by a master of ceremonies to chant, cheer, and whip up nationalistic fervour, strut in outrageous uniforms, in a pompness that could only have been a left over from the British rule, face their opposition country with scowls and slowly lower their respective country's flags. That this event occurs every evening is amazing and confirms this as the most unusual border situation in the world.

17/12/06 A long 450 km day. The Grand Trunk road has improved and is now almost a four lane all the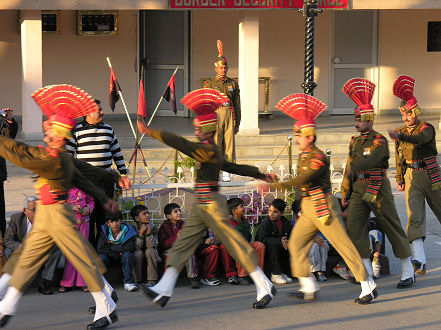 way from Amritsar to Delhi but the traffic is slow with pedestrians, bicyclists, donkey and camel carts taking up the slow lane whilst trucks and private cars vie to overtake in the fast lane. Motorcycles are slow, officially restricted to just 50 km/hr and might is right as we are often forced off the road by bigger oncoming traffic. The divided road is not always adhered to as in towns, and sometimes on the highway, vehicles will choose to travel on the wrong side of the road to avoid the fuel cost of waiting for a U turn possibility. A day of concentrating riding and entering Delhi traffic in late afternoon we were pleased to find a comfortable hotel.

18/12/06 Mr Lalli Singh runs a mostly Indian Enfield motorcycle rental shop in the heart of old Delhi. He provides the motorcycles and back up mechanics for Ferris Wheels tours and was recommended to us as a place to possibly work on our motorcycle and store it whilst we return home to Australia. A pleasant Sikh gentleman we were welcomed and started dismantling the periphery of the motorcycle ready for tomorrow's engine dismantling. The usual concerns of rusted bolts or stripped threads faded as the parts were removed easily.


19/12/06 Back at the storage area this morning after a tuk tuk ride the six km's from our hotel in Paharganj. These three wheeled, motorcycle engine driven mini taxi's, are the main form of non government transport. Zipping through the horn blaring traffic carrying passengers or loads of goods they are cheap, our trip costing just over a dollar. The traffic congestion in Delhi has improved considerably since they built the raised metro. Pollution has also been reduced with buses running on natural gas and the two stroke tuk tuk, the main pollution culprit, has been banned, only four strokes are now permitted. The audible pollution however seems louder with motorcycles using car horns and cars using truck horns as the desire to be heard above the surrounding noise becomes more intense. An hour or two in the raucousness is enough to take us back to the hotel for escapism. The rocker covers, heads, cylinders and pistons were removed this morning. The rear cylinder has a serious oil leak but neither cylinder looks scored or damaged. The valves had maximum carbon build up but again didn't look damaged other than normal wear.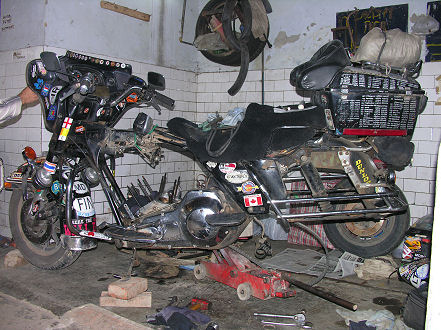 The petrol tank was flushed as the filter had become clogged and was not letting enough petrol through. Sometimes as we climbed long hills the engine would misfire.

20/12/06 Checked the cam area that I replaced in Mongolia 60,000 km ago and it looks OK but we are taking the cover home to replace a couple of bushings that I was unable to replace at that time. Rewelded and strengthened the swing arm after removing it from the motorcycle. It had been welded on the motorcycle after it cracked in a small town in Senegal but we were not sure of its strength so better to be sure. India must still be one of the most economical places in the world. The welding was just $US 2.00. Our hotel room with a hot water ensuite, satellite TV with movie channels and comfortable clean room is $US 8.50. We are getting room service for most of our meals and with taxes and tips they are less than $US 2.00 each. It is a great place to wind down after 12 months of travelling.

21/12/06 We put the motorcycle to bed. Removed the rear top box, cleaned and packed the engine parts inside. Sorted out what things were staying and what we were taking home. There is little we can take home, a few clothes, as our luggage allowance will be stretched on the return flight with the engine parts, a front tyre, new tent and spares. Overdid the movie channel in the afternoon.

22/12/06 Resting and buying a few local made Christmas presents filled the day.

23/12/06 Flew out on the evening flight to Singapore where we will spend Christmas eve before arriving in Australia the morning of Christmas Day, a surprise for our family who is not expecting us until early January.

You can either move onto planning the thirteenth trip or go to India for the beginning of the next trip.