Travel Through India on a Harley-Davidson
By Peter & Kay Forwood
India on a Harley (18/3/97 - 14/4/97)
Distance 3202 km (59473 km to 62675 km)
This is part of the second section of our around the world trip.
Complete Trip Overview & Map
Coming from Nepal or read our previous visit to India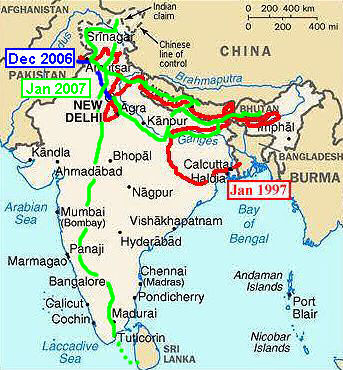 18/3/97 The border crossing at Mahendrenagar (Nepal) - Balbasa (India) pretty standard now, about one hour to get out and the same to get into India, nothing special. Heading towards the hill station, Naini Tal, I noticed the slight leak in the primary gasket had worsened and was in need of immediate repair. Finding leather in cow sacred India was not easy, only the lowest castes work with leather, those repairing sandals. By this time I had attracted a crowd of some 100 people crowding in on me and the motorcycle preventing any movement or light entering my greatly reduced personal space. After persevering for some time, I left in a fit of frustration to a sawmill and private land where the owner kindly kept intruders at bay while I fashioned a gasket. It was now dark and 20 km to any accommodation in Dhunaghat.
19/3/97 I have finally found some good roads in India. The road into Dhunaghat last night was new (not on my map), well built and with little traffic, as was the climb (2100m) to Naini Tal this morning. Quite a pleasure winding around the curves even on the big Electraglide.
20/3/97 The day, the first with constant rain, also my first hotel room with a TV, the two went well together and with outside temperature in the low singles, I didn't venture far from the television.
21/3/97 The rain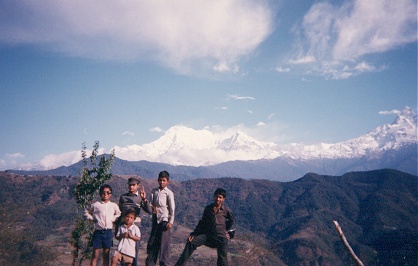 and mountains cleared. A trip to the Kalbiri lookout just 10 km out of town revealed crystal clear Himalayas as far as the eye could see, left to right, with some cloud in the valley. Visibility now extremely clear after the rain.
22/3/97 Leaving Naini Tal for the trip to Joshimath, 300 km via a road not on my map. This road through to Joshimath and onto Badrinath is one of the gems in Asia if you enjoy mountain roads and scenery. The last 100 km is not for those suffering vertigo or not enjoying sheer drops from a lonely road, traffic being relatively non-existent. The actual course, Ranikhet, Chaukhutiya, Gairsain, Adibradi, Karnaprayag, Chamoli, Pipalkoti (where I stayed the first night), Joshimath and Badrinath. The road for me finished 10 km short of Badrinath at Hanuman and does not open until May, the snow at this point down to the road and altitude about 2600m. The road follows a number of river valleys of sheer cliffs and blue snow melt rivers. If you're in India on a motorcycle and like this type of road and scenery, this should not be missed.
23/3/97 After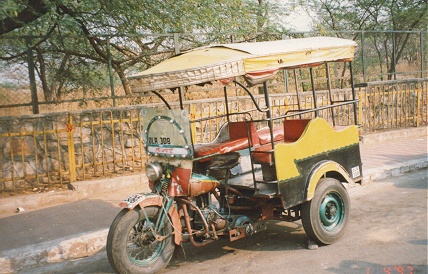 Hanuman, I returned down the same road to Karnaprayag to stay, again the afternoon rain forcing me to stop. The 24th of March is the official festival of colours (Holi festival) but already I was stopped twice to have money demanded of me or be covered in coloured powder or coloured water.
24/3/97 Leaving at 6 am to avoid 2 hours at least of colour road blocks, the road was empty and indeed remained empty until my arrival in Rishikesh. However I did have two serious highway robbery points. The majority of demanders being young would part and allow me through with burglar alarm blaring. One road block manned by 20 or more youths and led by one very drunk, stoned and serious person holding half a bucket of blue dye would not let me pass without payment of 100 rupees which I refused (highway robbery with the funds used to drink and use grass, encouraging more highway robbery). It was only after much jostling and my drawing my knife and threatening death, that I avoided the motorcycle and myself from being covered in blue dye. This dye does not wash off and some will not even be removed with polishing the paint work. I escaped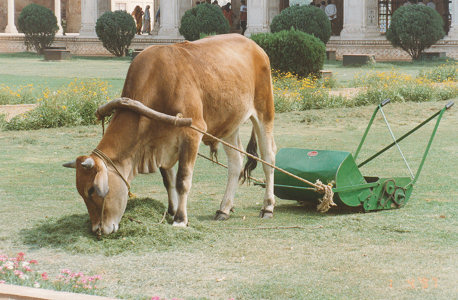 with only two water pistol streaks of pink and green which I hope will fade. Whilst it is intended as a fun festival, the newspapers are full of stories of how it has degenerated into an excuse to disregard people's property in drunken destruction.
25/3/97 After having been caught short of money yesterday and needing to travel on Holi, I was pleased, almost, to head towards Delhi with some rupees in my pocket again. The Tourist Camp, in Delhi, is the only place to stay as everyone travelling with their own vehicle, from bicycle to motor home, stays here. Each have their own stories of problems and highlights. It's a great place to find out what is ahead and where to find that needed something for your vehicle. I discovered there are two Harleys in Delhi, both owned by diplomatic people. However there are many old Harleys still plying the streets as 3 wheeler auto rickshaws, the side valve engines long ago being removed and replaced by a diesel. Only the Springer front end is still Harley.
26/3/97 A visa for Iran and to find Ron before he leaves India are my two challenges. Surprisingly the Iranian visa is the easy part. 48 hours, despite a sign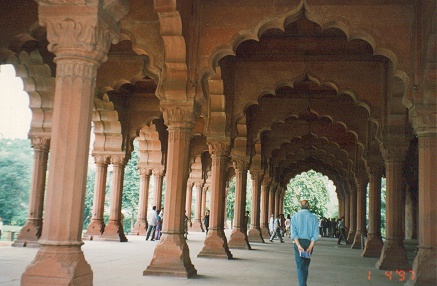 saying 5 days (15 days if you are British or American). The downside, a letter from my Embassy 10 minutes and 420 Rps and the visa costs 1725 Rps with transport meant a hefty $A80 for an extendable 5 day transit visa. Ron was more elusive having checked out of his previously known accommodation 5 days earlier. But someone always knows someone who knows someone who knows where someone is. Given time and patience, he was located finalizing the sale of his motorcycle just hours before his return flight to Australia.
27/3/97 To get my motorcycle ready for its arduous task of carrying two people, spare tyre and personal gear with spares and tools. My estimate is that I will be 30 kg over the maximum weight and on poor quality Indian and Pakistani roads. My wife is joining me for a month (India - Pakistan) starting on 30/3. Nanna Motors proudly display a Harley Dyna on their business card and have the basic tools to service simple repairs of most brands of imported motorcycles. Using their tools and my oils and labour, I was able to complete the 8000 km service which was 1000 km overdue, and at 60,000 km requiring no extra engine oil between services. The first real service I have performed on the motorcycle, having had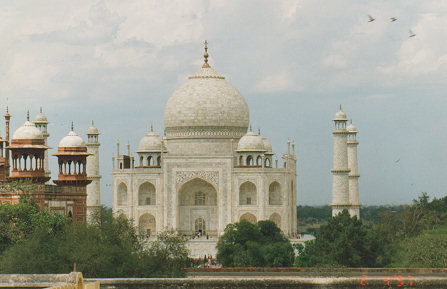 Harley Dealers at the other service times.
28/3/97 The removal of 3 months of road grime, tar splats, oil and baked on mud was not so easy as the service. It is a great opportunity to check for oil leaks (there were none) and loose nuts and bolts (one) to get the grime out of the seals and check squeaks and rattles. A rattle in the front disc brakes was isolated as the floating pad not being held by it's spring and reconnected, and the drive belt squeak and engines mount squeak disappeared after through cleaning. The underbelly frame looks sorely scarred from speed bumps and creek crossings but the engine and sumps are unmarked. It is surprisingly unmarked after 9000 km through Bangladesh, India and Nepal.
29/3/97 Countdown and waiting for the arrival of my wife, Kay. Three months. Some of my so-called friends would say I am not really waiting for my wife but the rear tyre, tools and oils she will be bringing with her. Even though these take up the full 20 kg baggage allowance and she is restricted to hand luggage for her personal clothes for a month, it is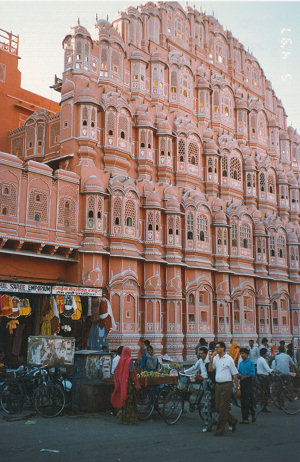 not true.
30/3/97 Well Kay finally arrived after a long day of waiting, no customs problems with the gear and a nice hotel for the night.
31/3/97 Censored
1/4/97 Delhi tour by bus for the day, most impressed with the Red Fort and buildings at Qutab Minar. Replaced my leather home-made primary inspection gasket with the genuine article and a decent rear light bulb. Repacked, leaving tyre and oils to be collected on our return to Delhi next week
2/4/97 Being isolated in the Tourist Camp it is easy to become detached from the surrounding poverty in Delhi. It is no wonder people living here accept and become complacent with it. An older man died in the street 48 hours ago just outside the Camp. His dead body lay on the median strip of a 4 lane road in its rags with his face covered, for 48 hours before being picked up this morning. I watched as hundreds of busy people walked around him and thousands of vehicles drove by before he was finally disposed of anonymously. Bike loaded, we also left Delhi this morning, 240 km to Agra via Sikandra and Akhbar's Tomb before reaching the Taj Mahal. A good road and great to be two up with my wife again.
3/4/97 Short trip to Fatehpur Sikri (90 km return), an old abandoned city built by the Moguls. Seems they realized soon after finishing building that the water was too salty and they had to move elsewhere. Thus it is very original and well preserved. The carvings here in stone and marble at the Taj very impressive. The stone lace work allowing those inside to look out without those outside looking in, it's quite remarkably preserved.
4/4/97 Kay sick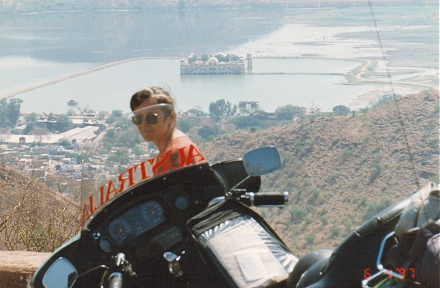 in bed, usual, bacterial bug, Delhi belly.
5/4/97 Quiet ride from Agra to Jaipur 240 km, again good road, tourist triangle, even managed top gear a lot of the way. Nice to see the women of Rajasthan in bright dress, men with turbans and bushy moustache and all the bullock carts now camel carts. Seems as soon as you cross the border into Rajasthan, it's like entering a different country. In fact this is one of the appeals of India, many different countries' cultures all in one. This is the main reason, according to the Government, that it is taking so long to unify all the peoples of India. A quick rickshaw ride of the old city, walled city, pink city. They build big walls here and very interesting buildings.
6/4/97 Jaipur - Sariska via the Tiger Fort on top of the hill then the Amber Palace with all its tourists. A brief visit to Rajasthan but a taste of the enormous forts and palaces. We seem to judge past cultures by what they left behind, usually in bricks and stone. Those cultures where the people were more important than the rulers left little but a contented population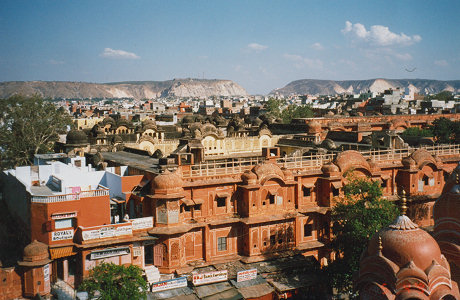 which disappeared with the people. While those rulers who built edifices to themselves, their wives or their religion using the populace for labour or funding is what we see remaining on the landscape. A great afternoon at Sariska National Park where on a 3 hour guided jeep ride in the Park, we not only saw the usual deer but also blue bull antelope, jackal and a tiger. After following the warning sounds of deer for over an hour, we finally spotted a large male tiger not more than 30m from the jeep, crouched in the grass. After a few minutes he strolled across the road in front of the jeep and into the bushes on the other side. My first tiger sighting in more than 10 Indian National Parks, quite a buzz.
7/4/97 Early start again in the crisp morning. The days on the plains already getting hot by midday. In Delhi by just after 10 am, Tourist Camp where more across Asia travellers have replaced those who've left. Four new motorcycle travellers. Minor maintenance on cleaning rear brakes and tightening rubber engine mounts and repacking now with a full load, spare tyre and spare oils.
8/4/97 Delhi - Shimla 360 km, and passing a weigh bridge, weighed in at 430 kg bike and luggage and 575 kg with passengers. Bit over the maximum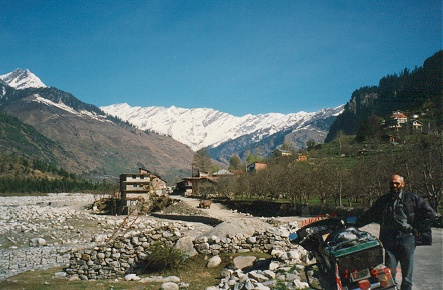 recommended weight, by 35 kg, no problem I hope. No wonder it feels heavy in tight traffic. Last 10 km winding road climbing to 2100m. Shimla, on a steep slope, doesn't allow vehicles up near the accommodation so, park the bike at the bottom and a porter for the luggage and a steep climb to our hotel. Not many western tourists but full of liberated wealthy Delhi, Indian tourists.
9/4/97 Rest day, wandering the shops on the slopes, watching television and enjoying the cool weather. On reflecting, the roads of India, there are some good ones. Since returning to India from Nepal, I have found almost all reasonable to very good roads. Unlike the east where I found almost none. The people here are wealthier thus the variety and quality of food is also better. A pleasant surprise.
10/4/97 Shimla to Manali, the rain from the previous day again cleared the air of smoke, smog and dust and today is fine and sunny with long distance views. Down one valley into Mandi and up the Kullu valley. The pleasure in these areas is the ride and roadside stops at viewpoints or the shops and watching the locals at work. The road deteriorated
near to Manali, washed away by major floods and now being repaired.
11/4/97 A short ride up to the Rotang Pass (still closed until 20/6) and then a long walk in the snowline to watch the Delhi tourists play in the snow. We were at about 3500m, the highest I have been on land.
12/4/97 A long 250 km day to Dharamsala. The road well surfaced but bumpy and slow. We had to retrace our steps to Mandi before heading up the next valley. With many stops, it took 10 hours including one to wait for a shower of rain to pass that didn't. We arrived just above Dharamsala at McLeod Ganj in the rain and hail.
13/4/97 One of the great experiences of travelling is talking to other travellers. Generally very intelligent or at least very worldly people with open minds and different view points on most subjects. This is one of the main reasons (other than finding travel information) for staying in popular hotels. Green Hotel is such a place and we spent almost all day talking and eating in their Restaurant.
14/4/97 We were going only to Amritsar but arriving early and seeing the Golden Temple, the most holy Sikh temple, we decided to attack the Pakistan border and Lahore. Arriving at 2 pm (India closes its border at 3 pm and Pakistan at 3.30 pm) was good and bad. I had been warned that everything would be removed from the bike for inspection on leaving India. Arriving late and the border staff not wishing me to be hanging around in no-man's land all night, they only did a cursory look and I was away. Mind you it still was one hour. The scam here apparently, reported by two tourists we met later, is for the Sikh immigration officer to hold your passport pretending visa abnormalities and requesting money. This they both paid.
A summary of India. Crossed the border at 62,675 km. The roads in the north west were exceptionally better than those in the north east. The mountains, people and food also in the north west was easier although more expensive. I still don't hold out a great amount of hope for a country that can't dig itself a toilet for its billion population, and as I was sick a large part of the time, I found India a difficult place and on the bottom of my enjoyment list. With cultural diversity, an amazing place.
Move with us to Pakistan or go to our next visit to India